1. 3. 2017
BlackGirlFly team meets Pyramids in Cairo
We were so excited when Black Girlf Fly, an amazing community of globe-trotting women contacted us and requested their vacation photo shoot in Cairo, Egypt.
This community is so interesting that we decided to ask Gabrielle, the founder of BGF, few questions. Check them out and find out more about BGF, the life story of Gabrielle and her experience with Amir, our photographer in Cairo.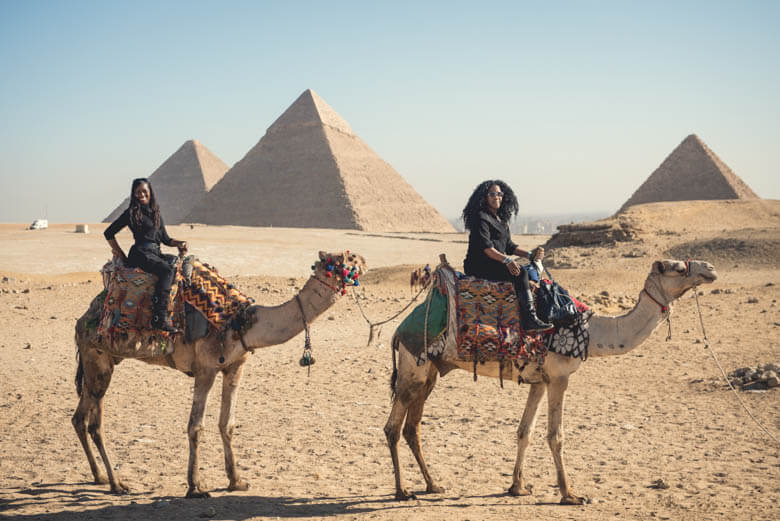 The Story of BGF
We are excited about this interview, Gabrielle! So let's start right away – what is the story behind Black Girl Fly (BGF)? Why did you found it at the first place?
Hello! Thanks so much for reaching out to interview BGF and myself! BlackGirlFly began by accident. I was at a place in my personal life that I was no longer satisfied sitting on the sidelines of life. I had spent most of my twenties watching everyone else live and I felt so many things in life were beyond my grasp. On my 27th birthday, my passport arrived in the mail and I booked my first international adventure to Spain and Italy. Within two years, I had been to over a dozen countries solo and the idea hit me!
I want to encourage other women, like myself, who felt life had forgotten about them to chase their dreams down. Even if that means flying to them.
How did the whole idea evolve over the time? Was there any change of the direction of BGF?
Ha! Yes, an idea is always good on paper! I began with small trips, with 5 people maximum. These trips were easier to manage because it's only five people right? Well as our membership grew into the thousands, many felt I wasn't giving them the opportunity. So with that feedback, we opened the trips up to more members. I didn't realize how much of a difference this would make with ONE person handling everything (literally from the blog to the itinerary).
Originally, the idea was to travel as a group of strangers and to discover the city together as a group. Then that became an issue and people wanted a full itinerary (apparently, everyone isn't as adventurous as I am!). With each trip, we learn our shortcomings and try to correct it before the next one. There is always room for growth and improvement.
Could you please share some of your favorite trips that you enjoyed with BGF in the past?
My favorite trip will always be the very first BGF trip, we went to Morocco for one week. We stayed in a riad right in the medina, we had the most amazing house mom and cook. The energy on that trip was amazing! Everyone was an adventurer and up to something new every day. The second favorite would be Rio de Janeiro! We stayed right on Copacabana and stayed for Carnaval. You haven't partied until you've done Rio during Carnaval!
What are some of the trips that you plan for upcoming months?
We have Italy in May followed by Colombia in June. Then we will play it stateside until December when we go to Kenya for a Luxury Safari trip. I'm in the beginning stages of planning our 2018 calendar. Our theme will be spiritual restoration and healing.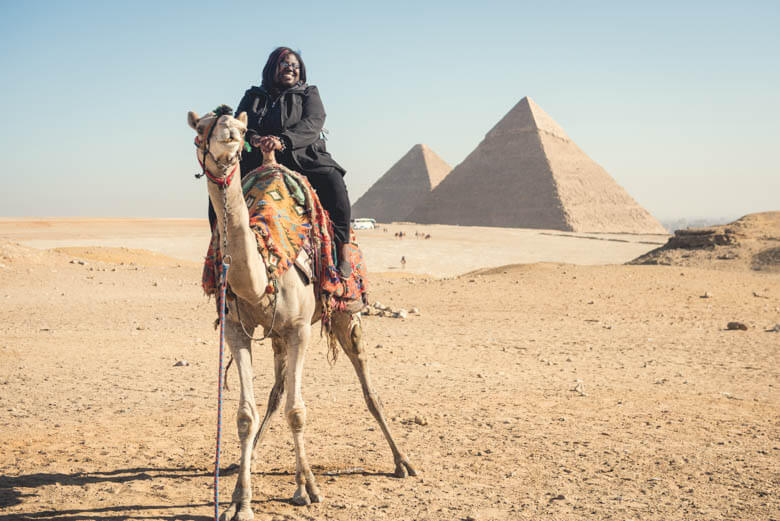 The Photo Shoot with Localgrapher in Cairo
How did you like your stay in Cairo and how did you enjoy your photo shoot with Amir?
I LOVE Cairo, let me first say that I had NO IDEA the city of Cairo was THAT big! I was there for a week before my group arrived and two weeks still wasn't enough time to see everything that I would have liked to. Amir was amazing! He was prompt, very professional, he worked with my large group with ease. I was so excited about this shoot! I would recommend Amir to anyone visiting Cairo and looking for a phenomenal photographer while there.
Do you usually connect with local professionals on your trips? Local photographers, local guides or drivers?
Actually no, this was our first as a business and my first time personally. I was thinking about the brand and how amazing it would be to have professional images of the entire group, collectively and as individuals while on these trips.
Selfies can only do so much and people find themselves with little to no memories worth framing. I wanted to change that.
As for our guides and tours, I prefer local! It's better for their local economy and community but it also gives my group a more personal and authentic experience.
The Future
Gabrielle, could you share your personal background with us? Have you always been in travel business?
I would love to! I was actually a fashion photographer for several years. Photography has always been my passion but I became more in love with the art of telling a story rather than creating one. I love to document life. I'm a newbie to this travel industry! This is my first time doing anything like this and I definitely didn't expect such a huge response.
What are your plans for the future? Do you plan to grow BGF to different directions than only traveling?
BGF will always be travel but I am looking to get us into the school system to work with pre-teen girls. If we could make BGF a part of an after-school program to not only share opportunities for international travel but to bring the world to young ladies who have no idea what the rest of the world may look like but it's frightening to them. I want to let BGF be a bridge for that.
Do you have any tips for everyone who is eager to travel and explore the world?
Just go, book your ticket and go! I wish I had begun my travels earlier in my life. It has become my spirituality and my freedom. It freed me from my limits.
Thank you for sharing your story and good luck with BGF, Gabrielle.
Is an ugly zit…
RUINING your perfect pics?
Get rid of it for $15 USD!
SEE PHOTOSHOP PACKAGES
Great customer service and experience
Photoshoot in very short term
The most destinations on the market
Very positive customer feedback
1225
Photographers & Videographers
1075
Destinations world-wide
100% Money Back Guarantee
We believe in our service and quality of our photos so much that we decided to offer a 100% money back satisfaction guarantee for your photo shoot. If you don't like your online gallery once we deliver it, you can contact us within 7 days and claim your money back. Find more details in our Terms.