Your wedding is going to be one of the most magical days of your life. No matter the size, it's going to be special because it's expressly made for you and your fiancé.
Sometimes, whether you wanted your wedding to be small or not, it may end up that way. If it's for budget cuts, limited extended family, or simply just because smaller works better for you, that shouldn't prevent you from having a beautiful wedding.
15 Small Wedding Photography Ideas That You Will Want to Try
Intimate is romantic, fun, and great to maintain. There are so many ways to make your cherished wedding one of a kind, including finding the most perfect ways to photograph it. Here are some of our favorite small wedding photo ideas you shouldn't forget about:
1. Getting Ready Pictures
With less prep for a smaller wedding, your wedding photographer will have the time to focus on the getting ready aspect. Aside from a couple of pictures of the hair and makeup, you'll also be able to get memorable moments such as opening up the morning letters to your significant other, or the champagne bottle popping, or the first look from the bridesmaids. These little details wouldn't go noticed if the big day felt rushed.
2. Get all the Special Touches
Fewer people means focusing more on special touches, incorporating all the little details that might've been overlooked at a larger wedding. For example, you can splurge on a personal guitarist to follow you around the venue or in a public setting. Or, you can add little touches to your dinner tables, have them taking more photos of the decorations around the venue or the wedding gifts. Your personal wedding photographer will have more time to capture it all.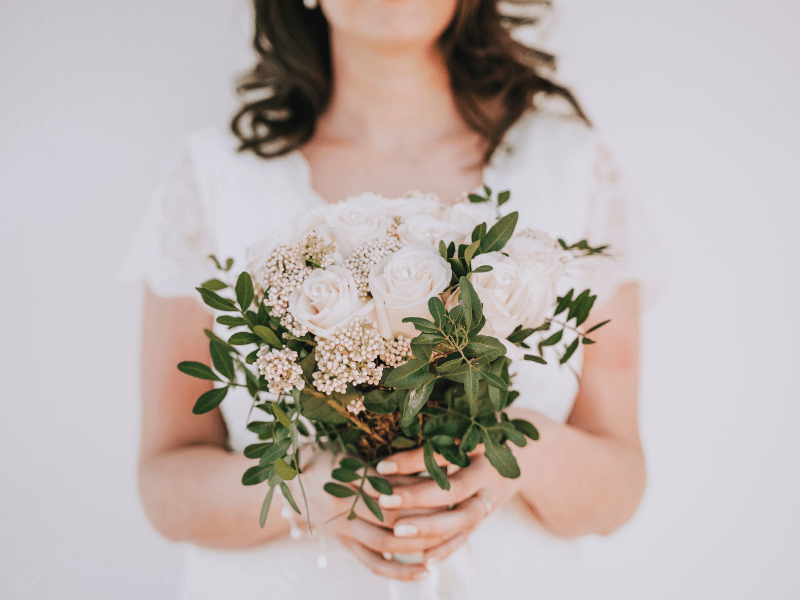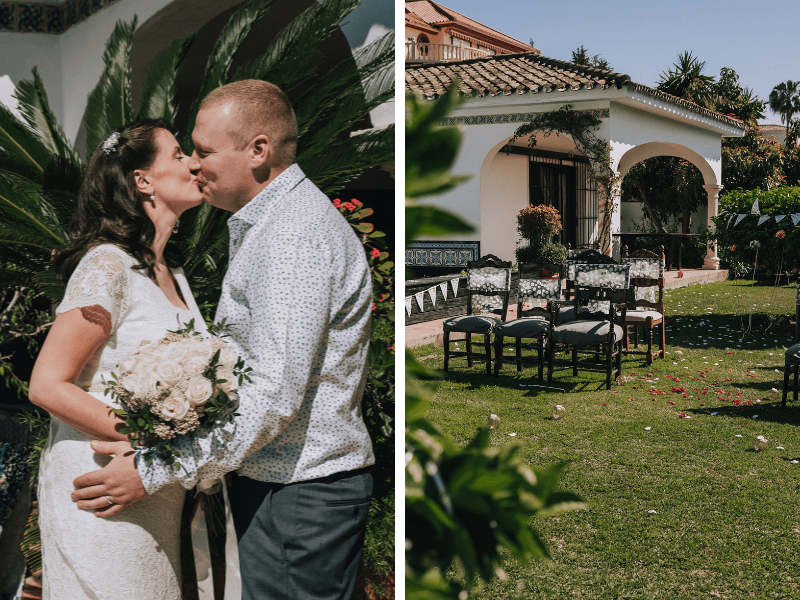 Captured by: Lina, wedding photographer in Estepona
3. Different Angles and Formats
Fewer people at the wedding means your wedding photographer will have more time to focus on capturing incredible angles and formats to create one-of-a-kind pictures. You can discuss with your photographer if there are any particular moments in your wedding you care more about capturing, such as the wedding toasts or the ceremony aisle shots. Your photographer can personalize your moments as much as you want and can get creative.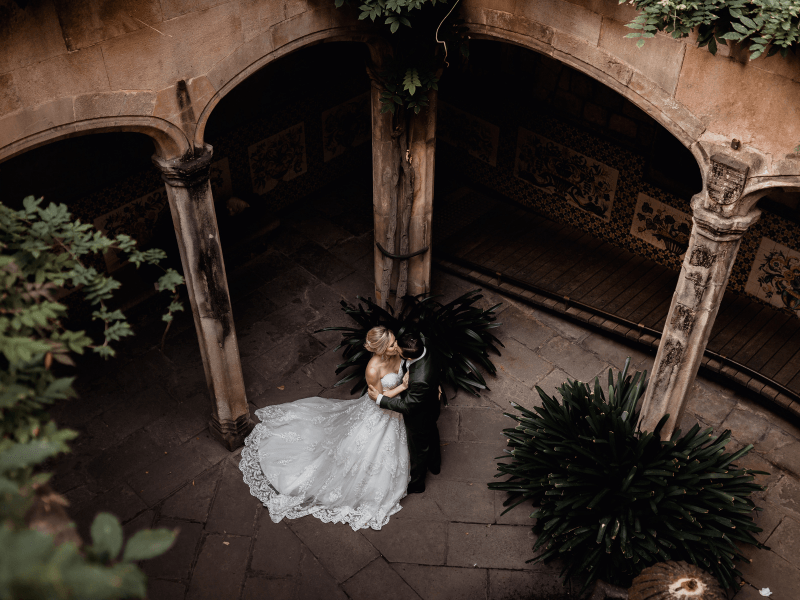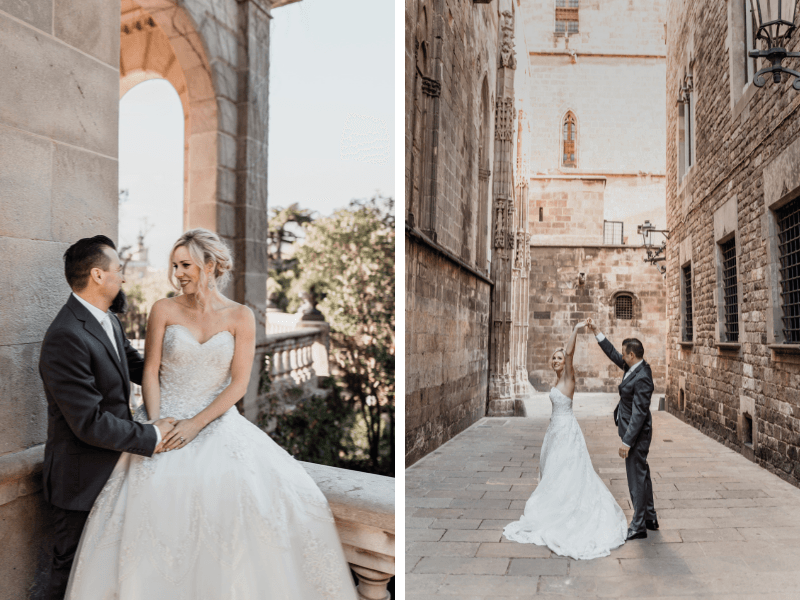 Captured by: Ana, wedding photographer in Barcelona
4. Create a Highlight Reel
If your wedding is small, that doesn't mean you shouldn't be able to share with the people who weren't there. Discuss with your photographer the idea of putting together a slideshow of the most important moments of the wedding. This way, it'll be an engaging way to have everyone see how special your wedding was with beautiful pictures.
5. Make Time for an Adventure
A smaller wedding gives you the opportunity to explore. Instead of going around, greeting everyone, being unable to enjoy your own wedding, you and your significant other can take that extra time to enjoy your surroundings. A small wedding in NYC? Walk around Central Park. Getting married in London? Destination wedding in Palermo, Italy? Take a bus tour around the city. Your destination wedding photographer can follow you around and capture the both of you exploring the world together, making for great wedding memories.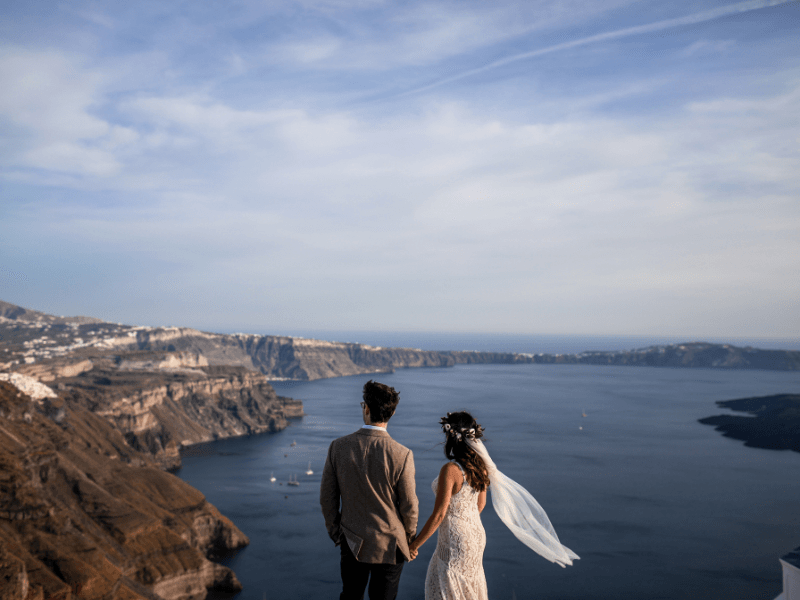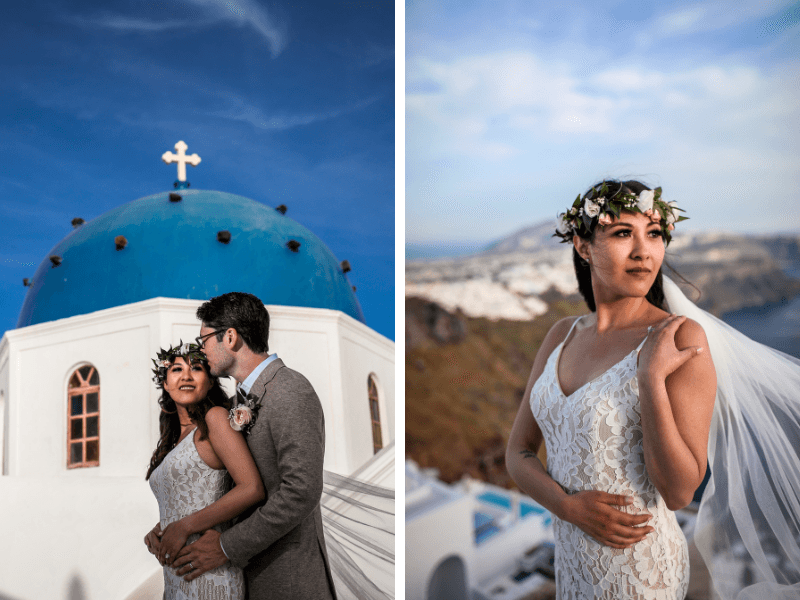 Captured by: George, wedding photographer in Santorini
6. Have Trust
Your professional photographer has experience in wedding photography, so it's best to go with the flow and trust what your photographer has in store for you. An experienced photographer will know exactly what to capture and how and will be sure to get all the important and special moments of your day.
7. Set the Scene
Your wedding destination, ceremony space, and/or reception space is the place where your "happily ever after" began. You want to ensure you remember exactly where you were and how it looks. Your photographer is going to get amazing views. Whether that be the sunset shots, flowers in blossom, or the greenery surrounding you, you'll be getting some stellar views to remember.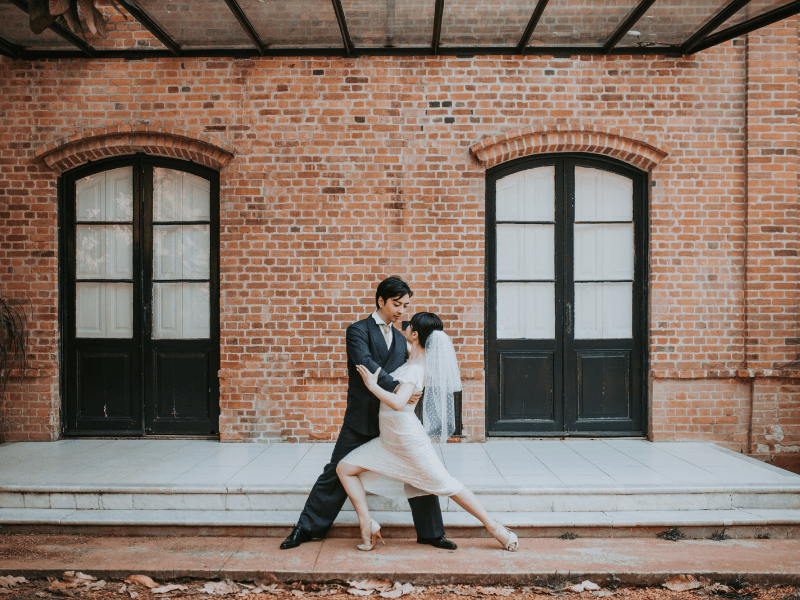 Captured by: Felicia, wedding photographer in Buenos Aires
8. The Venues before the People
Many times, there are no opportunities to see the ceremony room or reception space before the event begins. As the bride and groom, you are thrown into the event with people already filled in. All that work you did to create the perfect space, and you didn't even get to see it! These "before" shots will get you a glance of what you didn't get to take in.
9. Bridal Party Reactions
From the groomsmen to the bridesmaids, to the ring bearers and flower girls, up to the bride and the groom, get all of their emotions and reactions walking down the aisle. Capture their smiles and exciting looks, and the genuine expressions of the little kids as they play their roles. Most importantly, capture the reactions of the bride and groom seeing each other for the first time.
10. Vows
When you're both standing at the altar and it's time to renew vows, some of the most real, most raw expressions and reactions come from the words spoken of forever promises. As your wedding photographer to capture those photos from all different angles. You'll be sure to find some adorable moments.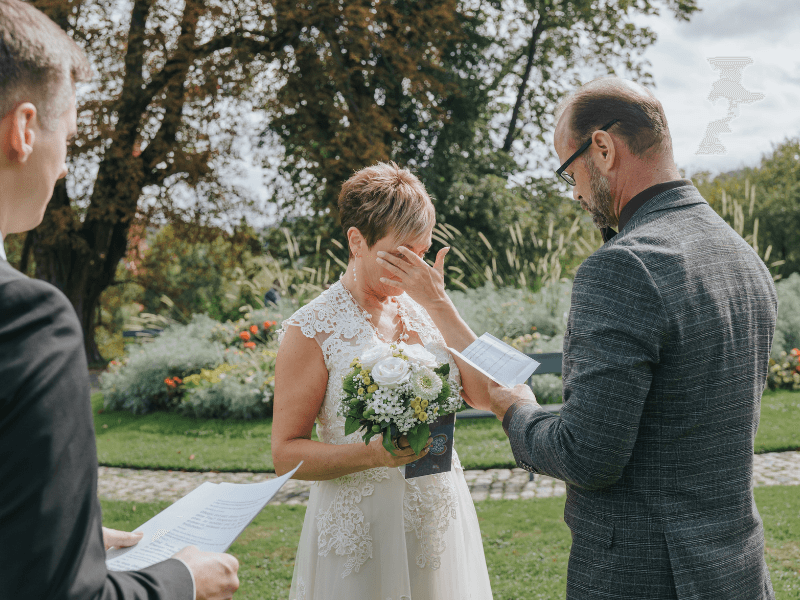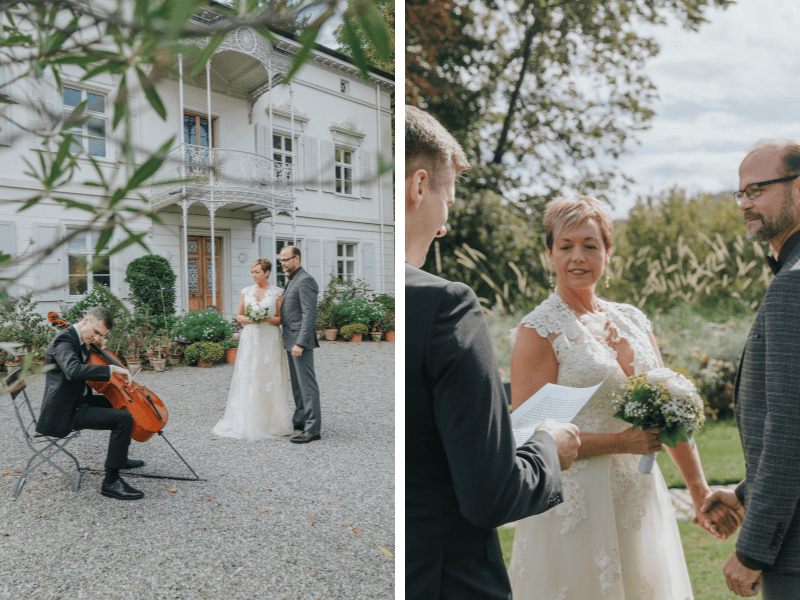 Kejia, wedding photographer in Basel
11. Post-Ceremony Aisle Walk
From the moment you're announced married, you joyously celebrate and walk back down the aisle hand-in-hand, beginning your new journey together. You'll be all smiles, you may even stop to high-five someone in the crowd or stop for a smooch. Your wedding photographer will be there to photograph every step of the way.
12. Ring Show Off
You're married, you should flaunt it! They put a ring on it and it's time to show it off. These pictures can be playful by having you both look shocked and excited. You can even get your family and the bridal party involved by having them all react and celebrate the rings with you. These will make for some playful, funny, and memorable photos.
13. Marriage License Signatures
The marriage license is the legal document that allows you to get married. You need witnesses to sign off on your marriage. This important piece of the marriage puzzle should be documented. Grab your witnesses and mark the moment you became officially official!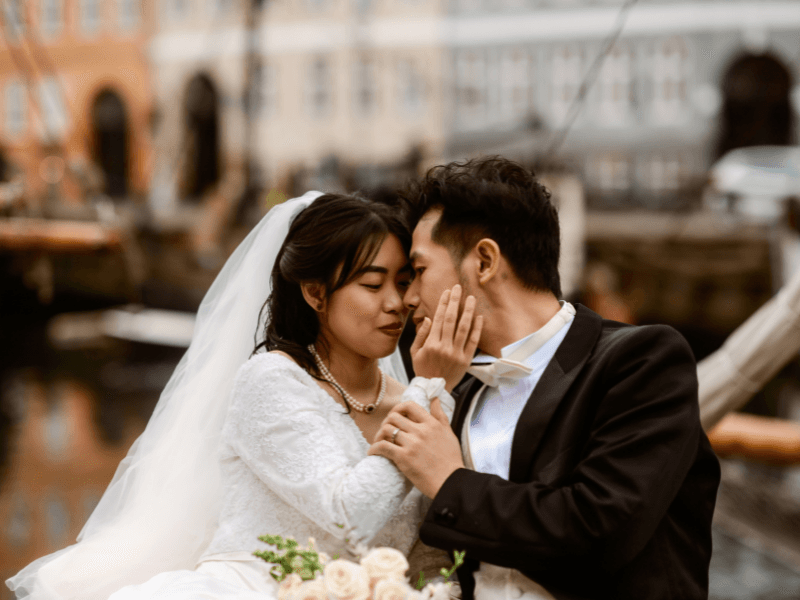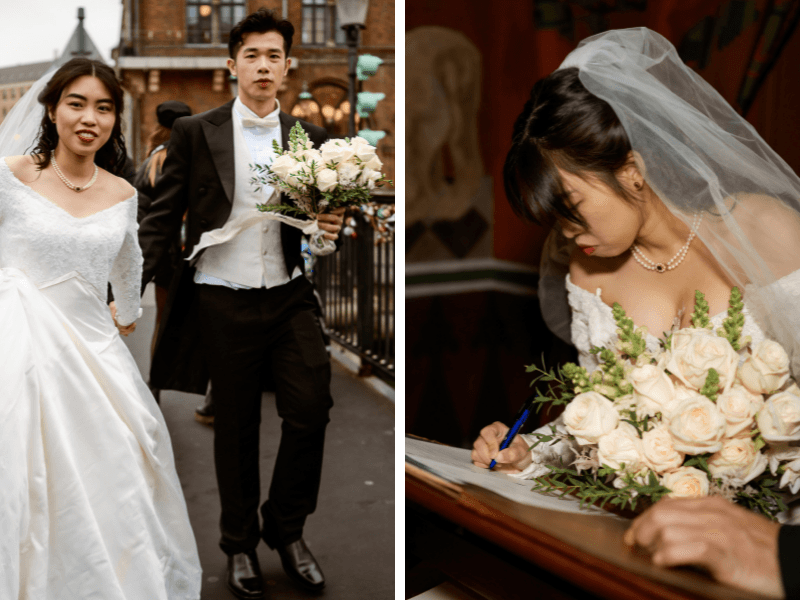 Captured by: Nataly, Localgrapher in Copenhagen
14. Bridal Squad Photos
Speaking of getting your bridal party involved, now's the time to get some creative photos with the whole gang. There are so many playful photo ops for your small wedding photoshoot. The bridesmaids can hold up the groom, and the groomsmen can pick up the bride. Other ideas can include jumping in the air and using props that are special to the couple, like lightsabers.
15. Family Photos
A smaller wedding means only the closest people in your lives were invited. This gives you more opportunities to take pictures with all of your loved ones, and multiple of them. Your wedding photographer can take their time with their wedding photography ideas and snap as many photos as needed for the perfect family shots.
Captured by: Adi, wedding photographer in Banff