April and her husband from California chose Seville, Spain, as their vacation destination. And they couldn't have made a better choice. Seville, located in the southern Andalusia region, is rich in history, with breathtaking architecture everywhere. Even after the retreat of the Moors over a thousand years ago, Seville incorporated the Moorish style into its own, unique Spanish buildings.
Knowing this would be a memorable, once-in- a-lifetime vacation, April contacted, Fran, our local photographer in Seville, to have her capture Seville and their vacation at its most splendid. They met at the Plaza de Espana for some incredible romantic photographs. Th plaza, one of Seville's main attractions, was built in 1929 for the Ibero-American Exhibition. Grand and fabulous, the massive semi-circular structure was meant to catch attention. It did that then, as it still does today, providing a unique photographic opportunity.
They stopped at one of the many walkways around the plaza. What a great place to enjoy the view and a hug at the same time.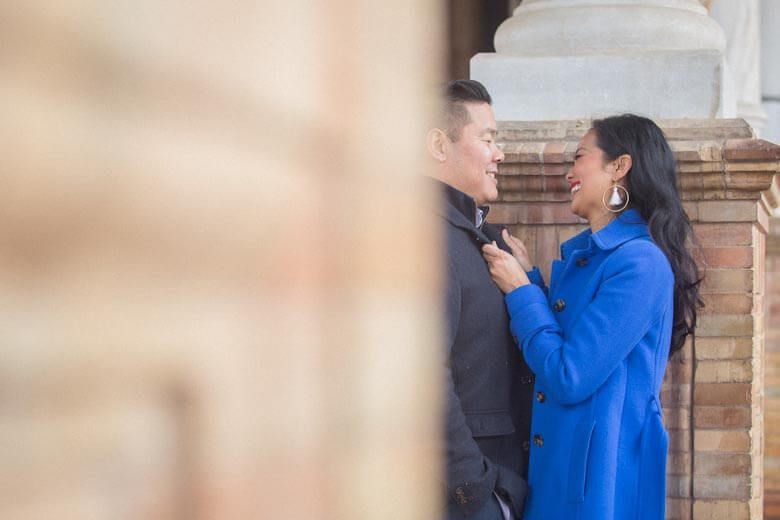 If he's her captive, he's not objecting. Vacation is a time for fun and play. Our photographer Fran caught them in a private moment.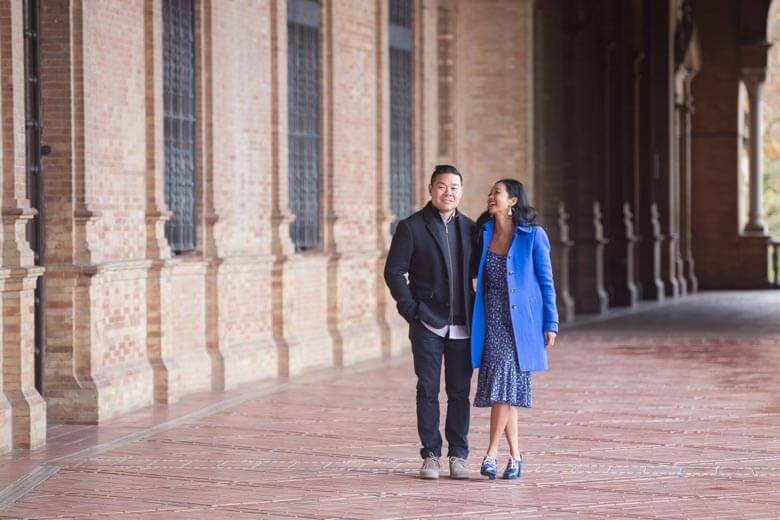 The Plaza is rarely crowded. The walkway is made of beautiful bricks and tiles, and April and her husband enjoy having it to themselves.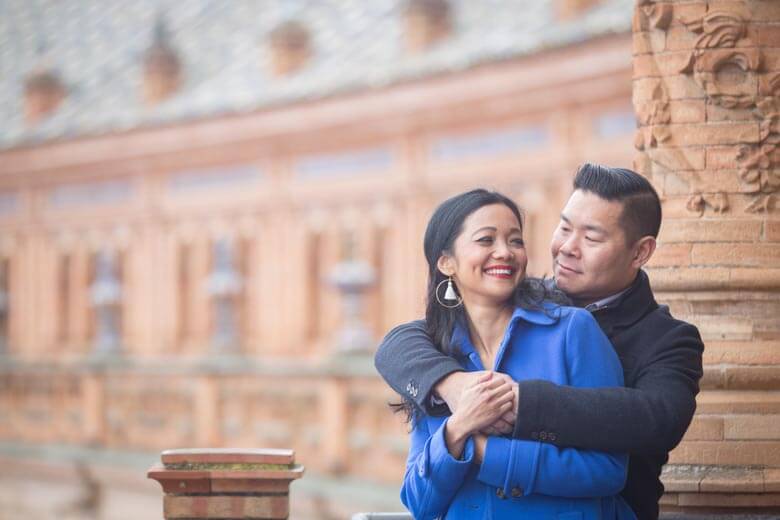 Who wouldn't enjoy themselves in this fabulous plaza? April and her husband are appreciating the architecture and each other.
Request your romantic photo shoot in Seville now
REQUEST NOW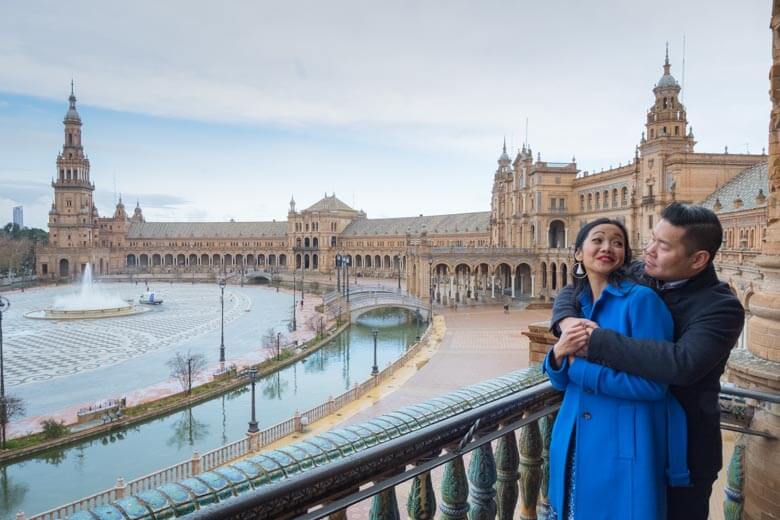 A picture-postcard view of the Plaza d'Espana, with the fountain and canal below. The huge building is absolutely stunning. Still, April and her husband only have eyes for each other. They'll have plenty of time to reminisce about the scenery back home in California, thanks to photographer Fran.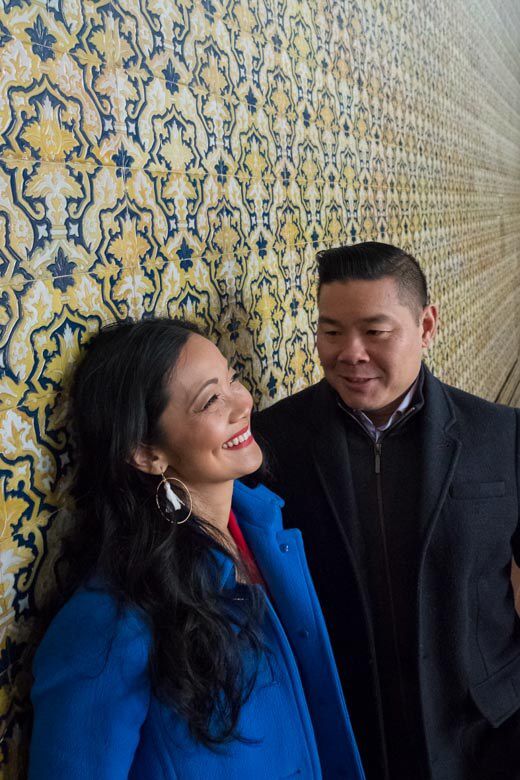 The bright tiles are patterned into the wall and sparkle in a variety of color when they catch the sun. Nothing could be more sparkling, however, than April's smile, and our photographer Fran caught the moment as she basks in the joy of being surrounded by Seville's sheer beauty.
Vacations usually call for a lot of walking, and our couple is ready! How many people bring shoes to match their surroundings and become a part of it?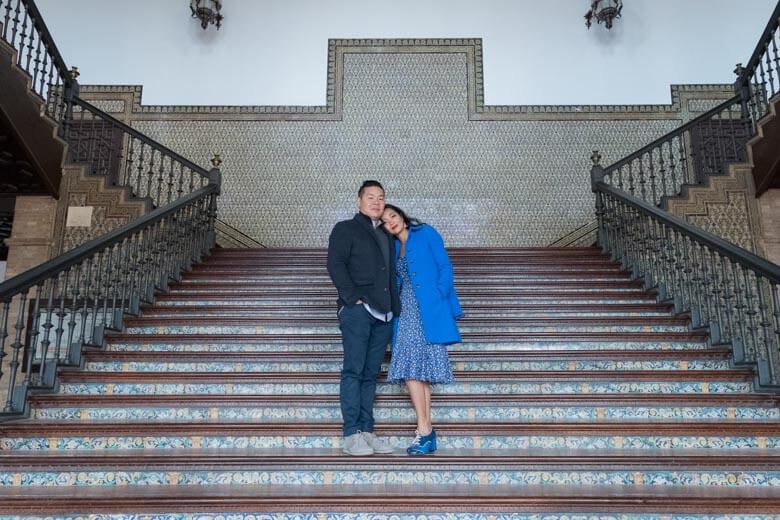 Colorful tiles on a geometric design, and our couple fits right in. This magnificent staircase leads to the upper terrace of the Plaza d'Espana, with its stunning view of the entire city. The perfect time for Fran is strut her photography skills.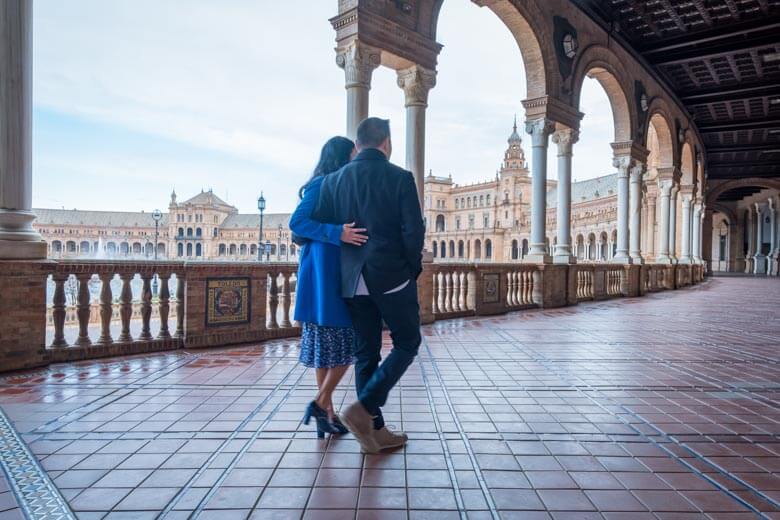 Fran captures the hugeness of the building as our couple stroll along the outer walk. The revival Renaissance architecture goes on forever, a semi-circle of pillars and arches. The ceiling is also made up of pieces of tile.
The Moorish arches beautifully frame the plaza below. And they are the perfect backdrop for our couple as they stroll the walkway in sync.
The art deco bridge leading from the building to the plaza is a good place to stop. The fountain is an integral part of Plaza d'Espana. The Plaza d'Espana brings Seville's history to life. What better place to enjoy a vacation? And what better way to capture every step than with our local photographer, Fran?