Venice, Italy is a city rich in history and intrigue. Full of canals and tiny alleys, murderous history, and intricate architecture, it is a fascinating city to explore with your family. Follow these five tips for traveling to Venice with your kids and enjoy the perfect family vacation.
Full of boats, from the regal gondola to wooden speedboats, tiny alleyways with surprising piazzas, and delicious food, Venice has everything to satisfy children of all ages. With that in mind, traveling with children to Venice can be not only a fun-filled getaway but also an educational one. Here are 5 tips to make the most of your trip to Venice.
Tip #1
Talk About the History and Language
Telling your children just the bare facts of Venice's timeline is a starting point to learning about the architecture and vast history that encapsulates the city. The Venetians are a proud culture and do not take their history lightly. A tour of the Doge's Palace at San Marco Square is more meaningful when your children already know what a Doge is and how they ruled Venice.
Localgrapher's Tip: Teach them how to say a few words in Italian!
Tip #2
Ask Your Children What They Want to Do
Children get antsy even at the best of times and dragging them on museum outings and church explorations can be a recipe for disaster. Include your children in the planning; a child who is invested in a trip from the beginning is a child who will appreciate the vacation and its experiences. Consider children's museums or even a day at the Lido as a way to break the monotony of historical attractions.
Localgrapher's Tip: Don't underestimate the power of a playground. Children are inquisitive and by opening your children up to meeting Italian kids, you open them up to new friendships and an entirely new world.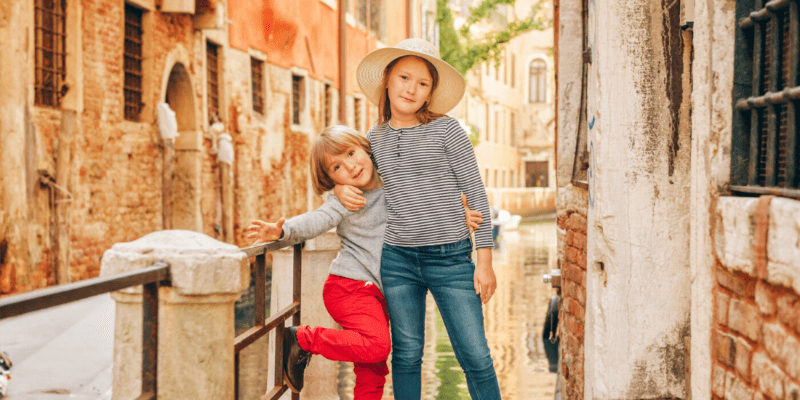 Tip #3
Research Family Museum Passes
Many cities and museums offer a family entry pass for certain activities or transport. Venice is a pricey city; the cost only adds up when traveling with kids. Before you go, look into family entry passes to the Doge's Palace or museums. There may even be a city pass that allows entry into several different attractions or discounts on transport.
Localgrapher's Tip: Take a €2 ride on the traghetto, a gondolier water taxis that cross the Grand Canal. It's much cheaper than hiring a private gondola for half an hour!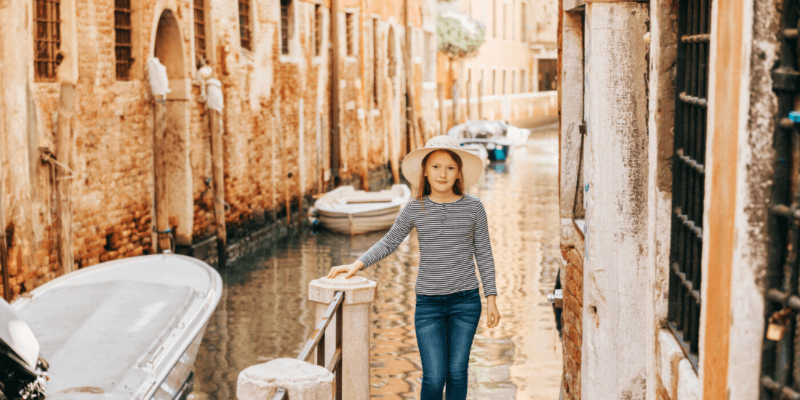 Tip #4
Consider a Self-catering Accommodation
Italians eat dinner quite late; 9 pm or even 10 pm is the standard mealtime. If your children are used to meals at 6 pm, waiting is only going to provide you with a cranky, tired child. With a self-catered apartment or a hotel, you can cook meals on your own timeline and keep your younger children on a similar schedule to that at home, like a 9 pm bedtime.
Localgrapher's Tip: Hire a local babysitter so you can step out for a proper Italian meal.
Tip #5
Remember That There Are No Cars
A child that has grown up with cars as the main mode of transportation may not be too happy with walking everywhere. When packing, consider that you will have to transport your luggage from the water taxi to your accommodation by yourself and pack accordingly. If you have children that can carry their own bag, make them do just that.
Localgrapher's Tip: Look into centrally located accommodation; it will be more expensive but it will make walking everywhere much easier on your and your family.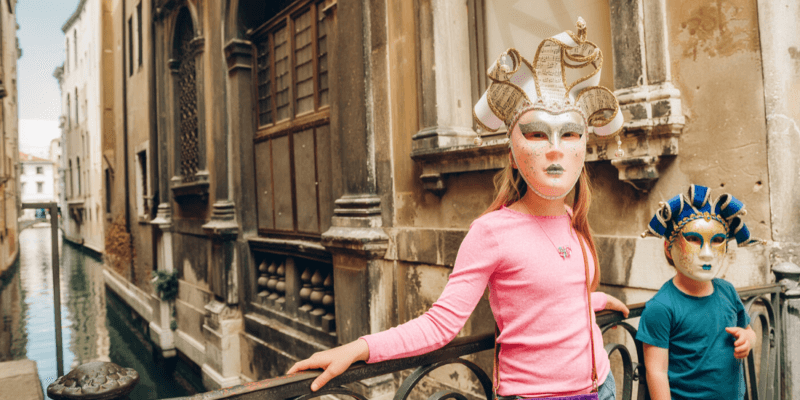 Venice is the perfect city for children. It is full of bright boats, delicious food & markets, and very colorful history. Young children can explore the boat-making history, they can create their own Venetian masks, and they can run wild in the many piazzas around the city. If you follow these five tips, your child's vacation in Venice will be a childhood memory to cherish.
Request Your Family Photo Shoot in Venice Now
REQUEST NOW