Prague is known for its dramatic architecture, historical ambiance, and dynamic energy. One lucky bride-to-be made the City of a Hundred Spires the setting for her bachelorette party and captured these fun photographs of an unforgettable experience. This was an especially exciting shoot for everyone who participated. The photographer, Kathrin, is typically based in Cape Town, but she was visiting her home in the Czech Republic when she heard about the bachelorette photoshoot taking in place in Prague.
Kathrin was more than happy to work on the shoot in her beautiful native country. These photos feature the future bride, Laurene, along with a group of her close friends.
Planning a Bachelorette Photoshoot in Prague
The party was organized by one of the bridesmaids, Camille. These ladies traveled from France for the bachelorette party, and it's obvious from the photos that they had an amazing time!
The bridesmaids organized all-matching outfits, including T-shirts that read "HEN PARTY" with a special "BRIDE TO BE" shirt for Laurene. The coordinated shirts are such a fun addition to the shoot and really helped pull the pictures together.
Prague is known as one of the most picturesque cities of central Europe, and for good reason. With attractions like Prague Castle, Charles Bridge, and the spectacular Old Town Square, this sometimes-overlooked destination has so much to offer for any visitor.
If you're looking for truly spectacular baroque, rococo and Gothic architecture, there's no place like Prague. The warmth and wit of Prague's citizens are world-renowned. And because the city is less visited than some of its European counterparts, travelers are likely to find fewer crowds and cheaper accommodations.
Prague may not always spring to mind as a destination city like Paris or London – but it should!
Prague has so much to offer, whether you're looking for some of the best beer in the world, a unique and vibrant nightlife scene, or historical sites unparalleled throughout Europe.
Laurene and her group of friends had a great time taking these photographs as part of their trip. Shoots like these prove that photographs don't have to take a sideline to the main attractions, or worse, feel like a chore.



A Photo Shoot Can be a Fun Event in Itself
Just ask these girls – they had a blast getting their pictures taken!
Prague offered some truly spectacular backdrops for the celebrating ladies. Kathrin was excited to show off the beauty of Prague, and she did an excellent job of featuring the decorative architecture and breathtaking views while keeping the bachelorette party front and center.
Events like bachelorette parties only come around once in a lifetime. You're surrounded by your best friends in an exciting city at one of the most important moments of your life.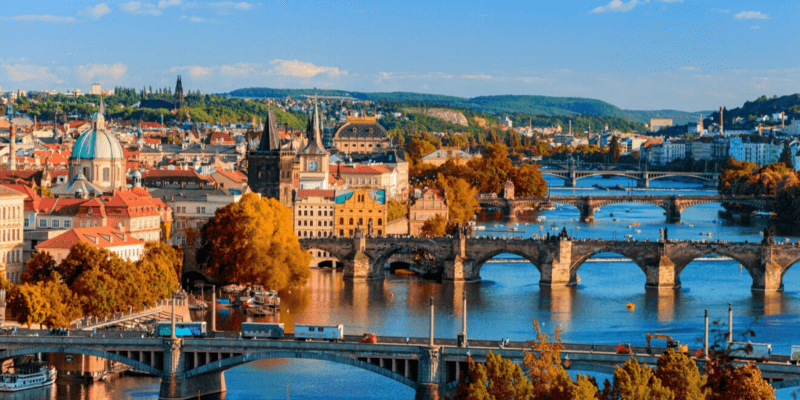 These are the memories that you'll want to preserve forever with a professional photo shoot. The next time you travel for a special event, consider booking one of our travel photographers. Wherever you're going, we can help you create beautiful memories to last a lifetime.