Tall face brick buildings stand proudly alongside canals, bridges, and bicycle lanes, the aroma of freshly brewed coffee drifting out of trendy cafés. This was the perfect playground for a seasoned solo traveler and his private vacation photographer.
Traveling Solo? Book Your Personal Vacation Photographer
When you get home from a solo trip there will always be a hoard of loved ones asking more questions than you are able to answer. It is, therefore, imperative that you master the art of taking selfies which clearly display your smiling face and all the glorious sights behind you. However, even the most seasoned solo travelers will find themselves with pictures of only half the Taj Mahal and a blurred version of their face.
Not wanting to miss a single moment of his solo trip to Amsterdam, Corey decided to make use of a professional vacation photographer. The booking process was a breeze, and in the end, he could not have found a more perfect match than Ania, our Amsterdam-based vacation photographer. Ania's gentle persona instantly put Corey at easy.
They moved casually through the maze of pedestrians and cyclists. With Ania's knowledge of the city and Corey's easy-going style, they created breathtaking images with every click of the camera. Ania's lighting and composition highlighted some of Amsterdam's most impressive settings, while always drawing the eye back to Corey's charming smile.

Vacation Photoshoot in a Picturesque Amsterdam
From fragrant garden markets to world-famous museums, the Netherlands has more to offer than cannabis with your coffee. A casual walk through the squares can end in a variety of delightful ways, including a free concert in an open-air theater or a lush green park. Bridges offer safe passage over the canal, its calm waters reflecting light along its surface. It is easy to see why this is one of Europe's most popular cities.
Corey enjoyed every second of his Amsterdam exploration. After strolling past the pubs, cafés, and various restaurants, he took a moment to rest on a sidewalk bench, savoring the beauty all around. The stairs to buildings offered another spot for a few more pictures which Ania framed perfectly. With Corey leaning against the railing of a bridge, Ania was able to capture the many bicycles that Amsterdam is famous for.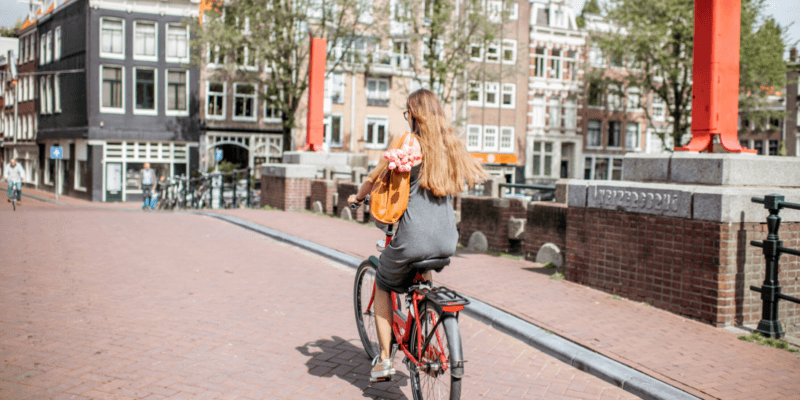 Take Us on Your Next Adventure
As the solo photoshoot drew to an end, Corey thanked Ania for not only bringing out the model in him but also providing some unique insights into the city she knows so well.
Amsterdam had long been on Corey's travel bucket list, and yet he could not have imagined what an incredible day he would have. The city had clearly stolen a piece of his heart. In Amsterdam, there is always another square to explore with a delightful discovery around every corner.
Thanks to the charming pictures, Corey can now share his memories of the buildings, bridges and quaint canals with everyone back home. And he will not be short of profile pictures for months to come.