1. 3. 2018
Family Vacation Photoshoot Captured in Nha Trang
Nha Trang is a stunning coastal city located on the South-Central Coast in Vietnam with only around 400,000 locals and is an ideal location for tourists to visit. With its clean beaches and mild temperatures all year round and a wide selection of tourist attractions across the area, including the Alexandre Yersin Museum and Pasteur Institute of Nha Trand to name a few.
Even though the area relies mostly on tourism it is possibly clear why people flock to the region. Our client Gregory came to us on their trip to the region with his family of 6 to book a family vacation photoshoot which could result in a range of photographs that could be kept and saved forever.
Family Vacation Photoshoot: From the Youngest to the Oldest
Stood on a staircase surrounded by incredible Vietnamese architecture our local photographer, Nick, was able to capture the moment the family stood together going up the stairs, starting at the bottom with the youngest child and heading up the stairs one could see the older members of the family unit, the mother and father. Our local photographer, Nick, was able to capture the pure innocence and the natural smiles between the family. This is an incredible photograph and our talented local photographer was able to capture this very important memory.
In a change of location, with the fog climbing over the hills in the backdrop, our local photographer was able to capture the very style of the image our client was after, family photographs. Their family is as close as ever as they stand together with glowing smiles. With the mother and father holding their four children in their arms it is as clear as anything the importance of the family unit and the importance of love between everyone.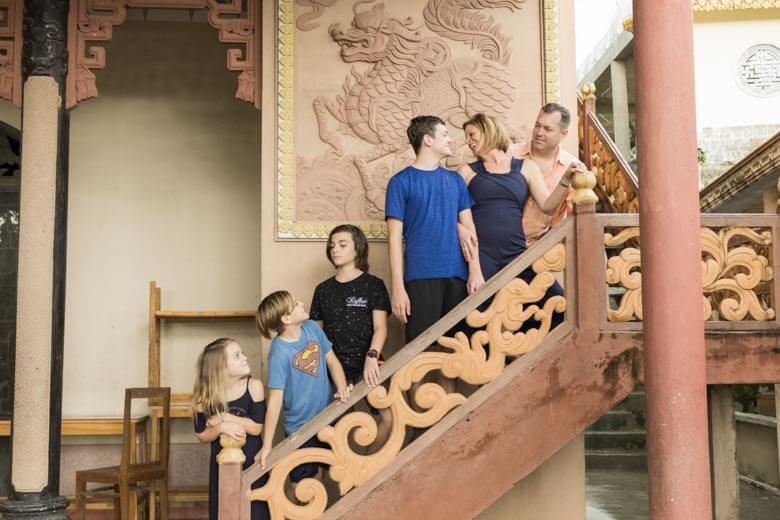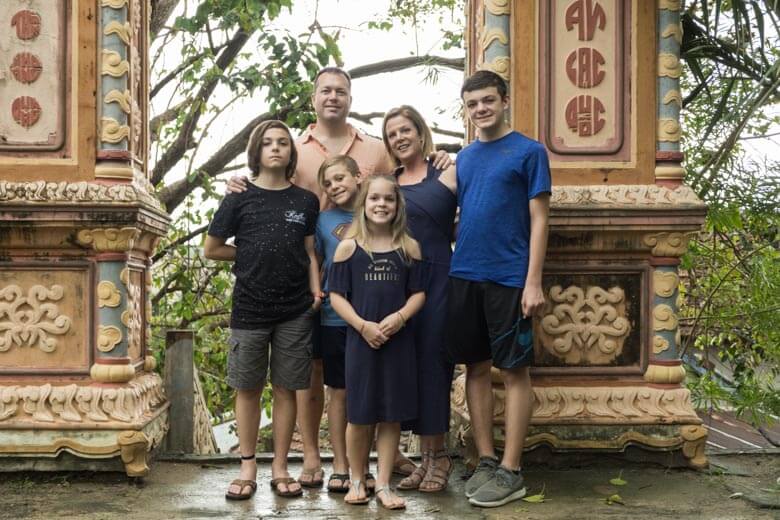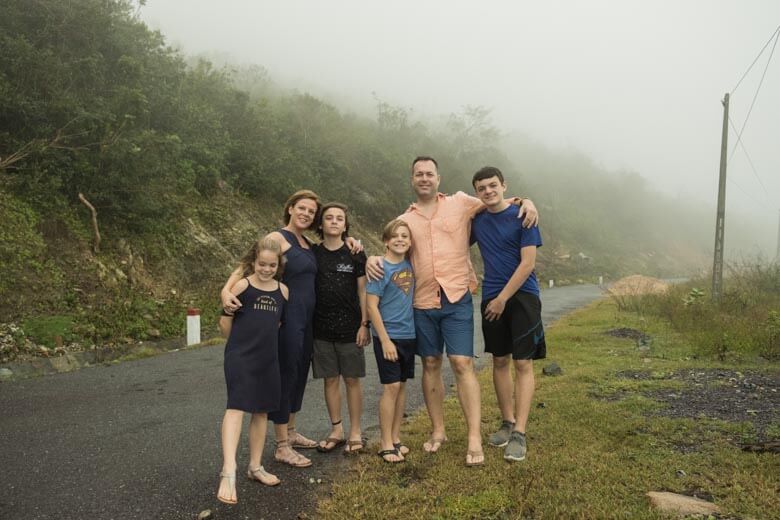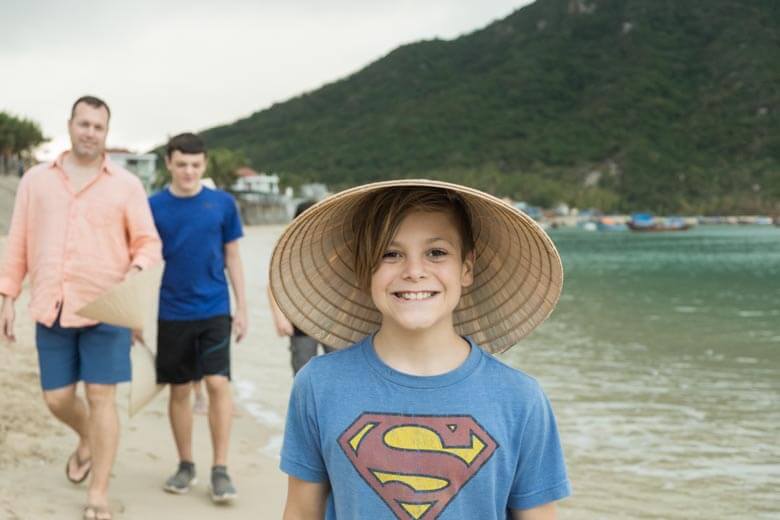 Photo: Captured by Nick, Localgrapher in Nha Trang
Having Fun with Traditional Conical Hats
The historical and iconic conical hat is a simple hat style found in Asia and is used as protection from the sun and rain all year round. As our client wished, he wanted a selection of photographs of time spent with his family. In a natural set of photographs, our local photographer, Nick, was able to capture the natural smiles from Gregory, his wife and children wearing their conical hats during their family vacation photoshoot. These smiles show the absolute innocence of the younger and the happiness of the parents.
Another special set of memories made through this family photoshoot would be by the coast. Wanting a set of photographs of the family together, our local photographer was able to capture the very moments our clients spent time together on the beach of Nha Trang.
With the business of the family life, it is also important to spend a few moments away from the bigger picture and spend some time together with your wife, and that is just what our client, Gregory did. Being as natural as possible, Gregory and his wife spent the moment hold one another whilst grasping their conical hats with the blue ocean splashing against their ankles.
Photo: Captured by Nick, Localgrapher in Nha Trang
All memories can be saved through a set of photographs, and whilst having children at such young ages, it is important to capture every moment that passes. Our local photographer was able to capture some incredible photographs which could be looked back on in many years to follow. With this, any family vacation would be incomplete with a set of professional photographs to look back on.
Buy memories, not things…
Limited time only!
SEE OUR GIFT CARDS
Great customer service and experience
Photoshoot in very short term
The most destinations on the market
Very positive customer feedback
1167
Photographers & Videographers
1035
Destinations world-wide
100% Money Back Guarantee
We believe in our service and quality of our photos so much that we decided to offer a 100% money back satisfaction guarantee for your photo shoot. If you don't like your online gallery once we deliver it, you can contact us within 7 days and claim your money back. Find more details in our Terms.