Barcelona, the heartland of Catalonia. Michaela couldn't have chosen a better city for a solo photoshoot. It's historic, winding avenues are visited by millions of people each year. But how many walk away with professional photos taken by a local photographer? Michaela decided to make that happen this trip.
Why You Should Plan Your Solo Photoshoot in Barcelona, a Jewel on the Mediterranean
Barcelona's origins are lost to the misty past. People have been inhabiting the area for thousands of years, including ancient Iberians, Greeks, Romans, and others. It's easy to see why. The warm Mediterranean climate is very moderate, never getting too cold in the winter or especially hot in the summer. Most of the rain falls outside of summer and snow or even frosts are very rare thanks to the warmth of the Mediterranean during the winter months.
Due to its location as a warm water port people have been trading and visiting the region for centuries. Barcelona is the capital of Catalonia, a culturally distinct, autonomous region of Spain. Barcelona, and Catalonia as a whole, is one of the richest and most developed regions of the country. As a result, it's the 5th most visited city in all of Europe and the 20th most visited in the world.
People often flock to La Rambla, a central street full of chic cafes and tourist kiosks to get a feel for central Barcelona. Santa Maria del Mar is a gorgeous cathedral, one of several architectural wonders in the area. And Barcelona's beaches are some of the best city beaches in the world in terms of cleanliness and visitors per year.
Barcelona is the ideal launching point in Catalonia as a whole as well. The entire region is accustomed to tourists and encompasses both gorgeous cities and beautiful countryside. The cuisine is quintessentially Mediterranean as well. Seafood, olives, ham, cheese, and wine all make their appearance on Catalonian menus, usually paired with warm, flaky bread and olive oil.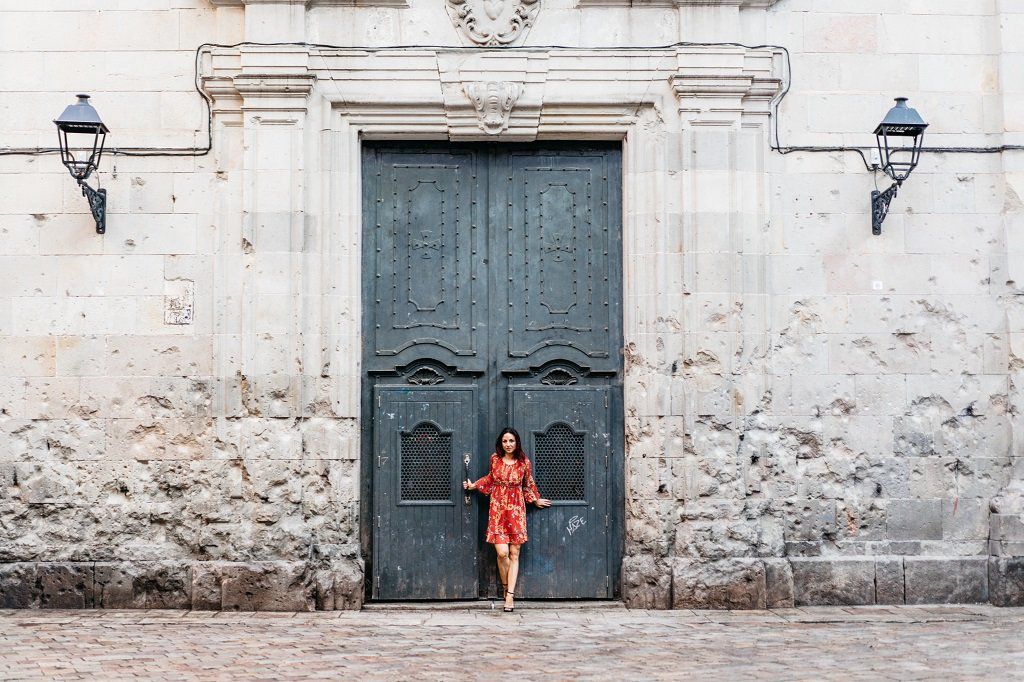 Photo: Katia, Localgrapher in Barcelona
Michaela's Solo Photoshoot in Barcelona
Michaela decided she wanted a cosmopolitan feel to her solo vacation photos. Yet she desired a sense of intimacy as well. How does one capture "big city" without filling the frame with thousands of distracting people?
She contacted Katia with these concerns, our local vacation photographer. Together they came up with a plan of action to get Michaela the photos she needed. They decided on areas somewhat off the tourist strip. Every street in Barcelona has a unique character. So much street art abounds that it was simple to find a scenic backdrop away from crowds of visitors.
Michaela seems to have the parks all to herself in many of the images. The backdrops of Barcelona are gorgeous and her smiles are natural and captured beautifully by Katia.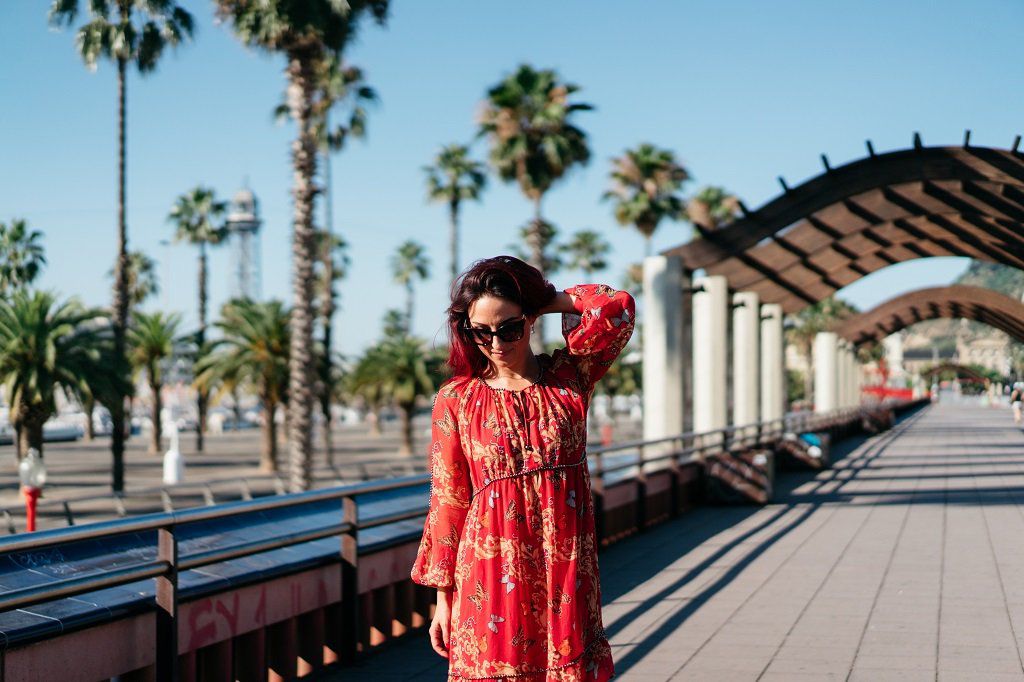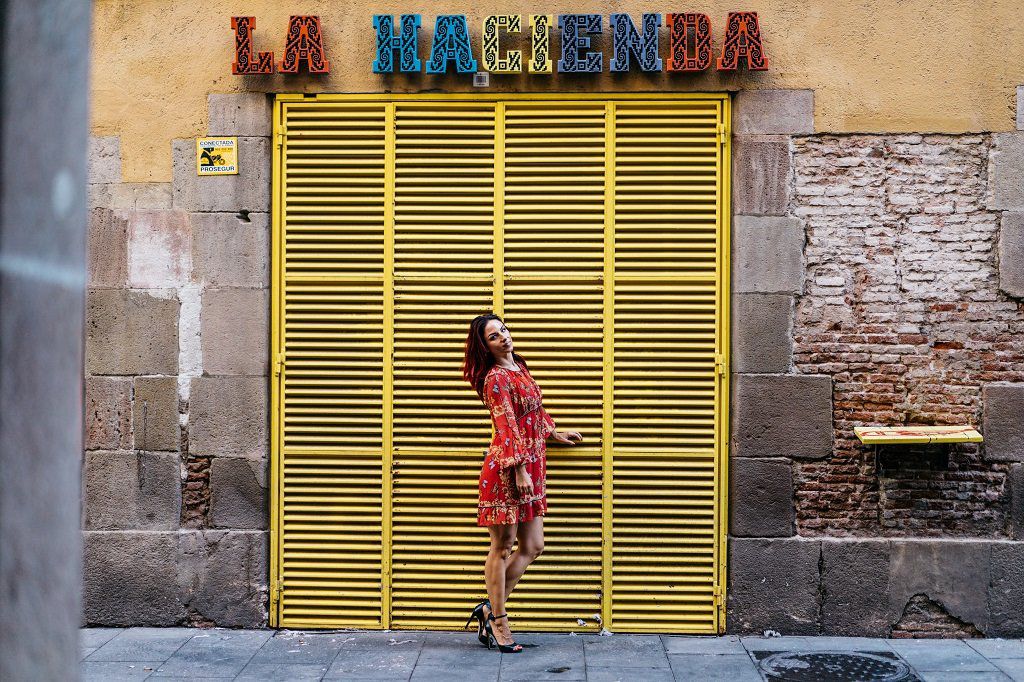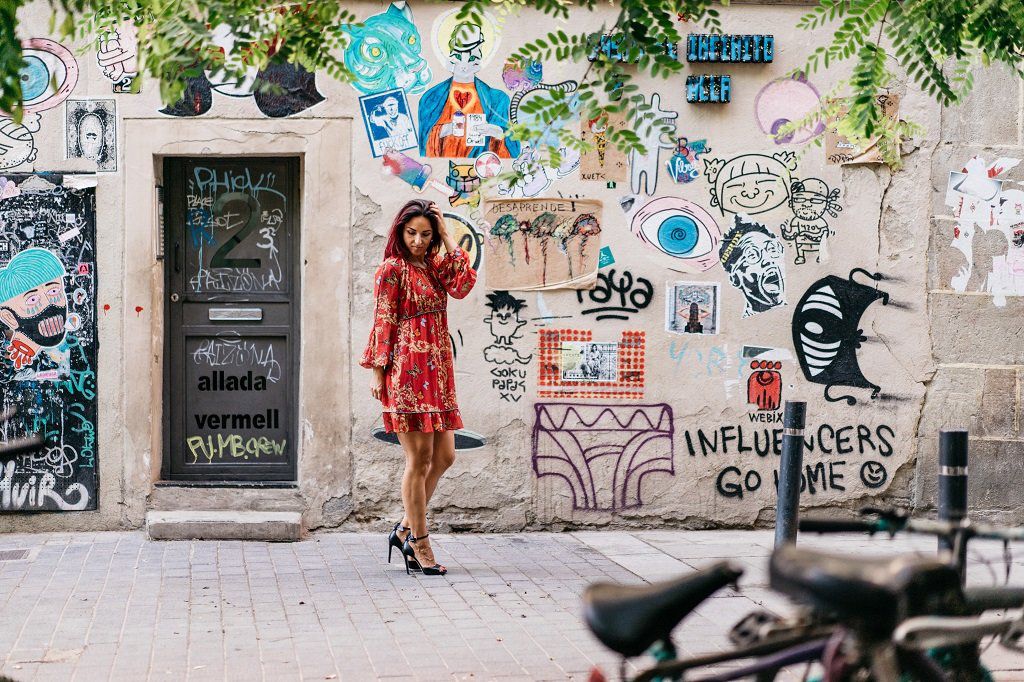 Photo: Katia, Localgrapher in Barcelona
A Local Photographer is Always a Good Idea
When you need a vacation photographer it's best to go with a local because they'll be able to find locations like these with the most ease. They'll also know when the lighting is best. If Michaela had chosen a non-local perhaps the shadows would have been too deep for good photography exposure, which happens a lot when it comes to winding alleyways like these.
Michaela was thrilled with these photos. And no doubt you will be as well the next time you decide to have a shoot with a personal vacation photographer, be it in Barcelona or elsewhere!
Check Out Portfolios of the Best Photographers in Barcelona
START HERE