28. 7. 2018
Planning a Romantic Holiday Photoshoot in Saint Petersburg, Russia
Katia decided to visit Saint Petersburg with her partner for a romantic holiday. As one of the most beautiful cities in Europe, she chose extremely well. And she decided she wanted to remember their journey for years to come. What's the best way to do so? Booking a holiday photoshoot with a professional photographer, of course!
Holiday Photoshoot in Russia's Cultural Capital
Saint Petersburg is one of the most colorful and frequently visited cities in all Russia. As a transportation hub for the region, it is easily reached by rail, bus, or air. As a port on the Baltic Sea, it's even reachable by boat. As the second largest city in Russia, it's a cultural hub as well.
Historically, it was founded by the Russian Tsar Peter the Great in 1703. During the Soviet decades, the city's name changed first to Petrograd (Peter's City) and then Leningrad (Lenin's City) before reverting back to Saint Petersburg in 1991.
The city of Saint Petersburg continued to play a prominent role in Russian history into the modern era. It is also full of UNESCO World Heritage sites, with 36 major buildings and nearly 4000 exhibits of architecture and history. The State Hermitage Museum is the second largest museum in the world and is dedicated to art and culture. While it's visited by millions each year it gained its name due to originally only being open to a very select few.
You can find dozens of theaters here as well, featuring world-famous ballet, choir, and opera performances. The cityscape has been featured in hundreds of movies, including Anna Karenina, Goldeneye, and Midnight in Saint Petersburg. In short, it's a cultural nexus point that's been drawing people to the area for centuries.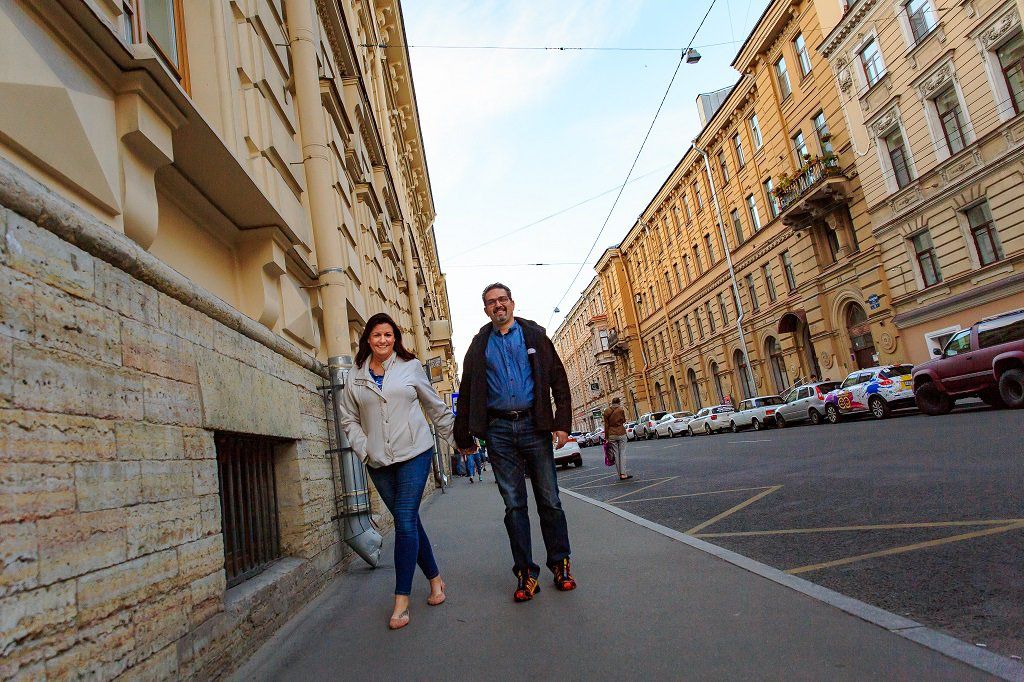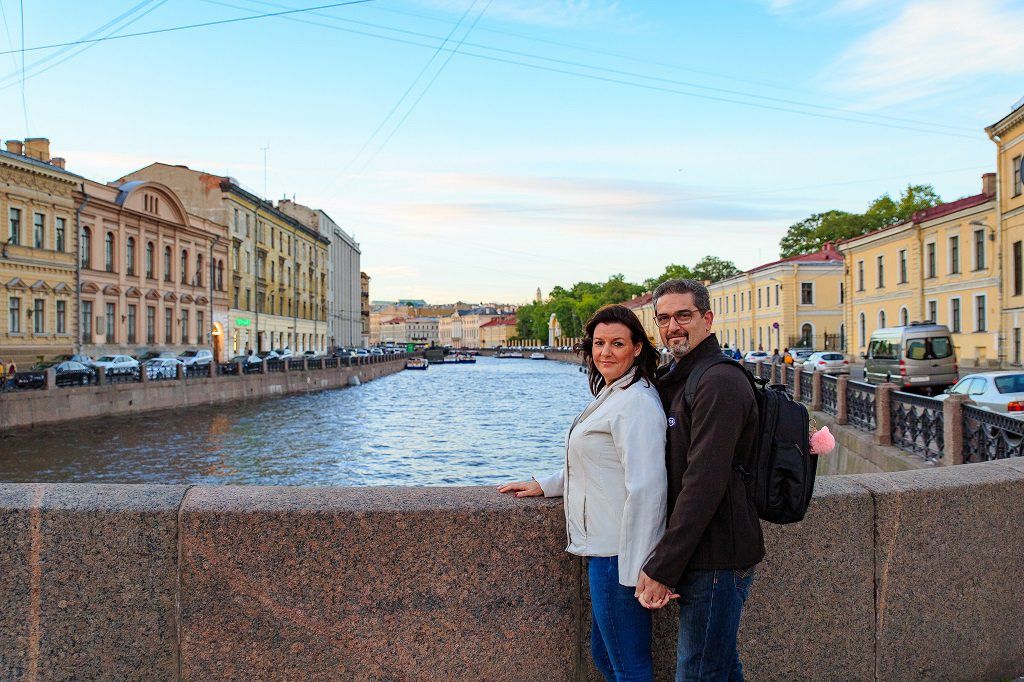 Photo: Sergey, Localgrapher in Saint Petersburg
Perfect Photoshoot for the Perfect Couple
Hiring a local photographer is one of the best choices Katia made on her trip. A romantic getaway is extra-special and no ordinary vacation. Sergey, our vacation photographer, being around to document and offer suggestions on where to go really cemented that special-ness and ensured they'd be able to look back fondly for decades more.
Sometimes we don't know the best poses to use. But a professional photographer can give us direction before and during the shoot to convey exactly the mood we wish. Holding hands, smiling, hugging, and focusing the camera on select portions of the scenery of faces of the couple…Sergey is clearly in his element here.
Photo: Sergey, Localgrapher in Saint Petersburg
The images Sergey captured during this holiday photoshoot portray Saint Petersburg's cosmopolitan vibe very nicely. The people we see in the background actually enhance the images by reminding us that this city is a hub of activity. And in other images they have the entire park or street to themselves, creating a sense of intimacy and privacy in the second largest Russian city.
Sergey's use of focus creates wonderful intimacy when the couple's upper bodies and faces are featured. The backgrounds get nice and soft and we see the smiles and laughter of the lovely couple. And in other images where we see the two lovers in their entirety, the background shows us a clear, crisp view of downtown Saint Petersburg.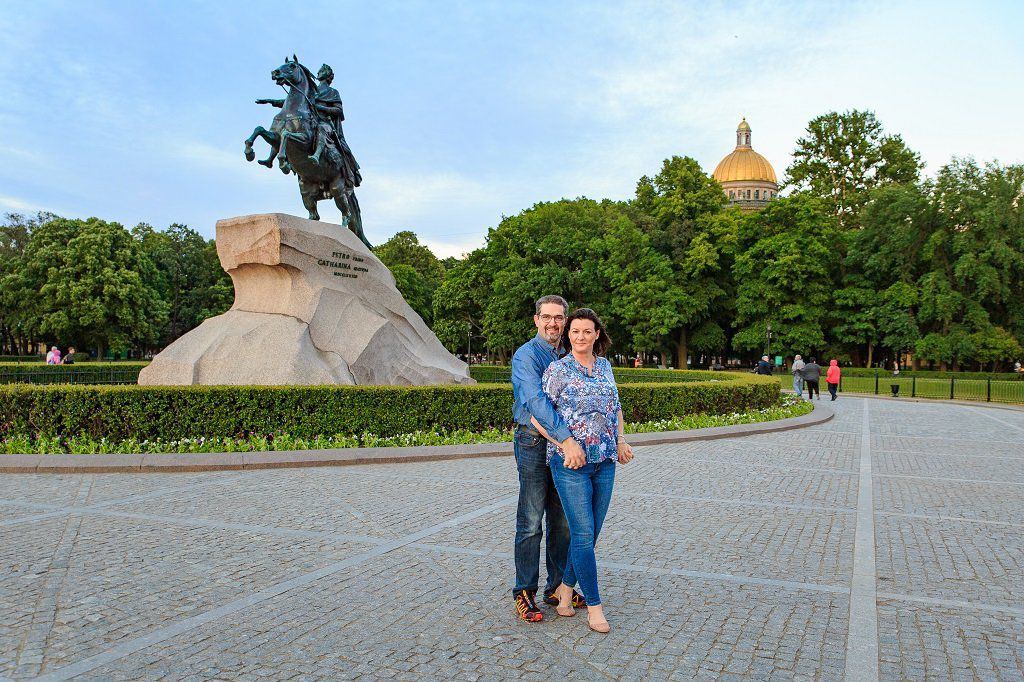 Photo: Sergey, Localgrapher in Saint Petersburg
So the next time you decide you want to take a trip to Europe, put some thought into Saint Petersburg – and Sergey! Neither will disappoint you and both will give you incredible memories to look back on. So if you are looking for a professional photographer in a given city in the world, we will always provide.
Buy memories, not things…
Limited time only!
SEE OUR GIFT CARDS
Great customer service and experience
Photoshoot in very short term
The most destinations on the market
Very positive customer feedback
1162
Photographers & Videographers
1034
Destinations world-wide
100% Money Back Guarantee
We believe in our service and quality of our photos so much that we decided to offer a 100% money back satisfaction guarantee for your photo shoot. If you don't like your online gallery once we deliver it, you can contact us within 7 days and claim your money back. Find more details in our Terms.