8. 9. 2016
Visiting French Riviera with a Vacation Photographer
Imagine strolling down the Promenade des Anglais on your next romantic holiday with a vacation photographer being ready to capture your romantic adventure. With the tranquil coastline stretching out beside you as you stare into your lover's eyes, you will undoubtedly – as this couple discovered – fall deeper in love.
Why Should You Book Your Vacation Photographer in Nice, France
Nice, Italy is the largest city on the French Riviera or Côte d'Azur as it is known to the locals. With more than 300 days of sunshine each year, it is a popular destination for those seeking some fun in the Mediterranean sun.
It is always a buzz with locals and tourists alike. From the pebbled beaches to the yacht-filled harbors, Nice boasts some of the most beautiful views in the world. A glorious playground for the rich and famous, and the perfect backdrop for a romantic getaway any day of the year.
When Omar and Nurtan decided to take their next vacation in Nice, they knew there would be many opportunities for spectacular photos.
But this time, the couple were not convinced a selfie stick would suffice. For the ultimate celebration of their growing love, they decided to hire a local vacation photographer. To capture the picturesque scenes as they enjoyed their day roaming through the city. They could not have been more pleased with their decision.
As a vacation photographer and local resident, Didier was able to capture the very best of Nice in each photograph. Beginning with a stroll down the Promenade des Anglais. It is easy to see why this is the most famous of the walkways on the French Riviera. With the pine trees rising above and rollerbladers gliding past, the energy is always flowing.
Omar and Nurtan felt like Hollywood stars as they strolled hand in hand with their personal paparazzi. They were naturals in front of the camera and enjoyed every second. Nurtan's bright dress and black heels reflected the youthful spirit of the French Riviera. While Omar's dapper appearance embraced the Italian architecture that Nice is known for. The couple, just like Nice, was the perfect combination of playful and charm.
The Most Romantic Photo Spots in Nice
After the bustle of the promenade, Omar and Nurtan were in need of a more intimate scene. With the help of Didier – who doubled as a tour guide – they found some quiet alleyway's in which to share a little romance.
The pink shades reflecting off the buildings set the scene. Thanks to Didier's use of the midday sunlight, a halo was cast around Nurtan as Omar leaned in for a kiss. You just can't get better than that.
The streets of Nice come alive with the vibrant colors of cafes and gift stores, and the dazzling blue sky peaking through. The detailed architecture of the buildings mean you are never without something beautiful to look at. Yet despite this, Omar could not keep his eyes off Nurtan. And who could blame him? Their vacation photographer caught every glance, and with a keen sense of color and composition, brought their love alive in each picture.
From the breathtaking views to the idyllic alleyways, Omar and Nurtan could not have chosen a more suitable destination for their romantic vacation.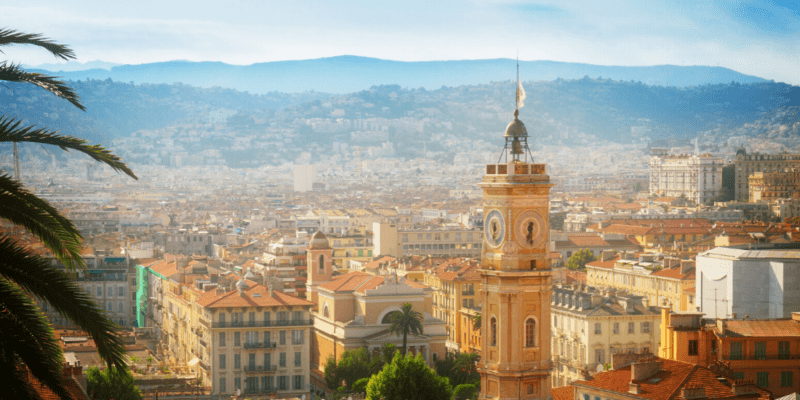 As Nice captured their hearts with each passing minute, so too did their love for each other deepen. And even when their holiday ends, the couple will always have these stunning photos to reminisce on the romance they shared in Nice. And who knows, they might even decide to use one as a portrait in their living room. A little piece of Nice in their home forever.
Is an ugly zit…
RUINING your perfect pics?
Get rid of it for $15 USD!
SEE PHOTOSHOP PACKAGES
Great customer service and experience
Photoshoot in very short term
The most destinations on the market
Very positive customer feedback
1225
Photographers & Videographers
1075
Destinations world-wide
100% Money Back Guarantee
We believe in our service and quality of our photos so much that we decided to offer a 100% money back satisfaction guarantee for your photo shoot. If you don't like your online gallery once we deliver it, you can contact us within 7 days and claim your money back. Find more details in our Terms.