19. 8. 2018
A Big Family Outing in Baroque Salzburg, Austria
Salzburg the Salt Fortress is an alluring place for a family vacation. Full of brightly lit, shining white buildings, it's exactly the place you'd want to have a portrait shoot at. Rob chose nicely in bringing his family here; all he needs now is a family photographer.
The Salt Castle
As a taxation zone for salt barges floating up the River Salzach, Salzburg's mercantile roots in Austrian history are well-founded. The city's baroque architecture is also world-famous. Baroque-style is a sweeping, exaggerated version of Renaissance architecture designed to make viewers reflect on the majesty of the Catholic Church.
Salzburg is also the birthplace of Mozart and his historic home is now a museum. Several other castles and cathedrals adorn the Old Town district with monasteries, parks and several other castles dotting the countryside. Salzburg is one of the most popular places for tourism in Austria.
Color Coordination in Portrait Photography
Portrait shoots can be tough at times because they sometimes have a forced appearance to them. Especially when your family is as large as Rob's! Getting 5 family members to cooperate and agree on how the shoot will come about is no easy task. But Annette, our family photographer in Salzburg, was ready and willing to meet that challenge head-on.
One of the most impressive things about the shoot is how well color coordinated everyone is. Notice how the entire family is wearing shades of blue. This creates a sense of balance and togetherness in the group photos. Looking at the entire album as a whole is jarring and not as attractive when random family members have patterns or colors that don't match.
Request your family photo shoot in Salzburg now
REQUEST NOW
They also decided to go with a solid color. Patterned clothing works nicely for portrait and model shoots. But for a more traditional styling it's better to stick with solid colors, especially when there are others in your photographs. Complex patterns can be especially problematic due to moiré. Moiré is a rendering error that can crop up in digital cameras due to the patterns causing slight errors in processing. Subjects like feathers, screens, and fabric textures are particularly prone to this.
While it's possible it was a stroke of luck it's far more likely that the family's coordination with Annette was key to the wonderful family color coordination here. As a professional family photographer, Annette would have known exactly which clothes work well in portrait photography.
Family Get-Together in Salzburg
One of Annette's many triumphs in this album is in how nicely she captured the energy of the children. She has them not only posing actively but also smiling at one another as she photographs them looking around and enjoying the novelty of the area.
The depth of field is varied and exciting. In some photos we have a nicely blurred background with a sharp focus on the main subjects. In others we get to see the beautiful textures of the background stone and architecture. The lighting varies from middle of the day bright to shadowy beside the doors of the area.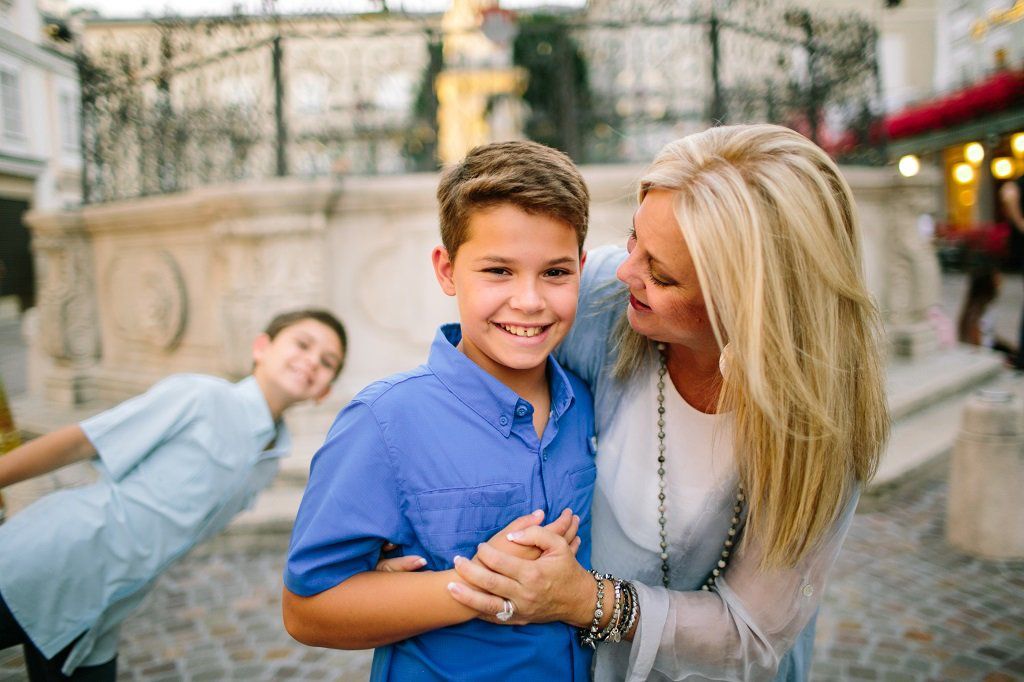 The photos of the two parents also display a wonderful range of emotions from joy to intimacy. And each parent gets a solo shot with each kid. It's clear that the event was not only well planned by Rob and Annette but there was even room for spontaneity as they walked around Salzburg.
Portrait shoots with our professional photographers can be just as much fun as the rest of your vacation so don't forget your booking before you fly off to Austria!
Buy memories, not things…
Limited time only!
SEE OUR GIFT CARDS
Great customer service and experience
Photoshoot in very short term
The most destinations on the market
Very positive customer feedback
1203
Photographers & Videographers
1046
Destinations world-wide
100% Money Back Guarantee
We believe in our service and quality of our photos so much that we decided to offer a 100% money back satisfaction guarantee for your photo shoot. If you don't like your online gallery once we deliver it, you can contact us within 7 days and claim your money back. Find more details in our Terms.