22. 10. 2018
A Lifestyle Photoshoot in Modern Dubai
Damion and his wife were looking for some lifestyle photography, a very distinct style that not every photographer is up for capturing. They're trying to evoke a very specific flavor that fuses them with the cosmopolitan essence of Dubai. Fortunately, Ales was up for the challenge and this is how their stunning lifestyle photoshoot worked out.
Why Lifestyle Photoshoot in Dubai?
Dubai has come a long way from its roots as a small fishing village whose origins are lost to history. Dubai is now one of the most cosmopolitan and connected cities in the world. Its wealth was formerly created from oil but now results from diverse trade in construction, aviation, financial services, tourism, and much more. It's also the most expensive city in the Middle East and has the second-highest hotel prices in the world. In 2010 the Burj Khalifa skyscraper opened up, currently the world's tallest building at 828 meters (2,717 feet). Dubai is one of the economic hubs of the world and well worth a vacation photoshoot if you're going to be spending any amount of time there!
Damion and Ales Get to Work
Damion and his wife are trying to capture the romance of their relationship along with the spontaneity of an international vacation, the allure of foreign capital, and the pulse of Dubai. In short: a lifestyle photoshoot. As we see here, our professional photographer Ales in Dubai, was able to pull off just that. As a local vacation photographer, Ales knows exactly where and when to capture the look a client is going for. He knows when the lighting is most dramatic, where the tourists won't be, and how to create photos that seem as if you have the entire city to yourself.
Damion and his wife are excellent at taking direction. In many of the images, we see them looking out at various touristic sites with their shades and casual yet chic outfits on. From the waterfront of Dubai to the front of a mosque, there's plenty of great places to pull off a lifestyle photoshoot.
And since you're in Dubai, the photoshoot simply would not be complete without the Burj Khalifa somewhere on the horizon. The tallest building in the world also gets some airtime in these images, though the smiles of Damion and his wife really do steal the show!
Ales's choices in focus are particularly pleasing. Given that they are in a big city we sometimes want the background to be in focus as much as the foreground. But there's plenty of images that focus specifically on the happy couple as well, creating a feeling of intimacy and joy. Viewers feel connected to Damion and his wife in seeming private moments of bliss in Dubai. But for the most part, we see the background of skyscrapers and soft yet dramatic lighting of the intense desert sun playing a dominant role in these images.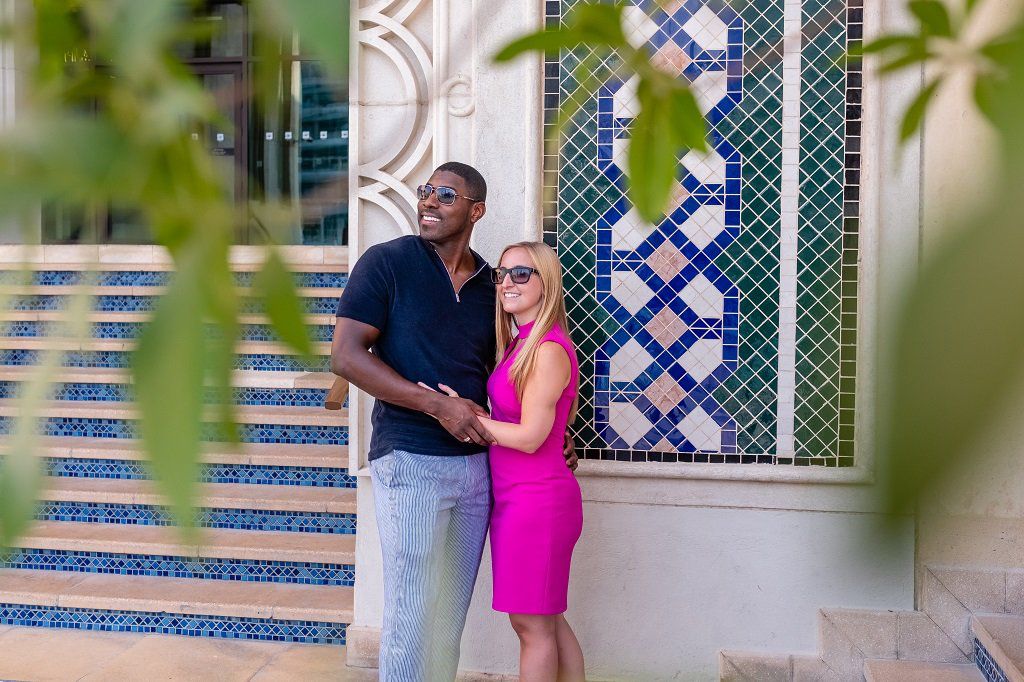 Perks of Booking a Local Vacation Photographer
Any time you find yourself somewhere as incredible as Dubai it pays to go beyond selfie photography. You'll want to document every moment because it might be years before you find yourself there again. Therefore the photos should be just as special as the trip, making hiring a local vacation photographer like Ales a no-brainer. So if you have a trip lined up, make sure your photos are up to par with your hotel, meal plan, and everything else on your agenda. Safe travels!
Buy memories, not things…
Limited time only!
SEE OUR GIFT CARDS
Great customer service and experience
Photoshoot in very short term
The most destinations on the market
Very positive customer feedback
1167
Photographers & Videographers
1035
Destinations world-wide
100% Money Back Guarantee
We believe in our service and quality of our photos so much that we decided to offer a 100% money back satisfaction guarantee for your photo shoot. If you don't like your online gallery once we deliver it, you can contact us within 7 days and claim your money back. Find more details in our Terms.