7. 11. 2018
Be the Son of the Year: Give Your Mother Photoshoot Gift Experience
Guys, let's face it. Being a man, it is not easy buying gifts for our mothers. We appreciate them, love them to bits, but sometimes buying another bouquet or a box of chocolates doesn't really do the trick anymore. Sure, you can take your mum out for dinner and spend some time with her, show her you care. But, and this is guaranteed, she will talk a lot about her memories.
You know, mums like talking about the tiny little moments all of us might have forgotten already, but they will never forget them. The moments that make them smile every time they mention them. And let's not lie to ourselves here, we like those little glimpses and happy memories as well.
You may now be thinking what does all of this have to do with giving your mum a gift. Well, since our mums like the memories so much, why not give her exactly that? Memories she will never forget. Moments she will be able to share with you whenever the whole family comes for the Sunday roast. And probably most importantly, the moments she herself will cherish forever. Give her photoshoot gift experience!
What is a Perfect Gift for Your Mum?
We at Localgrapher think that the solution to this riddle is really quite easy. Book a photoshoot gift card for your mum with one of our professional photographers, watch her enjoy the session and get some real "son of the year points". If that is not a win-win, we don't know what is.
But you know what, we didn't just stop at theory here. We wanted to try this out for you and see what happens if our own mums get a photoshoot as a gift. Which is why Tom, our marketing master, decided to book his mum a session with a professional Localgrapher on the beautiful sunny island of Mallorca, Spain. He knew his mum was about to celebrate an important birthday and he therefore decided to make the occasion feel extra special for her.
Want to see the results? Sure, let the pictures do the talking here.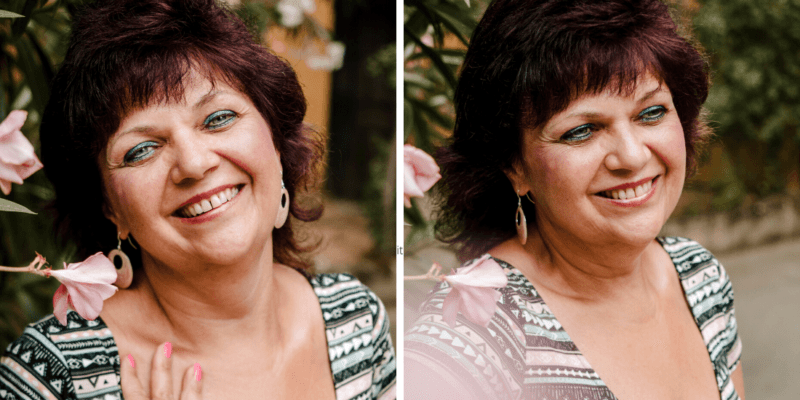 Look how happy she looks right there. Isn't that just great? Honestly, whenever she looks at a photo like this in the future, she will get that lovely little smile on her face.
Oh and we never said your mum has to be alone in the photos either! You can happily take part in the photoshoot or even the whole family can. The most important thing is that your mum feels happy and comfortable.
The Best Mother Photoshoot Gift Experience
We asked Tom's mum what her thoughts were about the photo session and how she felt about it. She actually said that she had a great day and that the most important thing to her was the photos which she knew would be a great memory forever. That is not all she said, though. She also thinks that a great set of pictures made her feel good about herself and that she will look at them in the future and still think that even at 50+ years of age, she still looked great. She also really enjoyed the experience and atmosphere of a professional photo session and enjoyed the attention for the day.
Having said that, your mum can be different, of course. She may enjoy group photos with the family, partner or friends. None of that is a problem for our vacation photographers, just ask them and they will be always happy to help arrange the best tailor-made session just for you.
If you are looking for a special gift for a special mum, look no further. She cares for you a lot and sometimes it's a great idea to show that you care too. Tom has already shown his mum. Tom is smart. Be like Tom.
Is an ugly zit…
RUINING your perfect pics?
Get rid of it for $15 USD!
SEE PHOTOSHOP PACKAGES
Great customer service and experience
Photoshoot in very short term
The most destinations on the market
Very positive customer feedback
1225
Photographers & Videographers
1075
Destinations world-wide
100% Money Back Guarantee
We believe in our service and quality of our photos so much that we decided to offer a 100% money back satisfaction guarantee for your photo shoot. If you don't like your online gallery once we deliver it, you can contact us within 7 days and claim your money back. Find more details in our Terms.