27. 3. 2018
Amsterdam: an Alternative Proposal Destination
When the time comes to ask "the big question", finding a perfect spot is on the top of the list. Thus, while planning a memorable trip with your other half, it is natural to think over about where to go, as there are a number of things to take into account – from creating a romantic atmosphere to having a beautiful backdrop for photographs. Although Paris may be an everlasting all-round favorite in Europe, other cities like Prague or Venice may surprise both you and your soul mate. Another unconventional yet riveting alternative is The Netherlands and its delightful capital Amsterdam.
Among its many qualities, Amsterdam is also a very romantic spot. The elegant historical center features many pleasing streets, prominent canals, detailed townhouses and monuments, and countless friendly restaurants and bars. Such attributes combined with a charming atmosphere and an array of talented photographers at your disposal to register the experience, make Amsterdam the perfect proposal destination for a love declaration.
Below are a few tips and suggestions for not only setting up the perfect proposal moment, but actually turning the entire trip into a romantic roller-coaster that will hallmark the next phase of your relationship.
Morning: Explore the Streets, Parks, and Canals
A big part of the charm of any given city comes from its aura – which in the case of Amsterdam is represented through its beautiful canals surrounded by medieval mansions, crossed by arched bridges. Even though there are more than 160 waterways to choose from, Zwanenburgwal (only a few meters away from the Rembrandt Museum) is considered as one of the most beautiful.
As you walk along the city center, it becomes easy to get lost in the maze of romantic alleys, small squares, art galleries and vintage shops of neighborhoods like Jordaan. This is a very trendy district, popular among different audiences – almost like a Dutch version of Marais, in Paris – who seek the incredible variety of traditional cafes facing the canal, which is an ideal spot to unwind and simply enjoy each other's company.
A thoughtful chillout break for couples is to sit and rest for a while on the bench where one of the scenes for The Fault in Our Stars was set, letting the view of Leidsegracht's ravishing bridges soothe you. Another good idea is to check out Bloemenmarkt – the world's only floating flower market – on canal Singel, and delight yourselves with the abundance of colors and smells emerging from the enormous variety of flowers and plants on display.
A stroll through the city's parks is a must. The Vondelpark is usually the most visited and therefore crowned (for a good reason) but there are many other options to choose from. However, if you prefer a bit more privacy in order to enjoy a quiet moment alone, consider a romantic carriage ride along the historical center of Amsterdam.
Afternoon: Visit the Surroundings
When you feel like you have seen most of the city center, grab a tandem bicycle and explore the picturesque landscape around Amsterdam. You may choose to go to the old port city of Haarlem, with its cobblestone streets and gabled houses, famous for its outlying tulip fields; or head to the UNESCO Heritage Site of Stelling van Amsterdam, a ring of 42 forts that surround the capital city with the pristine Lake Ijmeer on the way. Regardless of which option you choose, this is a great way to see the countryside and breathe some fresh air.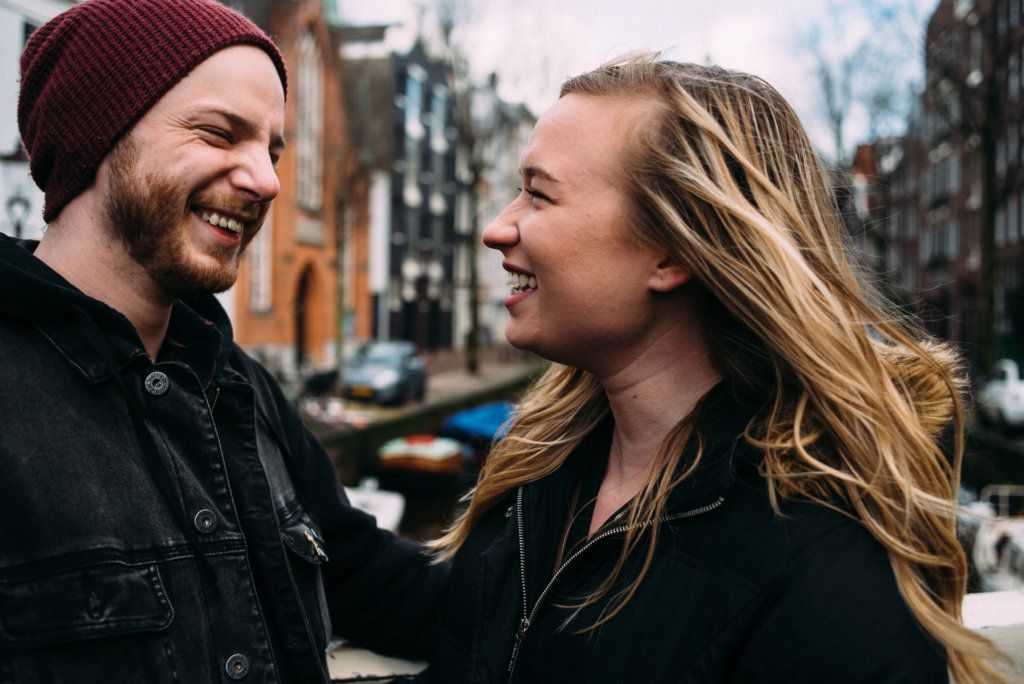 Evening: the Unforgettable Proposal
Amsterdam is even more beautiful at night, when the lights that illuminate the bridges reflect on the water, creating an appealing setting for some photos together. This is when having a vacation photographer specialized in proposal photography comes in handy. You will want to record every detail of the moments coming up to the secret proposal, so to have a photographer with the local know-how of the area and light guarantees some striking images.
If you fancy the idea of dinner on a private boat to set up the moon, go ahead and reserve a night cruise under candlelight along the whole of Amsterdam. This is the best way to enjoy the enamoring lights along the waterfront while tasting some delicious Dutch cheeses and wine. It would be nearly impossible to get more romantic than that!
For an unforgettable finale, a suggestion would be to take a stroll to the Magere Brug. It is said that the ones who kiss on the bridge will be together forever. This may or may not be true, but one thing is sure: you have found an enchanting place to declare your love.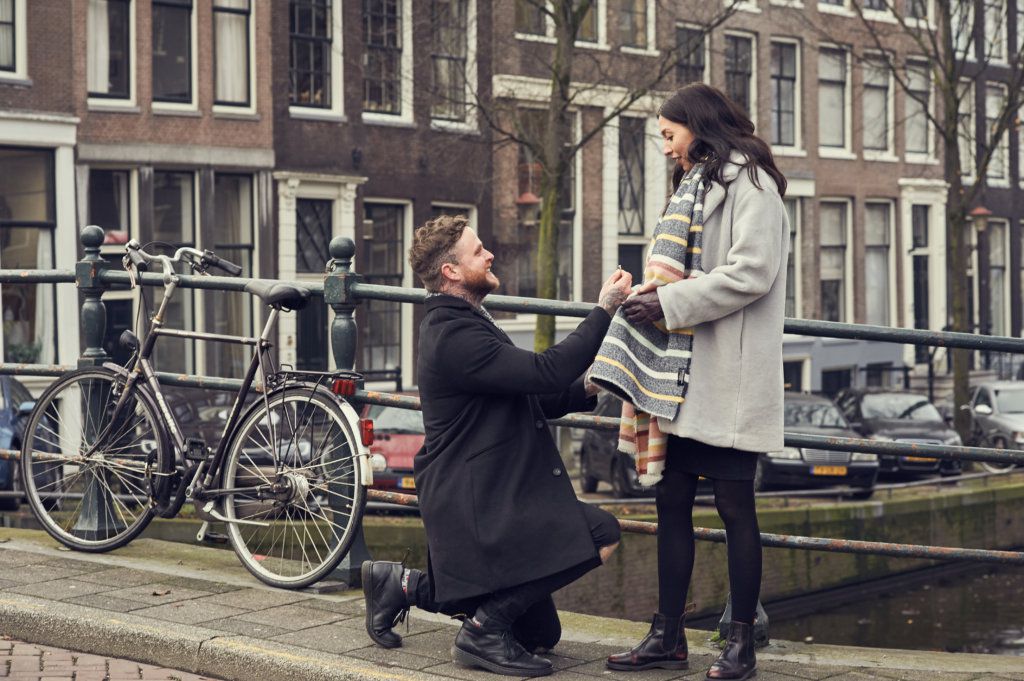 Is an ugly zit…
RUINING your perfect pics?
Get rid of it for $15 USD!
SEE PHOTOSHOP PACKAGES
Great customer service and experience
Photoshoot in very short term
The most destinations on the market
Very positive customer feedback
1225
Photographers & Videographers
1075
Destinations world-wide
100% Money Back Guarantee
We believe in our service and quality of our photos so much that we decided to offer a 100% money back satisfaction guarantee for your photo shoot. If you don't like your online gallery once we deliver it, you can contact us within 7 days and claim your money back. Find more details in our Terms.