28. 3. 2018
Romantic Secret Proposal Captured in Budapest
Adrian wanted only the finest for his fiancé to be. And so he decided a secret proposal after a classy dinner at the Halászbástya Restaurant in Budapest, Hungary, would be the way to go. And since he needed a professional photographer to capture, Adrian reached out to Daria, a local proposal photographer who ensured this magic moment didn't go undocumented. And after consulting with Daria, the two decided exactly when and where the shoot would take place. She knew exactly which romantic location would properly frame the secret proposal photoshoot with minimal intrusion from incoming tourists.
Why Should You Plan Your Secret Proposal Photoshoot in Budapest
Budapest is an architectural and cultural marvel on the Danube River. It is the capital of Hungary and one of the largest cities in Europe. With roots going back as far as 1 AD this ancient city has traded hands numerous times. It was owned first by the Celts, and then the Romans, Magyars, and Ottomans all had a turn as history wore on. Yet despite the history of warfare for Budapest, the city has retained a large percentage of its cultural heritage. One reason the city was so attractive to conquerors are the numerous bathhouses, many of which are open to the public. Many are simply utilitarian. Others, such as Rudas Baths, are architectural wonders in of themselves.
And one of the best places to view that heritage is at the restaurant Adrian chose to propose to his girlfriend at. The Halászbástya Restaurant is well placed for a first-class dining experience after a stroll around Buda Castle. Your food will taste all the better combined with the scenic views of the Hungarian Parliament and the Chain Bridge. Hungarian cuisine is some of the finest in Central Europe and includes such savory dishes as Hortobágyi palacsinta (crepes filled with veal) and chicken paprika (csirkepaprikás). Luscious food and fine wine is a great way to start off an unexpected proposal.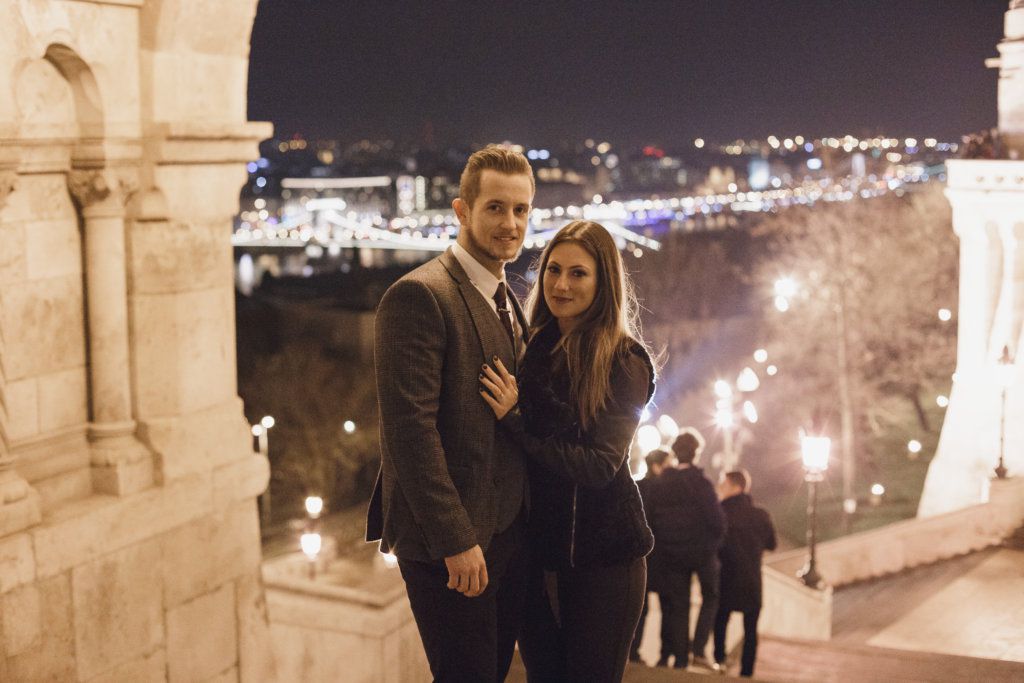 Photo: Captured by Daria, Localgrapher in Budapest
Paparazzi-style Secret Proposal Photoshoot
When Adrian went down on one knee his girlfriend knew what was coming. And of course, she said yes! And so they sealed the dawning of their new life to be with a kiss among the ancient columns surrounding the Halászbástya Restaurant. And at Daria's suggestions, the engaged pair took a walk to a subtly lit gazebo for more photos. And from the gazebo, Daria took them to a walkway with stunning views across the Danube. The glowing lights of the Hungarian Parliament building sat in the background, giving an international romantic flavor to the photographs being taken.
With Daria's expert appraisal the couple knew exactly which poses to model and where. While anyone can hold a camera it takes a real photographer to get people to pose properly. A professional photographer also has the lenses to ensure that the background adds to an image rather than distracts from the real subjects: our newly engaged couple. It's so easy to go overboard in enjoying a scenic location.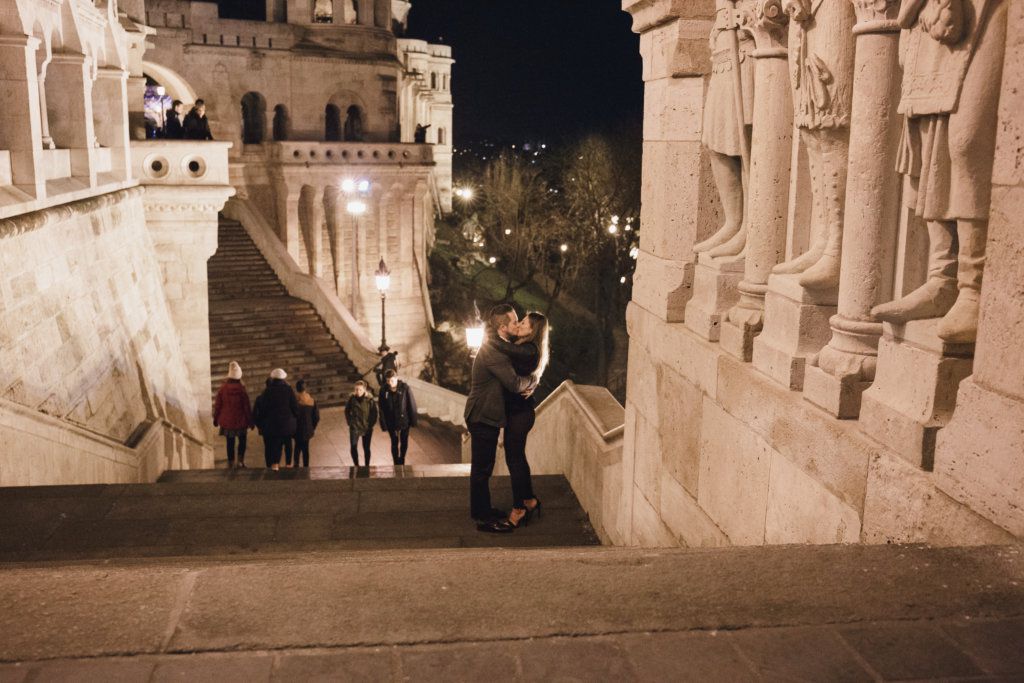 Photo: Captured by Daria, Localgrapher in Budapest
Why Should You Hire a Proposal Photographer?
Hiring a local photographer is a smart move and Adrian ensured his photos of his secret proposal will inspire commentary and memories for years to come. Daria's expert advice and skill are apparent and both parties walked away tremendously happy with the results. So make sure you walk away happy after your major event or vacation and book your vacation photographer ahead of time. You never know when you will want to look back.
Is an ugly zit…
RUINING your perfect pics?
Get rid of it for $15 USD!
SEE PHOTOSHOP PACKAGES
Great customer service and experience
Photoshoot in very short term
The most destinations on the market
Very positive customer feedback
1225
Photographers & Videographers
1075
Destinations world-wide
100% Money Back Guarantee
We believe in our service and quality of our photos so much that we decided to offer a 100% money back satisfaction guarantee for your photo shoot. If you don't like your online gallery once we deliver it, you can contact us within 7 days and claim your money back. Find more details in our Terms.