7. 4. 2018
A Family Get-together Turns into a Secret Proposal in Pattaya
When Kevin decided he was going to propose to his longtime girlfriend he knew he couldn't do so just anywhere. Proposals have to be done in a certain ambiance and so he took to looking at a world map. Fortunately, he opted for a marvelous vacation in Pattaya, Thailand.
Pattaya, the Famous International Resort City
Pattaya is a resort city on the coast of Thailand with balmy weather and beaches of golden sand. Kevin knew there must be a reason Pattaya is the second most visited city in the country after the nearby Bangkok. People from all over the world find its restaurants, shopping areas, bars, and beaches a marvelous way to spend a holiday. The offshore islands can be visited via ferry for a more secluded Thai beach experience.
And as you probably know, an event of this magnitude definitely requires a professional photographer to capture and highlight it for all to see. Sometimes people opt to do the photography themselves, in addition to trying to manage the event's progress and simply live the joy of the moment. It makes for clumsy, fumbled attempts at best. It's really much better to hire a professional photographer, to take the pressure off you as you make your surprise proposal and enjoy the memories to come.
Photo: Captured by Phai, Localgrapher in Pattaya
The Perks of Working with a Professional Photographer
Kevin made the smart choice in hiring Phai, a local photographer in Pattaya. Phai has intimate knowledge of the city of Pattaya and photography, as we can see in how he's documented the moment of Kevin's proposal. When the location and timing were right Kevin went down on one knee and let Phai take total control over the documentation.
Once the emotional moment of the proposal and the affirmation came and went, Phai gave expert direction for the newlyweds to be. He was able to pose them in ways that minimized the intrusions of the other beachgoers while including the family of Kevin's girlfriend. His choices in lens and apertures captured gorgeous silhouettes of the setting sun and a bokeh filled city skyline.
His family was in on the whole event but had their part to play in the photography captures. Mom and dad get their time in front of the lens with their daughter and soon-to-be-son. And their daughters all spend time posing with Kevin and his girlfriend. The story told here is one of joy and laughter.
The proposal photos created a wide variety of stories. We see one image of Kevin and his fiancé with a pair of crutches in hand and a bare leg. What accident was it that Kevin's gotten over that he's able to walk and kneel now? Another shows just their hands together with a new ring. We know the proposal was a "yes," and the happy couple has begun a new chapter of their lives together. Phai's artistry ensures that people will be coming back to these photos for years to come.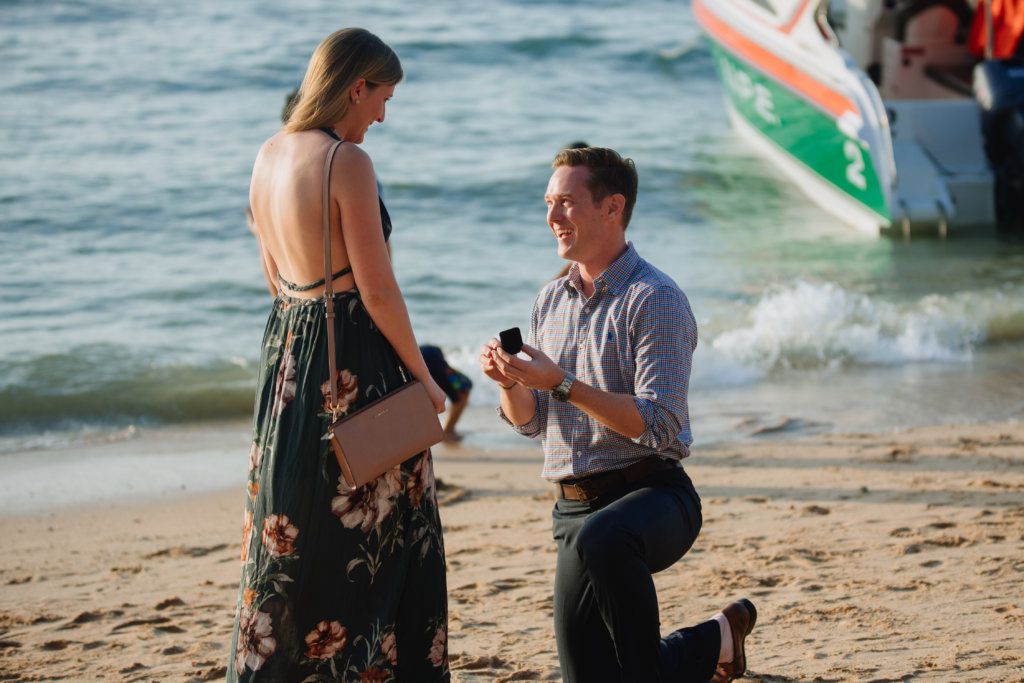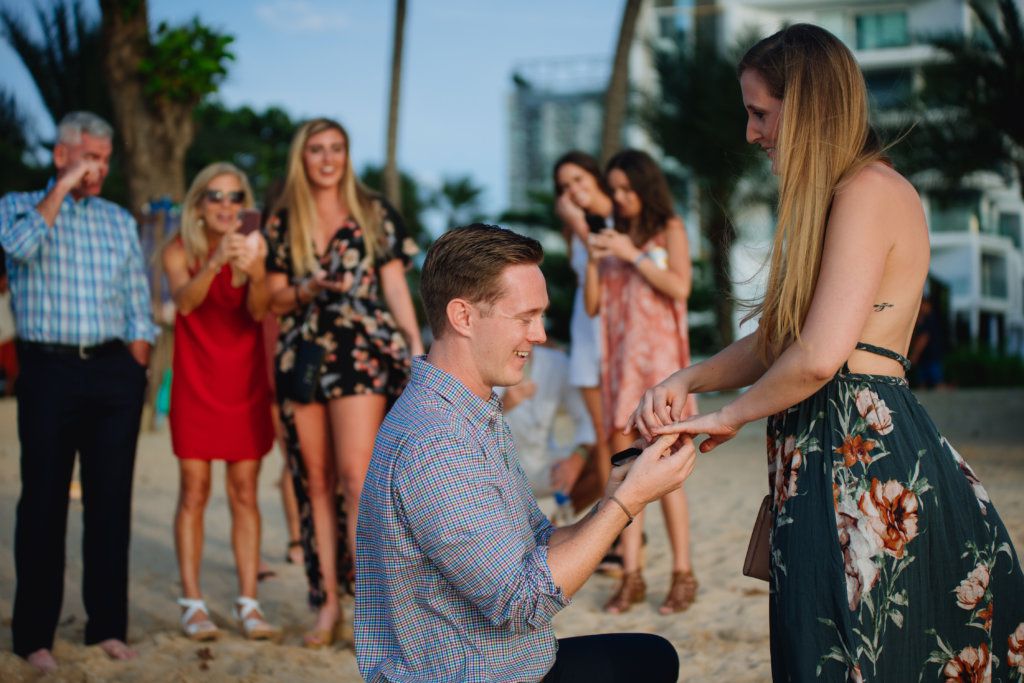 Photo: Captured by Phai, Localgrapher in Pattaya
Why Should You Hire a Vacation Photographer?
A professional vacation photographer goes a long way in ensuring your special moment is remembered in all of its joys and highlights. So instead of leaving an inexperienced family member to snap in the background, go the extra mile and hire someone who knows their way around a camera. Vacation photographers specialize in immortalizing your fond memories of good times. Safe travels and fond memories.
Photo: Captured by Phai, Localgrapher in Pattaya
Is an ugly zit…
RUINING your perfect pics?
Get rid of it for $15 USD!
SEE PHOTOSHOP PACKAGES
Great customer service and experience
Photoshoot in very short term
The most destinations on the market
Very positive customer feedback
1225
Photographers & Videographers
1075
Destinations world-wide
100% Money Back Guarantee
We believe in our service and quality of our photos so much that we decided to offer a 100% money back satisfaction guarantee for your photo shoot. If you don't like your online gallery once we deliver it, you can contact us within 7 days and claim your money back. Find more details in our Terms.