23. 6. 2022
The Ultimate Guide for a Trip to Colombia
Are you looking for a new and exotic travel destination? If so, then consider Colombia! This beautiful country is home to stunning mountain ranges, lush rain forests, crystal-clear rivers and lakes, and white-sand beaches.
It's no wonder that Colombia is becoming an increasingly popular tourist destination. In this guide, we will provide you with all the information you need to make the most of your trip to Colombia!
We'll cover everything from visas and vaccinations to what to pack and where to go. So, whether you're planning a family vacation or a business trip, read on for all the information you need!
Required Documents
If you're planning on traveling to Colombia, you'll need to make sure you have the appropriate documents with you.
1. Visas
The Colombia visa policy is extremely traveller-friendly allowing most countries to visit on a visa-free basis. Visa-free countries include all EU countries, Canada, Japan, USA, UK, and more.
Still, citizens of some destinations, such as Afghanistan, Algeria, Bangladesh, Chad, Congo, or Eritrea do need to apply for a Colombia visa before departure.
Check if your nationality makes you eligible for a visa-free visit to Colombia well ahead before the planned departure to have time to arrange the needed document.
2. Colombia Check-MIG
The ongoing Covid-19 pandemic has forced governments of different countries to implement additional safety measures allowing for international travels to take place.
One of such measures are Passenger Locator Forms – online health declarations. Travellers planning to visit Colombia must complete the Colombian Check-MIG Form within 24 hours of their arrival to Colombia.
The form serves as online travel registration that's obligatory to have upon entering and leaving Colombia.
All you have to do is visit https://passportvisa.org/ and complete the Check-MIG form online to receive the PDF confirmation of its completion via email.
Make sure to stick to the 24-hour period in which the Check-MIG Form should be completed. This ensures the Colombian authorities that the data you have provided is accurate and up-to-date.
3. Valid Passport
Check your passport validity and make sure it won't expire for the entirety of your stay in Colombia.
Renew your passport before departure, if it should expire during your visit to Colombia.
Covid-19 Entry Requirements in Colombia
The newest Covid-19 entry requirements in Colombia (updated on the 1st of February, 2022) regulate that the current entry rules differ for international travellers and Colombian citizens/residents.
Rules for International Travellers
Only vaccinated travellers are currently allowed to enter Colombia from abroad. Your vaccination scheme must be completed, meaning that both doses of the vaccination must have been taken, with the last dose taken at least 14 days prior to the planned visit to Colombia.
If your vaccination scheme has not yet been completed, meaning you have only taken one vaccination dose (if there are two to complete the scheme) or you have taken the last dose within less than 14 days of arrival in Colombia, you must either:
Take a PCR test within 72 hours of arrival

Take an antigen test within 24 hours of arrival
Not vaccinated foreign travelers cannot enter Colombia at the moment.
How to Get Around Colombia
With its variety of terrain and culture, Colombia is a destination that begs to be explored. But how do you make the most of your time there?
Even if you're on a tight budget, Colombia is an affordable country to travel in. With its variety of transport options, it's easy to get around and see all the sights without breaking the bank.
The most commonly used options are taking buses, colectivos (privately owned buses, taxes, mini buses), and domestic flights.
How Much Money You'll Need for Your Trip to Colombia
Think you need a lot of money to travel to Colombia? You don't. While it's certainly possible to spend a lot in this beautiful country, it's also easy to keep costs low.
Depending on how luxury you want your trip to be, average accommodation (such as an Airbnb) can be booked for around 3 USD per night!
Regardless of your budget, there are plenty of amazing things to see and do in this diverse country, with numerous free natural attractions.
Carnival in Colombia
If there's one thing Colombians know how to do, it's throw a party! No matter what time of year it is, there's always a celebration going on somewhere in Colombia. And the biggest and most colorful celebration of all is Carnival.
From the Caribbean coast to the Andes mountains, Colombians come out in full force for four days of parades, parties, and fun. So if you're looking for an excuse to visit Colombia during Carnival season, here are four reasons why you should go! 
1) The costumes are amazing! 
2) The music is upbeat and danceable 
3) There's food and drinks everywhere 
4) It's a great opportunity to meet the locals 
The Best Places to Visit in Colombia
Tip 1: Bogota, the capital city
Bogota, Colombia is a city that is full of culture and attractions. From the historical district of La Candelaria to the modern neighborhoods of Zona Rosa and Parque de la 93, there is something for everyone in Bogota.
Plus, with its affordable prices and convenient location, Bogota is a great city to explore even with your own personal photographer! Here are some of the top attractions in Bogota: 
La Candelaria

– this historic district is home to many colonial-era buildings and churches, as well as artisan shops and restaurants.

Museo del Oro

– this museum houses one of the largest collections of gold artifacts in the world.

Zona Rosa

is a vibrant and eclectic neighborhood in Bogotá, Colombia that's full of life day and night. It's home to some of the best restaurants, bars, and clubs in the city, as well as a number of art galleries and boutiques.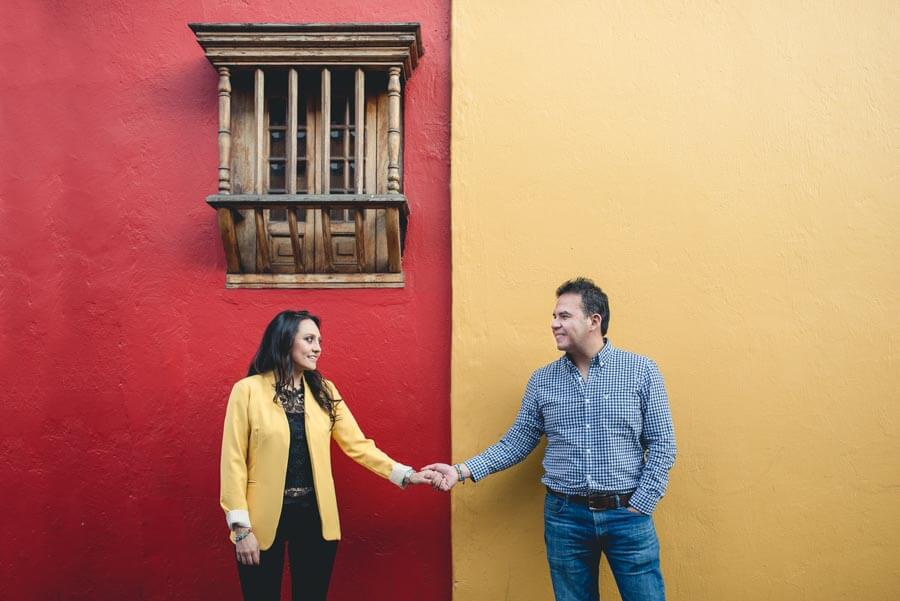 Tip 2: Cartagena, a coastal city with Spanish colonial architecture
One of the first things you'll notice about Cartagena is its stunning colonial architecture. The old city wall and numerous churches are perfect for taking pictures or just admiring the details.
If you're looking for a place to experience some of the best Latin American culture, Cartagena Colombia is the place to be. This city is full of amazing photo-friendly attractions that will keep you entertained for days.
From historical landmarks to beautiful beaches, there's something for everyone in Cartagena. So if you're planning a trip to this vibrant destination, be sure to add these top Cartagena attractions to your itinerary! 
1) Castillo San Felipe de Barajas: This imposing fortress is one of the most popular tourist destinations in Cartagena. It's no wonder why, with its impressive architecture and stunning waterfront location. 
2) The Old City Walls: the old walls are a major tourist attraction and for good reason – they're absolutely stunning! The walls were built at the end of the 16th century serving for protecting the city.
Tip 3: Medellin, known for its nightlife and beautiful landscapes
There's a lot to love about Medellin Colombia attractions. From the strikingly beautiful landscape and architecture to the rich history and vibrant culture, this city has something for everyone.
Whether you're a die-hard traveller looking for an off-the-beaten-path destination or simply looking for a new place to explore, Medellin should be at the top of your list.
The list of attractions is endless from paragliding to exploring coffee plantations!
Buy memories, not things…
Limited time only!
SEE OUR GIFT CARDS
Great customer service and experience
Photoshoot in very short term
The most destinations on the market
Very positive customer feedback
1217
Photographers & Videographers
1065
Destinations world-wide
100% Money Back Guarantee
We believe in our service and quality of our photos so much that we decided to offer a 100% money back satisfaction guarantee for your photo shoot. If you don't like your online gallery once we deliver it, you can contact us within 7 days and claim your money back. Find more details in our Terms.