28. 8. 2017
The Ultimate Solo Trip To Tallinn Captured by a Local Photographer
Tallinn is becoming an increasingly popular travel destination, and for good reason. The city is a cultural hub with beautiful architecture dating back to the 13th century. Walking through the streets of Tallinn is like stepping through a fairy tale town, it's just that magical.
This solo traveler, with the help of his vacation photographer, might just have proven Tallinn to be one of the coolest destinations in Europe. His laid back attitude and beaming smiles, with his cool dress sense helped him picture Tallinn in a whole new light.
Capturing solo travel experiences
Traveling solo allows for some truly incredible photo opportunities, as Atasha discovered. He went traveling around Europe and loved his experience with a personal vacation photographer so much that he had photo shoots in Stockholm, Warsaw and Riga after his Tallinn shoot. Don't worry, blog articles about those shoots will be coming soon.
Solo travel can make for the best travel photos. There's much more freedom and individuality with solo shoots. Atasha had the freedom to choose where in Tallinn to shoot his pictures, and didn't have to consult or arrange with anyone but his personal photographer, Marit.
Request your vacation photo shoot in Tallinn now
REQUEST NOW
Marit helped Atasha take photos that showed off both the best of Atasha's personality, and Tallinn's beautiful scenery. As a local, Marit was able to suggest some ideal locations, from local boutique shops, to beautiful architectural back drops.
As a solo traveler, Atasha was able to simply focus on enjoying himself and taking in the sights, as he left his personal vacation photographer to worry about capturing the moments.
Working one on one with a personal photographer is also a much more personal experience, and Marit was able to make sure the photos taken were well suited to Atasha's personality and style.
Tallinn as the perfect photo shoot location
Tallinn is one of the less well known photo destinations, but Atasha's photos prove that it's one of the best. He managed to fit in several different locations, showing the amazing diversity of the city, and the potential it holds for travelers.
Pictures of Atasha trying a local dish, and grinning as he does so, not only showcase his personality, but also show Tallinn as the ultimate destination to try new things and step outside of your comfort zone.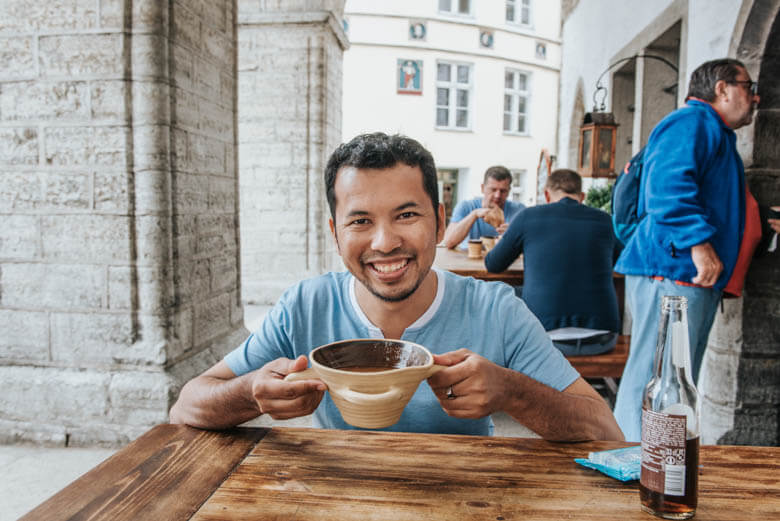 Then photos of him stood in the open space between the city's buildings cleverly use perspective to highlight the impressive nature of Tallinn's center. Atasha's thoughtful stance puts the emphasis on the beauty of Tallinn, which makes for a truly artistic picture.
The mixture of old and modern architecture and shops in Tallinn also allows for some great photos. Atasha is pictured in his modern outfit and leather jacket, in an old fashioned shop with a traditionally dressed woman. The contrast shows the magic and history you can find in Tallinn.
So head to Tallinn, you'll be stunned by its sights, and you'll wonder why you've never paid the city a visit before. If you love culture, architecture and history, it's the place for you, and if you love to take photos on your travels, it's definitely not a city to be missed.
Hire your personal vacation photographer in over 200 destinations worldwide now!
Is an ugly zit…
RUINING your perfect pics?
Get rid of it for $15 USD!
SEE PHOTOSHOP PACKAGES
Great customer service and experience
Photoshoot in very short term
The most destinations on the market
Very positive customer feedback
1225
Photographers & Videographers
1075
Destinations world-wide
100% Money Back Guarantee
We believe in our service and quality of our photos so much that we decided to offer a 100% money back satisfaction guarantee for your photo shoot. If you don't like your online gallery once we deliver it, you can contact us within 7 days and claim your money back. Find more details in our Terms.