16. 9. 2015
19 couples that will provoke your wanderlust (vol. 1)
We talked to best travel couples and asked them few questions. You might be surprised by their honest answers – traveling together can definitely be a big adventure!
As you probably noticed from our previous posts, we love travelers who share their stories on their blogs and social media. The amount of inspiration and joy that is hidden in their stories is just enormous.
After featuring female travel bloggers and family travel bloggers, we are focusing on couples now.
We present 10 couples in the first part and we are going to present another 9 next week. So stay tuned:)
Why would you suggest other couples to travel the world together?
What are the most important lessons that you have learnt while traveling together?
What are your travel plans for upcoming months?
Who are your favorite couple travel bloggers?
1) Justin Plus Lauren
– Traveling together is something very special and life changing. You will create many amazing memories that you will cherish for the rest of your life. However, spending lots of time together traveling can be a test of the relationship, especially in stressful situations. Couples should definitely have patience and understanding for one another. You might have to compromise on where you travel and what you decide to do as you may have different interests or ideas about travel. I would highly recommend that you plan everything out together and make sure that both of you are happy with the plans, and adjust as needed while you're traveling. Justin and I love traveling together and our relationship has definitely grown stronger!
– I am the type of person who is always like, go-go-go. Justin is almost the opposite of that – he likes to relax and not be racing around all of the time. The most important lesson that we've learned through traveling together is to meet each other halfway. I'm sure that I have pushed Justin outside of this comfort zone at times, and he has taught me how to slow down and enjoy my surroundings even more. Traveling as a couple is also wonderful because we always have each other. If we get into a troublesome situation, we're able to work through it together.
– After our three week vacation through Italy this past May, we've been taking it slightly easier this summer. We've taken several day trips and overnight trips around our home province of Ontario, Canada, exploring the beautiful nature that it has to offer. In the coming months, I'll be taking a solo trip to Florida for TBEX and then I'm off to Jamaica for a week with my best friend for a girl's trip! Justin and I love to travel together most of the time, but we also travel separately, too. It's not necessarily a bad thing to spend a little bit of time apart, particularly when one of us has other commitments or isn't as interested in a particular holiday. Our big travel plans will come in 2016 when we will visit Iceland together to drive around the Ring Road. I'm sure we'll have some other travels that inevitably seem to always pop up!
– There are so many incredibly inspiring couple travel bloggers online! Here are a few of our favorites: www.angloitalianfollowus.com, www.mindfulwanderlust.com and www.abritandasoutherner.com.
2) Changes in Longitude
– I'm not sure I would suggest all other couples travel the world together. It's a lot of hard work in addition to all the fun and excitement. It helps if you get along with each great and can stand being together all the time. Long-term travel can help bring some couples closer together if they have a strong relationship to begin with.
– Hmmm. As much as we love all the togetherness, it's important to spend some time apart, say a day here or there, to pursue your own individual interests. That way you appreciate more the time you have together and also have interesting stories to share.
– We're heading to Eastern Europe where we have not spent much time before. We'll focus on Romania, Slovenia, Budapest and Prague. We hear Romania has the fastest internet in Europe which will help. As digital nomads who work on the road, a good internet connection is key for us.
– We enjoy reading about Dalene and Pete Heck of Hecktic Travels and Veronica and David of The GypsyNester.
3) Love & Road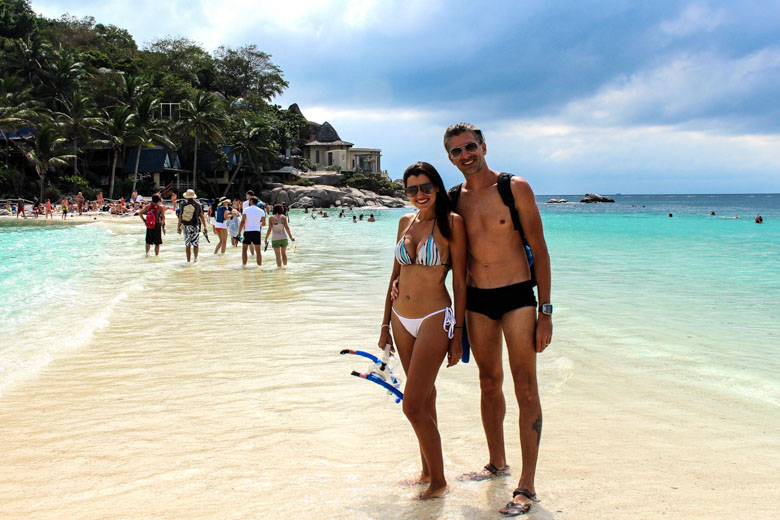 – Travel together is definitely the best way to make a relationship work. it´s a raw experience, you get the best and the worst of each other. You learn to share, to understand and to support each other in a deep level. When you leave your comfort zone and embrace an around the world trip, you have to trust and rely on your partner, the life on the road creates a strong bond between a couple. Traveling you build up memories, stories and a true love that will last forever.
– Be honest and be humble! We spend 24 hours together, in our case has been almost two years traveling side by side. That means we don't need to play games or pretend. We have to be honest and support each other. Sometimes, even argue if it´s necessary. We need to be humble to understand your partner's needs, fears, and dreams. In the end of the day it's a partnership that we are building. I'm not sure if all the travel couple thinks the same, but I believe we are on the right track, after one year full-time travelling together we are still alive and happy!
– We will be in Thailand until beginning of November. Bouncing between Bangkok and some islands. On October we have a travel conference to attend, also we will be part of a Travel Blogger Retreat where Rob and I are going to be speakers. Super proud of this achievement. On the second week of November we travel to Langkawi, Malaysia, Rob is gonna run the Ironman competition there. It's his second Ironman triathlon we're so excited with it! After Malaysia we have nothing planned yet. Our idea is to go to Indonesia or Philippines, and stay there for at least two months. We are missing the beach, snorkeling and relax under the palm trees!
– There are many great couple travel bloggers out there. We really like With Husband in Tow for some serious food tales, and Next Stop Who Knows for travel and nomad lifestyle tips. Recommend you to follow these guys, great wanderlust blog posts.
4) We Travel Together
– Travels are rewarding and inspiring; you get to know other cultures, taste new food, see new places, try new things, and when people travel together as a couple and experiencing something together they create memories that will be forever unique to their relationships. It's also probably easier to go outside your comfort zone as you have someone who got your back, supporting you and can push your boundaries a little. You will not regret, and you'll have some pretty awesome memories to share.
– One of the most important lessons we've learnt while traveling is probably to keep an open mind and don't let the opinions of others influence our decisions on where to go. We often hear about the places "you shouldn't go to" because they're either dangerous or the people are rude, or someone learnt from media all about the negative stuff about that country. Sometimes it's the other way around and "you absolutely should go there because of this or that." We prefer to experience it ourselves and make up our own opinions. People will always have different experiences and preferences while traveling. And therefore you should also travel the way youprefer to and do the things you love.
– We never know about our plans as we can spontaneously book a trip for the next weekend or so, but right now we have no fixed plans before Christmas. We're leaving early in the morning on Christmas Day and will spend the week and New Year on Bali. This will be the first year we're going away at this time of the year, but at least we're spending the Christmas Eve with family. We look forward to this trip; to relax in a villa with private pool, soak in all the sun we can get (it's probably snowing at home) and explore this beautiful island in Indonesia, and to experience NYE in another country.
– There are so many inspiring couple travel bloggers out there, but think we have to say Goats On The Road. Travelling full-time is a big dream for us, and we really love to follow their epic adventures around the world. They are doing what they love and they have taken the step and fulfilled their dream of traveling on a daily basis.
5) Travel Past 50
– Traveling with a partner has its advantages and disadvantages. It's good to have someone to share your adventures with, especially if it's someone you love. The key is to remember why you're together, even when being together all day, every day seems a bit much.
– The most important lesson for traveling together is to have patience. There are always going to be things about each other, and things about travel that are going to bug you. If you let the little things get to you, you're never going to make it. Don't worry. Things will work out in time. Let things happen and don't get angry at things you can't do anything about…like French trains.
– We're currently on an extended road trip through the northwestern United States: South Dakota, Montana, Idaho, Washington, Oregon, California. Then we're going south across the country through Arizona, New Mexico, Texas, Louisiana, Mississippi and Tennessee before heading home to Minnesota. In October, we're flying to Budapest for a cruise through eastern Europe on the Danube, ending in Bucharest. After that, we plan on spending a month or so exploring Croatia.
– Our favorite couples travel bloggers are Jim and Corinne of Reflections Enroute, and Gianni and Ivana of Nomad is Beautiful. We've run into both couples on our travels and love sharing ideas and our love of travel with them. We're in the beginning stages of working on a long road trip through the US with Gianni and Ivana next spring.
6) The Fighting Couple
– We have found that traveling together as a couple strengthens our relationship on many levels. Our mission is to encourage couples to get out and travel together.  It is so important to keep relationships strong.  One of the best ways we have found is finding time to travel together.  You learn so much about your partner as you explore together.  It doesn't have to be some extravagant trip abroad.  It can be something as simple as going on a weekend trip.  It gives you time to talk, reconnect and dream. Traveling brings your closer as a couple.
– The most important lesson we have learned traveling together is how to work together.  Working together as we travel is critical to our success.  A great example is our adventure to Bosnia.  Neither of us spoke the language, we didn't know anyone there, and we were totally lost.  Needless to say, we were forced to work together.  We ended up seeing one of the most beautiful counties in the world.  And yes, we found our way…after a few fights. Speaking of fights… Fighting is another important lesson that we have learned.  We are convinced that most couples fight.  We do.  Fighting is fine as long as you fight fair. All couples have challenges and disagreements.  Each person having their own opinion in a relationship is critical.  We encourage couples to work through their differences and let the fights make their relationship stronger.
– We have a couple big trips on the horizon. Luci is traveling with girlfriends to the UK this fall.  They are going to hit some of the Downtown sites as well as Jane Austen's home. It is very much a girls trip.  We are both going to Taiwan in December-ish.
– We read a bunch of different couple travel blogs.  Our favorites are the Traveling Canucks. Give them a follow!
7) The Carpe Diem Couple
– Traveling is the best bonding experience there is, especially for a couple. Through our travels we have lived in a car together for months at a time, bathed each other with buckets of freezing cold water, seen natural wonders that words cannot describe and you really "have to be there" to appreciate, drive side by side through countless vistas, playlists and car games, and the list goes on and on. Bottom line, you get to know your partner in a way that most couples will never experience.
– Patience is key. During any long-term travel, things will go wrong. The weather will turn bad, the car will break down or you'll run out of money and have to stop to make some more. However, just realizing how lucky you are to be experiencing the world together makes everything else not only seem, but actually be, insignificant. Also, document your travel. This doesn't mean you have to have a travel blog. Use any medium that makes you happy and will ensure that you do it. Take photos and videos, draw or paint, scrapbook, keep a journal, do something silly everywhere you go etc. You'll be so happy you did.
– The Carpe Diem Couple has decided to settle down in the Rockies for the time being. That said, we spend our days hiking, camping, and enjoying all that Colorado has to offer. We are also planning a massive Northwest USA road trip this fall.
– Dave and Deb at www.theplanetd.com and Liz and Josh at www.peanutsorpretzels.com
8) Two Monkeys Travel
– It's the best way to know if you can stick with that person through thick or thin.
– You need to learn how to compromise.
– We're currently in North Peru and heading towards Ecuador, Colombia. We plan to stop in a place for a month to prepare for our trip to Venezuela, Guyana and Suriname and maybe some Caribbean countries. We plan to go to Argentina and Antarctica between December-February.
– We like the guys over at www.gettingstamped.com and www.travellingweasels.com
9) The Global Couple
– Travel can be stressful, dirty, painful, frustrating, tiring, and more. We think travel is the ultimate test of a relationship – if you can travel successfully with your significant other without going crazy, then there is no limit to what else you can do together! We also love having a travel companion – someone to share the good memories with (and to share driving on a road trip!), but also to help each other out on the road in times of stress, failed plans, and sickness.
– To be patient, forgiving, and not to sweat the small stuff. And also to find food before one of you gets hangry (hungry + angry)!
– We're based at home in New Zealand at the moment so we are looking forward to doing some local New Zealand travel including camping and hiking in the summer. We might also visit some Pacific Islands in the coming months.
– NOMADasaurus and are our favorites. We love seeing what other couples are up to all over the world!
10) Uncornered Market
– I would say the greatest reason why I'd suggest other couples to travel together is to create a library of shared stories and life experiences. When you travel together, you learn to appreciate and respect your partner's differences and strengths. This helps you grow together as a couple, as you understand how your strengths can compliment each other and work together.
– We've learned how to work together as a team, even in times of great stress when it would be easy to blame each other instead. Additionally, we have learned the importance of taking a deep breath to gain perspective, and how to use humor when things get stressful and tough.
– We'll be spending a couple of months in Berlin, with a possible side trip to Serbia. Then we'll be looking at possibly escaping to somewhere warm for winter, perhaps somewhere in Southeast.
– We are fortunate to call Victoria and Steve of Bridges and Balloons our friends, especially as we were in Berlin together for several months. The others are Sam and Zab from Indefinite Adventures, Erin and Simon from Neverending Voyage.
Buy memories, not things…
Limited time only!
SEE OUR GIFT CARDS
Great customer service and experience
Photoshoot in very short term
The most destinations on the market
Very positive customer feedback
1202
Photographers & Videographers
1047
Destinations world-wide
100% Money Back Guarantee
We believe in our service and quality of our photos so much that we decided to offer a 100% money back satisfaction guarantee for your photo shoot. If you don't like your online gallery once we deliver it, you can contact us within 7 days and claim your money back. Find more details in our Terms.