24. 10. 2018
Ancient Rome: A Magical Vacation Photoshoot Destination
If you're going to hire a professional photographer then you really want to be in a location that's as beautiful as you are. Rome certainly fits the bill for Jennifer's vacation photoshoot. She just needed to find and partner up with a local photographer. Fortunately, Amin was up to the task!
Why You Should Book a Vacation Photoshoot in Rome, Italy?
Of all the cities in the world for tourists to visit, Rome is by far near the top of the list, helping to boost Italy up to 5th place in the world's most visited countries. As the capital of Italy and a former world empire, it captivates the hearts and minds of people all over the world. One of the world's first metropolises, it remains one of the largest cities in Italy, with a population of just over 4 million people. Just the sort of place Amin has in mind for a professional vacation photoshoot.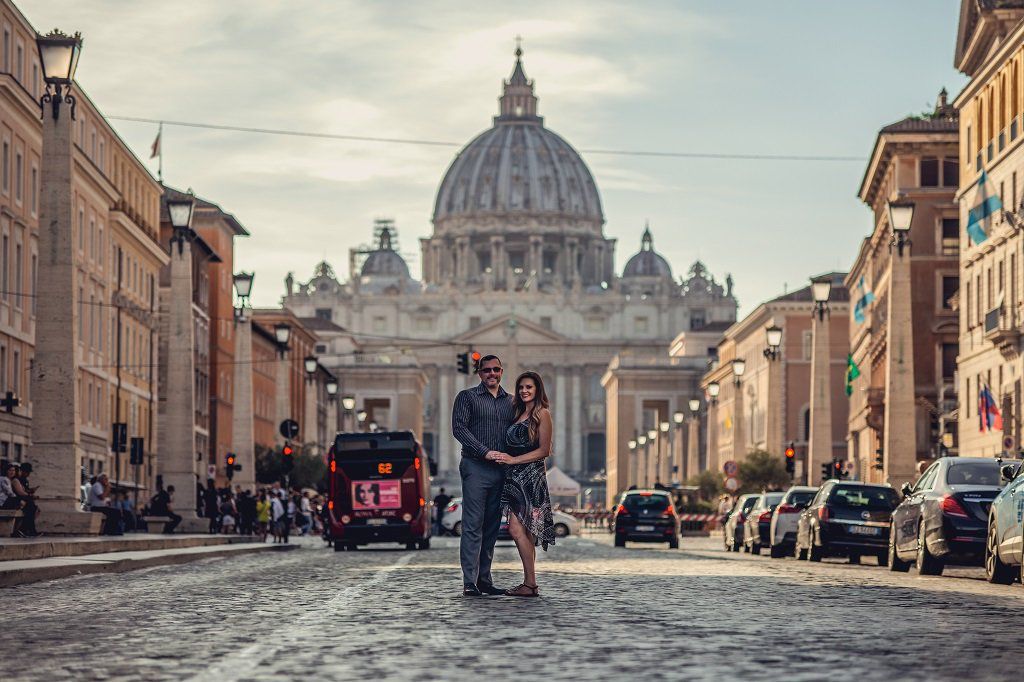 One Day with a Local Vacation Photographer in Rome
Whether you've been to Rome or not you know that the city is perfect for vacation photography. The Vatican, the Colosseum, the baths, churches, parks, restaurants and much more are all easily accessible here. While it's practically impossible to exclude other tourists from your vacation photographs looking at these images we see that our local photographer in Rome, Amin does a pretty good job of it.
His choices in aperture allow each image to focus on the glowing couple and minimizes the background using depth of field. Depth of field, for those who don't know, is how much of a given scene is in sharp focus. And by using professional lenses that can selectively alter this area of focus we can create beautiful portraits of the couple.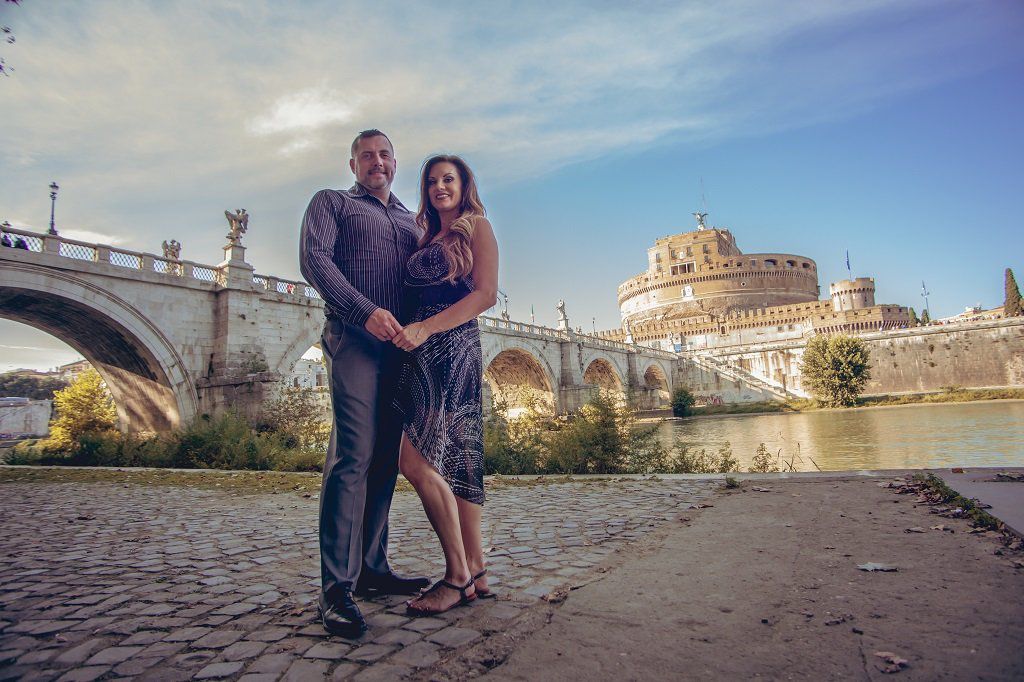 In some of the images, Amin also decided to keep the people in the images. It's hard to capture a metropolitan flavor without other people going about their lives. The hustle, bustle, blinking traffic lights, fences, and architecture all drive it home: we're in a European capital city! The style here is intimate yet casual. The poses are diverse; some touching, some separate. It's clear that Amin and Jennifer had planned for quite a few locations – we even see a shot taken at a bar. Amin proves his talent for diversity time and time again.
One of the best ways to add a new angle to an image is a quick change of clothes – after all, why does a vacation photoshoot have to be all in one set of outfits? Jennifer and her boyfriend had the right idea when they partnered with Amin because they were able to choose outfits that complemented both their form and the background.
As the sun begins to set we see her boyfriend switch to a more casual outfit that gives the images a new flavor entirely. Previously they stood, sat at a bar, and otherwise didn't mar those well-made trousers of his. But by changing into a t-shirt and shorts the atmosphere has become far more casual. Perfect for a shot on the stairs of an ancient building in a nearby park. This is the sort of spontaneous direction a professional photographer can offer you as a client!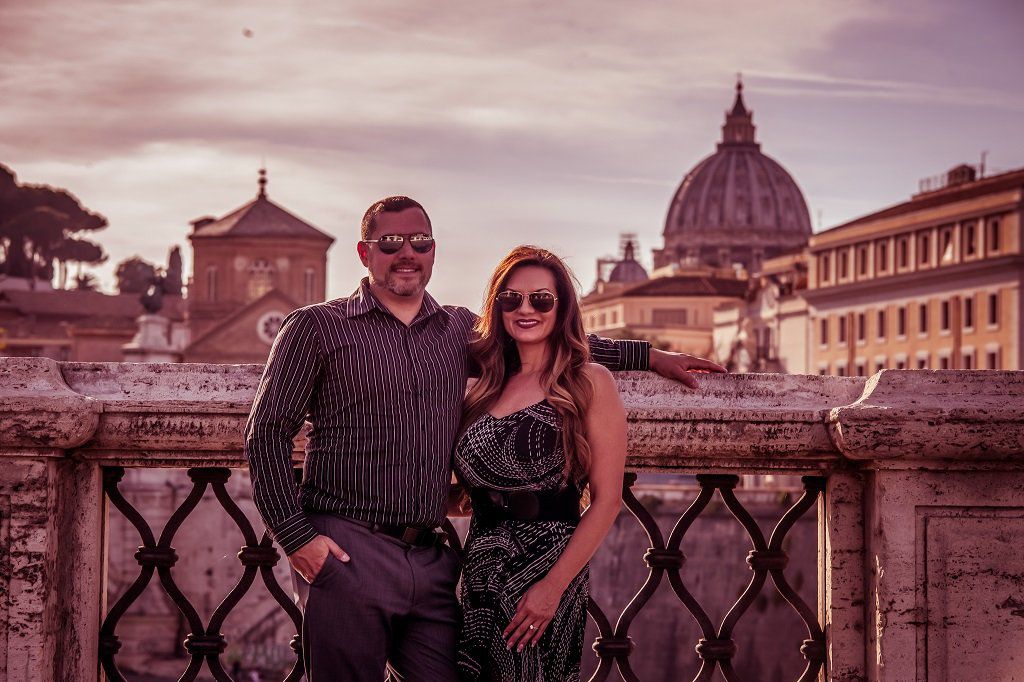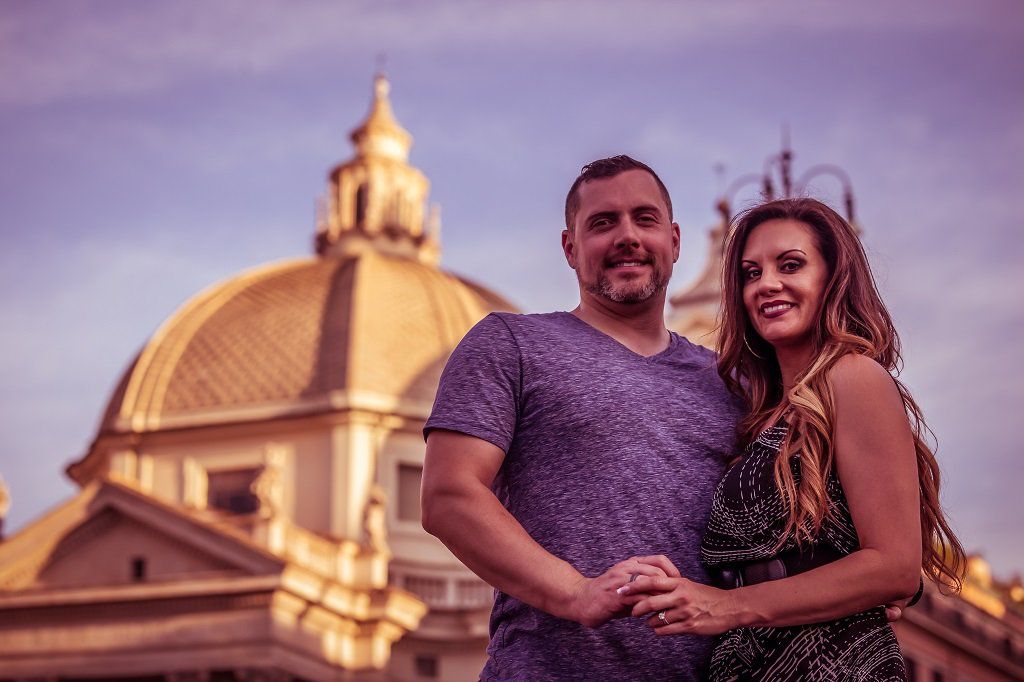 Don't Forget to Hire a Professional Photographer!
Anyone can take selfies with a smartphone. But a truly professional photoshoot goes way beyond this in creating lasting memories for everyone involved. If you're going to spend the time and money to go somewhere as romantic and exotic as Rome then why not spend just a little bit more of both to hire a professional local photographer like Amin?
Check Out Portfolios of the Best Photographers in Rome
START HERE
Is an ugly zit…
RUINING your perfect pics?
Get rid of it for $15 USD!
SEE PHOTOSHOP PACKAGES
Great customer service and experience
Photoshoot in very short term
The most destinations on the market
Very positive customer feedback
1225
Photographers & Videographers
1075
Destinations world-wide
100% Money Back Guarantee
We believe in our service and quality of our photos so much that we decided to offer a 100% money back satisfaction guarantee for your photo shoot. If you don't like your online gallery once we deliver it, you can contact us within 7 days and claim your money back. Find more details in our Terms.