31. 1. 2020
Photographing Couples during Surprise Wedding Proposals: The Most Emotional Pictures
Surprises make for some of the most memorable proposals. Proposals are tailored to your significant other's taste. You will do anything to make sure you get the perfect proposal, tailored just for them. Then, when the moment happens, the reactions are priceless.
Photographers love photographing couples because the candid reactions are meant for keepsakes for years and years. They also make the viewer feel the same emotion that is expressed in the pictures. These incredible reactions can also help to make for a "spontaneous" proposal photoshoot.
Need a few suggestions on how to make your engagement the most unforgettable? Here are our most memorable pictures to spark some ideas.
The Most Emotional Secret Proposal Pictures
Proposal #1
Bridge of Love
If your knees are trembling when you're about to propose, imagine how they'd feel while you're proposing on a bridge!  This photo took place in Munich, Germany. Mountains surround the area between water and sky. The bridge connects between mountains, so talk about your adrenaline running through your veins. By the look of the woman getting proposed to, she feels like she's on top of the world with this surprise proposal.
You can tell that this is a warm, sunny and clear day because the background is picture-perfect. The couple is in short sleeves, which indicates the ideal time for this bridge proposal. This way, no one is freezing and shaking on a bridge hovering over the crystal blue water. Although the mountains seem white like snow, the elevation of the couple is low enough to enjoy the sunny warmth. With a photo like this, you are sure to feel in a whole new world.
Landscapes make for powerful photos. The only thing competing with the beauty of your love is the beauty of the background. For some steady ground, couples can stroll through the English Garden. Photographing couples will seem like the norm on this lovely endeavor. This famous park is a perfect romantic getaway spot for couples. It will also be a perfect location for photographing couples.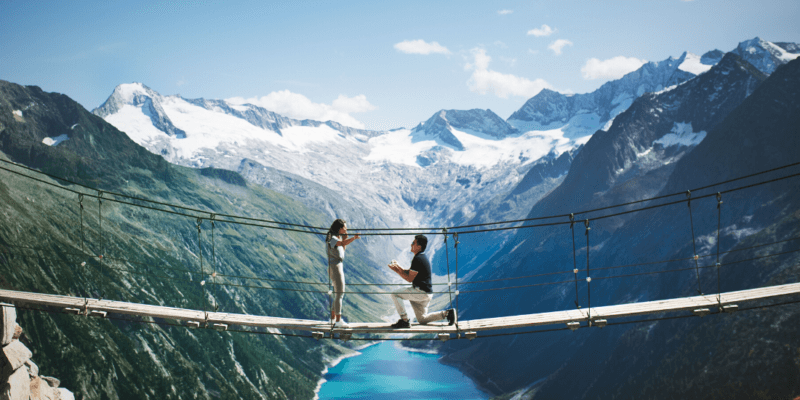 Photo: Sophia, Localgrapher in Munich
Proposal #2
Handwritten
For this surprise proposal, you're going to want to have a marker on hand…literally. After you pop the question, have your private photographer take a few photos for the cutest memories. For instance, this photo was taken in Malmo, Sweden, after the couple had a moment to react. The ring is placed facing inwards. The photographer can now capture the beautiful ring while being able to read what's written on her palm. The hand and ring are the only things focused on in the picture.
On the other hand, the background, the couple included, is blurred out. This puts direct focus on the main event, the engagement decision. However, you still can see the couple kissing, which still adds sweetness to the photo. When photographing couples, photographers want to make sure you flaunt what you got. This is your time to show off to the world your love. Photographing a shot like this makes for a cute engagement announcement.
After your proposal photographer captures the loveliest shots of the newly engaged couple, you can explore some of the romantic activities Malmo offers. Need a break from the hustle and bustle of the city? Visit Slottsträdgården. About five-hundred unique plant species make up the large botanical park. The meadow features park benches overlooking the historic Malmo Castle, spanning 210,000 square meters of lush gardens. If this is something you're interested in, a proposal in Malmo would be best during the spring so you can watch the plants bloom in all their beauty.
Photo: Irina, Localgrapher in Malmo
Proposal #3
Sentimental & Simple
A sweet kiss on the forehead shows all the love one photo can hold. It's the simple yet romantic gesture that says enough. It proves the saying, "a picture is worth a thousand words". In this picture you see the man holding his new fiancé's face in the palms of his hands. He embraces her gently, kissing her forehead lightly. She reciprocates the simplicity with a small touch on under his chin. Her eyes are closed and shows a small smirk. Pure love is shown through these actions. There is no grand gesture, just the idea of two people in love, only needing each other. 
The background is blurred, only focusing on the couple embraced in each other's company. Looking like a woodsy environment, the photo took place in Sirmione, Garda Lake, Italy. This resort town in Northern Italy is known for its thermal baths. A medieval castle (Rocca Scaligera) overlooks Garda Lake. A proposal would be perfect in this town during the spring, winter or fall because of the astonishing views overseeing the lake.  Photographing couples would look great with the blues of the water hitting the horizon of the sky. The trees and castle would pop with this background.
Photo: Andrea, Localgrapher in Verona
Proposal #4
Snowy Bliss
The scenery may show its cold, but the proposal will give you the chills. The surprise proposal took place in Zermatt, Switzerland, where you can see nothing but white surrounding the happy couple. Zermatt is a mountain resort known for its skiing, climbing, and hiking. If you're looking to propose here, make sure you come during the winter. The scenic town lies below the iconic, pyramid-shaped Matterhorn peak. This is the perfect romantic getaway, especially for a newly engaged couple.
Ivan, our Localgrapher photographing this couple snagged the most candid reaction. Happiness in a relationship can be expressed in many ways.  Crying is one of them. You're so surprised and ecstatic that your first reaction is to cry. Photographers love photographing couples because of the priceless reactions. When there's a surprise engagement such as this one, viewers of this photo will really feel that emotion that took place.
If you want to nail a secret proposal as he did, it's best to catch your significant other when they least expect it.  In this case, it's possible she wasn't expecting to hike through inches of snow only to be proposed to in front of snowy mountains. When he got down on one knee, his intentions were very clear… and surprising!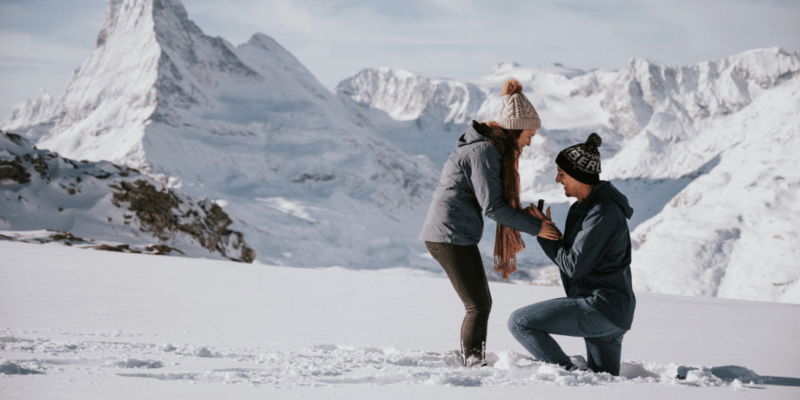 Photo: Ivan, Localgrapher in Zermatt
Proposal #5
Eyes on Her
Ladies, we know you've dreamt about the moment when your significant other proposes. You imagine where and how it's going to happen. You imagine the nail color you're going to have when you show off your ring. This is your day. Your soon-to-be fiancé knows that as well, even though it is a big day for them, too.
This photo represents the perfect depiction of all eyes on her big day. Think of it as a pre-wedding photoshoot. Her fiancé is holding her tight as the camera focuses on her excitement. She's holding on to him, indicating the wedding vows, "to have and to hold." Holding each other foreshadows their future together.
Taken in Sorrento, Italy, there are many other ways to capture your exciting engagement. A wintery tour makes for one of the most romantic and fun excursions to have with your significant other. This is the perfect place to get your engagement photographer to capture a surprise photoshoot. Visit in the spring or summer. The open, green fields and wine flow help to capture relaxed, happy, and fun looks you and your partner can get while touring this romantic city.
Photo: Roberta, Localgrapher in Sorrento
Proposal #6
Pop of Color
Getting down on one knew doesn't have to be the only statement in the photo. Take your sweetheart to a unique, vibrant spot for your surprise proposal. Also be sure that your outfits match the colorfulness of the scenery.
In this photo, the yellow hat and orange/red outfit blend perfectly with the bright blue walls that surround the couple. This whole picture is so imaginative, which matches the ecstatic reaction in this surprise proposal. The hand to the face indicates a feeling of good shock as her fiancé gets on one knee and shows her the ring. The "hole in the wall" type location is secluded, perfect for a private engagement. The couple was taken away from civilization just to be alone with each other. Photographing couples means just focusing on the two people, no one else in the surrounding area (unless stated otherwise). This location in Chefchaouen, Morocco was the perfect isolation area for a surprise proposal.
Chefchaouen is known for its striking, blue-washed buildings of its old town, which means couples can find any area in the city for a lively proposal like this. The red-walled Kasbah is also an iconic staple in this city. It's a fortress and dungeon, which is an unexpected yet interesting place. So, if you and your significant other are into excitement and non-traditional things, then this might be a perfect surprise proposal idea to throw your dearest off-guard.
Photo: Oussama, Localgrapher in Chefchaouen
Proposal #7
The After-Proposal Reaction
This is the reaction after your loved one says "yes" to the proposal. In this photo, the man asking for her hand in marriage opens his arms. He's ready to embrace her.
This surprise proposal takes place on a small patch of grass, surrounded by people in Munich, Germany. The people are blurred out in the background, but it is clear this proposal was in the heart of hustle and bustle.  Although the photo is solely meant for the proposal and the couple's reactions, the location says a lot about where the engagement took place.
The outfit she is wearing indicates that this wasn't just any trip to Munich. Oktoberfest took place at the time the proposal happened. The A-line skirt, the blue apron, and shoes indicate it's for the biggest party in Germany. Lederhosen is seen on him as he is on one knee. For a surprise proposal, do it in the midst of an activity. By the looks of it, she wasn't expecting this grand proposal in the middle of a city-wide festivity. However, it makes for a wonderful memory that will last a lifetime.
Photo: Sophia, Localgrapher in Munich
Proposal #8
A Little 'Pick Me Up'
There are many little ways to celebrate your new engagement, and many poses to act on. One of them includes picking up your bride to be in celebration. In this photo taken at Neuschwanstein Castle in Bavaria, Germany, the couple is thrilled over their engagement and is displayed in their emotions and movement. You can see Jack, the man who proposed, lifting his now fiance up in the air as he is smiling. Her legs are kicked back, holding onto him.
The environment surrounding them is romantic, as snow is falling around them. This indicates it's around wintertime, which makes for the perfect time to photograph couples here. Neuschwanstein Castle is also known for its inspiration to the Disney castles. So if you're looking for a non-traditional, non-cliche Disney-type proposal, then this is the most magical spot for you.
Photo: Cesar, Localgrapher in Munich
Proposal #9
Dress It Up'
Engagements are special no matter where they are and how they're done. Proposals are meant for the one you love, and only you know best. Some times, that includes dressing up for a day or night out. This way when you're down on one knee and you're taking photos, both you and your significant other are looking fabulous.
This photo is the moment he places the ring on her finger. Although you can't see her face, you know she is excited as her right hand is holding her left, trying to keep it from shaking as the ring is slipped on. You can tell he is smiling, enjoying this moment right in from of the ancient architecture in Rome, Italy. The weather is tame as she doesn't need a jacket, which helps the colors of the pictures. Her red shoes and dress pop in the foreground as the background provides neutral yet stunning scenery.
Photo: Ozge, Localgrapher in Rome
Proposal #10
Turn Around'
If you're really looking to surprise your person but capture the natural reaction, do it mid-photoshoot. That's what happened here with Jay and his girlfriend. Taken in the beauty of Santorini, Greece, the couple hired a personal photographer for their vacation photoshoot.
Santorini was the perfect spot; bright blues in the sky bounce off the white walls. Although it's the fall here, the weather was still perfect for flowy dresses and sunglasses. Unexpectedly, the girlfriend turned around to find her boyfriend on his knee holding a ring.  You can see she's still mid-turn as her dress is motioning in the air and her feet are facing the opposite way. Talk about the element of surprise!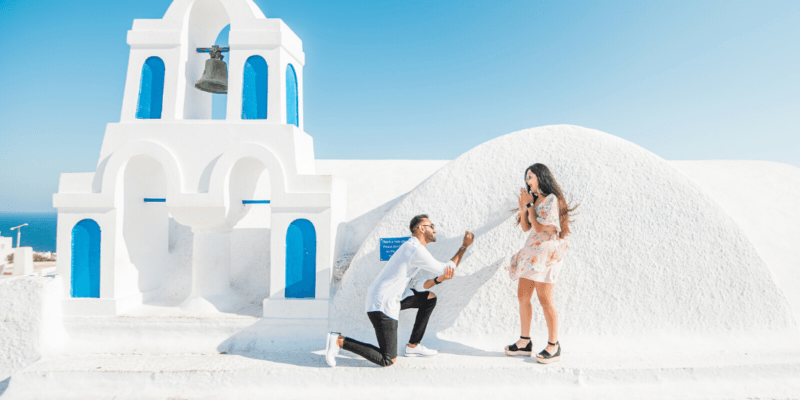 Photo: Dimosthenis, Localgrapher in Santorini
Photographing couples around the world is already an exciting opportunity for many. However, one of the most thrilling times for a photo shoot is during a proposal. It's even better when photographing a surprise wedding proposal. A proposal itself is already memorable for the couple, as it's one of the biggest and most significant moments of their lives. Complement it with a photographer for additional help in making this moment special. A photographer helps capture this moment so you can look at it for years to come.
When a couple gets engaged, they remember where and how it happened, but as far as remembering reactions, that's where a photographer comes in. Make your proposal the most memorable with these ideas and these locations. You will be sure to find the most perfect match for you and your significant other.
Buy memories, not things…
Limited time only!
SEE OUR GIFT CARDS
Great customer service and experience
Photoshoot in very short term
The most destinations on the market
Very positive customer feedback
1114
Photographers & Videographers
990
Destinations world-wide
100% Money Back Guarantee
We believe in our service and quality of our photos so much that we decided to offer a 100% money back satisfaction guarantee for your photo shoot. If you don't like your online gallery once we deliver it, you can contact us within 7 days and claim your money back. Find more details in our Terms.