28. 6. 2019
Engagement Photo Shoot Ideas You Will Simply Love
People get engaged every day, but that doesn't make it an ordinary event. The day of your engagement should be one of the most memorable and special times of your life, and you should capture it to have and to hold forever. Whether you're hoping for personal engagement photos to commemorate the special day, or you want to get an engagement photo to use on the wedding invitations or save the dates, our engagement photo shoot ideas with a professional photographer can be a unique experience to capture a once-in-a-lifetime event.
Everyone's style is a bit different, and we know you deserve your big moment to be unique, just like your relationship. Here are a few ideas to get you thinking about your custom engagement session.
Why You Should Book an Engagement Photo Shoot
Your engagement is a significant part of your life, and you're going to want to remember that special moment for eternity. Taking engagement photos is the perfect way to capture the experience because all the little details are worth keeping. Plus, it helps you gain some romantic and intimate quality time with your significant other. Trust us, you're going to look back at these photos years down the road, reminiscing on the very beginnings of your life together.
Not to mention, an engagement shoot is like the practice or warm-up for your big wedding day. Dipping your toes into a professional engagement photo session helps you to get comfortable in front of the camera. It's important to get comfortable both with a camera and with a photographer, as these two components will be prominent on your wedding day. If you're not used to standing in front of the camera, this will help you learn how to pose and smile naturally, and you will feel much better once you get used to the spotlight!
10+ Ideas How to Make Your Engagement Photo Shoot Special
Tip #1
Deep, Soulful Gaze
One of the most romantic engagement photo poses to stage an engagement photo is the classic deep gaze looking into each other's eyes. Picking a good background is important, which a professional photographer can help you with. Soft and natural lighting with muted colors is a good option to consider in order to bring attention to the couple in the engagement photo.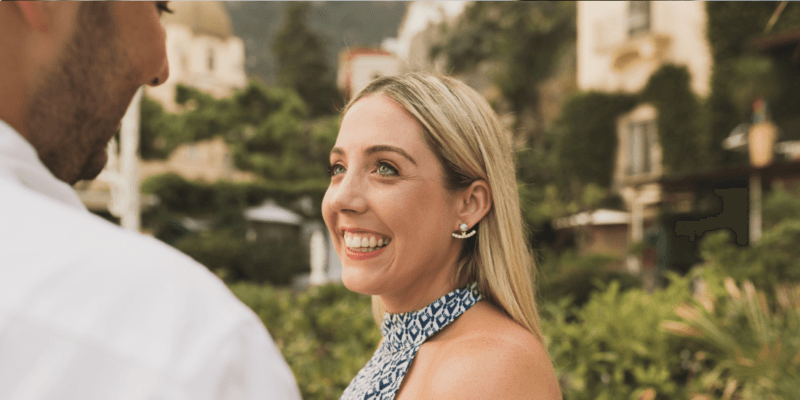 Tip #2
Adventurous Spirits
Your engagement is a unique and important time in your life, so why not commemorate it with a great travel experience? Traveling for an engagement photo shoot is a particularly special way to get photographs that go far beyond a regular photo session in meaning and value.
There are endless ideas on how to do travel engagement photos dependent on where you decide to go. Maybe you dream of a romantic beach vacation, in which case you could take an engagement photo next to the shore with the ocean waves in the background. If you're both into adventure, you could plan an outdoor expedition to the Alps and have a picturesque snowy mountain peak to make your engagement photo shoot special.
Discussing engagement photo ideas with a professional photographer is a good way to ensure that the photos are successful and capture the best of the location you're visiting.
Tip #3
Location, Location, Location
For some unique engagement photo ideas, pick creative spots to make your photo shoot work. For example, if you're both nature lovers, you could consider sitting on a tree together, or on the shore of a lake or the ocean for your engagement photos.  Maybe you both love living in a big city, in which case you could use the skyline at night for a romantic engagement photo shoot.
If you'd like to focus on you as opposed to the background of the pictures, use slightly blurry and muted colors to focus on you, the couple, in the foreground. A wedding photographer will know how to get the ultimate engagement photo positioned.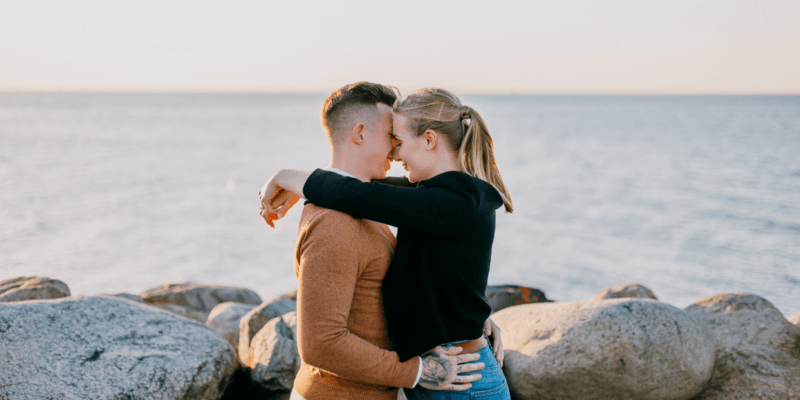 Tip #4
Off into the Sunset
Often engagement photos focus on facial expressions, but you can also have fun with an engagement photo shoot and have it more focused on the setting. Your engagement is marking the beginning of a lifelong journey, so an interesting twist on your shoot is to take pictures of the two of you walking away from the camera into the sunset.
This type of photograph definitely conveys the timeless quality of your relationship and the beginning of a beautiful experience. Location is important for this type of shoot; sunsets and sunrises are some of the most desired shots, perhaps by the beach or in a countryside setting. Another good option is a wilderness trail where the nature around you will enhance the natural connection and love of your relationship. These engagement photo ideas scream romance, and as a newly engaged couple, you're eager to begin your romantic journey.
Learn Everything About Engagement Photography
START HERE
Tip #5
Have Some Fun
Your engagement may be a serious moment, but it also should be exhilarating. Think of engagement photo ideas you can laugh about. While some couples might want to dress up or role play, others will recreate a funny circumstance that strengthened their relationship. With the guidance of a personal engagement photographer, you can create a natural and humorous engagement photo that brings out the joy of your relationship.
Other fun engagement photos can also include ideas with animals or children that are a part of the family. Whether it's a pair of dogs or a favorite pet hamster, animals can add character to your pictures. Children can also have fun getting in an engagement photo shoot to signify this big step for the entire family.
Tip #6
A Formal Promise
Doing a posed engagement photo shoot for your pre-wedding pictures can appeal to some couples. If you decide to showcase something special like the engagement ring, posed engagement photos are a good way to go.
For an engagement photo shoot, professional photographers have good insight into how to pose in photographs that look natural and not forced. Whether you're down on one knee or seated next to each other, the photographer can help with all the details to make you shine together as a couple in these engagement photos.
Tip #7
Black and White Perfection
Doing an engagement photo shoot in black and white is a great way to try unique engagement photo ideas with a classic touch. Black and white invoke a sentiment of timelessness, great for the love and partnership you want to celebrate in your photos. Wearing clothes that enhance light and dark contrast is a nice way to add a bit of artistic quality to the photographs; a professional photographer can help you with these details to get the visual effect you're looking for. 
Tip #8
Seasonal Engagement Photo Shoot
Making use of the characteristics of a particular season adds creativity to your engagement photo. For example, if you love winter, you could snap pictures of ice-skating together, or with a snowman for a humorous touch. If you love spring, you could take pictures in lively floral gardens. The fall can be playing in colorful foliage while summer can be splashing on the beach. From sunny summer fields to deep winter woods, the seasons can be the ideal way to create meaningful engagement photo ideas.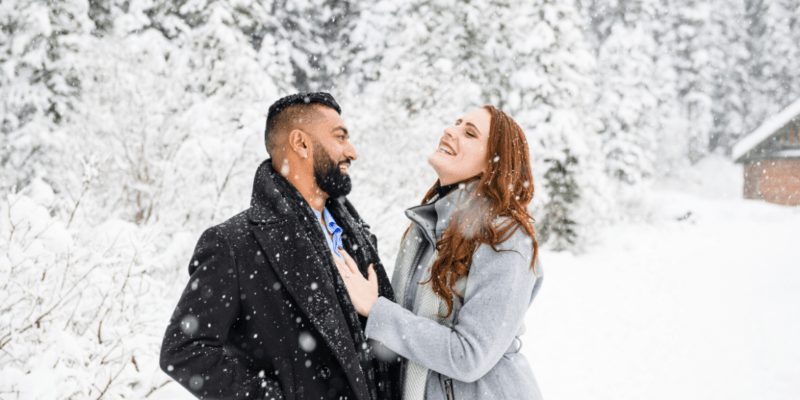 Tip #9
Outfit Choices
You may not realize it, but the outfit you'll be wearing during your engagement photo shoot will be embedded into your memories forever, so make sure you and your fiancé pick outfits that match who you are. Your personalities will really pop in these photos because they're a canvas of your relationship.
Your outfits can be unique to your relationship, such as wearing costumes or colors that complement each other. Your personal photographer will be able to help accentuate your look. Whether they wash out the background to make your outfits stand out, or find background colors that make yourselves pop. You'll be in for some stunning engagement photos.
Tip #10
When in Doubt, Kiss!
Let's be honest, you're not going to want to take your hands off of each other (and we don't blame you, you're newly engaged)! But we also know that some engagement photo poses can feel awkward if you don't know what to do. That's why what better way to announce your engagement than with some smooches?
Don't worry, if you're feeling a little lost, our engagement Localgraphers can guide you the whole time and come up with some other engagement photo ideas, but you can guarantee you'll be getting those kisses in!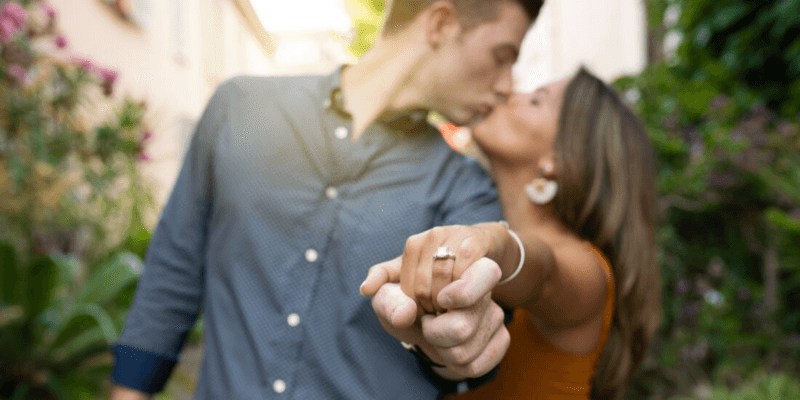 Tip #11
Kissing in the rain is one of the most iconic scenes in a romantic movie (we're looking at you, The Notebook). The passion and intimacy, all in the rain are the perfect way to get close to one another. This shows that nothing else in the world matters besides each other. You don't care what's going on around you, even if it's pouring rain. And that is what makes this the ultimate photo shoot idea.
Why not recreate the iconic kissing in the rain scene for the perfect engagement photo? If you work with one of our Localgraphers, they will know how to keep the camera (and you both) safe. If rain isn't in the forecast, snuggling up in the snowfall would do the same trick. Let the weather be your friend in this engagement photo shoot.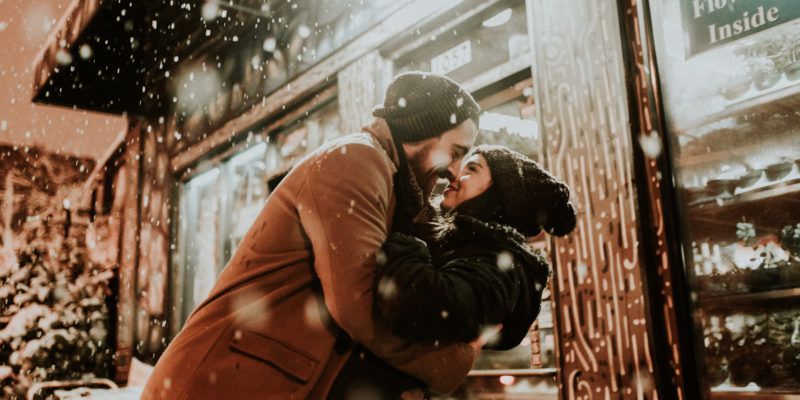 How to Book a Professional Photographer for your Engagement Photo Shoot
Getting an engagement photographer is easy, and believe us, at Localgrapher, they know how to take a stellar engagement photo. Find a professional photographer by browsing through their portfolios and choose a package that will fit your desires best. That could also mean finding your ideal photographer with the most genius engagement photo ideas in another country (if you decide to travel for your engagement session). The world is your oyster here!
Now that you've found your perfect engagement photographer, it's time to pick the package that suits your needs most. We have various options for you to choose from to enhance your engagement session experience. These packages include time frames along with a select amount of high-res photos. Would you rather choose a custom engagement photo shoot package to suit your needs? Let us know, we want to ensure you have the most memorable shoot. So let's find the perfect match for you!
There's a lot that goes into planning the details of the engagement, including getting engagement pictures for your photo book for memories that will last you a lifetime. You aim for original engagement photo ideas with meaning and value, ones that capture the sentiment that brought you together as a couple in the first place. Not only can these photos be meant for save the dates, invitations, and thank you cards, but they're meant to be cherished forever photos.
Buy memories, not things…
Limited time only!
SEE OUR GIFT CARDS
Great customer service and experience
Photoshoot in very short term
The most destinations on the market
Very positive customer feedback
1221
Photographers & Videographers
1067
Destinations world-wide
100% Money Back Guarantee
We believe in our service and quality of our photos so much that we decided to offer a 100% money back satisfaction guarantee for your photo shoot. If you don't like your online gallery once we deliver it, you can contact us within 7 days and claim your money back. Find more details in our Terms.