18. 9. 2019
Your Guide to Perfect Engagement Photo Poses That Work for Everyone
Your first formal commitment, ceremony, or the mark of a new beginning, no matter what you name it, engagement is much more than just a ring exchange tradition. It has meaningful and emotional ties to it that carry a lifetime hope to spend the rest of your life with your loved ones. This is what makes locking all those precious moments for a lifetime even more important. 
Although the idea of pre-wedding photography is not new, couples have become more creative to capture the moments of their first-ever beginning of a formal relationship. They want to make their engagement sessions not only memorable but also fun. They tend to avoid repetitive poses or clicks that are common or traditional. Whether couples have to stand in the scorching sun or climb to the top of the mountains, they should choose the right engagement photo poses that will make their photoshoot an unforgettable experience.
That is to say; creative pre-wedding photography is one way to commemorate the lifelong journey together. And our Localgraphers – the photography experts can help you create, and save the memories with your endless ideas. No matter if you want to do your photography session at the beach or under the starry skyline to add the colors of your pure emotions to it; once you stand in front of the camera, our professional photographers will help you make the best romantic photoshoot.
Creating the best engagement photo poses is a matter of trust and skills. Discussing your preferences with your photographer will result in candid and natural shots. Practicing the perfect photo pose before the big day will make you look less nervous on the big day when you will be intimate with your fiancé for pre-wedding photos. 
If your wedding is just around the corner and you are looking for some creative engagement photo poses and tips, we have you covered here.
Best Engagement Photo Poses Every Couple Will Love
Tip #1
Show Your Chemistry
No doubt chemistry matters the most in a relationship. All couples share some chemistry, whether they like to show it or not.
Not all couples feel comfortable showing their love or getting intimate in public. However, there is nothing bad in displaying affection for your to-be-life partner; especially if it is your engagement photography session. If you want your engagement photographs to show the bond you two share, it is important to show some chemistry.
Don't worry if you are not comfortable kissing or hugging your loved one in front of many people. Leave it to your engagement photographer as he/she knows how to capture the chemistry of two people. He/she helps couples stage the right chemistry in their engagement photography session just by making them gazing at each other. The idea of a deep gaze might sound bizarre to you if you have not tried it yet. But a deep gaze into your loved one's eyes does not only make a classic pose but also adds a soul to the pictures.
Tip #2
Laugh Together and Be Playful
Unlike the previous couple type, if you and your husband-to-be are lovey-dovey types, there are tons of fun poses you can try.  Laughing together hand in hand is no doubt one of the simple yet a deep pose. You can talk to your personal photographer to help him seize the vibes you two give when you are together. He or she will help you highlight the type of chemistry you have as a couple.  Maybe you like to be captured while jumping, dancing around each other, or simply walking with each other on the beach.
However, laughing poses truly show the true personalities of two people willing to share their lives and how happy they are in each other's companionship.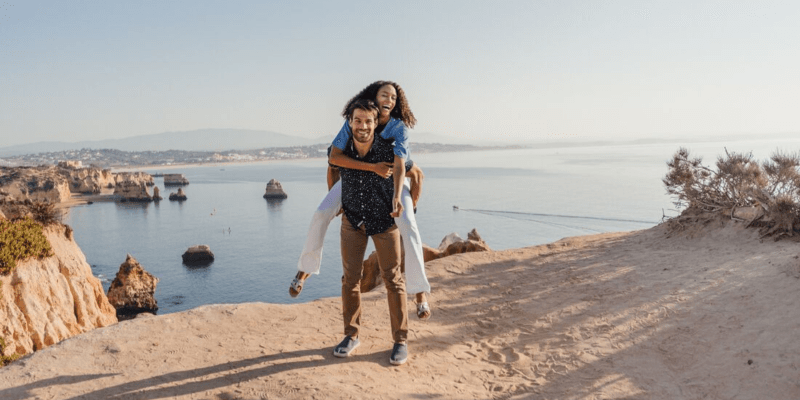 Tip #3
Discuss Your Favorite Poses with Your Localgraphers
This is one of the most important tips when it comes to making engagement sessions the best experience. Pre-consultation with your photographer will help him/her to read the chemistry of you two as a couple. Plus you will be able to explain what style or type of photographs you are looking for.
Moreover, you will be able to connect with the photography style of your Localgrapher on a deeper level. The meeting and discussion will be helpful to decide the setting and props you like to use in your engagement photography session. Once you understand the photography style of your Localgrapher, it will help you prepare for the session.
Tip #4
Plan Your Engagement Photography Session while Traveling
If you want to make your engagement photography session unique, fun, and full of adventure, "Travel." Outdoor expedition or traveling for your pre-wedding photo collection is undeniably a unique way to celebrate the beginning of the new journey.
Traveling comes with tons of exciting photoshoot ideas but mainly depends on the location you choose for your photo session. Photos at the beach, for example, can be an amazing idea to snap interesting pictures next to the serene shores. Or you can go for your photos being even more adventurous by visiting the scenic mountains of the Alps.
Tip #5
Don't Miss out Foundation Poses
No matter what type of couple you consider yourself, foundation poses are a must for romantic photography. The poses refer to spot facing in a specific direction. There is plenty of variations you can try to add to your foundation poses.  From both partners facing the camera together to looking at the ring at the same time, your private photographer can build upon a wide variety of poses.  Depending on your destination, you can move to different spots to use different interesting settings.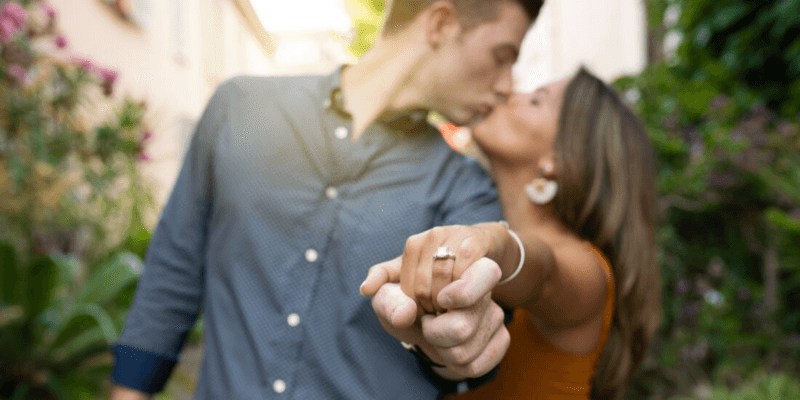 Tip #6
Capture Your Love with the Beauty of the Sunset
Why not give a twist to your engagement photography session by clicking some timeless pictures in the crimson glow of sunset. You might not see the features of your partner with the sun in the background, but their silhouette can surely add a unique feel to the pictures.
Localgraphers are experts in taking the most romantic sunset shots. Choose a place with an exotic and natural feel and let your Localgrapher create the magic with his/her photography skills.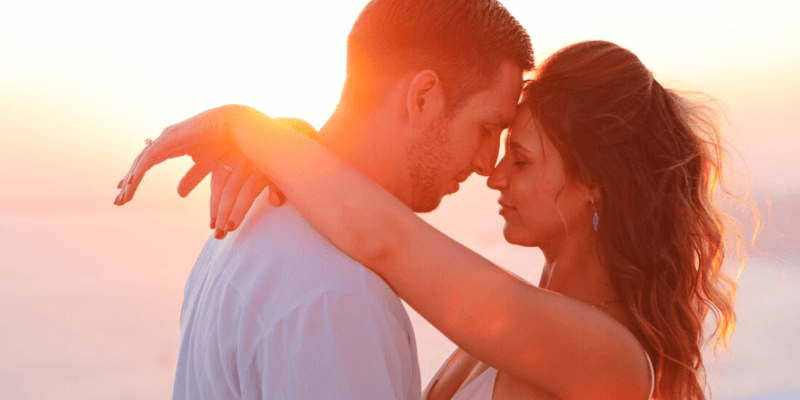 Tip #7
The "T" Pose
One of the exciting proms poses, "T" pose has its own kind of romantic feel to the photos. All you need is to stand with the shoulder's perpendicular to your partner. Be close to your loved one and have your arms around each other.  It creates a loving pose as it allows couples to face each other at an angle where they can look, kiss, or hug each other easily.
Delve into each other's presence and let your local photographer capture the pose with his/her wide-angle lens. Make your romantic photo session a memorable experience with these tips and poses.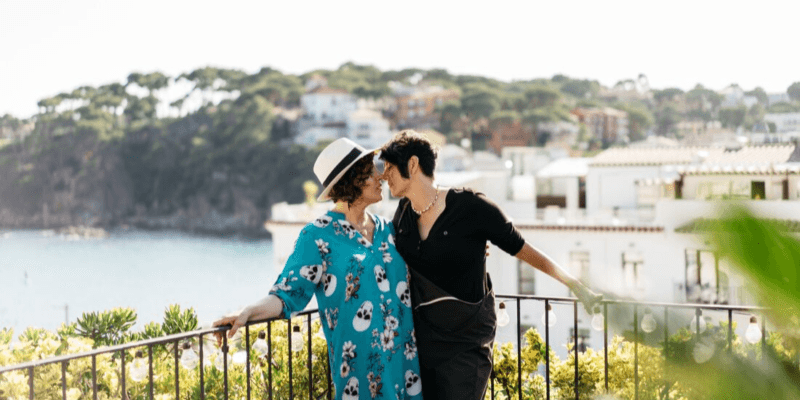 Tip #8
Keep Moving
Just because you have to pose for the camera doesn't mean you have to stop moving and just hold hands. Some of the best engagement photos are captured when the couple moves freely, talking, and smiling ear to ear. Just be natural and go with the flow; the photographer knows when and how to capture an intimate moment to offer a glimpse of the connection you share with your partner. 
There will be plenty of portraits when you have to sit or stand with your fiancé. But for capturing connection and chemistry, pretend there is no camera and no photographer present when walking through lush green fields or sitting by a scenic lake in the woods. Don't focus on posing to look naturally beautiful and radiant in your photos. 
For instance, if the photographer asks for a kissing pose, never get into a position and be rigid because of the camera. Instead, take your time to become comfortable, like saying something heart-warming or holding hands before leaning on to each other.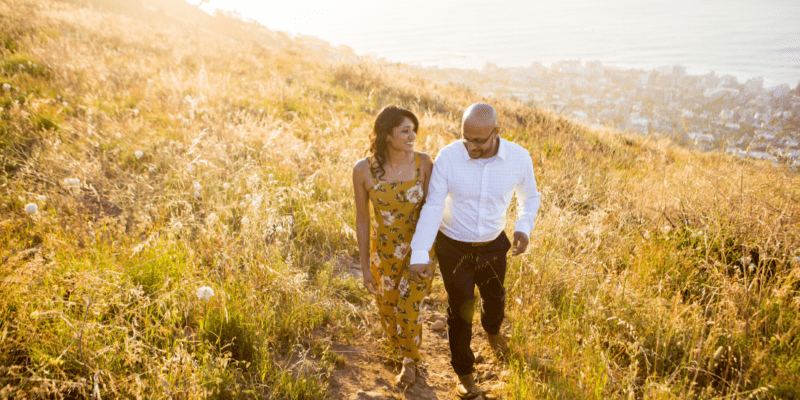 Tip #9
Don't Stop Talking
Following instructions during pre-wedding shoots can sap all the energy out of you, making you look dull and stressed-out in your engagement photos. That's why our professional photographers at Localgraphers don't belt-out instructions but guide you to ensuring a comfortable shoot. 
Great photographers provide guidance and entertain their clients, so there is never a dull moment throughout the engagement session. Mixing unique and whimsical engagement photo ideas result in professional and beautiful photos. 
Do not hesitate to ask your photographer if you need any assistance during the shoot. However, photographers love shooting couples who move freely on their own, cuddling, hugging, and sharing a cute laugh. 
Again, the secret to natural and memorable engagement photo pose is being yourself and enjoying the moment. If you don't how to do something, you can always ask your photographer who has the best engagement photo ideas. Communicating with your partner allows you to calm nerves and have a great time, resulting in the most wonderful engagement photos.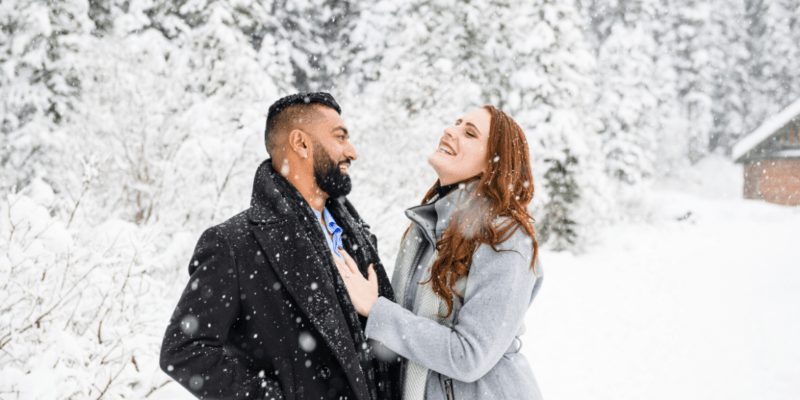 Tip #10
Stand Forehead-to-Forehead and Nose-to-Nose
Engagement photo pose in which couples stand close to each other add precious moments to pre-wedding photography. Caressing your partner's ring finger, whispering in their ears, and sharing a quick joke allows you to stand close, creating an intimate moment for the photographer. These beautiful photo poses are among the most popular engagement photo ideas, featuring hearty laughs to quiet romance and giving exceptional results for both distant and up-close shots.
Tip #11
The Side-by-Side Pose
Standing side-by-side with your fiancé allows your photographer to capture one of the most natural photo poses during an engagement shoot. You stand that same way during your actual wedding ceremony when you are exchanging vows. Make it look more intimate by holding hands, looking into each other's eyes, or smiling your heart out.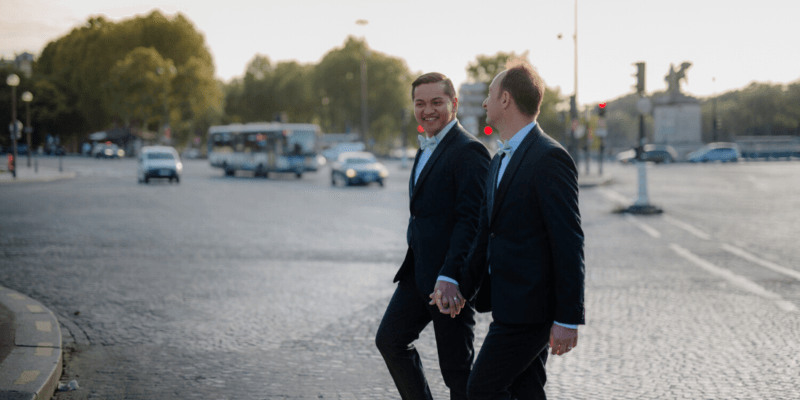 Tip #12
The Back to Front Pose
There is never a couples photoshoot without this pose. The back to front pose allows the photographer to capture the couple's faces clearly while keeping them close to one another. Generally, the shorter partner sits or stands with their back to the other partner's chest. Some photographers use a staircase for creating height variation if both partners are nearly the same height. Do not be shy to wrap your arms around your fiancé when you stand behind your partner.
Everything You Wanted to Know About Engagement Photography
Find It Here
Tip #13
Take Engagement Ring Shots
What is a pre-wedding shoot without an engagement ring shot? Traditionally, rings are the customary engagement accessory. But many modern couples also exchange pendants, bracelets, and other jewelry items to symbolize their love and commitment. Flaunt your ring or the accessory that symbolizes your relationship.
Tip #14
Go to Props
Don't believe any photographer who says no couple uses props anymore. However, the conventional bouquets and balloons are now replaced with props that signify your passions. For instance, if you are a music buff, show-off your guitar as you pose to sing a love song or reveal your love for fishing with a fishing pole near a scenic river for playful engagement photos. 
Here are some other fun and interesting props for making your engagement shoot a fun and memorable experience. 
1, Smoke bombs (make sure to check with your local laws)
2, Cars, motorcycles, bicycles, and bikes
3, Portraits of grandparents, parents, or celebrities
Tip #15
Children and Pets
Adding animals or children to your engagement shoot is not an unusual request. Many couples with dogs, cats, or just about pet would want to make their engagement photos more interesting with pets and kids in the background. Don't forget to ask a family member to take them home once they are clicked, so your photoshoot doesn't turn into a disaster.
Special Tip: If you decide to include kids in your pictures, browse through our Guide to Kids Photography, so that nothing surprises you and your photoshoot ends up a success.
Things You Should Consider When Planning Your Engagement Photo Shoot
Apart from striking the right pose for the camera, here are some helpful tips that can help you get the most out of your engagement photo shoot. 
Choose the Best Time of Day
Planning is important for memorable pre-wedding photoshoots. Many photographers recommend choosing the 'golden hour' for a breathtaking engagement shoot. This time slot occurs just an hour before sunset and offers the perfect lighting for the best couples photography. However, you can also choose any time slot according to your schedule.
Experiment with your Outfits
Your engagement session can include a variety of different outfits. Don't forget to experiment with different clothing and accessories to add more variety to your photos. 
Experiment with Props
Sometimes, the simplest of props can make your photo look unique and memorable. Tell a sweet inside joke, share one ice cream, or say something romantic using Scrabble titles for adding creativity. However, don't forget to make it natural looking! It's all about the moment
Cropped Photos
Taking cropped photos is one of the most amazing engagement photo ideas for capturing your style and personality. Ask you, photographer, to take pictures of your shoes or just your ring. These photos make memorable and beautiful pictures for your social media posts. 
Choose a Memorable Destination
While you can capture a stunning engagement photo anywhere, choose a place that adds a touch of class or elegance to your engagement session. Many times, couples want to take engagement photos somewhere that represents a part of their history or relationship story. The setting could be a restaurant where you proposed or a place where you first met together. 
Shoot Inside Homes or Buildings
Some couples want their engagement shoots to take place inside an ancestral home or their future home. Another benefit of taking an engagement photo at home is that there is less distraction, and you can focus on each other without worrying about the people outside or the weather. Couples can also go for homes or apartments that are under construction. 
No matter how many tips we offer to get that engagement pose right, the best way to have an amazing and memorable engagement shoot is to enjoy every moment. When you have fun with your fiancé, you would not want to end your engagement photo session. Before the shoot begins, take a deep breath, think of what you can say or do to make this shoot a memorable experience, and focus on having fun. 
Our Localgraphers have got all it takes to capture beautiful and stunning engagement photos. Get in touch for more tips for your wedding planning and beautiful photo poses for the best engagement photoshoots.
Buy memories, not things…
Limited time only!
SEE OUR GIFT CARDS
Great customer service and experience
Photoshoot in very short term
The most destinations on the market
Very positive customer feedback
1109
Photographers & Videographers
990
Destinations world-wide
100% Money Back Guarantee
We believe in our service and quality of our photos so much that we decided to offer a 100% money back satisfaction guarantee for your photo shoot. If you don't like your online gallery once we deliver it, you can contact us within 7 days and claim your money back. Find more details in our Terms.