6. 11. 2019
20+ Fall Couple Photoshoot Ideas from the Most Picturesque European Destinations
Crisp morning, colorful foliage and picture-perfect sceneries make autumn one of the best seasons for vacation trips. The insanely gorgeous season comes with tons of cultural excursions and travel adventures. Moreover, when you plan a tour with your loved one, it becomes the best time of the year to capture some immortal moments. Book your Localgrapher to try out these exciting fall couple photoshoot ideas.
Idea #1
You & I Pose
Fall makes everything magical around you. Surround yourself in the glow of nature and crimson colors at places like Belarus and make your fall couple photoshoot extraordinary. 
Although Belarus is breathtakingly beautiful regardless of the season you visit it, fall is the time that particularly makes the place an amazing couple photography spot. The place has the gorgeous fall foliage, and you can capture some cute You & I poses. Just stand in front of each other, bend forward, hold hands, kiss, and let your Localgrapher seize the moment.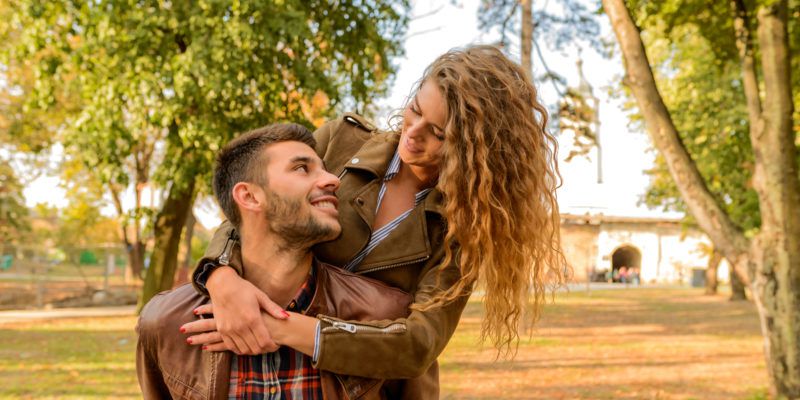 Idea #2
Covered in Leaves
Belgium has a gorgeous countryside, making it one-of-its-own kind location for pulling off some of our fall couple photoshoot ideas. The golden glow of the leaves can make your love look descended directly from heaven. 
Try some simple couple poses by sitting on the fall foliage and looking into each other's eyes. You can ask your professional photographer for some unique contrast you can complement the rustic leaves around you.
Idea #3
Hold Me Forever
This pose is for every couple. No matter how filmy or dramatic it may make you look, it is one of the most beautiful fall couple photoshoot ideas. All you need is to hold your partner and pick her up, showing all your love for her, and if your destination is United Kingdom, it does not get more scenic in autumns.
Idea #4
I Have Your Back
Let your to-be-life partner climb up your back. Walk in the same pose while your couple photographer captures your love story for a lifetime. There is no better place than Berlin, Germany to make this photoshoot a fairytale.
Idea #5
Hand in Hand
The changing colors of trees undeniably make a classic scene to watch if you are visiting England. The country is home to many scenic vineyards and splendid meadows you can use as a perfect setting while trying one of our fall couple photoshoot ideas. Capture the beauty of vineyards by walking hands in hand and let your personal photographer create your picture story by capturing photos from the back.
Idea #6
Deep in Love
How about showing the power of your love by kissing your partner on the forehead while your photographer locks at the moment by capturing the wine tasting fall foliage at Tuscany, Italy? The pose is great to revitalize your love whenever you see it again!
Idea #7
Wrapped in Shawl
The gold and red forests are particularly some of the unique places to capture the full fall scenery in Greece during your couple photoshoot. The autumnal glow makes Greece the most romantic season. Wrap in a black and red plaid shawl, hold each other and look into the camera with a pure smile to make a memorable couple shot.
Idea #8
I Am All Yours Pose
Bulgaria is another popular destination that looks like out of the world in autumn. Visit Devil's Bridge to capture some classic poses on the Rhodope Mountains. Lie down on the top of your partner while your vacation photographer takes the most romantic photos of you two.
Idea #9
Let the Natural Light Poke
While trekking the Menalon Trail in Greece, do not forget to take some stunning shots when the sun's rays poke through the colorful trees. Keep the pictures simple by giving a soft smile and holding hands.
Idea #10
Lost In Each Other
Don't miss out on the enchanting, and quite fall destination of Bruges when visiting Belgium. As beautiful as Venice, the romantic canals make the perfect backdrop for some of our fall couple photoshoot ideas. Just rest your head on your loved one's shoulder and capture some romantic poses.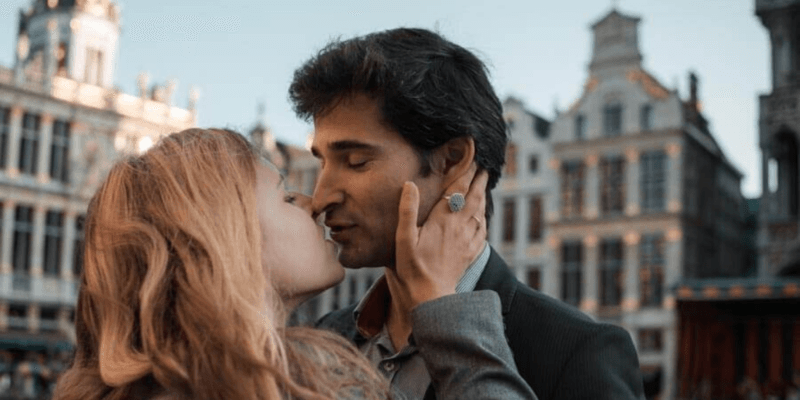 Idea #11
Say It All In My Ear
Hold your partner, and confess that he/she means the world to you while he/she is engrossed in the spectacular pristine views of Plitvice Lake in Croatia. Your Localgrapher knows the perfect timing to seize the magical moment.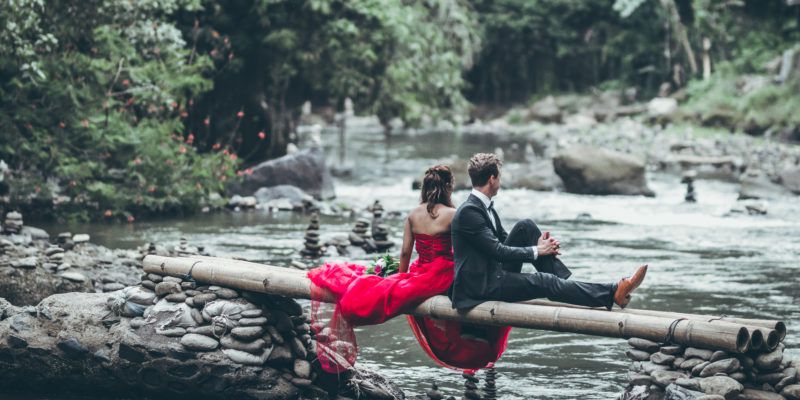 Idea #12
Show Your Love
Kiss your partner, let them hold you from back, let them sit on your lap; hence be yourself when it comes to showing your love. The candid poses will make the best couple photoshoot in the streets of Dubrovnik by showing the best combination of colors of the fall.
Idea #13
Magic of Silhouette Poses
Fall in Cyprus is magical, energizing, and pleasant. Capturing some silhouette couple poses with clear sunlight in the backdrop is no doubt a fantastic idea.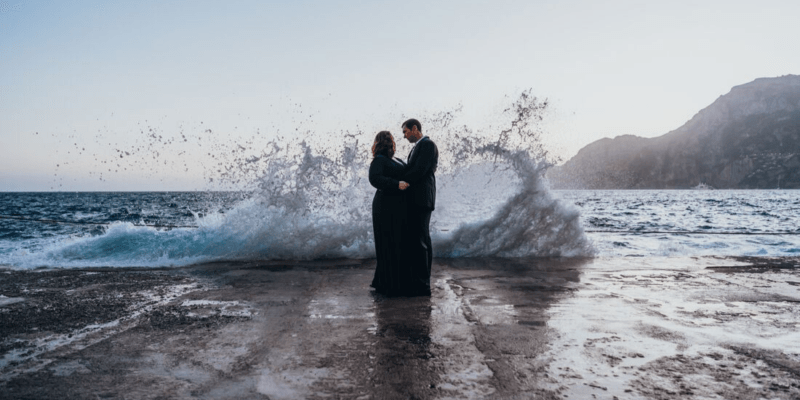 Idea #14
You Are My Reflection
Capturing reflection of you and your loved one in the lake Tzielefos Bridge, Cyprus makes the most stunning pose of your couple photoshoot. Don't believe us? Then try it yourself this autumn!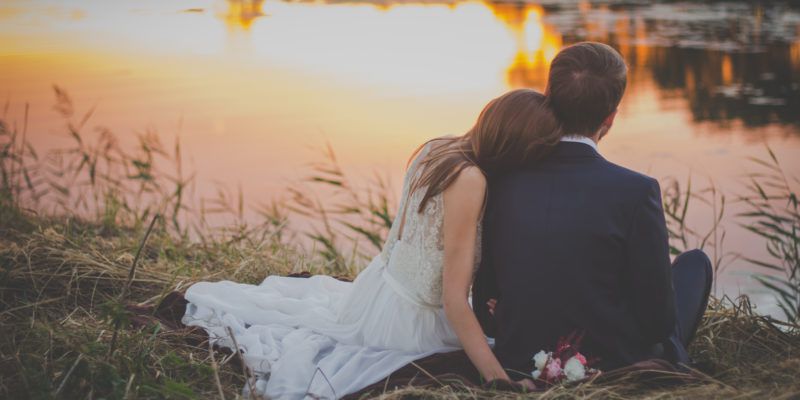 Idea #15
Let's Relax At Beer Gardens
Visiting beer gardens in Germany in fall is worth the excursion for not only your couple shoot but also for an amazing experience. With their gorgeous setting and outdoor drinking, the beer gardens in Germany feature thoughtful designs. Take some casual yet stylish photos in a comfortable and fun setting.
Idea #16
Sparklers in Hand
Visit Denmark to see the fading glow of its early fall. The serene season creates the perfect ambiance for a night couple photoshoot. Hold sparkler and kiss your partner to light the fire of love.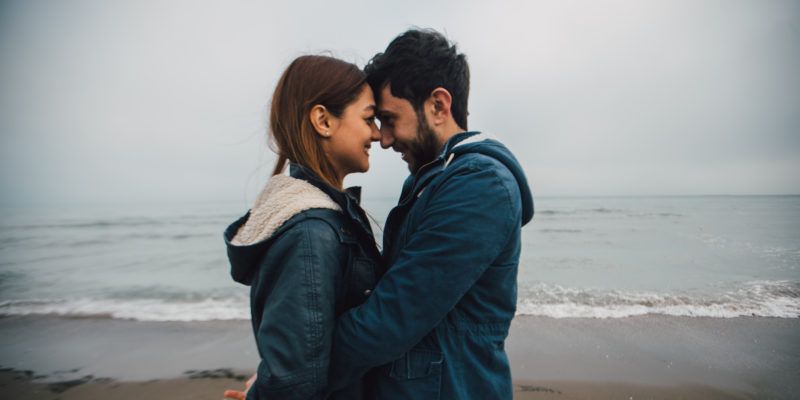 Idea #17
Hide Behind an Umbrella
A kiss behind an umbrella at any picturesque location in Denmark. Let the autumn's soft glow hold on to your love and reflect in your images.
Idea #18
Autumn and Fairy Lights
Brighten up the crisp and shiny afternoon of autumns with the fairy lights. Make a heart shape with fairy lights and lie down in its center. Don't miss out this pose if you are at the most romantic places of the world, such as the Eiffel Tower.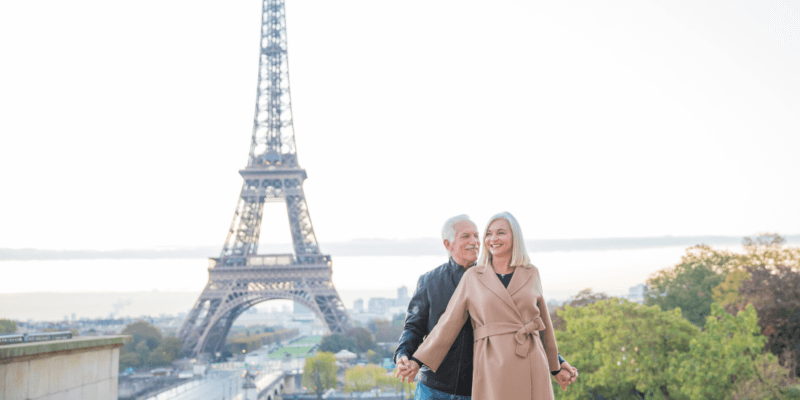 Idea #19
Caption Your Love
Try a fun pose with a quirky caption on the signboard such as "I am Taken" or I am Stolen" when visiting the hidden gems of France like Toulouse, Occitanie.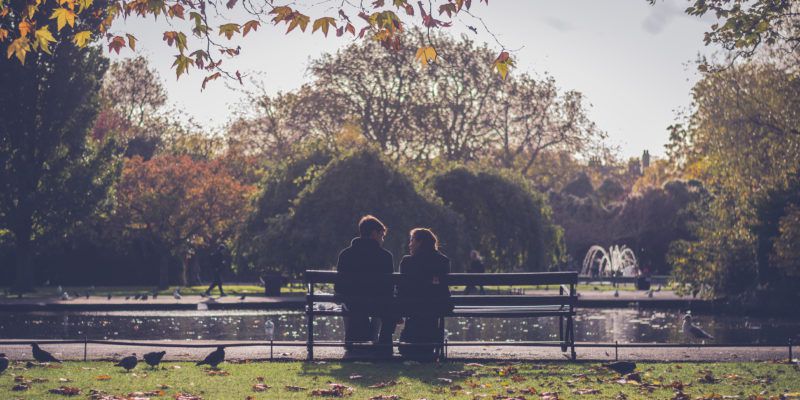 Idea #20
Under One Roof
Fall in love with the gentleness of Austria this autumn. Sit under famous bridges with your partner to capture the perfect fall scenery from a mile. The imposing landscape and colorful trees will bring everything to live in your clicks.
Idea #21
Walk on a Train Track
Visiting Switzerland? Click this must-to-try pose by walking on the train track hand-in-hand with your one-and-only.
What are you waiting for? European fall awaits you! And believe us if it comes to your little fall photo session, the given locations are the best choices to enjoy your fall couple photography session.
Buy memories, not things…
Limited time only!
SEE OUR GIFT CARDS
Great customer service and experience
Photoshoot in very short term
The most destinations on the market
Very positive customer feedback
1120
Photographers & Videographers
990
Destinations world-wide
100% Money Back Guarantee
We believe in our service and quality of our photos so much that we decided to offer a 100% money back satisfaction guarantee for your photo shoot. If you don't like your online gallery once we deliver it, you can contact us within 7 days and claim your money back. Find more details in our Terms.