22. 1. 2016
Family travel bloggers to follow in 2016 vol. 1
We have decided to bring back one of your favourite topics which is family traveling. There is always a lot to consider when backpacking with your little ones. These bloggers prove what others only dream of: traveling with kids is really fun!
Following bloggers are devoted parents who decided to share their precious moments and tipswith you. No traveling is the same, nor blogs are the same. We hope that you find many useful tips how to make your vacation unforgettable.
What are your travel plans for 2016?
Who are your favorite family travel bloggers?
What are 3 essential things to pack when travelling with kids?
Could you suggest some family friendly travel locations?
1) Worldwide With Kids
– We are kicking off 2016 in Cambodia, where we plan to visit Angkor Wat and spend some time relaxing on the beautiful southern beaches. Then we will head to Vietnam to take in the sights of Hanoi, Halong Bay and the Mekong Delta. Our time in South East Asia comes to end mid-February, we will then head back to England for a few weeks to see family and friends before we start again with some more slow travel (around 8 months) in our next European country. I can't tell you where yet though as we don't even know ourselves!
– We were hugely inspired by Alyson, Boo, Dylan and Chef from worldtravelfamily.com; they were the first family travel bloggers that we found on the web when we began to make plans for our own adventure. They were living the life that we dreamed of. We then found Gabi and her brood at thenomadicfamily.com; we love Gabi's energy and her spiritual take on the world. In fact her love of Cambodia really encouraged us to plan a trip there. Our most recent favourite travel blogger is Gabi from thetinybook.com; I love how she writes, she makes you feel like you are right there with her in the moment.
– Aside from the obvious (money, passport and kids) we never travel without these 3 things; Family first aid kit – we make up our own before we leave and it consists of iodine solution (essential for cuts/scrapes/animal bites), saline solution for rinsing out little ears after a swim in the river, plasters, dressings etc. iPads – I don't care what anyone says, i'm not getting on a 12 hour flight with 2 kids without at least 1 iPad! Family travel insurance, the best we can possibly afford. You never know what's around the corner, what disasters are going to happen, its just not worth the risk to travel without it.
– Our top 3 favourite destinations for family travel are; West Germany – it's massively under-rated as a travel destination. The landscapes are beautiful, the people warm and friendly and there are lots of family attractions for days out. We particularly enjoyed the Eifel Park and Gondwana Dinosaur museum. Thailand – your money goes a long way, which is great for long term family travellers. There are hotels and guesthouses to suit every budget and they have recently opened the Cartoon Network Water Park near Pattaya. France – a huge country with landscapes to suit every type of traveller. We love the beaches in the south and the lakes and mountains in the Alps. We very much recommend camping in France, its a great experience.
2) Four Around The World
– Our main travel plans are focused on a month long trip to Europe, with around 10 days spent in Croatia, followed by a few days in Budapest, and another week and a half in Poland, for a family wedding. That will be in the European summer so we are looking forward to lots of time at the beach with the kids in Croatia and the Polish Baltics. We will also likely be headed to New Zealand's South Island for an extended family road trip in the second half of the year, with a few local trips scattered through the year too.
– There are so many great travel bloggers and we have formed online friendships with quite a few. Fellow Aussie's The Wyld Family enjoy exploring similar destinations with their two daughters, and like us, are not full time travellers but believe in creating opportunities to travel often.
– Our 3 travel essentials with kids are :spare clothes, because kids are messy. Entertainment, because nothing makes a long trip longer than bored, disruptive kids. And wet wipes… Because again, kids are really messy!
– We found Hoi An in Vietnam really family friendly. The locals love kids and the resorts cater to them. It is far more laid back than the hustle & bustle of HCMC or Hanoi, very affordable and great beaches. Otherwise our home country Australia is great for kids too.
3) Mum on the Move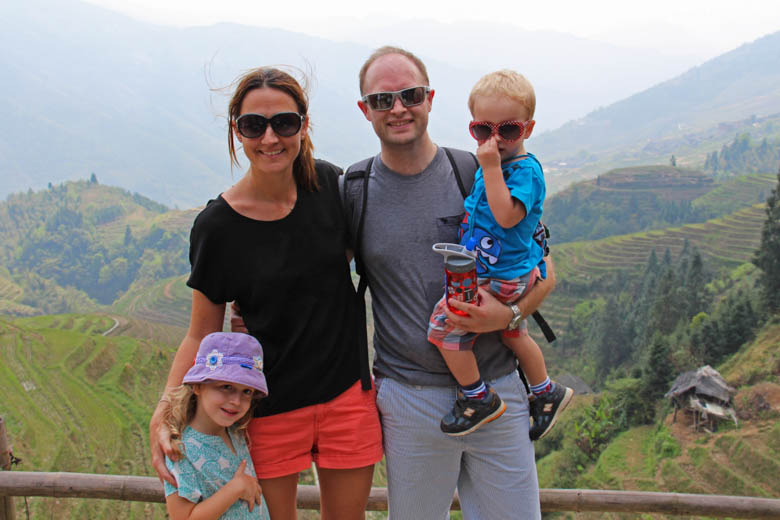 – We are based in Hong Kong so most of our travel focuses on the Asia region. We are hoping to spend Easter in the Philippines, then perhaps a long weekend in Vietnam or Macau for my birthday in May. In summertime we usually head to the UK to visit family for two or three weeks. I'm hoping we can tag on a weekend in Paris or somewhere else in Europe as we don't get to see much of Europe these days. I haven't thought beyond the summer yet, although I have plenty of ideas!
– It's quite tough to choose my favourite family travel bloggers, as I network with a fair few other travel bloggers and take different inspiration from all of them, depending on their travel style and destination-focus. I like Globetotting Mama, as they focus on more adventurous style of family travel, La Jolla Mom, as she has a luxury- slant to her blog as we do, and Jetlag & Mayhemas she is also based in Hong Kong.
– Changes of clothes for everyone – I've lost count of the amount of times one of the kids has either been sick, or spilt something or wet themselves and someone needed to be changed. Snacks – when the kids are running wild or whinging, sitting them down with a snack will usually give everyone a few moments peace! The iPad – long- haul flights are made so much more bearable thanks to the iPad. I don't know how my parents did it…
– I think anywhere can be family-friendly with enough research. We try to balance our days – something cultural/adventurous, coupled with something fun for the kids (go back to the hotel pool, run on the beach or find a playground somewhere). For this kind of holiday, we love Hoi An in Vietnam and Northern Queensland in Australia, where in both places you have amazing beaches but also plenty to see and do. For a city break, Singapore is about as family-friendly as they come.
4) We3Travel
– We haven't finalized our travel plans yet but we will kick off the year with a few ski trips to Vermont, followed by a multi-generational trip to Riviera Maya. Our "big" summer trip will likely be to Sweden, following up on our amazing trip to Iceland last summer. I'd also like to continue our tradition of a mother-daughter summer road trip. Last summer we spent two weeks exploring Virginia and the year before we spent five days in Oregon. This year we are thinking of possibly road tripping through New York or Pennsylvania but nothing is set yet. Beyond that, we'll see where life takes us!
– I started following family travel bloggers a few years ago and now I'm fortunate to call a few of them my friends. Some of my favorite family travel blogs are: Walking on Travels, 100 Routes Across America and The World is a Book. There are so many more but I really connect with others that enjoy exploring a bit off-the-beaten path and mixing in a bit of culture and learning into trips.
– Sanitizer and sanitizing wipes to keep away the germs, comfort items like stuffed animals and special blankets to make hotels feel more like home, and a travel journal — getting them to record memories in their own words is absolutely priceless!
– I encourage parents to take kids everywhere and not be limited to amusement parks or all-inclusive resorts. In Europe, I find Italy to be extremely family friendly. Kids love the food and are fascinated by the architecture and history. For those more adventurous, we loved Iceland. Its natural beauty is unlike any other landscape, and there is so much to do like glacier hikings, puffin or whale watches, dog sledding, and more. For something more tropical, we found Hawaiito be very family friendly with great lodging options, beautiful landscapes, beaches, and natural attractions like Volcanoes National Park.
Buy memories, not things…
Limited time only!
SEE OUR GIFT CARDS
Great customer service and experience
Photoshoot in very short term
The most destinations on the market
Very positive customer feedback
1167
Photographers & Videographers
1035
Destinations world-wide
100% Money Back Guarantee
We believe in our service and quality of our photos so much that we decided to offer a 100% money back satisfaction guarantee for your photo shoot. If you don't like your online gallery once we deliver it, you can contact us within 7 days and claim your money back. Find more details in our Terms.