26. 3. 2018
A Model Shoot in Sultry Bangkok
Kimberly is a stunning model with a bit of an issue. She's new to Thailand and wants to do a fashion photo shoot at one of the many, many temples in the city of Bangkok. But she doesn't know where to look or where to begin. Which temples allow photographers and models? Which have especially expensive entry fees? Kimberly needs a local to help her navigate the intricate maze of Bangkok.
Why Fashion Photo Shoot in Bangkok?
Bangkok (also known as Krung Thep Maha Nakhon) is the capital and most populous city of the Kingdom of Thailand. With a population of over 14 million people, it's also one of the most populous in the entire world. The city is the cultural capital of Thailand as well with thousands of wats (temples) in the city limits. The street vendors sell everything from amazing Thai delicacies to clothes and cell phones. In short, Bangkok really has everything a local or tourist could possibly want.
Planning the Model Shoot
Kimberly hired Jochoz, a photographer in the Bangkok area with intimate knowledge of the city and its inner workings. As per Kimberly's instructions, Jochoz met her at her hotel in downtown Bangkok full of suggestions and ideas on where to work. From there, the two went to a nearby temple that Jochoz knew would have few visitors early in the morning. With the expert suggestions on posing and Kimberly's natural talent and beauty, they were able to come up with a series of classy photographs for both of their portfolios.
Kimberly's stunning red dress contrasts beautifully with the pale white and grey stonework. The flowing character of her dress also works wonders with the intricate stone patterning of the temple grounds. Jochoz had chosen admirably. The duo's next stop was at a more traditionally styled Thai temple that Jochoz suggested they try.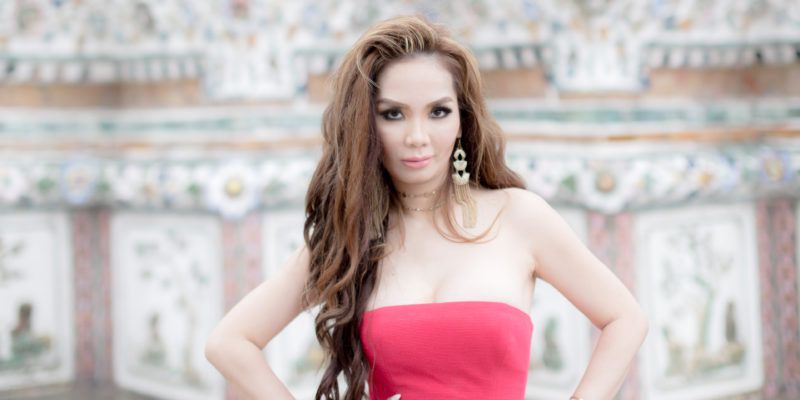 With a change of clothes, Kimberly is now wearing a fashionable short dress of golden tones. Instead of contrasting, her color choices end up working with the golden tones of the doors and temple stupas as if she was a Thai princess herself. Thanks to recent rain in the sultry capital of Thailand, puddles offered reflections as artistic complements in Jochoz's photography.
After the third change of clothes, Kimberly and Jochoz decide to take a walk along a beautiful staircase on the temple grounds. A banyan tree provides a bit of shade and vines droop from its heavy branches. As Kimberly shows her practiced runway model walk Jochoz dutifully snaps away and offers suggestions on where to stop and how to pose. The bright sunlight filtered through the trees becomes wonderfully diffused.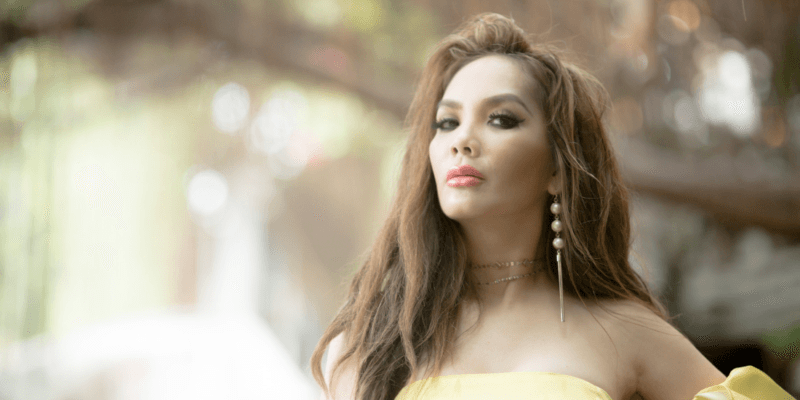 Techniques of Professional Photographers
Diffused lighting is perfect for pro photographers because it helps to illuminate a subject without harsh shadows around places like the eyes and nose. Diffused lighting perfectly fills in your target for photography. While Kimberly has probably plenty of modeling experience, knowledge of natural light techniques like this is the specialty of Jochoz.
Thanks to his advice, they were able to maximize the impact of the available lighting. Hiring a talented local photographer goes a long way in making sure your images turn out as good as possible. Also, it takes the pressure off your shoulders. Instead of having to manage your event or shoot as well as trying to take your own photos, just have someone take over for you. Happy shooting and safe travels!
Is an ugly zit…
RUINING your perfect pics?
Get rid of it for $15 USD!
SEE PHOTOSHOP PACKAGES
Great customer service and experience
Photoshoot in very short term
The most destinations on the market
Very positive customer feedback
1225
Photographers & Videographers
1075
Destinations world-wide
100% Money Back Guarantee
We believe in our service and quality of our photos so much that we decided to offer a 100% money back satisfaction guarantee for your photo shoot. If you don't like your online gallery once we deliver it, you can contact us within 7 days and claim your money back. Find more details in our Terms.