Choose Your Videographer in Thailand
Localgrapher is the largest vacation photo company and the only global video company in the world! Choose from over a 1000 hand picked local professionals and make your perfect memories last forever!
Often booked
Photographer
Videographer
Special Arrangement Hero
This Localgrapher goes beyond standard requests! Ask for something special.
This is What You'll Get with Every Booking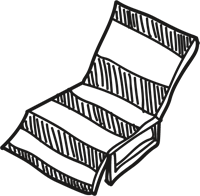 Individual Approach
Handpicked Local Professional
Special Requests Option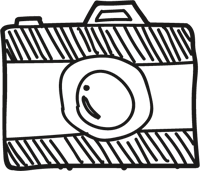 Top Shoot Spot Recommendations
100% Money Back Satisfaction Guarantee
Private Session
Photographer
Videographer
Photo Tour Guide
Explore the best photo spots and learn how to make the most out of your smartphone or camera snapshots.
100% Money Back Guarantee
We believe in our service and quality of our photos so much that we decided to offer a 100% money back satisfaction guarantee for your photo shoot. If you don't like your online gallery once we deliver it, you can contact us within 7 days and claim your money back. Find more details in our Terms.
Make the Most out of Your Thailand Shoot
Tip #2
The Best Time of Year to Visit Thailand
The best time to visit Thailand is generally between November and February when the weather is dry and cooler. However, this is also the peak tourist season, so prices may be higher and popular destinations may be crowded. March to May is the hot season, with high temperatures and occasional heat waves.
The rainy season starts in June and lasts until October, with September and October being the wettest months. Despite the rain, this can still be a good time to visit as prices are lower and the countryside is lush and green.
Tip #3
Visiting Thailand in Hot Season
Visiting Thailand during the hot season (March – May) offers a range of unique experiences and attractions that make it a worthwhile destination. Despite the high temperatures and humidity, there are several reasons why you might want to consider a trip during this time.
Firstly, Thailand's stunning beaches and islands are a major draw during the hot season. The clear skies and warm waters create ideal conditions for swimming, snorkeling, and diving. Popular destinations like Phuket, Krabi, and Koh Samui offer beautiful coastlines and a range of water activities. You can relax on the golden sands, soak up the tropical sun, or explore the underwater world teeming with colorful marine life. The hot season provides the perfect opportunity for a beach getaway and a chance to unwind in paradise.
Secondly, the hot season in Thailand is marked by vibrant cultural festivals and celebrations. The most famous of these is Songkran, the Thai New Year, which takes place in mid-April. During this festive period, locals and tourists come together for energetic water fights and water-related activities to symbolize the washing away of the old year and welcoming the new. The hot weather adds to the excitement, as water splashing provides relief from the heat. Participating in Songkran and other cultural festivals allows you to immerse yourself in Thai traditions and experience the joyful spirit of the Thai people.
Additionally, the hot season presents opportunities for outdoor adventures and exploration. While the temperatures can be intense, early mornings and late afternoons offer cooler moments for activities. You can embark on jungle treks, visit national parks, and discover hidden waterfalls. Thrill-seekers can enjoy adventure sports like rock climbing, zip-lining, and ATV rides. Exploring Thailand's natural beauty during the hot season allows you to witness lush landscapes, encounter exotic wildlife, and marvel at breathtaking views.
Lastly, the hot season offers a chance to explore Thailand's cultural attractions without the crowds. Popular sites such as Bangkok's temples, the ancient city of Ayutthaya, or the historical landmarks of Chiang Mai are more accessible during this time. You can delve into the rich history and traditions of Thailand, visit ornate temples, and experience the unique blend of modern and traditional aspects of Thai society.
In summary, visiting Thailand during the hot season provides opportunities to enjoy the stunning beaches, participate in vibrant cultural festivals, engage in outdoor adventures, and explore the country's rich cultural heritage. While the heat and humidity can be challenging, with proper precautions and hydration, a trip to Thailand during the hot season can still be a rewarding and unforgettable experience.
Proposal photoshoot by Jochoz, Localgrapher in Bangkok
Tip #4
Visiting Thailand in Rainy Season
Visiting Thailand during the rainy season (June – October) offers a distinct and rewarding travel experience. While the prospect of rain may deter some visitors, there are several compelling reasons why you should consider exploring Thailand during this time.
One of the highlights of the rainy season is the lush landscapes that emerge as a result of the increased rainfall. The countryside transforms into a vibrant green paradise, with blooming flowers and flourishing vegetation. This creates picturesque scenery and breathtaking backdrops for outdoor adventures. Waterfalls, in particular, are at their most impressive during the rainy season, with cascading waters that create a mesmerizing spectacle. Witnessing these natural wonders in full flow is a sight to behold and allows for unique photo opportunities.
Another advantage of visiting Thailand during the rainy season is the reduced crowds and lower prices. As it is considered the off-peak tourist season, popular attractions are less crowded, allowing you to explore at a more relaxed pace and truly immerse yourself in the local culture. Additionally, accommodation rates and airfare tend to be more budget-friendly during this time, providing an opportunity to save on travel expenses and potentially upgrade your accommodations or extend your stay.
Thailand's rich cultural heritage is also celebrated during the rainy season. Festivals and temple fairs take place throughout the year, offering a glimpse into traditional customs and rituals. One notable event is the Candle Festival (Ubon Ratchathani) in July, where intricate wax sculptures are showcased and a vibrant parade takes place. Participating in these festivals allows you to connect with the local community, witness their traditions, and gain a deeper understanding of Thai culture.
While occasional showers are to be expected during the rainy season, they often occur in short bursts, leaving plenty of time for outdoor activities and exploration. Indoor attractions, such as museums, art galleries, and temples, offer shelter from the rain while providing enriching cultural experiences. Additionally, adventure seekers can still partake in thrilling activities like white-water rafting or jungle trekking, which can be even more exciting with the lush landscapes and rushing rivers.
In summary, visiting Thailand during the rainy season presents an opportunity to witness the country's natural beauty at its most vibrant, enjoy a more peaceful and budget-friendly travel experience, and engage in cultural festivities. Embracing the occasional showers and taking advantage of the unique experiences this season offers can result in a rewarding and memorable journey through the Land of Smiles.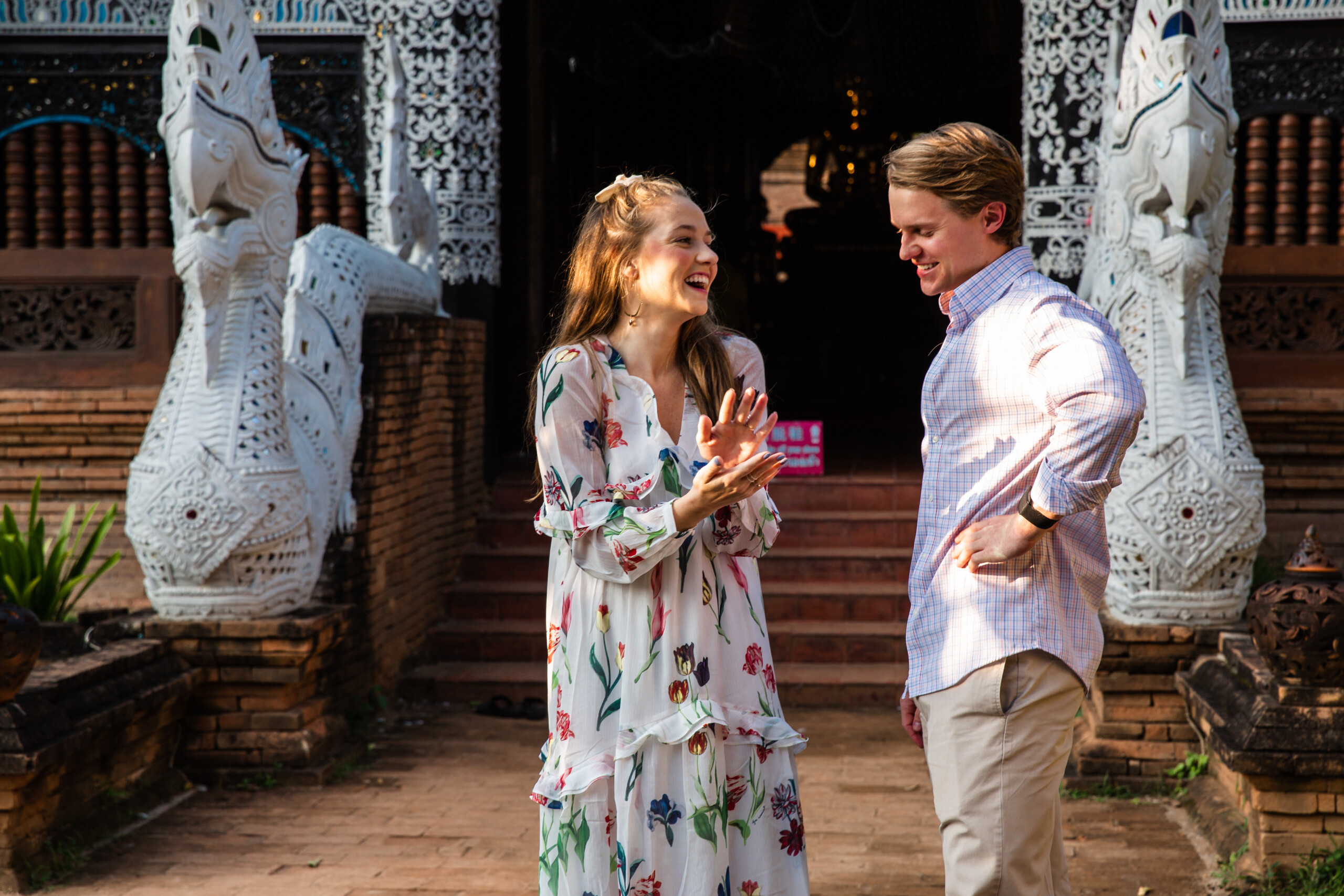 Proposal photoshoot by Charlotte, Localgrapher in Chiang Mai
Tip #5
Visiting Thailand in Cool Season
Visiting Thailand during the cool season, which spans from November to February, offers a delightful and comfortable travel experience. Here are several compelling reasons why you should consider a trip to Thailand during this time:
The cool season in Thailand brings milder temperatures, making it a pleasant time to explore the country. Average temperatures range from 20 to 30 degrees Celsius (68 to 86 degrees Fahrenheit), providing a respite from the heat of other seasons. The comfortable weather allows for enjoyable outdoor activities without the discomfort of excessive heat or humidity.
One of the main attractions of the cool season is Thailand's stunning natural beauty. The landscapes are lush and vibrant, with blooming flowers and greenery. Whether you're exploring national parks, trekking through the mountains, or visiting serene temples, the picturesque scenery adds an extra level of enchantment to your journey. The cooler temperatures also make outdoor adventures more enjoyable, such as hiking, biking, and exploring Thailand's diverse ecosystems.
The cool season coincides with several vibrant festivals and celebrations in Thailand. One of the most significant events is Loy Krathong, which usually takes place in November. During this festival, people gather near rivers, lakes, and canals to float decorative baskets (krathongs) adorned with candles and flowers. The sight of thousands of illuminated krathongs floating on the water creates a magical atmosphere. Additionally, Christmas and New Year's Eve celebrations in major cities like Bangkok and Chiang Mai offer a unique blend of traditional Thai elements with Western festivities.
Cultural sightseeing is also a highlight of the cool season in Thailand. With the pleasant weather, you can explore historical landmarks, ancient temples, and bustling markets with greater comfort. Cities like Bangkok, Chiang Mai, and Ayutthaya offer a rich cultural heritage, where you can immerse yourself in the vibrant street life, visit ornate temples, and indulge in the delicious street food that Thailand is famous for. The cool season allows you to delve into the country's history and experience the unique blend of tradition and modernity that defines Thailand.
In summary, visiting Thailand during the cool season provides a delightful travel experience with milder temperatures, stunning natural beauty, vibrant festivals, and cultural exploration. The comfortable weather allows for enjoyable outdoor activities, and the festivals offer a glimpse into Thai traditions and celebrations. Whether you're seeking adventure, cultural immersion, or simply a more pleasant climate, Thailand in the cool season promises unforgettable experiences and a warm welcome.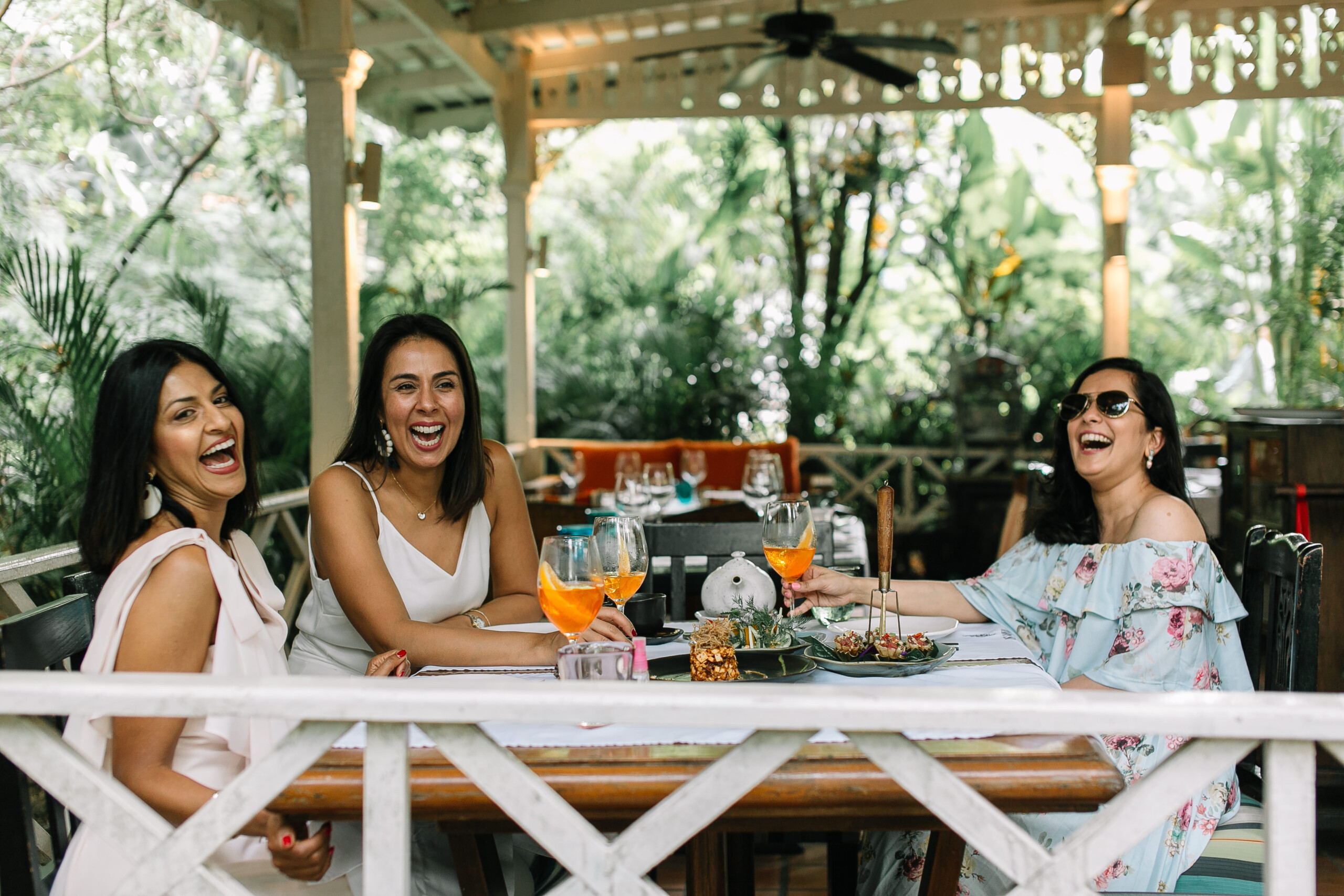 Friends' photoshoot by Bonny, Localgrapher in Bangkok
Other Destinations in Asia
1225
Photographers & Videographers
1075
Destinations world-wide
Photo Occasions People in Thailand Love