Nowadays, proposals are regarded highly. Most people will want a grand gesture to accompany a proposal. It is also meant to be the most beautiful moment in every bride's life. People will ask you how you proposed especially at the wedding and during other engagements, so we are going to help you to do it in style. You don't want it to be regular or common, so make it a moment to remember. No one will forget if you plan your secret proposal in Bangkok, for sure.
Bangkok is the most visited city in the world. It should be on your bucket list, so check that box and accompany it with a magical proposal. A YES is what you are looking for, so you need to go all out. The city of Bangkok is in Thailand, and what you will find here are unbeatable street food vendors, over the top luxury, incredible markets, etc. It is the capital city so you can make it whatever you want it to be.
Couples will visit Bangkok, especially during the Valentine season as it is an incredibly romantic city. The lights, the music, and the people will all help in making it a romantic and unforgettable destination.
Don't forget to contact us for a professional photography session. Our proposal photographers will go with you and capture each and every moment for you. Keep the photos for future memories. You will not want to forget your magical time in Bangkok. Here are a few of the ways in which you can propose.
Tip #1
On a Dinner Cruise
After dark, this city lights up. There are many luxurious hotels, dazzling temples and you cannot forget the peaceful and incredible Chao Phraya River. On board of one of many cruises in Bangkok, you can behold all of these incredible things.
Many of them will have some onboard live entertainment, the most incredible food, and wines, and overall, the atmosphere will be very romantic for couples especially. This would be a wonderful place to get down on one knee and propose.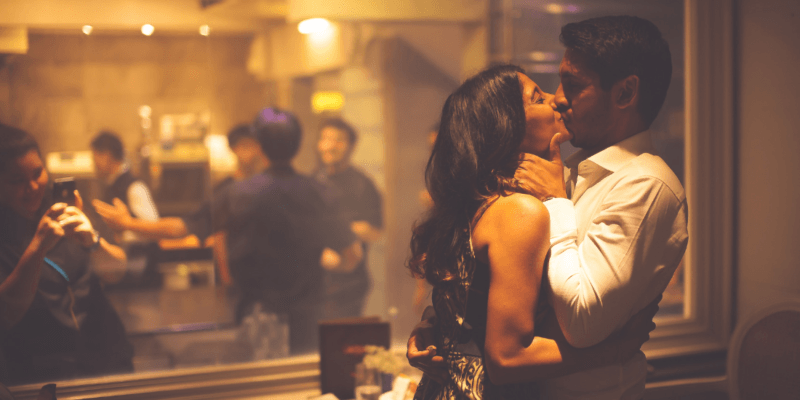 Tip #2
Head to the Asiatique Ferris Wheel
The Asiatique Ferris wheel stands tall at 200 feet, and with over 42 gondolas for you to choose from. This is truly a magnificent sight for you to behold with your partner. It is also an iconic landmark in Bangkok amazing for a secret proposal.
After dark, the glistening illumination can be seen from all over the city and gives you a most beautiful sunset. As far as romantic locations go, this has to be one of the most romantic for you to nail your secret proposal.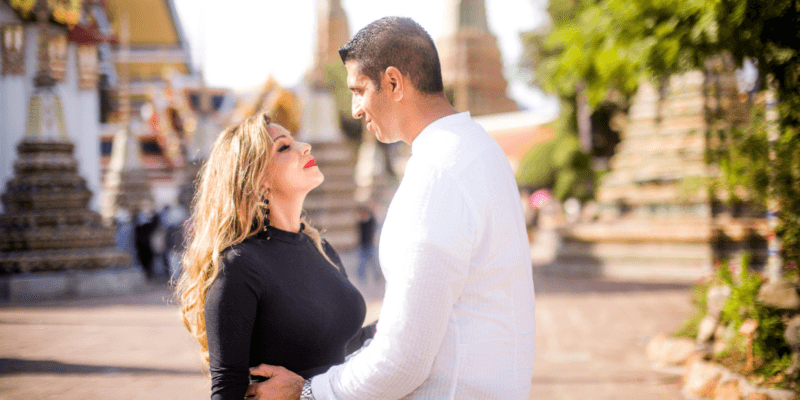 Request your secret proposal photo shoot in Bangkok now
REQUEST NOW
Tip #3
At the Lumpini Park
If you want a little more privacy as you pop the question, head over to the secluded Lumpini park, where you get to escape all the hustle and bustle of the big city, and enjoy time with your loved one just the two of you.
This diverse green space sprawls over 140 acres of land, and there are plenty of quiet little nooks for you to cozy up to your partner, get some alone time and get down on one knee. Pop the question here, and it's a YES! All the way to the wedding. And don't forget to keep the photos for future memories and contact one of our secret proposal photographers. If you are feeling incredibly cheesy, you can rent a swan paddleboat, and visit the artificial lake in the middle of the Lumpini Park.
Tip #4
At the Chocolate Ville
Now, ladies, hold on for just a minute! Yes its called Chocolate Ville, but you will not find chocolate here. Don't worry though, this is the sweetest place in the city. It is filled with delightful charm and delicious cuisine.
It is an enchanting little place that is equipped with pastel-colored buildings, a lighted gazebo and miniature landscape. The dining experience here is very romantic, which makes it the best location for your secret proposal.
Request your secret proposal photo shoot in Bangkok now
REQUEST NOW
There's a big reason why this is the most visited city in the world. It makes a romantic trip extremely special, and if you are looking to be talked about for centuries to come, get your spouse, book a trip to Bangkok and get on one knee. The YES you are looking for will come that much easier when you have seriously romanced your partner.
Overall, Bangkok is incredible, with amazing sights. You will be spoilt for choice as even the hotels and cruises will offer you an incredible way to propose. Don't forget to contact us for a professional photographer, who as we said earlier will capture the moments for you.