Do you sometimes dream of having a chance to spend some time with the world´s most famous monuments and to possess the photographs of yourself while enjoying this unique opportunity? All of this came true just recently in the capital of Italy.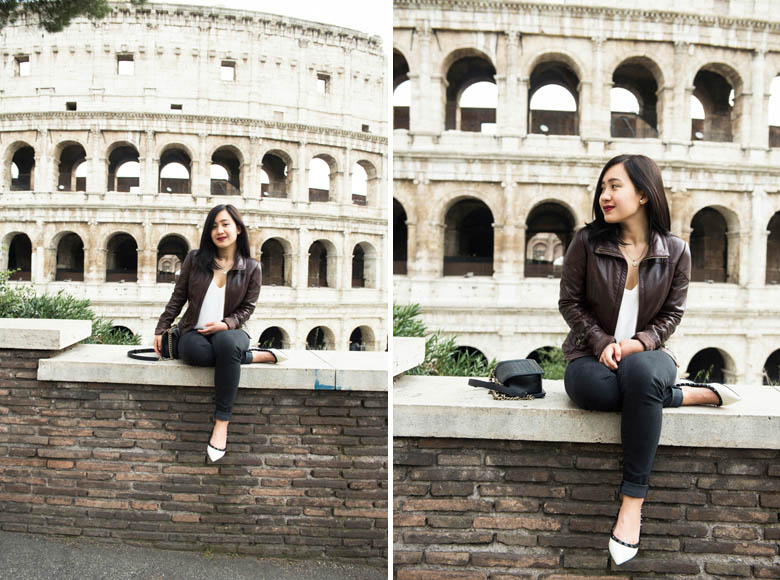 Rome is the city of history, art, fashion, motorcycles and best pasta and wine.
It is the city which you have known a long time before you pay it a visit because you have seen it in so many films, paintings and photographies.
Once you arrive, you automatically feel like home.
Rome is the city with a rapid pace and there is no shortage of entertainment. There are so many beautiful spots to take pictures and everyone will find the place of their own preference.
Part of this photo shoot was taken next to Fontana di Trevi, the place well known from Fellini´s movie La Dolce Vita.
Well, it is not really possible to dive in the crystal clear waters of the fountain but one can still sit on the wall right next to the fountain, breathe in the Roman air, forget the tourists and dive in the unique moment of presence.
Right from Trevi fountain our photographer Ozge together with our returning client Cheska moved to well-known Colosseum where Italian history was written.
Colosseum offers hidden corners where one feels like just discovering them. It is a pure beauty with amazing atmosphere.
And don´t forget that you are in Italy! If you love ice-cream, don´t forget to ask for gelato – it is really the best ice-cream in the world and you will have a clear evidence of capturing everything that matters during your solo travel to Rome.
And one more tip: watch La Grande Bellezza movie before you go.
They might have it on the movie list on the plane but better do not take the risk and watch it at home.
Your appreciation of the capital city on the Italian peninsula (nicknamed The Boot) will grow massively and after the first steps you take outside the airport, you will feel like Jep Gambardella, the main character of Sorrentino´s film.
Enjoy your stay and have La Dolce Vita in the beautiful city of Rome and don´t miss the opportunity to have your own professional photographs.