25. 10. 2018
Even Professional Photographer Needs a Professional Photo Shoot Sometimes: Halong Bay, Vietnam
Even as a professional photographer you sometimes need a hand when it comes to self-portraits. Especially if you want your camera to be in the image. What is Sergiy about to do then? Well, hire a local photographer to create some captures for him, of course! And even with Sergiy's high standards as a professional, Quang, our professional photographer in Halong Bay, was up to the task!
Why You Should Book a Vacation Photo Shoot in Halong Bay, Vietnam?
Vietnam is an incredibly popular tourist destination in Southeast Asia and Halong Bay (Descending Dragon) is one of the most popular places in Vietnam. Around 1600 limestone karst features jut forth from the water, creating a surreal landscape reminiscent of Avatar, anime, and other fantasy stories. Four small fishing villages line the shoreline where people live in a not-quite-traditional manner as tourism has swept the local economy by storm. Tour and pleasure boats take hundreds of trips a day across the area for people looking to marvel at the stunning surroundings.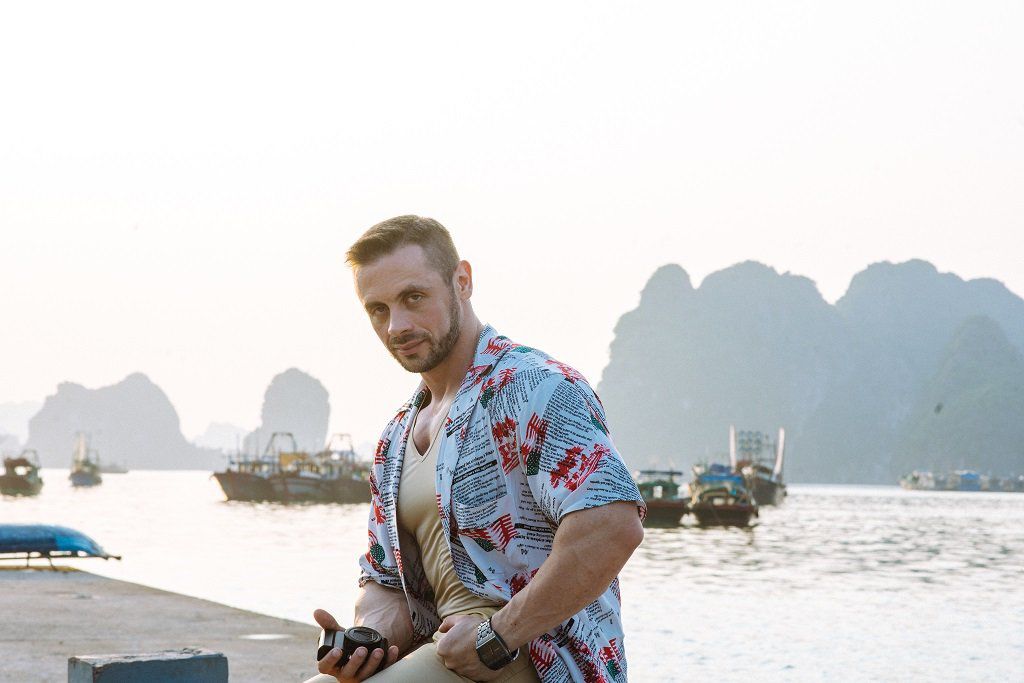 A Professional Photographer in Need of Professional Photographs
Sergiy was in Vietnam to do some shooting himself – his Sony Alpha camera is top of the line and one of the best mirrorless models on the market right now. But if you're looking to create your own portrait sometimes it's a bit challenging to get the style you want. Even working with a tripod and remote control the image can appear somewhat forced or staged. It's much better having a second shooter who can take and give direction to create the look you want.
Quang is a local expert who also has a talent for photography. And as we see here they managed to create some stellar images. They decided to start shooting in the late afternoon/early evening to capture the Golden Hour light as the sun descends into the mountains of the west of the country. The pale, glowing sky makes for a dramatic backdrop. Combined with the tropical greenery, luminescent water, and Sergiy's choice in casual vacation clothes, we have photos that really pop in terms of telling the story.
The walk through the Halong Wet Market is especially nice. People hustle and bustle, creating an energy that's palpable – almost as if we're walking along with them. A few times we see Sergiy pointing his camera as if taking some solo travel photography of his own. The images Quang shot straight through busy people focusing on Sergiy are particularly vivid and lend an air of excitement and intrigue.
The final series is taken on a boat on the bay itself. The Golden Hour is in full force as Quang and Sergiy are taken out onto the water. With such dramatic lighting, it's hard to create bad images. The Golden Hour is the first hour after sunrise and the last hour after sunset. The warm light is diffused by passing through extra layers of the atmosphere due to the low angle of the sun. Golden Hour lighting is especially good for fill lighting; it softens harsh shadows and is especially flattering for skin tones and hair.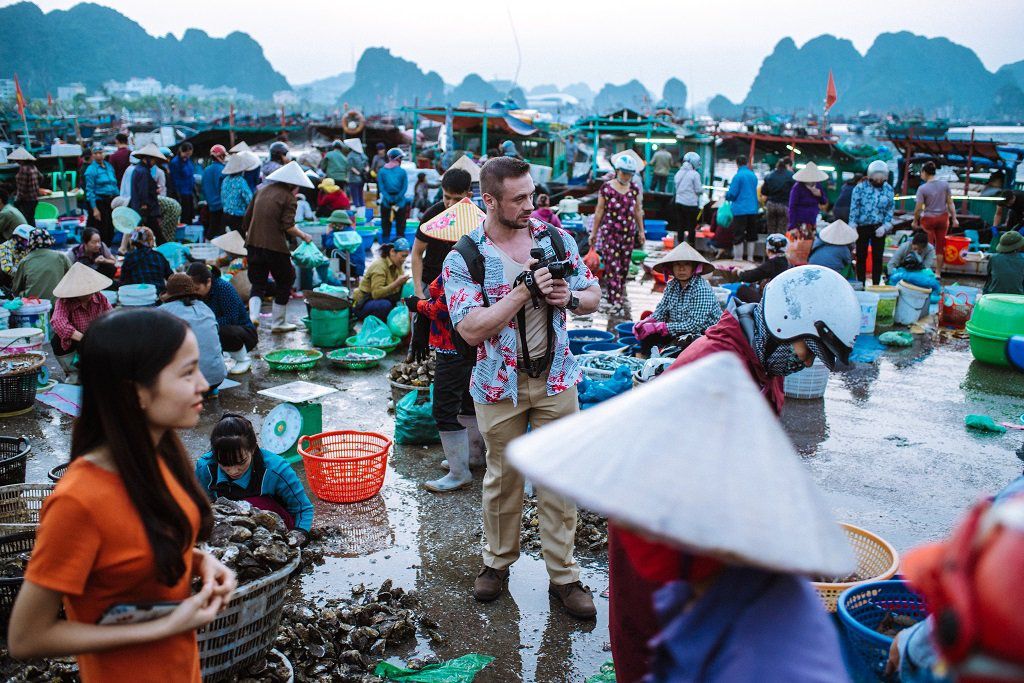 Professional Photographer Makes Your Vacation Memories Last Forever
Halong Bay is an incredible place to partner up with a local vacation photographer. Even if you are a professional photographer like Sergiy sometimes it pays to have a second perspective who can create exactly the look you're going for. And if you decide to head to the Descending Dragon Bay yourself, feel free to look up Quang and get some Golden Hour images done of your own! Safe travels!
Buy memories, not things…
Limited time only!
SEE OUR GIFT CARDS
Great customer service and experience
Photoshoot in very short term
The most destinations on the market
Very positive customer feedback
1167
Photographers & Videographers
1035
Destinations world-wide
100% Money Back Guarantee
We believe in our service and quality of our photos so much that we decided to offer a 100% money back satisfaction guarantee for your photo shoot. If you don't like your online gallery once we deliver it, you can contact us within 7 days and claim your money back. Find more details in our Terms.