20. 12. 2019
Your Perfect Vacation in Bali: Photo Session Ideas
Bali is one of the well-known major vacation destinations around the globe. This island in Indonesia is a paradise where you can relax and explore all in one trip. No matter the season, dry or wet, busy or not, it doesn't stop travelers from visiting this tropical destination all-year-round. Its hot and humid climate keeps your spirits lifted and warm while your body cools off in the ocean water and salty breeze. Out of Indonesia's thirty-four provinces, Bali is its most popular and known for its scenic surroundings, large amounts of biodiversity, and Hindu culture. There are going to be many opportunities for pictures, and we want to make sure you are filled with Bali photo session ideas before your plane lands. 
There are so many reasons to travel the globe. For starters, you are engulfed in what makes the world so beautiful. You have the opportunity to become part of different cultures, experience different foods, go on many excursions, and get lost within the countries' breathtaking scenery. You become more urbane as you learn about each city and country, and you come back home longing for more, making your ever-growing travel list longer, waiting for your next trip. 
The Best Photo Session Ideas: Locations & Best Photo Spots
Bali is a destination meant for everyone. Whether you are traveling alone, with your closest friends, family, and kids, or a significant other, there are so many places you can enjoy in silence, in laughter, in awe, and all together. 
Many of Bali's whimsical views are perfect backdrops for the best Bali photo session ideas. There is also a plethora of activities spread across the bountiful island, ranging from aquatic activities like water parks, snorkeling, and scuba diving, to hiking, as well as learning about Bali's wildlife. There are so many breathtaking and vibrant spots to see in Bali, you might just have to come back to do some more adventuring. 
To ensure you make the most of your trip to Bali and take the perfect photos, we've got a few (or ten) hot spots that will leave you breathless, basking in all the island's beauty.
Photo Spot #1
Waterbom Bali
Waterbom Bali is a big attraction as it's a fun family spot for all. A huge waterpark known by many to be one of the most popular in Asia with slides and attractions for all ages, Waterbom is a great way to spend the day cooling off in the Bali heat. The park offers great opportunities for candid family and friend photos, making it a possible idea for a photo session from a family photographer. 
Snorkeling and scuba diving are both popular aquatic activities on the island since Bali is close proximity to a region filled with marine biodiversity. Many tours are offered to let you experience the aquatic wildlife in its natural habitat. Plus, it offers the experience for amazing underwater photography. Talk about an unusual photo session idea!
Photo Spot #2
Melasti Beach
Melasti Beach is a peaceful, clean, more quiet section of Bali. The seclusion is perfect for those looking to be alone, especially couples. This spot is a fan-favorite for those looking for a pre-wedding photo session. The backdrop contains the white sand on your bare feet, complemented by the crystal blue sea; definitely a romantic spot to share the love. You may even see coral with starfish living among them.
Photo Spot #3
Tegenungan Waterfall
Tegenungan Waterfall is a great spot to get all your photo session idea action shots. The natural beauty of the falls is created by the high mountain that surrounds it, creating a foggy atmosphere to enjoy getting lost in. Take the stairs (carefully) down to the bottom and relax by the bottom of the fall, or take some action shots jumping into the water, playing by the waterfall, walking across the bamboo bridge, and even climbing back up the steep stairs.
Photo Spot #4
Nusa Lembingan
Although Bali is an island itself, it contains little surrounding islands. One that particularly stands out is Nusa Lembingan; think about it as a getaway from you're already an amazing getaway. Need more content for your Instagram? Look no further as you're about to hit up some of the more Instagram-worthy spots in the country. Cross the big Yellow Bridge that lets you walk over the clear blue water. The vibrant yellow and bright blues will make your photo pop with colors.
For a more natural photo shoot, take a journey over to Devil's Tear, a famous natural wonder consisting of rugged cliffs and wild ocean tides. Although the name is devilish, when the sunset hits and the fiery sky reflects over the rock pools, it sure seems angelic. There is also more adventuring to be done here, including exploring the island on a scooter, snorkeling and diving into the deep blue sea, and even trying to surf. A personal photographer can catch all of those escapades as you go…even if it does include a complete fail on a surfboard (trust us, you'll want those memories).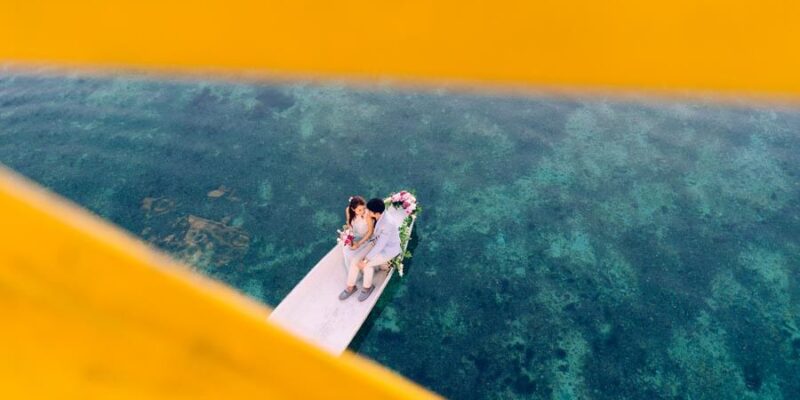 Photo Spot #5
The Gates of Heaven
Speaking of angelic, we've got another spot that is so blissful, you'll feel like a photo session here is like being on Cloud 9. The Gates of Heaven provide one of the most charming and iconic Bali sights. This destination offers you the opportunity to learn about Bali's culture by becoming one in its nature. Besides taking advantage of seeing the spectacular temple, you get the chance to see views of Mount Agung. Cue the harps and angelic choir, because you're going to feel quite heavenly.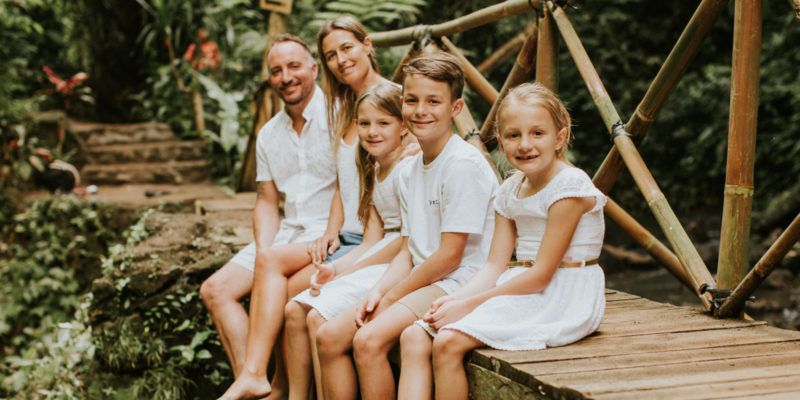 Photo Spot #6
The Tegalalang Rice Terrace
Get wrapped in Bali's culture at one of the country's most visited tourist attractions. The Tegalalang Rice Terrace are fields in a series of rice paddies. It's a traditional Balinese irrigation system known as subak, and positioned in a valley. It offers extremely scenic lookouts over the rice fields surrounding the lush green landscape, making it a unique cultural spot for a photo session idea. If the opulent greens aren't enough for an adventurous photoshoot, there's also the "Love Bali" sign at the start of the fields that lets you sit on a swing for the perfect social media shot.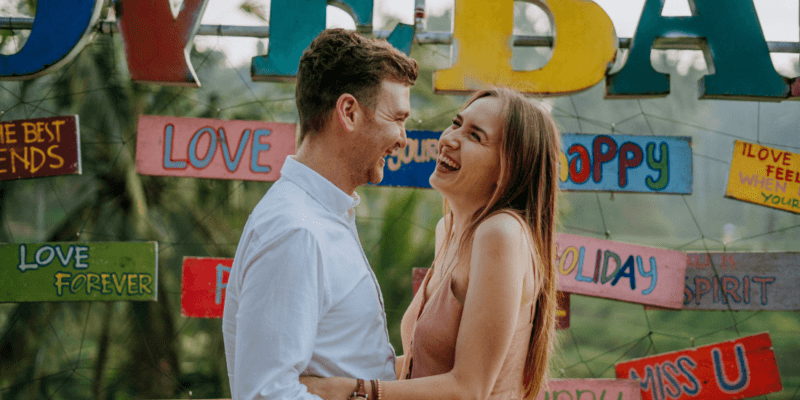 Photo Spot #7
Campuhan Ridge
Get your exercise in along the trees of Bali at the Campuhan Ridge. The paved ridge walk consists of scenic views that feel similar to that of a jungle or forest, rather than the open feel of the rice terrace or beach.
Here's a tip: Since the sun tends to heat up Bali, start the walk earlier in the morning. This way, it's not as hot yet, and there are fewer crowds, making it a great time to take your adventurous photo ops.
Photo Spot #8
The Canggu Beach
Another beach you won't want to miss on your trip is Canggu Beach. At rise to become one of Bali's hotspots, if it isn't already, Canggu Beach keeps its charm of unpaved roads and peaceful vibes of sand stretched across the beach as long as the eye can see.
However, it is also always developing. There are many incredible cafes and restaurants that have created a health-food scene. The mixture of Bali culture at Canggu's local markets and the interactions with kind, friendly locals have made many tourists fall in love…and let's not forget another incredible spot to snap some photos. Who knows, you may even get a local or two to join in on the fun!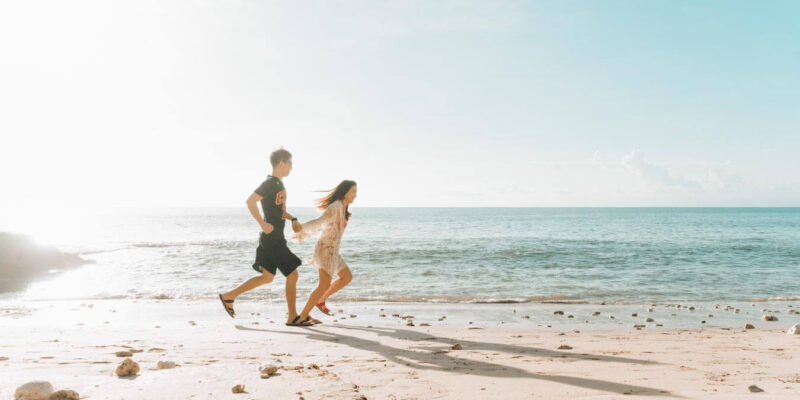 Photo Spot #9
Mount Batur
Still looking for more adventure spots? Bali has incredible views of its natural wonders at Mount Batur.  The climb is worth it as it's such an amazing feeling to accomplish something as intense as climbing a mountain…that's serious Bucket List goals! And who better to capture the proof of accomplishing such a great endeavor than your own personal photographer? Not to mention, travelers have climbed up this 5,633-foot mountain early in the morning or later in the evening to watch the sunrise and sunset, as you feel like you are in the sky.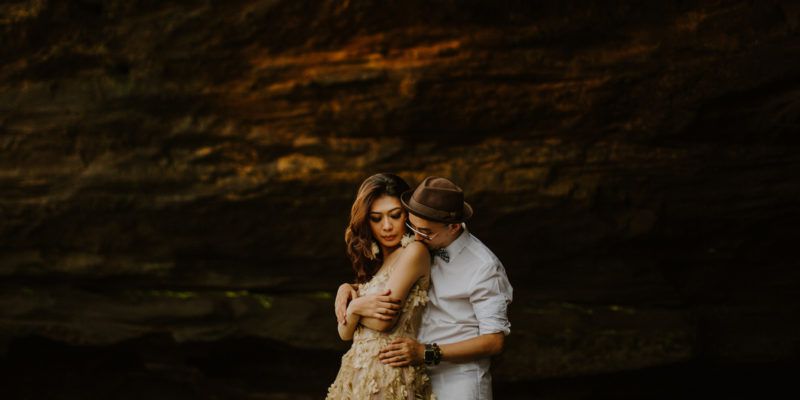 Photo Spot #10
Sacred Monkey Forest Sanctuary
This popular visitor's location is made for animal lovers. The Ubud Monkey Forest is viewed by village residents as an important spiritual, economic, educational conservation center for the village. Take a walk through this exciting forest, and see around 700 monkeys interacting high within the trees and vines. Who knows, maybe one will even take a liking to you. That might just be the perfect photo session opportunity.  Plus, you'll be walking within 186 species of trees in 12.5 hectares of forest, which allows you to get an abundance of fresh air.
Trust us when we say these hot spots are the perfect places for a photo session idea. Not only do you get to experience what makes Bali so beautiful and unique, but you also get the prettiest spots for your Bali photoshoot, showing those you left back home just what it means to travel the world.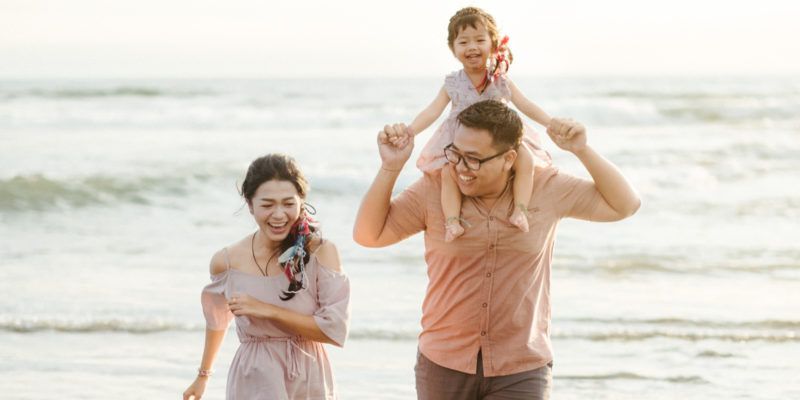 Bali Photo Session Ideas: Poses, Clothes & Activities
Now that we've discussed the best places for your photo session ideas, we can't help but let you in on knowing the best types of photos to take. Of course, any photo you take on your exotic vacation to Bali is bound to be beautiful. We also know your vacation photographer will help guide you and help you pose in the most elegant, fun, and candid ways. We want to make sure to help you by going in with some of the best photo session ideas![/tip]
Idea #1
Sunset/Sunrise Photoshoot
There are so many opportunities to see the sunset or sunrise while you're in Bali. Whether you're on a long walk or hiking in different areas, you're bound to see the golden colors of the sky. There is the classic heart-hands pose, where the center of the sun meets in between your hands shaped like a heart. If you're on the beach, the serenity of just sitting in the sand watching the waves as the night falls makes for a beautiful photo.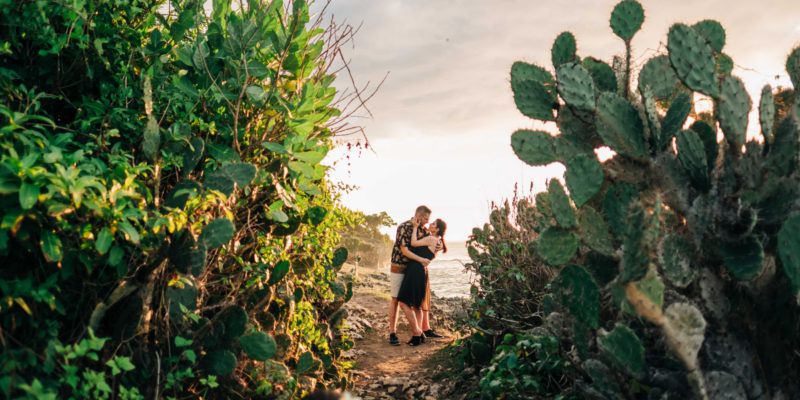 Idea #2
Walking on the Ocean
If you're near the water, take some photos walking in the ocean, splashing the water with your feet. These are more candid, but greatness always comes from unexpected photos! We also always love a good laughing candid!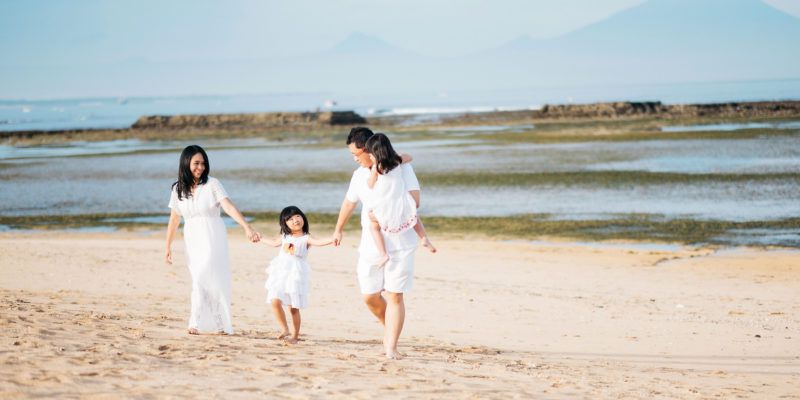 Idea #3
Something for Foodies
Poses don't always have to mean hands on your hips, either. What about putting your hands on some good, authentic Bali food? A photo session of you eating the island's food staples such as pisang goreng (fried bananas), mie goreng (fried noodles), or satay (grilled slices of meat skewers) can make for great, and maybe messy, memories.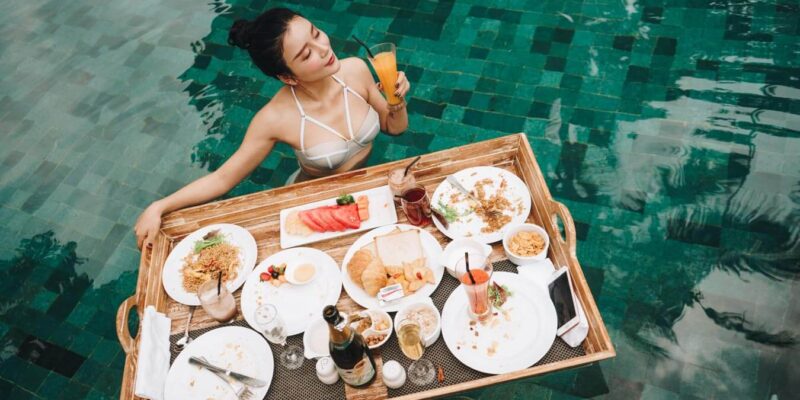 Idea #4
Take Your Personal Photographer on a Hike
For more adventurous poses, the scenic views in the mountains, trails, and rice field speaks for itself. However, walking away with your back away from the camera, facing the outside world, always makes for a nice photo, seeming like you are getting lost in the world beyond, and we know that's exactly how you're going to feel while you're in Bali!
Idea #5
Get a Little Wet
Now that you know about the sunsets, we can't forget to mention the beauty of the rain in Bali, making for another perfection photo session idea opportunity.  Besides the classic dancing in the rain photoshoot, you can snap some dramatic pictures with a sky view of the Bali monsoons. When night falls and the lightning strikes, it makes for a beautiful and interesting photo op, as you're seeing Bali from a whole different perspective than from a sunny, clear day.
There is no denying Bali is a destination filled with never-ending scenic landscapes, seascapes, and landmarks that will keep you busy sight-seeing all vacation long. Bali's geography ranges from silky white sand beaches to huge, towering mountains, and everything in between, giving travelers the opportunity to see the wide variety of natural phenomenon the island holds.
There is so much to do and see while you're there, that you'll be hoping to relive these memories once you're back home. Hiring a Bali personal photographer can help solve that problem, and they will be sure to get your best angles while you dance along the white sand beaches, hike the rockiest roads, and go on adventures of a lifetime. These photo session ideas are only going to emphasize the greatness of your trip.
Buy memories, not things…
Limited time only!
SEE OUR GIFT CARDS
Great customer service and experience
Photoshoot in very short term
The most destinations on the market
Very positive customer feedback
1183
Photographers & Videographers
1041
Destinations world-wide
100% Money Back Guarantee
We believe in our service and quality of our photos so much that we decided to offer a 100% money back satisfaction guarantee for your photo shoot. If you don't like your online gallery once we deliver it, you can contact us within 7 days and claim your money back. Find more details in our Terms.