8. 7. 2019
Beach Photography Tips You Should Read Before You Pack Your Bags for Your Next Vacation
Everyone wants to escape to a sunny beach destination at some point. Maybe you're from a cold northern city, or you just want a place to relax in the sun to take a break from work and the rigors of daily life. Relaxing on the beach is a great way to treat yourself to something special and depending on where you go you can also have a valuable cultural experience. 
Beaches are also one of the most picturesque places you could choose to have a vacation on. Photographers can enjoy the ocean scenery, palm trees, waves, and stunning sunrises and sunsets. Depending on where you travel, you can also use the architecture and sites of the city in your beach photography. For photographers and travelers, here are the things you should keep in mind when traveling to a beach destination. 
Tip #1
Timing is Critical
With the dynamics of the water and waves, beach photography depends a lot on timing. Patience is critical; if you're looking for that perfect shot, it's going to take a few tries. Picking the right time of the day can help you achieve the lighting you're hoping for. Maybe you want a picture of the light sparkling on the water or the colors of the sunset. Another good way to obtain the shot you desire is to take a series of photos one after the other; you can go through the sequence later to pick out your favorite shots.
Tip #2
Dress for the Occasion
When doing a photo shoot on the beach, picking what you wear is important. A lot depends on your own level of comfort and style, and you can talk with a local professional photographer to get tips of what would be best to wear. Swimsuits and towels will definitely fit the scene, but there are plenty of other options if you don't want to be photographed in a bathing suit. Shorts, tank tops, and sports attire are a good way to go if you want to obtain a relaxed and natural vibe for your beach photographs.
Beach photography is also a great way to get elegant and formal shots in a natural setting outside of a studio. Picture your wedding photos with a stunning sunset over the ocean waves or else a family vacation photoshoot on the beach. Since you'll be photographing outdoors and by the water, your clothing may get wet and sandy, so take this into account before purchasing an expensive dress or suit. Light colors will add to the bright and serene tone of the photos and will also stand out against the background of blue water.
Tip #3
Be in the Moment
While it's helpful to plan ahead for beach photography, sometimes the best shots are spontaneous. That special smile or the way the light catches the water isn't something you can stage or prepare for. Just by being in the moment and enjoying your time on the beach, you're guaranteed to get some great photographs. If you are traveling to the beach as a family and want to get photos of children, letting them be themselves and play in the waves is all you need to get photos. The pure joy of playing on the beach is perfect for meaningful and fun photographs.
Tip #4
Make it Unique
Some people complain that all beach photos look the same; sun, sand, and waves. However, this doesn't have to be the case for your vacation beach photographs. There are plenty of ways to make each shot unique and meaningful to distinguish it from other beach photos. Choosing a focal point is important; this is easy if you're doing portrait shots since you can focus on a face or pose for the photos. If you're hoping to get more of the landscape, see if you can focus in on a certain palm tree, peculiar rock formation, or possibly an ocean bird. If you're going on vacation in a city or beach village, you can also use some of the architecture to give your photos a characteristic cultural aspect of the place you're visiting.
Tip #5
Beauty in the Small Details
On the beach, there are plenty of small details to focus on in your photographs. While part of beach photography is capturing the wide landscape, you can also make your pictures meaningful by zeroing in on something small. Maybe it's a footprint in the sand or perhaps a certain pebble that catches the light; these small things can add a deeper meaning to your photos and remind you of the things you saw during your vacation. Similarly, if you're doing a portrait photo shoot, zooming in to focus on a facial expression or piece of jewelry can add a unique charm to your photographs and ensure that you remember every detail.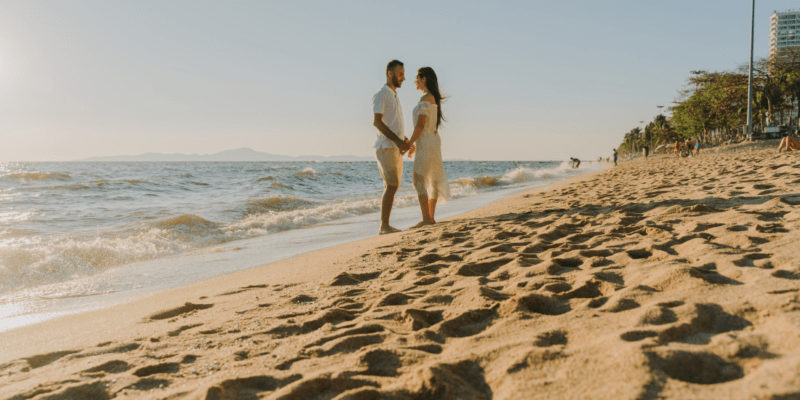 Tip #6
Focus on the Horizon
Especially when doing beach photography, keeping the horizon straight is incredibly important. No one wants to have a photo that looks lopsided or poorly shot, which is the case if you aren't paying attention and tilt the camera slightly. Line everything up with the horizon line, and always make sure that the camera is held level; this way, whatever the main subject of the photograph is, you're certain to come out with an image that looks accurate and steady.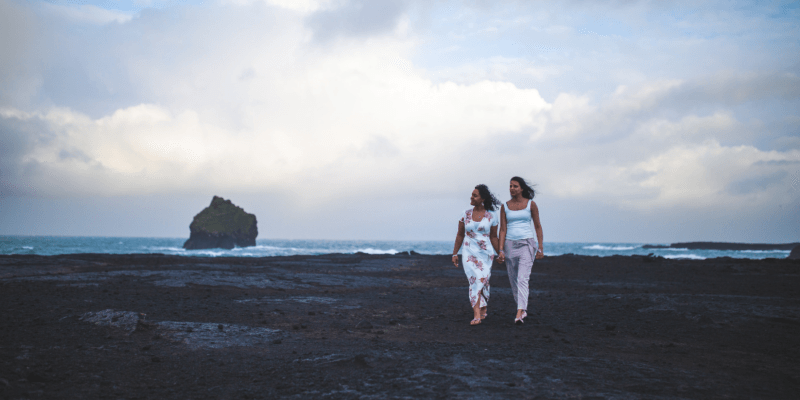 Tip #7
Change Up the Perspective
To give your beach photos a bit of variety, try shooting the photos from different perspectives. If there are high cliffs or hills around, make use of these vantage points to get some panoramic shots of the beach and the waves. You can also try placing the camera on the ground to get more depth in your photographs. It's a good opportunity to try out new perspectives and have some fun with experimenting to get the best results in your beach photography.
Traveling to the beach is guaranteed to be a relaxing and enjoyable experience, whether you're going on a solo retreat to escape and relax or a romantic beachside vacation with your sweetheart. Having good photos of your beach vacation is important, but you have to be careful because beach photography and has its own details and difference from other types of photographs. You can consider hiring a local photographer from Localgrapher who can help you ensure the emotion and the scenery of your vacation are captured in photos. In such a picturesque location, you'll be certain to want high-quality photos of your trip.
Buy memories, not things…
Limited time only!
SEE OUR GIFT CARDS
Great customer service and experience
Photoshoot in very short term
The most destinations on the market
Very positive customer feedback
1221
Photographers & Videographers
1066
Destinations world-wide
100% Money Back Guarantee
We believe in our service and quality of our photos so much that we decided to offer a 100% money back satisfaction guarantee for your photo shoot. If you don't like your online gallery once we deliver it, you can contact us within 7 days and claim your money back. Find more details in our Terms.