19. 11. 2020
Holiday Gift Guide 2020: 33 Best Gifts for Photographers You Should Consider
Holiday shopping is already a tough task; you've got your list of people you're getting gifts for, but you don't always know what you're getting. Then you have the added pressure of wanting these gifts to be special and thoughtful, as well as being dedicated to the person. In this case, finding a special gift for the photographer in your life shouldn't be a daunting task.
If you don't know much about photography, have no fear. More than one hundred of our local photographers have spoken and prepared this ultimate list of Christmas gifts that every photographer will enjoy. Whether you're looking for something special for a professional photographer or you'd like to surprise someone who is only at the beginning of their photography journey, we have a great gift for everyone.
Want to Know What's Waiting for You in the Gift Guide? Here's the List of the Content:
Gifts for Professional Photographers
Gifts for Amateur Photographers
Best gifts for photographers under $25
Best gifts for photographers under $100
Best Gifts for Professional Photographers
Professional photographers may be a little harder to find gifts for because they truly have a gnat for photography. However, we know just how to impress them. After all, we got some tips from real pros. So, let's make sure you find the perfect gift for your pro photographer.

Gift #1: Tahoe BP 150 Camera Backpack
This bag makes carrying cameras, lenses, and equipment much easier, making this one of the ideal gifts for professional photographers. You can find this at BestBuy.
Gift #2: Luminar 4 Photo Editing Software
This award-winning photo editing software is perfect for photographers working from home at the moment. It contains a photo organizer, filters, and presets.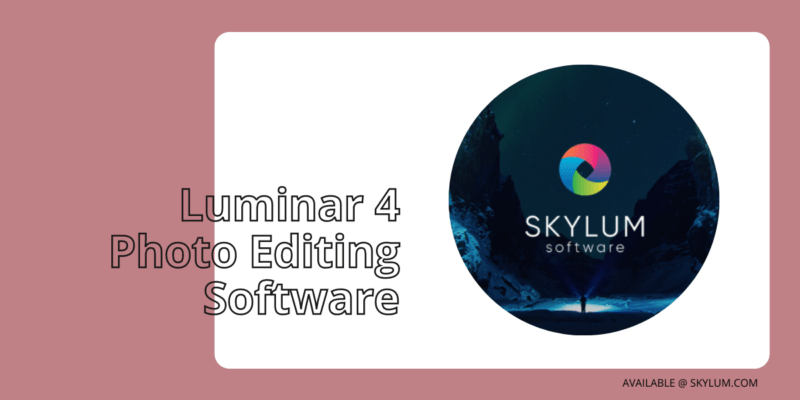 Gift #3: DJI- Mavic Air 2 Drone
A drone is perfect for getting aerial pictures, and it's something a professional photographer would love to play around with.
Gift #4: Peak Design Camera Strap
The convenience of having the camera around your neck is something a professional photographer will appreciate having, especially if they're moving around. This way, they'll never feel worried about dropping their equipment (which is like their child in the photography world).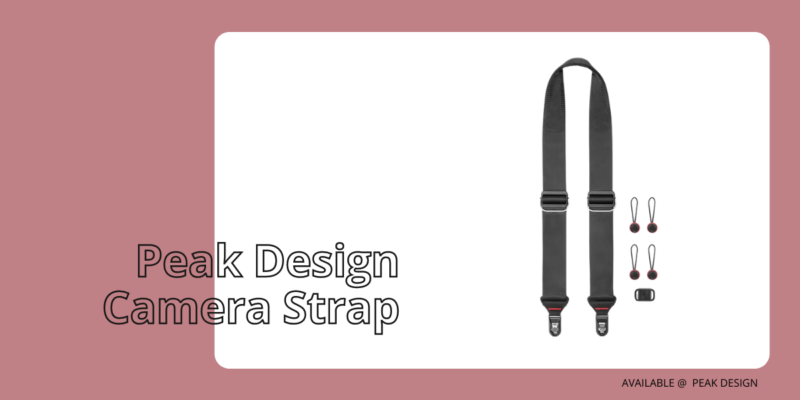 Gift #5: Universal Flash Diffuser by Altura Photo
This diffuser can attach to almost any flash and give it a diffused and soft look, which is perfect for professionals looking to shoot both in the studio and outdoors. It's also easy to carry, which is a bonus for professional photographers on the go.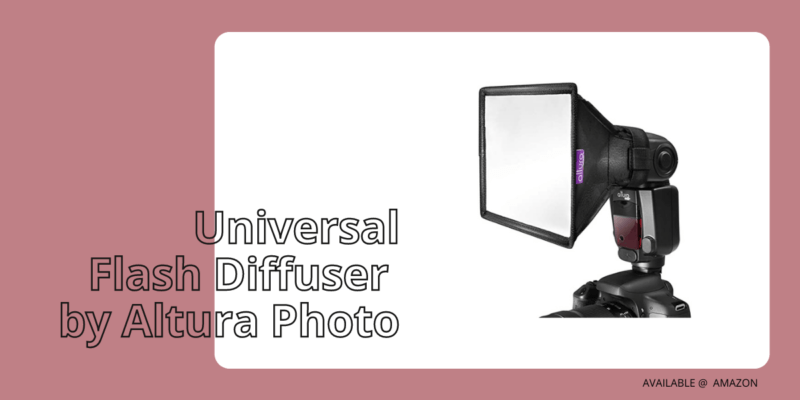 Gift #6: Touch Screen Thermal Gloves
This is one of the most practical Christmas gifts for photographers out there. GearTOP created these incredible gloves meant for handling technology in the cold weather. They allow you to work any touchscreen with the index finger and thumb, all while keeping your hands warm. This is the most functional and practical gift to give a professional photographer who's working the cold months outdoors.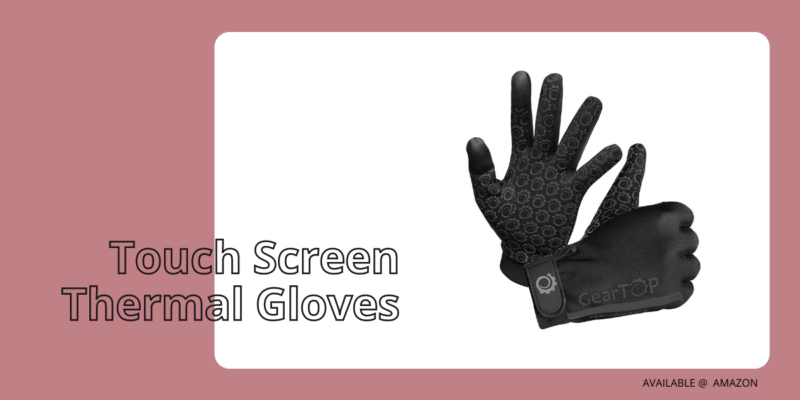 Gift #7: Color-Accurate Monitor
Professional photographers need a higher-end, color-accurate monitor for their high-end prints. Dell P2415Q Monitor has 4K resolution, 99% RGB color space, and an easy-to-move monitor design. The reason for getting a color-accurate monitor is so that the photographer can see exactly what the print will look like, making this the closest to the print as possible.  Great gift for a total pro.
Gifts for Amateur Photographers
Whether you'd like to surprise someone who loves taking pictures on their iPhone, someone who is building their Instagram content and their photos need a professional touch, or someone who has decided to take on a journey of a professional photographer, these are the best gifts for photographers who are not professionals (yet).

Gift #1: Digital Photography Online Courses
While you are home, let the beginner photographer in your life take some online courses to learn more about the photography industry. There are many online courses you can take, such as the Digital Photography Course by Alison. Beginners can try out the introductory course, and then work their way up through the 16 different photography classes. Introduction classes are great gifts for photographers getting into the art of photography as a hobby.
Gift #2: Memory Cards
A photographer takes a lot of photos, right? So why not get a gift for photographers that they'll actually need? An amateur photographer will take lots of photos, especially for practice, so why not get them a gift that they can use up? You can find SanDisk Ultra memory cards of any size at Amazon, or some other electronic stores.
Gift #3: Phone Tripod and Accessory Kit
A Phone Tripod with accessories is a great gift idea for a photographer using their phones for their photos. This Sumcoo tripod stand comes with a Bluetooth remote shutter, a portable pouch, and a universal tripod head mount.
Gift #4: An Assignment Book
No, we're not talking homework (well, maybe a little). This is the idea thanks to which new and willing photographers get a chance to take different types of photos and gain inspiration and ideas. The Photographer's Playbook is loaded with assignments and ideas on how to create perfect photos.
Gift #5: A Reflector Kit
Lighting is a key component in photography, and that's one of the first things an amateur photographer should learn about. This reflector kit comes with a translucent reflector and 4 additional colored covers so there are different lighting effect options, which is great to play around with.
Gift #6: Everyday Journal
This "camera-themed" journal notebook is a great gift for photographers who are just starting out. A journal will help brainstorm ideas along with help jot down important notes they realized while shooting onsite. Plus, thanks to its design you stick with the theme.
Gift #7: Ocular Crystal Ball and Prism
Amateur will have a ball experimenting with compositions and lighting effects with the K9 80mm crystal ball and prism from Ocular. The different lighting effects will help beginners get a hand on different colors and lighting. It's a fun tool they may never put down.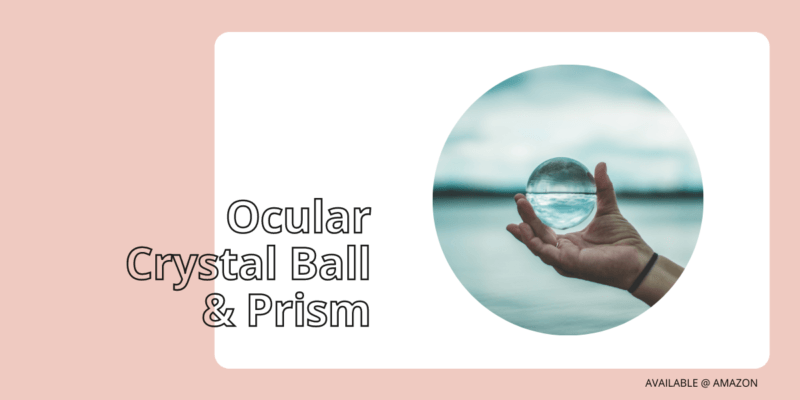 Gift #8: Instagram Photo Tour & Workshop with Localgrapher
We've recently rolled out our special photo tour packages that are simply ideal for any photography enthusiasts and individuals who'd like to learn some advanced tips from the best in the games. Our Instagram Photo Tour & Workshop includes a 90-minute private photo tour, in any of our 900 locations worldwide, with a professional photographer who is ready to share some of the best practices, latest photography trends, and photo-creating tips on the spot using your own smartphone or camera.  Great gift for photographers who loves to learn by experience.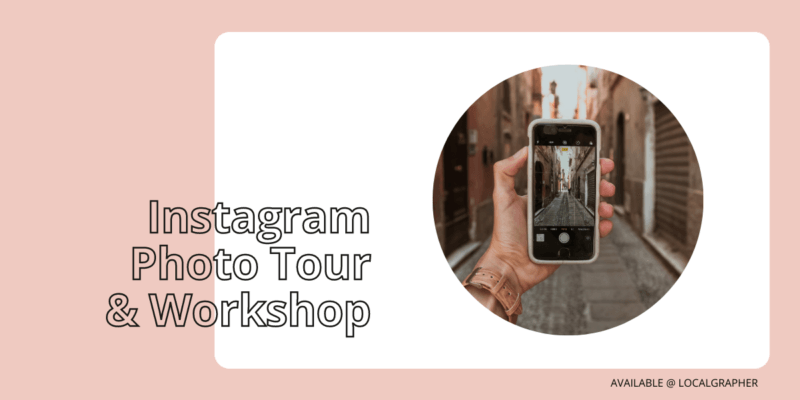 Book Instagram Photo Tour & Workshop as a Gift
START HERE
Best Gifts for Photographers Under $25
If you're on a tight budget this year, we got you covered! There are still many creative, thoughtful, and original gifts for photographers under $25 that are worth browsing. Plus, it's the idea that counts, right?

Gift #1: Think Tank Battery Holder
This 2-battery pouch is compatible with batteries found in most standard camera bodies, which makes it a perfect gift choice that will probably satisfy every photographer's needs. Plus, you can get it for under $11.
Gift #2: Nikon Cleaning Cloth
Keep your lenses spot-free with the Nikon 8072 Cleaning Cloth. The micro-fiber material is anti-static quality and under $5! It'll make cleaning your lens quick and painless. One of the best and most practical gifts out there.
Gift #3: Camera Necklace
How "charming" would it be to buy a piece of jewelry that's meaningful to the person? Getting a photographer a camera lens necklace is a sentimental gift as if they're getting the camera imprinted on the heart. You can find them for under $25.
Gift #4: Camera Lamp
This is one of our favorite gift ideas, as this is so different from any other lamp out there! Their Velan 3D Lamp Camera is an acrylic table night light that changes to seven different colors. It makes for the perfect accessory!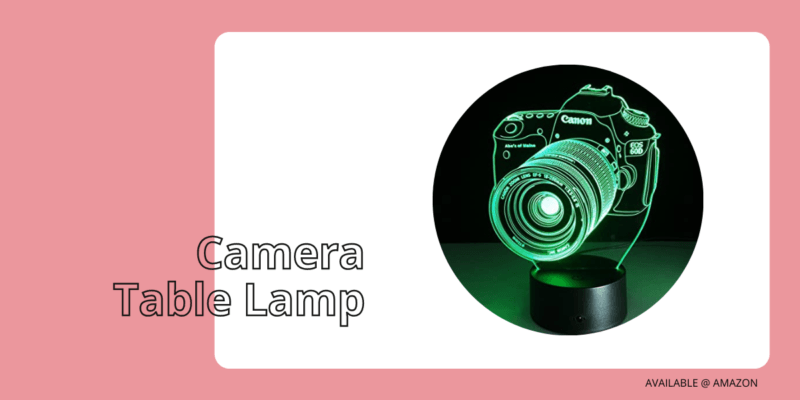 Gift #5: Photographer Street Sign
A quirky and great gift, your photographer friend can hang up a decal or street sign in their studio as a nice decoration. This one, specifically, has a road named for a photographer with a camera at the top of it.
Gift #6: Camera Key Chain
A key chain is a small, simple, yet meaningful gesture. Every time your photographer gets the keys, they'll see the keychains attached to it. This camera key chain can be put on the keys to a studio, home, car, or whatever else, but your loved one will always be reminded of their passion.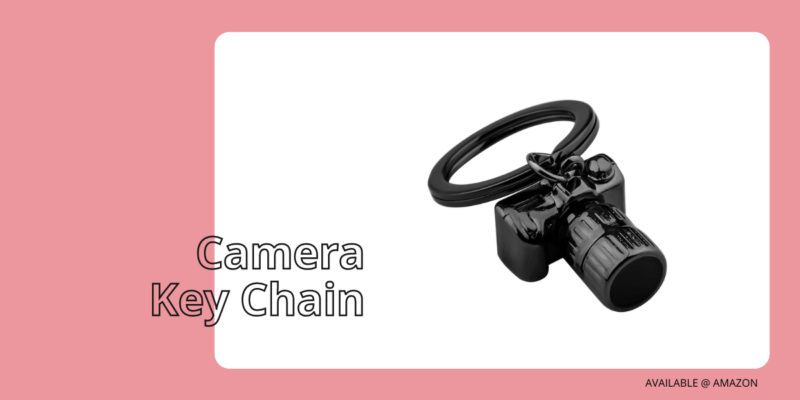 Gift #7: Altura Photo Rain Cover
In order to keep their Canon, Nikon, or Sony DSLR camera lens protected from the rain, snow, salt spray, and other weather conditions, photographers need some kind of a cover. This gift is perfect for those unexpected days of shooting outside. It also contains two sleeves for the photographer's arms to go in when taking photos. This photography item runs under $15 and is a top photo gift for those outdoor adventures!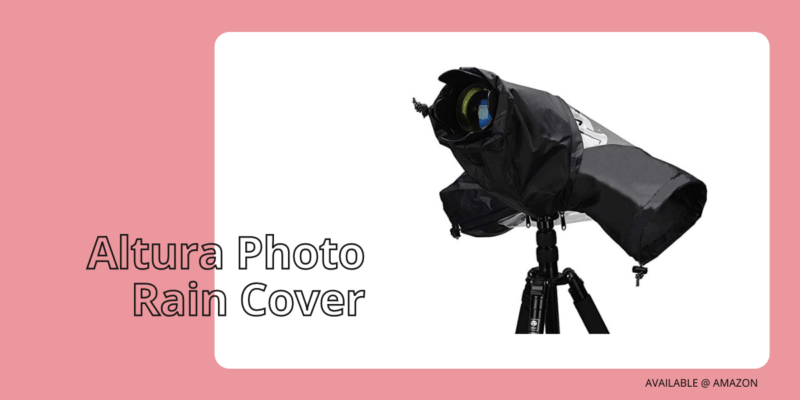 Gift #8: MCS Photo Cube
This 3D way of displaying photos holds 6 photos per cube. Now you can get a deal where you can buy 4 photo cubes for under $14. Photographers can display their work on these cubes and decorate their home as they please with them, making it a nice and warm holiday gift.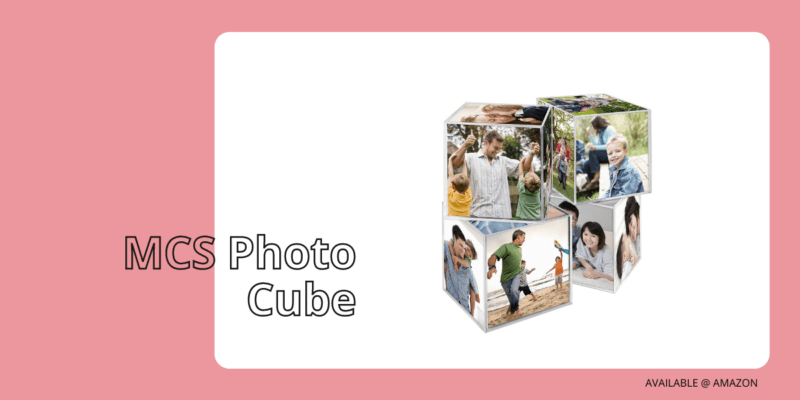 Best Gifts for Photographers Under $100
Buying gifts for photographers might become a costly matter from time to time. However, if you have a more flexible budget this year, you can splurge a little on top photo gifts for photographers. Here are a few unique and clever photographers' gift ideas under $100 recommended by our local photographers:

Gift #1: JOBY GorillaPod SLR Zoom
This TriPod is flexible to help get the perfect photo. This is a gift for photographers who prefers the outdoors and wants to pack light.
Gift #2: Portable Flash Drive
A flash drive is something that every photographer needs, as this will backup all of their photos for safekeeping, and they can take it anywhere they go. Try this Christmas gift in the form of Picture Keeper 32GB portable flash USB Photo Backup and Storage device that is made for PCs and MAC Computers for under $80.
Gift #3: Fujifilm Instax SP 3 Photo Printer
The easiest way to print out social media photos on the go; photographers can print photos wirelessly from their smartphone or tablet. This portable photo printer lets photographers using their phones to immediately print out photos…think of it as the new polaroid camera.
Gift #4: Seagate Expansion External Hard Drive
This portable external hard drive features 1TB storage capacity and PC capability and has ultra-fast datavtransfer. The extra storage is perfect for editing and saving photos wherever you go, making this a great gift for photographers who want to be more flexible.
Gift #5: AEEZO WiFi Digital Picture Frame
This touch screen smart cloud photo frame has 16GB of storage. It can easily share photos or videos via the Smartphone app or free Frameo App. It also mounts to the wall.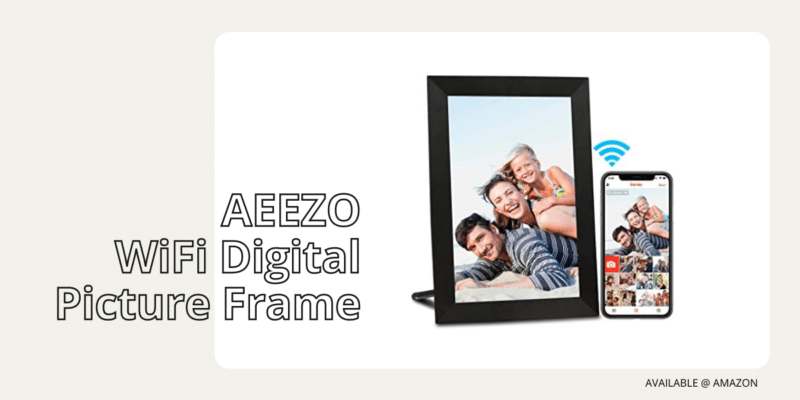 Gift #6: Adobe Lightroom One Year Subscription
This professional-grade photo editor is essential for creating stunning photos that are print-ready (and are great for the portfolio). A one-year subscription is a perfect gift for photographers looking to upgrade their photos, and possibly sell them.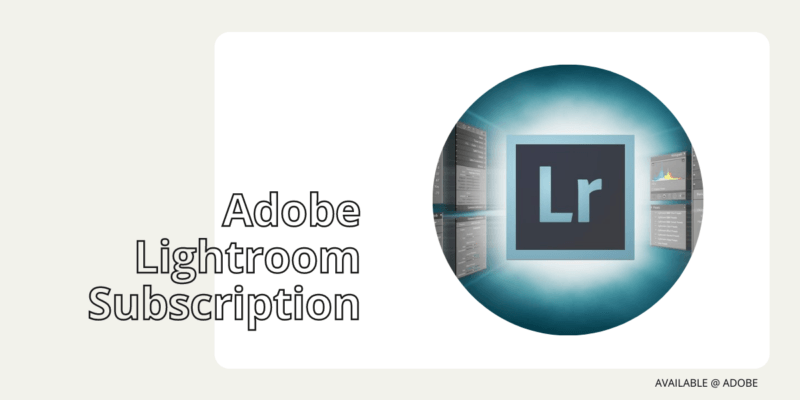 Gift #7: Altura Photo Professional Cleaning Kit
Looking for some affordable but clever gifts for photographers? You can bet on a professional camera cleaning kit which will keep photographers' equipment looking sharp. A proper camera cleaning kit is what every photographer needs and this one has the full package. It includes a cleaning cloth, tissue paper, swabs, air blower, cleaning solution, and more, wrapped into a hard-shell carrying case.
Gift #8: NaCot Selfie Ring Light
A ring light can be seen a lot for lighting for social media pictures and videos. However, it's also a great tool for studio portraits (remember school photos?). This is perfect for someone excited to get creative with lighting. The NaCot selfie ring light has the options for white light, warm light, natural light, and 6 other colors. There are also other modes to be discovered. It also features a tripod and cell phone holder, so truly any photographer can use this to their advantage.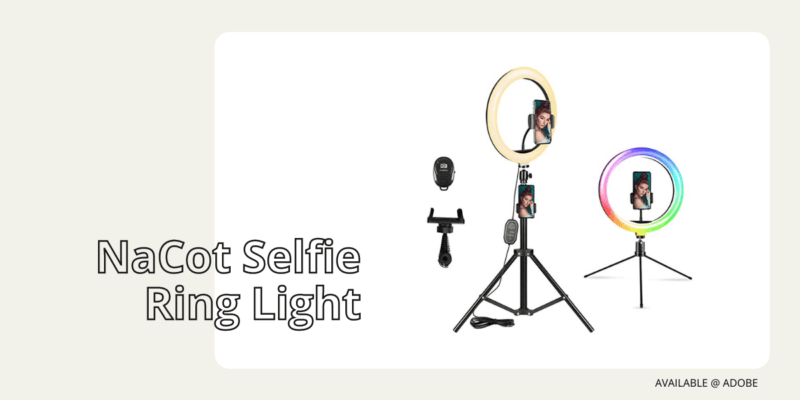 That's it! These are the secret Christmas gift ideas for photographers that we've been thrilled to share with you this year. We're sure that whatever gift idea you decide to go for, it will be the perfect one. And hopefully, with our photographers' gift guide, this year's Christmas gifts are going to be a breeze, just like the click of a (camera) button!
Buy memories, not things…
Limited time only!
SEE OUR GIFT CARDS
Great customer service and experience
Photoshoot in very short term
The most destinations on the market
Very positive customer feedback
1217
Photographers & Videographers
1065
Destinations world-wide
100% Money Back Guarantee
We believe in our service and quality of our photos so much that we decided to offer a 100% money back satisfaction guarantee for your photo shoot. If you don't like your online gallery once we deliver it, you can contact us within 7 days and claim your money back. Find more details in our Terms.