3. 10. 2019
15+ Autumn Outdoor Portrait Photography Ideas You Should Try on Your Next Photoshoot
As summer bids farewell, nights become longer, and days become shorter, know that autumn is here. Although the dry and dull season makes people long for warm and balmier days to come again, it entails a unique beauty. The brightly-colored leaves, warm scarves, crisp mornings, and carved pumpkins, there is a lot that makes this extraordinary, especially when it comes to doing outdoor portrait photography. Autumn is always the best time of the year if you are looking for some spectacular background for your photos. This is all because of the vibrancy in terms of colors autumn comes with.
No matter how melancholy autumn may seem to you, it is one of the best seasons to shoot outdoor portrait photography. The overcast days and the favorable environment make photography not only simple but add a unique touch to every complexion.  The spectacular backdrops and ready-to-go locations are other inevitable benefits of autumn outdoor photography.
However, only a professional photographer can help you make the most of the perfect backdrops that nature offers in autumn. From choosing the right location to making bare branches work in your photos, a professional photographer such as Localgrapher is well-versed when it comes to a photoshoot in any season and can help you take your autumn photography to the next level.
These photographers have professional experience and training. They know how to capture and show off the autumn beauty. The misty mornings of this photogenic season create the perfect ambiance that only a professional eye can see and capture in the right way.
As autumn is around the corner, here we enlisted a few ideas for your autumn outdoor portraits. Book your Localgrapher and rock your Instagram with some out-of-the-box autumn outdoor pictures.
Autumn Outdoor Portrait Ideas for Couples, Solo Travelers, or Families
Tip #1
Autumn Shots at the Waterfall
Autumn and waterfall make the perfect combination when it comes to seizing spectacular outdoor photos of the season. If you are on a vacation trip around places like Croatia, New Zealand, or Thailand, the breathtaking waterfalls are worth visiting.
Although they make the perfect photo subjects no matter what season you visit them, autumns with its incredibly beautiful fall foliage will add a "WOW" factor to your autumn portrait. Let your Localgrapher take some candid snaps while you succumb to the beauty of rushing water. Speaking of this, whether it is a river or just a tiny stream, water in any form can add incredible depth to portraits.
Moreover, there is a lot of room for creativity when it comes to including water in photos. You can take some stunning photos of the reflections and could also get long exposure shots. However, we suggest you reach the location as early as possible if your priority is to capture reflections. If you get there earlier, you won't have to deal with problems like winds, which may ruin your pictures. The water, during this time of the day, will be calmer, and it will allow you to capture the reflection of your subject perfectly. In addition to this, the pre-sunrise allows for softer lighting. This can create a lovely contrast and add a warm glow to the portraits.
If you are facing trouble finding that perfect location, we suggest you use the internet to find some great spots. Social media websites and forums can help you find a location. All you have to do is use the right hashtags, and it will direct you to popular locations for portrait photography. Instagram is the best platform to do searches! You can also rely on Tripduck. Who knows, you might find a picture-perfect place for your outdoor photo session that you never knew even existed in the first place?
Tip #2
Stand in Front of the Row of Rusty Trees
Shaded trees make an excellent scene for autumn outdoor photography. You do not need to find a special backdrop for your autumn outdoor portraits if you are vacationing in the USA, Germany, Chile, Belgium, or Japan. The countries are popular for their must-to-visit places in fall. The stunning churches in Germany and a distinct spirit of rugged terrains in Chile in the photogenic season are amazing. All you need is to enjoy the rewarding adventure by walking between the rusty trees while your personal photographer captures some candid poses of you.
Since we are on the topic, if you really want to capture the essence of autumn, then shooting in a forest can prove to be a great decision. Trust us when we say that this is one of the best outdoor portrait photography tips! Forests can really give the real autumnal vibes and add life to your portraits. You will get to exhibit a wide range of fall colors if you choose to do your autumn photoshoot in a forest. You can do a set up near a treehouse and capture some lovely family moments.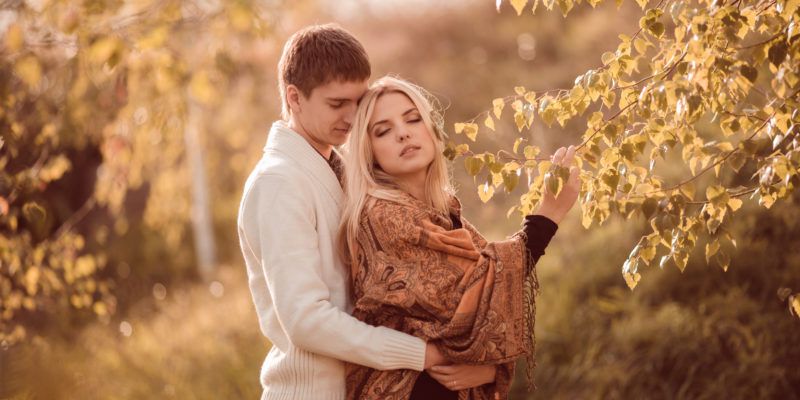 Tip #3
Take a Close-up with Colorful Autumn Leaves
Tied to the last idea, you can make your portrait even more meaningful by taking a close-up of the colorful leaves. This is one of the classic photography tips! Touch the leaves or sit on the fallen leaves and click a photo to add a unique impact.
Tip #4
Walk in the Autumn Forests
Visiting forests is one way to engross in the beauty of autumn. For showcasing a huge range of fall shades, a forest is the best place to do your autumn outdoor photography session. Arrange a small picnic near the tree houses and capture some forever memorable family pictures.
Tip #5
Walk around Pier
Want an out of the world location to propose to your loved one? Find a lake with a dock surrounded by autumn leaves and say those three magical words. She won't say "NO" trust us. Don't forget to capture the moment to make it the most memorable portrait of your life. Our local photographers will take care of everything and snap some engagement photos as well so that you can announce your big news in a big style.
Tip #6
Embrace the Misty Mornings in Autumn
We are sure you must know that autumn and fog go hand in hand. This is perhaps one of the best portrait photography tips for an autumnal shoot! Regardless of the type of photography, incorporating fog is an excellent way to give your photos an autumnal theme. Fog not only adds adequate contrast but also adds a nice depth and dimension to the photos.
All in all, fog can really set up the mood for the photos! Foggy mornings of autumn have an amazing serenity, and that is what makes mornings worth capturing. Just embrace this beauty with open arms and let your photographer lock the moment. The dusky crimson in the setting will create a heavenly autumn portrait. We are sure you are going to thank us later for all these amazing photography tips!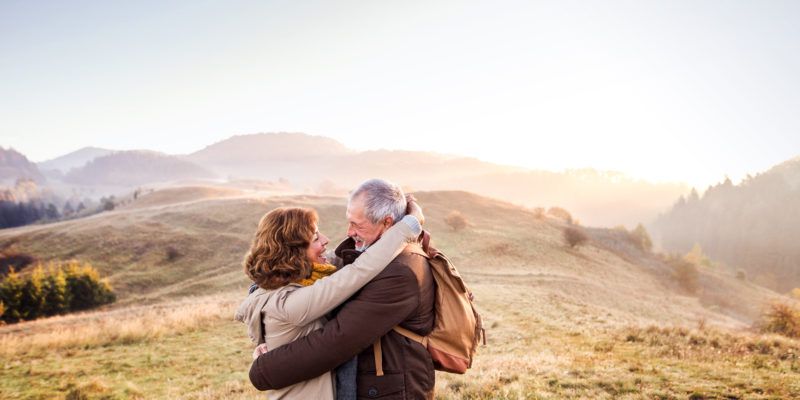 Tip #7
Show Some Contrast
Apart from this, one of our portrait photography tips is to not make leaves your focus. Autumn comes with a lot of creative freedom, and there are other amazing options to spice up your portraits. There are dying weeds that look awesome as a backdrop when you capture portraits during golden hour. The lovely hues of the golden hour will instantly make your subject pop. You can also go to the trees. They can add a unique contrast to your backdrop.
By emphasizing the contrast of this unique season against different subjects and colors, you can add an interesting theme to your outdoor portrait photography. Clicking in front of the light-colored trees and shady leaves is one way to do it.
Tip #8
Make the Most out of Your Family During the Holidays
This is not a part of any of those photography tips but just a suggestion for those not into anything fancy. Not fond of complex photography poses? Try this simple yet classy outdoor portrait idea. All you need is to stand on an empty road surrounded by fall foliage, make your little ones on the vintage suitcase and click a photo.
Speaking of this, candid photography is a wonderful idea on its own. It's one of our effective photography tips when children will be a part of photography. Children tend to get shy when they are around strangers, and you have a camera; it can really make them freeze in one spot. To ensure that portraits turn out great, make sure to follow our photography tips and tricks of going all candid! Engage them in something they like and capture some light-hearted moments amidst beautiful autumn background.
Tip #9
Play Around with Dramatic Outfits
Why not add up a little spice to your outdoor portraits? Since you already have tons of scenic settings and backdrops, you need some dramatic outfits to make an interesting combination. For example, try a red, long-tail maxi and stand on the fall foliage, look back and let your private photographer take some oh-so-gorgeous clicks.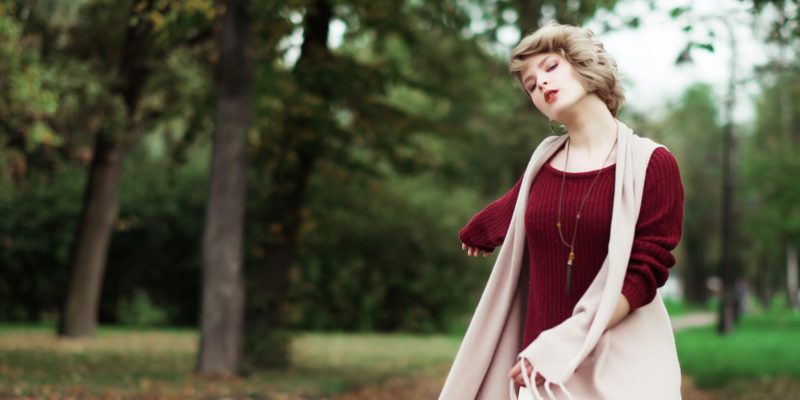 Tip #10
Add Some Warmth in Autumn with Your Love
This simple pose is all about pouring autumn love. If you don't mind getting a little intimate in front of the camera, it makes the perfect autumn portrait pose. Hold a rusty leave with your partner, show it on the camera, and kiss each other. Your local photographer will click the moment, along with the emotions it carries.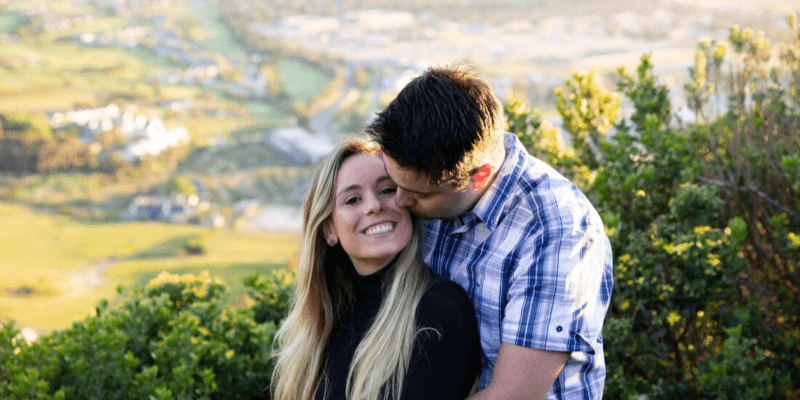 Tip #11
Autumn Leaves and Your Feet
One way to lock in the beauty of autumn is by taking pictures of your feet in the foliage. A unique pose is different yet interesting to make an autumn portrait.
Tip #12
Go Back to Your Childhood and Throw the Leaves in the Air
This pose does not take much of your efforts.  Sit in the autumn foliage and toss leaves in the air while your photographer clicks the moment.
Leave your pets amidst the foliage and witness the fun yourself as they take the leaves up in the air. Accompany them and play together while the portrait photographers take some candid shots. Involving your pets is in itself a great portrait photography tip. It is always a great idea as it adds warmth and an affectionate theme to the photos.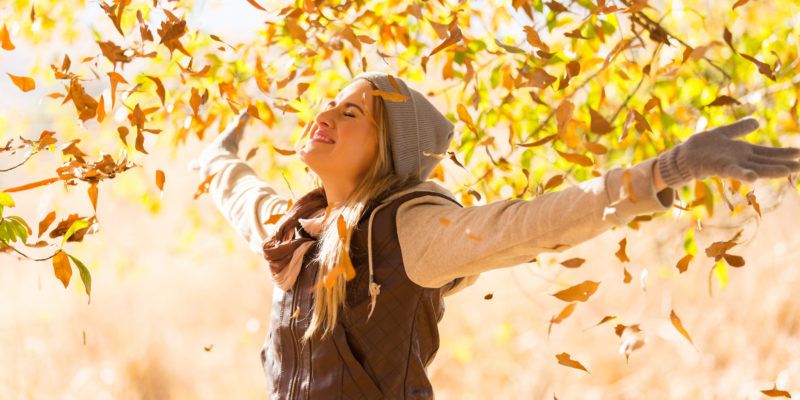 Tip #13
Kids Photography in the Autumn Leaves
This pose is ideal for capturing the playfulness of your kids. Let them play with the beautiful autumn leaves and click on some candid adorable poses with cute smiles.
Let's not forget that posing is not everyone's cup of tea. They might not be fond of posing, so when you tell them to strike a pose, all they can manage is a robotic smile and awkward posture. They would much rather prefer that a photographer captures candid pictures when they aren't looking.
Besides, after a series of photos with the subject posing, it is always a good idea to capture their natural side, the side when they are not conscious of the camera eye and just doing their thing. Well, take it as one of our photography tips, folks! We bet, when captured, such portraits always turn out to be the most memorable ones.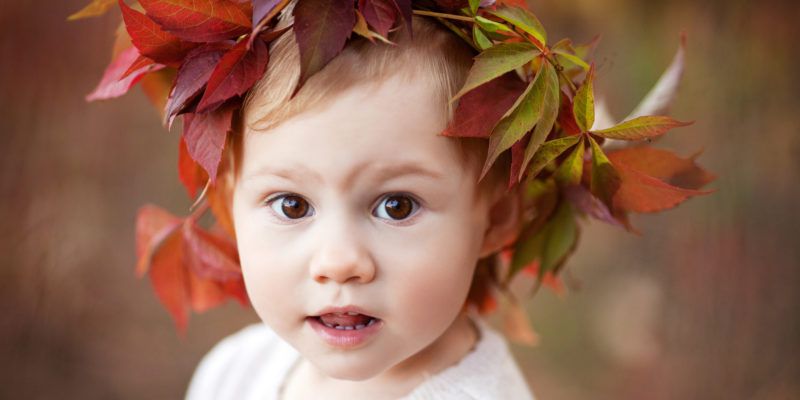 Tip #14
Use Props Typical for Autumn
Another way to boost your outdoor portraits is by following our photography tips and incorporating props. They not only add the element of fun but also enhance the theme.
Using props like a basket, mufflers, and umbrella in your outdoor portrait photography will add a powerful impact to the photos.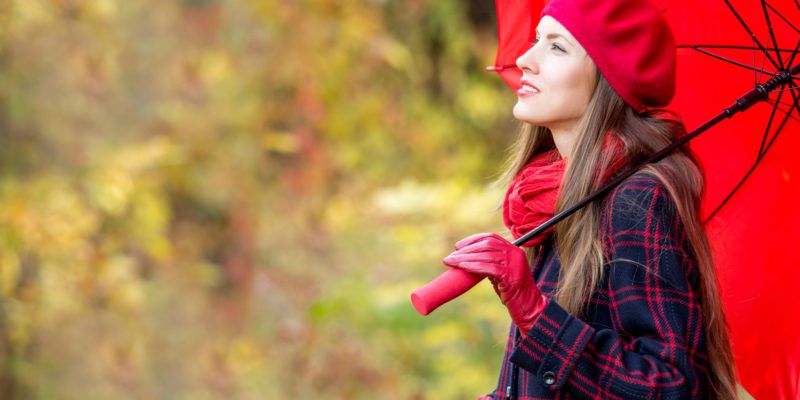 Tip #16
Railroad Track
Railroad tracks look enchanting in this photogenic season, so using them in your outdoor portrait photography session is a creative idea. Sit in a row or walk through the trail; no matter how you take this shot, it will make your portrait even more attractive.
Autumn adds an enticing feel to everything, making it look heavenly beautiful. Thus, the given ideas are great to add to your autumn photoshoot album.
By now, we are sure you must be convinced of how autumn is by far the best time of the year for portrait photography. Whenever it is possible, one should always opt for outdoor portrait photo shoots with our photography tips and create some memories to cherish.
However, always bear in mind that you can only get great outdoor portraits with sufficient planning beforehand, have competent portrait photographers, and if you have enough patience. Taking outdoor shoots is always a good choice as you get to capture natural photos amidst lovely locales and scenes with plenty of natural light pouring in. Pair them with props and invite the people who make you most happy, and you're all set for a fantastic shoot.
We hope the photography tips mentioned above prove to be of great help when you set out for your dream autumnal portrait photoshoot!
Buy memories, not things…
Limited time only!
SEE OUR GIFT CARDS
Great customer service and experience
Photoshoot in very short term
The most destinations on the market
Very positive customer feedback
1114
Photographers & Videographers
990
Destinations world-wide
100% Money Back Guarantee
We believe in our service and quality of our photos so much that we decided to offer a 100% money back satisfaction guarantee for your photo shoot. If you don't like your online gallery once we deliver it, you can contact us within 7 days and claim your money back. Find more details in our Terms.