25. 2. 2020
Beautiful Engagement Photo Shoot Ideas from the Most Romantic Spots in Italy
There is no doubt that Italy is one of the most romantic countries in the world. The language, the breathtaking views, and the food are all factors making Italy the beautiful European country it is. If you and your significant other are planning a vacation soon, consider Italy.
There are many cities in this boot-shaped country that are full of activity and sights to see. Some might be more iconic and others more simplistic, but all spectacular in their own ways. No matter what time of year you go, there will be something magnificent to see.
Looking for the perfect place to pop the question? Or places to consider an engagement photo shoot? We've got some romantic spots in Italy for you.
The Perfect Places For an Engagement Photo Shoot in Italy
Tip #1
Venice
Venice is built on more than one-hundred small islands in a lagoon in the Adriatic Sea. Therefore, this city navigates through canals, not roads. This "City of Water" is where the magic of gondola rides take place. Picture you and your partner gliding through the canals. The only other person on this boat is the Gondolier. The Gondolier is serenading you two, setting the mood for this romantic ride.
While this might be the perfect activity to enjoy each other's company, it may not be the ideal spot for an engagement photo shoot. However, Italy's Carnival also takes place in Venice, which is happening as we speak. This exciting festival is held on the streets of Venice every year. It ends with the Christian celebration of Lent, forty days before Easter on Mardi Gras. Elaborate masks and costumes are worn on the celebrators. A Venetian Mask Competition, Grand Masquerade Balls, a Classical Concert, Street Performers, and even a Masquerade Pub Craw are just some of the many activities that take place. 
All of these exciting events can help set the perfect engagement photo shoot. Glam up and have fun as you pose with extravagant masks and more during the biggest event in Venice!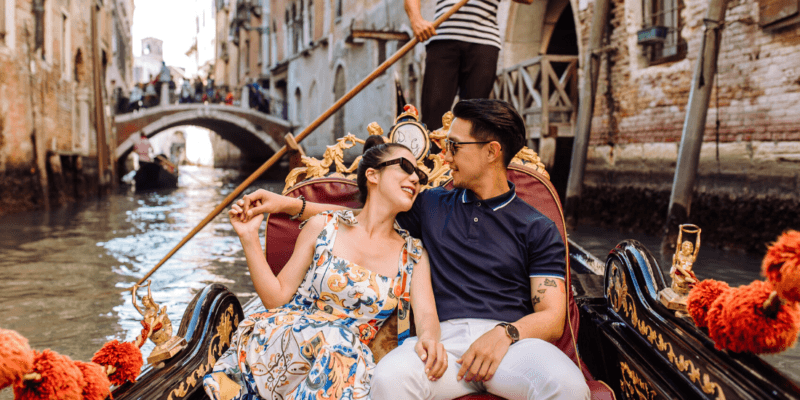 Photo: Bethina, Localgrapher in Venice
Tip #2
Rome
Home to the iconic Colosseum, Pantheon, and Trevi Fountain, Rome is the country's capital and most populous commune. There is a large mix of ancient history as well as a timeless culture. Its stunning architecture and iconic buildings make for the perfect backdrop for an engagement photo shoot. Time travel back to the days of the Colosseum, where you'll be in the largest amphitheater ever built in its day and age. Take photos around the giant dome and act like you are watching a show. You'll be able to snap some fun photos!
The Pantheon, a former Roman Temple, is another ancient structure you can pose in front of. It's now the site for a Catholic Church and is the best-preserved building from Ancient Rome. Enjoy photos in the Pantheon's Ancient Roman architecture, where massive granite columns make for a fun photo op. The columns are partially taken from Greek architecture, so you'll even get a taste of Greece.
The Trevi Fountain also makes for a perfect engagement photo shoot with your personal photographer. Coins are tossed into the water as visitors make wishes here. A fun photo idea can be you and your loved one throwing a coin into the Fountain together. The blue of the water will be a beautiful pop of color that would enhance all your photos.
Photo: Francesco, Localgrapher in Italy
Tip #3
Amalfi Coast
This absolutely beautiful stretch of Italian coastline is on every traveler's bucket list. Why? Because of its stunning rugged coastline and colorful villages that line the sea. Travelers eagerly take road trips down the winding roads along the Amalfi coastline to see the breathtaking views. You will feel as if you're in a whole other world.
Visitors can stay in the ancient Italian villages surrounded by mountains rising up on one side and coastal cliffs on another. For more adventure, a boat can be taken from Amalfi to the island of Capri. Or, do some hiking up to the highest village of Ravello. A destination with multiple small beaches, this is a perfect summer holiday spot.
Anywhere in Amalfi you visit, you will be sure to get a spectacular engagement photo shoot. The colors alone will set the beauty of the photos. But also the romantic views help entice the engagement shoot even more. You can select from one of our talented photographers who will emphasize the beauty of the city.
Photo: Pasquale, Localgrapher in Amalfi Coast
Tip #4
Milan
The global capital of fashion and design, Milan is a city of hustle and bustle. A financial hub, it is home to the national stock exchange. It's also known for its high-end restaurants and shops. The Gothic Duomo di Milano Cathedral and the Santa Maria delle Grazie Convent tie in the city's centuries of art and culture. The Convent houses Leonardo da Vinci's mural, "The Last Supper." You will not want to miss seeing this historical piece of artwork that you while you visit the city.
A city like this is meant for couples looking to treat themselves to high-end fashion and luxury, or at least get a taste of it. Hiring an engagement photographer will help get the best photos of you and your significant other walking the streets in style. You can visit some of the hottest photo spots such as the green, leafy towers of Bosco Verticale, and calm waters of Naviglio Grande Canal. The triumphant Castello Sfotzesco and magnificent Arco della Pace also help sculpt the city.
Photo: Riccardo, Localgrapher in Milan
Tip #5
Cinque Terre
If you're looking for more pops of color to brighten your trip, then look no further. Cinque Terre is a string of centuries-old villages on the rugged Italian Riviera coastline. Colorful houses and vineyards clinging to steep terraces make up the five (or cinque) towns. Harbors are filled with fishing boats. Trattorias create the most delicious seafood specialties as well as their famous pesto sauce. The Sentiero Azzuro Cliffside Hiking Trail links the villages together and offers stunning sea views. You and your partner will never get bored.
Some of the most picturesque views in Cinque Terre include Riomaggiore, Vernazza, Manarola Marina, and Manarola Vineyards. Although all providing a similar beauty with bright colors and stunning scenery, each location delivers something special and different from the "Five Lands." Therefore, making it a perfect place for an engagement photo shoot.
Photo: Andreani, Localgrapher in Cinque Terre
Tip #6
Pompeii
Full of deep, rich history, Pompeii is an interesting site to travel to. The city is a vast archaeological site. Once a thriving and sophisticated city, it was later buried under meters of ash and pumice after the eruption of Mount Vesuvius. Excavated ruins of streets and houses make up this preserved site where visitors can freely explore.
Although it doesn't seem like the most romantic place for an engagement photo shoot, couples will enjoy diving into the culture's history and roots. This is most definitely an unusual yet interesting place for a professional photo shoot. It will be an engagement photo session to remember!
Photo: Mimmo, Localgrapher in Amalfi Coast
Tip #7
Pisa
This Tuscany-region city is best known for its iconic Leaning Tower. If you're not sure exactly what that is, just picture the tower that everyone pretends to be holding up in their photos. Leaning on its side, looking like it's about to fall, this is a traveler's iconic photo. Did you really travel to Pisa if you didn't hold up the Leaning Tower?
Naturally, it's probably the first thing that comes to a traveler's mind when visiting the site, so it's only reasonable to take a bunch of photos there. All our local photographers are skilled in photography in Pisa, so choosing the right match to capture your Tuscan adventure will be easy.
If an engagement photo shoot at the Leaning Tower seems too cliché or common, then there are more surprises awaiting your arrival in Pisa. Test out your acoustics at the Pisa San Giovanni Baptistery. Or, marvel at the marble façade of the Medieval Cathedral di Pisa. The Pisa architecture will make history in your vacation photo shoot.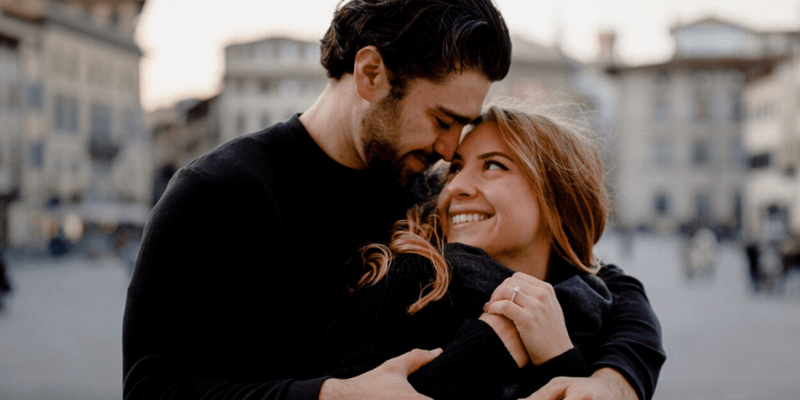 Photo: Alessandro, Localgrapher in Pisa
Tip #8
Verona
Visit the medieval old town that was the setting of Shakespeare's "Romeo and Juliet." There features the picture-perfect scene of a 14th-century residence with a tiny balcony overlooking a courtyard. "Juliet's House" is said to be located here. You and your fiancé can have a fun, romance-filled engagement photo shoot on the balconies. Try calling out your partner's name like you're confessing your love, just like Romeo and Juliet.
This charming city sparks romance due to this play, but it also enchants visitors just by its looks. Stroll the ancient streets, enjoy the blissful view of the river Adige (and snap some photos there), and admire the Verona arena and Duomo of Verona.
Our local photographers can help capture the essence and beauty that is Verona on your private photo shoot. These personal photographers want to take dreamy photos that match the romance of this quaint city.  All the picturesque photo spots include scenery worth tying in happy memories with. Make sure your session is filled with beauty.
Photo: Andrea, Localgrapher in Verona
Tip #9
Capri
Give yourselves a little getaway on the idealistic island of Capri. Although you are still in Italy, you will feel as if you're in your own paradise set in the Bay of Naples. The city is known for its rugged landscape, upscale hotels, and high-end shopping. While you're vacationing in style, the colorful landscape, and bright blue water help shape the perfect escape from reality. The scenery alone is the perfect background for an engagement photo shoot.
However, one of Capri's best-known natural sites is the Blue Grotto, a dark cavern where the sea glows electric blue. This is due to sunlight passing through an underwater cave. If you think that sounds surreal, you won't be able to believe your eyes once you witness it. Your private photographer will take the most stunning photos of you and your significant other paddling on a boat through the grotto.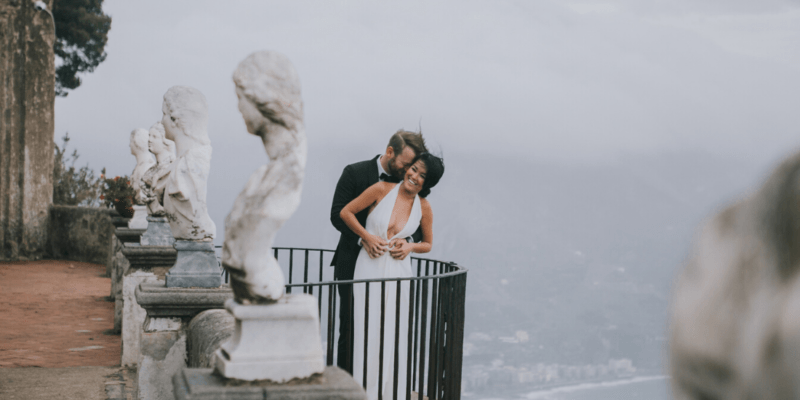 Photo: Serena, Localgrapher in Capri
Tip #10
Florence
Last, but certainly not least. The capital of Italy's Tuscany region is home to many masterpieces of Renaissance art and architecture. The Renaissance period was the time for beautiful artwork that now seems timeless. For example, the Duomo, a cathedral with a terracotta-tiled dome and containing a bell tower, can be explored by couples. It is located at the Galleria dell'Accademia where you will also find the famous "David" sculpture crafted by Michelangelo. The Uffizi Gallery exhibits Botticelli's "Birth of Venus" and da Vinci's "Annunciation". There is no doubt that sparks will be flying in this city full of romantic art.
Although you may not take your engagement photo shoot at every sculpture or piece of art, there are so many more opportunities around the city. Aside from the Duomo, feast your eyes at the Piazza della Repubblica, set sail at Oltrano and the Arno River, and visit the Old Palace for some more desirable history.
Photo: Nicola, Localgrapher in Florence
There is so much to explore when traveling to the romantic country of Italy. Learn the language of love, eat delicious and authentic food, and take moments to soak in just exactly how beautiful the world can be. The possibilities are endless when visiting this country made up of over sixty million people. In fact, there are so many cities that it will be hard to choose from.
You can visit the two cities made up of over one million people or visit the thirty-one made up of one-hundred thousand to one million people. Or if you're looking for a quainter place, visit one of eight-hundred and ninety-two cities made up of ten-thousand to one-hundred thousand people. Even the lesser-known locations are sure to have hidden beauties located there.
No matter where you go, be sure to take your travel photographer with you. There will absolutely be a place to capture the most romantic engagement photo shoot in any of these places. The results will be priceless.
Buy memories, not things…
Limited time only!
SEE OUR GIFT CARDS
Great customer service and experience
Photoshoot in very short term
The most destinations on the market
Very positive customer feedback
1114
Photographers & Videographers
990
Destinations world-wide
100% Money Back Guarantee
We believe in our service and quality of our photos so much that we decided to offer a 100% money back satisfaction guarantee for your photo shoot. If you don't like your online gallery once we deliver it, you can contact us within 7 days and claim your money back. Find more details in our Terms.