5. 2. 2017
Insider's Guide to Rome – Tips from Local Photographer Ozge
In this series, we are going to present our favorite photographers and their cities. Our vacation photographers know every corner of their cities so be prepared for some great travel tips. Let's start with Ozge, our local vacation photographer in Rome, Italy. Enjoy this interview!
Localgrapher's Guide to Rome –  Interview with Ozge, Local Photographer in Rome
Question #1
Ozge, how would you describe Rome to an interested tourist, using only one sentence?
It is unique. It is like my name. Ozge means unique, one of its kind in Turkish. It is a nice coincidence, but also the reason why I made the decision a little over 7 years ago to live in Rome.
Question #2
Which of the seasons do you consider the best for visiting Rome and the most inspiring for the photo shoots? Why?
Personally, I love springtime and the begging of summer. It is the best time of the year in the city.
The city wakes up from winter sleep like nature, the flowers and trees and the colors of the city become more magnificent. On the other hand, the weather is not cold or hot, the weather is warm, and Italians also start to spend more time outside, especially in the city center. I see the springtime in Rome as a "festival".
As a photographer, I also prefer vacation photoshoots in spring because the city becomes a lot more romantic. I like seeing the city blooming and growing flowers. And at sunset hours, the light becomes very soft and there is a subtle glow and kindness in it, which I really like.
Question #3
If you had to choose only five places in Rome to show them to a tourist, which ones would you pick?
The Spanish Steps
Colosseum
The Trevi Fountain
Roman Forum
Pantheon
Localgrapher's Tip: Check out all popular photo spots hand-picked by our local photographers in Rome HERE.
Question #4
What about the surrounding areas which may be awesome destinations for day trips from Rome? Can you recommend some?
The best beaches near Rome are Fregene and Ostia. In the summertime, you can have a really great, relaxing time here.
Or you should visit "Castelli Roma" which are 13 towns collectively known as the Castelli Romani.
Question #5
Are there any hidden parts of the city that international tourists usually don't know about but they should?
Yes. I believe that tourists often know that there are some more parts of the city that they would like to explore. However, they typically run out of time. If they have time, I recommend them to see the following 3 parts of the city:
Jewish Ghetto
Rome's Jewish Ghetto is one of the best attractions in Rome and also one of its least-known. As the oldest Jewish community in all of Europe. You must see the Teatro Marcello and The Turtle Fountain is a late Renaissance. After your sightseeing, I advise trying artichokes cooked Jewish style. Most of my tourist friends complain that we only eat pasta and pizza in Rome, but it is not true. If you find the right place, they cook really good vegetables. Before moving to Rome, I wasn't the artichokes lover but after eating in the restaurants in Ghetto, I love artichokes so much.
Quartire Coppedé
An unexpected and bizarre area of Rome, it is really hidden. I discovered this place with my Roman friend. Here you can find the examples of medieval, ancient Greek, Art Nouveau, neoclassicism and Baroque styles seemingly come together.
The Appian Way (Via Appia Antica)
Officially this is the first paved road in history, dubbed the "Queen of roads". It was the reason for the famous saying "all roads lead to Rome".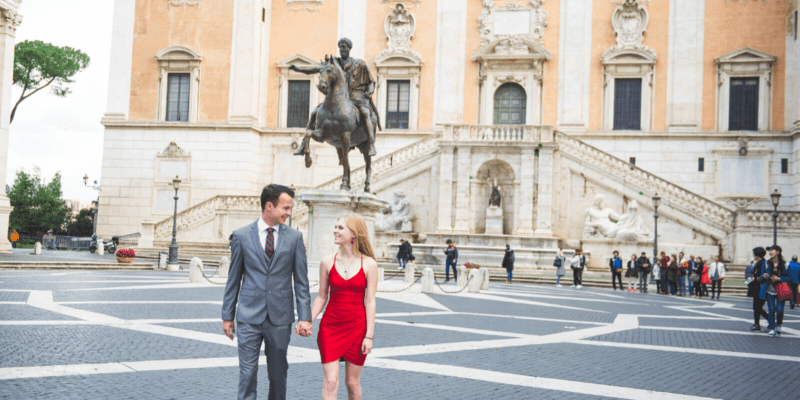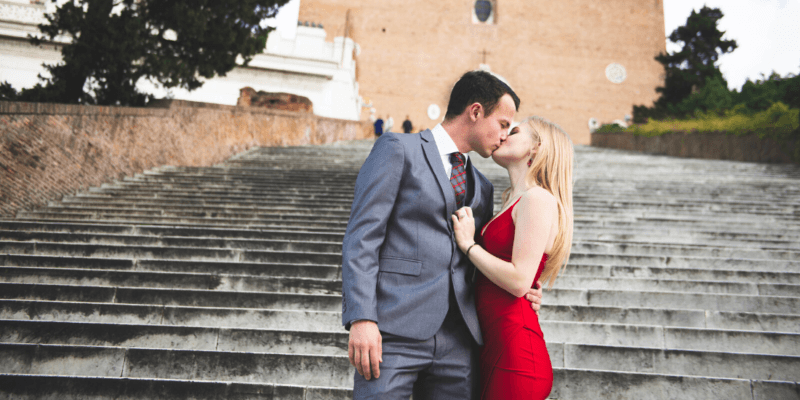 Question #6
Which parts of Rome do tourists usually want to have captured in their photographs?
Two symbols of Rome: Colosseum and The Trevi Fountain.
Question #7
What's your personal favorite historical building in Rome that inspires you the most?
I am a true lover of ROME. It is so difficult for me to name one single place. In Rome, every road smells history and gives me such a powerful inspiration. I feel like I am living inside an open museum. If I have to pick one single place, I would say "Pantheon", but really what inspires me the most is the city as a whole, the entire open museum.
Question #8
When did you realize you want to be a photographer and what do you think is the main characteristic of your approach to photography?
I discovered photography when I was at university. Photography was just a hobby at the time, and I was using an analog camera. I moved to Rome in 2010, which is when I realized that photography should be more than a hobby in my life and made some life-changing decisions. I first quit my job in mobile marketing, and then I started studying art and photography to get my second degree from Fine Arts Academy of Rome. Thanks to this eternal city, I discovered a new, unique person inside me… A new Ozge. Today, I am a full-time photographer.
My approach to photography is very human-centric. I am very passionate about humans – I enjoy looking at them, but also understanding them, their feelings and their behaviors. Every time I take portrait photos, I feel like I get to meet new faces, new feelings and can tell new stories, which then become part of my own story. When Localgrapher contacted me, I thought it was a fantastic opportunity. Because they asked me about what "I love to do" and also they asked me to do it in "the best place in the world". What should I want more? I am really lucky to live in this city and to do what I love to do.
Question #9
Can you share an experience from one of your previous photo shoots with our readers?
I love secret proposal photoshoots. There was this one where I had to act like I am a stranger who is wandering the streets and taking photos. When my client, Ricky, took out the ring to propose to his girlfriend, I was taking photos of one of their most exciting moment in life. I was so excited and so happy to be able to picture that moment. His girlfriend started to cry…and it was just such a beautiful moment.
After they hugged and a couple of minutes passed, I went up to the girlfriend to introduce myself and tell her about the surprise. She was very happy. And I was really happy that I can share all these happy moments with people from all around the world.
Question #10
What places out of the Italian borders would you like to capture with your camera and why?
Iceland, Iceland, and Iceland… I want to see the northern lights. It would be such a great experience for me as a photographer.
The word "photography" comes from Greek roots. Photo means "light" and graphy means "drawing". I believe that Iceland has a beautiful light to draw. Sometimes I see us (photographers) as painters. We can also draw with our cameras, thanks to the light 🙂
Request your vacation photo shoot in Rome now
START HERE
Buy memories, not things…
Limited time only!
SEE OUR GIFT CARDS
Great customer service and experience
Photoshoot in very short term
The most destinations on the market
Very positive customer feedback
1170
Photographers & Videographers
1036
Destinations world-wide
100% Money Back Guarantee
We believe in our service and quality of our photos so much that we decided to offer a 100% money back satisfaction guarantee for your photo shoot. If you don't like your online gallery once we deliver it, you can contact us within 7 days and claim your money back. Find more details in our Terms.