25. 4. 2017
Top Trends in the World of Marriage Proposals
Thinking of a proposal idea can be nerve-wracking. But thanks to social media constantly featuring over-the-top and extreme proposals, a lot of people find themselves wondering what they can do to propose in a way that won't be disappointing to their partners?
When planning your marriage proposal you really have two choices; you can do something super original and creative that no one else has done before, or you could consider what is trending and use that as inspiration for the big day.
We've put together a list of the top trends in the world of marriage proposals to help inspire the perfect proposal idea in you.
The Reveal
A trend that is really taken off is to hire a photographer or videographer to capture your marriage proposal but not reveal it until the actual wedding. So basically, your partner never knows that someone is capturing the proposal, but on your wedding day you reveal the whole thing to her.
Another option is to hire secret proposal photographer and reveal this amazing surprise right after you pop up the question. Great thing about this scenarios is that you can have a romantic engagement photo session right after the proposal.
High Budgets
This recent article begs the question, "Why men are spending tens of thousands on a marriage proposal." The answer? Because they want to say that they gave their partner the ultimate dream marriage proposal. And again, thanks to social media, they know everyone is going to see it.
Live Action
Flash Mobs are slowly losing their time in the spotlight, but people are constantly trying to find a new type of flash mob. Think real actors filling a restaurant and all standing up one by one reciting a poem. Or perhaps a group of people spontaneously singing at the same time. It is all about the action!
The Intentional Viral
It used to be that someone would propose in an epic way and it just went viral. But now the trend is intentionally planning a proposal with the purpose of going viral. So they actually will choose to propose in a manner they think will get a million likes!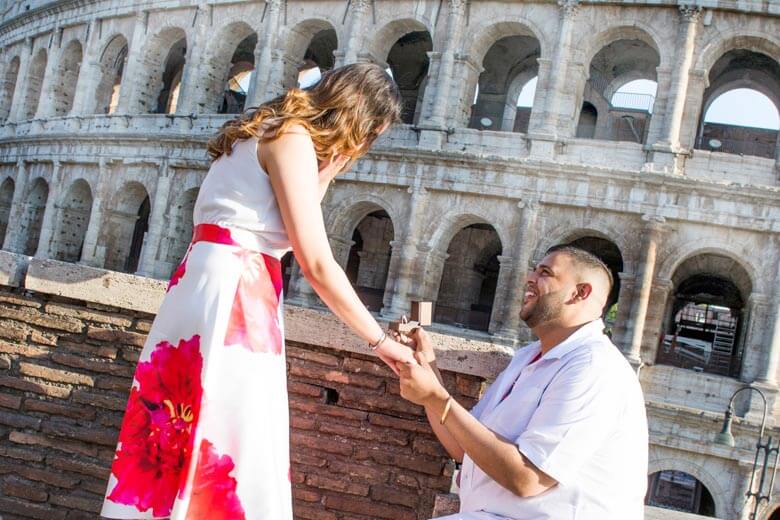 Including Family
Gone are the days when it is just you, your partner, and a nice restaurant where you drop to your knee. Now people are including their friends and families in the mix. This really drives up your proposal price when you are paying for dessert and beverages for the whole group, but can be a nice touch if your partner is super into family.
Hiring A Proposal Planner
Some people are opting to hire professionals to help them plan their marriage proposals. This idea is common for people that don't have the time to plan all of the elaborate proposal ideas they have running around in their heads. It is also seen with clients who are proposing in cities that they do not reside.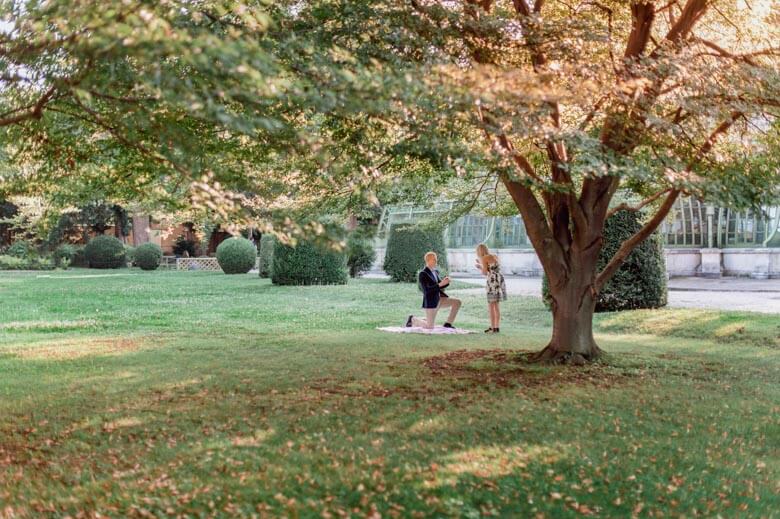 Hopefully these proposal trends have inspired some ideas in your mind that you can use for your own engagement.
Just remember to think about what your partner would like, not just what you think would be cool to others. Then, your proposal day will be perfect!
Request your secret proposal photographer now
REQUEST NOW
With every January photo shoot!
Great customer service and experience
Photoshoot in very short term
The most destinations on the market
Very positive customer feedback
1115
Photographers & Videographers
950
Destinations world-wide
100% Money Back Guarantee
We believe in our service and quality of our photos so much that we decided to offer a 100% money back satisfaction guarantee for your photo shoot. If you don't like your online gallery once we deliver it, you can contact us within 7 days and claim your money back. Find more details in our Terms.