8. 8. 2018
A Secret Proposal Photo Shoot with Fantastic Scenery on Lake Como
Proposals absolutely need a dramatic location. The more dramatic and special the scenery the more memorable it will be for all parties. Whether you're on holiday or planning a special event, Lake Como absolutely fulfills this requirement for the perfect proposal photoshoot. Let's take a look at this amazing alpine gem .
Beautiful Lake Como, the Third Largest Lake in Italy
One of the most stunning lakes in the world, Lake Como has been visited for thousands of years by wealthier Europeans. The lake was formed mostly by glacial meltwater after the last Ice Age. Since then the Adda River has kept it fed, flowing into the lake near the town of Colico.
The size of the lake ensures summer heat is retained throughout the winter, keeping the region warmer than it otherwise would be. This made it an extremely attractive place for wealthy Romans (as well as modern-day Italians) to build villas. Blessed with a mild climate by the stabilizing presence of the lake, many of the villas also have lush gardens that remain green for the entire year.
Visitors to the area can take ferries to any of the towns along the lakefront. Some of them are even large enough to transport personal vehicles, making it a nice stop along the way of an Italian scenic road trip! Visitors to Lake Como are fully within the Lombardy region of Italy, the richest and most populous region of the country.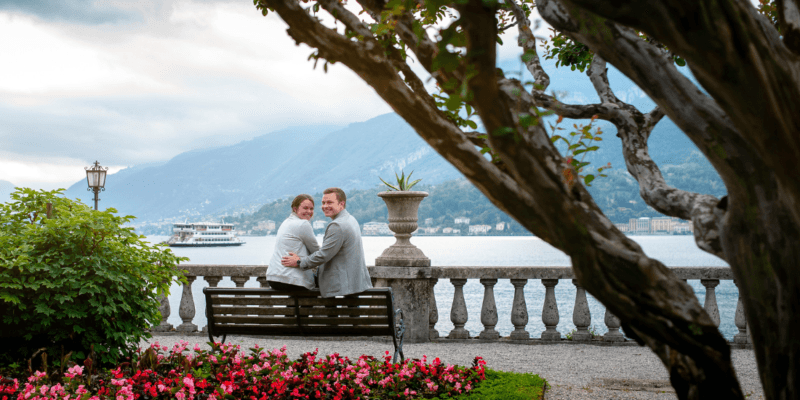 Romantic Proposal Photoshoot on Lake Como
When planning to make a proposal photoshoot the scenery needs to be absolutely top-notch. Having discussed the Lombardy and Lake Como for a backdrop, it was clear that this wasn't going to be an issue. But what about the documentation?
Eric decided to hunt down a local photographer for his proposal photoshoot and found Diego, ready and willing to take the job. Diego is an Italian local photographer and was able to give Eric advice on when and where the best locations would be for the shot.
In the resulting images, we can see that Diego took almost a guerilla approach to his first few images. They decided it would be best to have him set up a stakeout on a nearby hill. When Eric brought Meredith to the pre-planned location, he went down on one knee and shocked her. Then, he pointed towards Diego, crouched uphill in the brush, capturing a second candid moment of utter surprise and delight.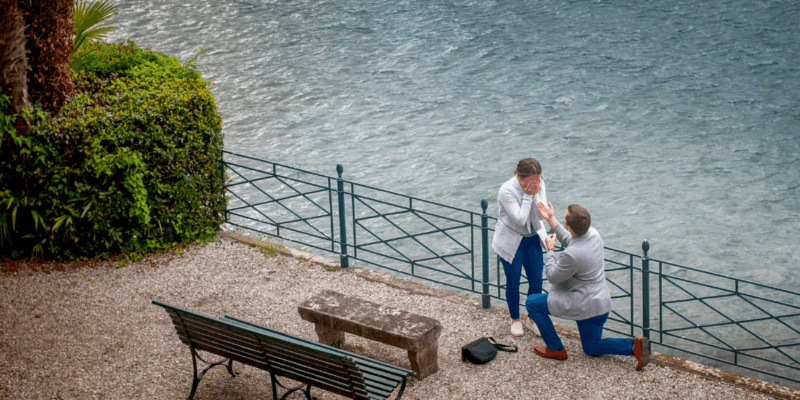 Request your secret proposal photo shoot now
REQUEST NOW
From there the newly engaged couple went on a walking tour around a villa and garden in the Lake Como area. Diego, our proposal photographer, was present to capture much of the raw emotion Meredith was still processing, creating gorgeous images of her delight and Eric's joy in her happiness.
As you might imagine, capturing images like this without a third person acting as a photographer would be nearly impossible to do, let alone being in the moment with your partner. There's no question that these images will bring smiles and laughter for years to come. So book your shoot with a local photographer today, well before your special event. Lock the day in ASAP and ensure your memories will be as bright as these!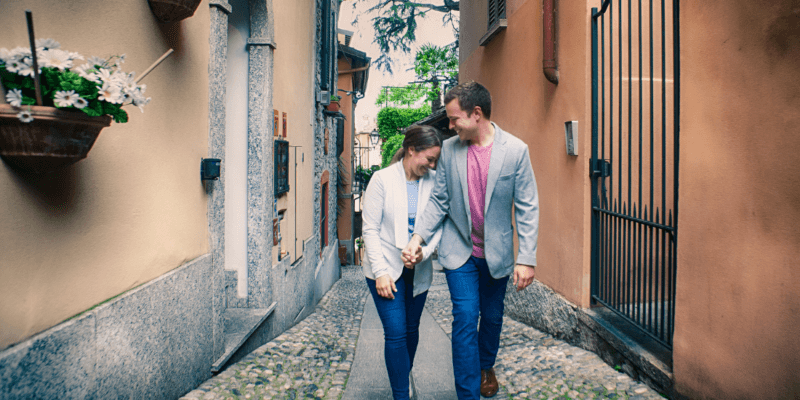 Request your secret proposal photo shoot now
REQUEST NOW
Buy memories, not things…
Limited time only!
SEE OUR GIFT CARDS
Great customer service and experience
Photoshoot in very short term
The most destinations on the market
Very positive customer feedback
1221
Photographers & Videographers
1067
Destinations world-wide
100% Money Back Guarantee
We believe in our service and quality of our photos so much that we decided to offer a 100% money back satisfaction guarantee for your photo shoot. If you don't like your online gallery once we deliver it, you can contact us within 7 days and claim your money back. Find more details in our Terms.