16. 3. 2021
Trending Marriage Proposal Ideas: How to Propose in 2021
Marriage proposals are a big deal, you're about to pop the question to the love of your life, and you want to make sure it's perfect. You want it to be creative, romantic, fun, unique, and all of the above. But most importantly, you want it to be a special moment between the two of you. If you're looking for distinctive ways to pop the question, we've got a bunch of marriage proposal ideas that may suit you best.
1. Surprise Proposal Photo Shoot
If you want to make sure the memories are captured and you don't miss a moment, we recommend a proposal photographer. However, if you want to keep it a secret proposal, a professional photographer, like the ones on our team at Localgrapher, knows just how to handle it. Pretend as if you won a photoshoot, pick your favorite location, and act as if it's just a nice prize. Then sequence the photos so your soon-to-be fiancé is turned around while you get on your knee. When they turn around, the photos will be snapped, and the surprise reaction will be captured!
Photo: Vanessa, Localgrapher in Chicago
2. First Date Spot
One of the classic marriage proposal ideas is taking your loved one to the spot where it all started. Whether that be the first date of your relationship, the place where you said, "I love you," or the spot where you knew you wanted to spend the rest of your lives together, this location is perfect.
3. Treasure Hunt
Send your soon-to-be fiancé on a journey of a scavenger or treasure hunt. Make them stop at some favorite locations, or drop little hints with memorable details about your time together. Let the "x mark the spot" finale be the engagement ring.
4. Comfy at Home
This marriage proposal tip adapts to the life of being safe and quarantine. Grab your favorite movie, wear some sweatpants, and order takeout. Or, cook dinner together and have the end be a sweet proposal.
5. Picnic in the Park
A perfect COVID-safe activity, find a meadow or open field and enjoy a picnic with your favorite sandwiches and snacks. This is a great way to get fresh air and enjoy the day.
6. Plan a Getaway
Whether it's a long weekend to an isolated cabin or a week-long extravaganza to another state or country, a new location and setting will have lots of ways to propose and make for beautiful memories.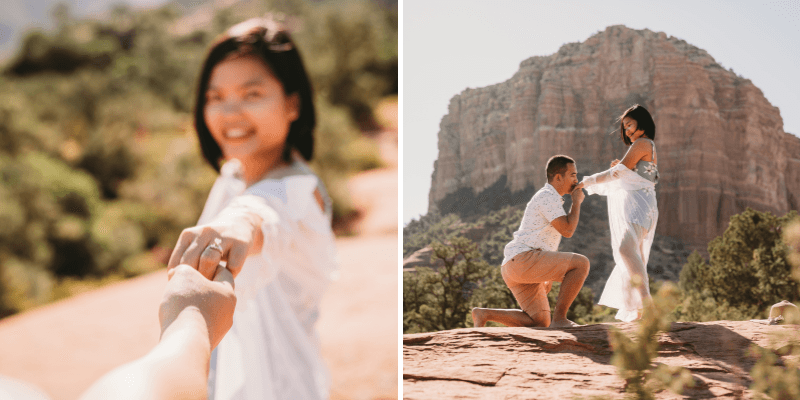 Photo: Stacy, Localgrapher in Sedona
7. A Romantic Dinner
Putting the ring inside your dessert or in the champagne glass is a classic marriage proposal, and classic is timeless!
8. Game Night
If your partner loves board games, then this is one of the best marriage proposal ideas for you. It can be just you two or a small gathering, and try popping the question in a classic game such as writing it in Scrabble letters or drawing it out in a Pictionary.
9. Proposal on a Rooftop
Rooftops give a unique view of what surrounds them. A rooftop bar, or the roof of your home or apartment building, turns an unexpected view into a romantic one.
Photo: Anton, Localgrapher in Dubai
10. Spell it in Rose Petals
Have your significant walk into a room surrounded by roses and candles. In that room, write out the words, "will you marry me" in rose petals, making for a romantic and intimate proposal.
11. A Bouquet of Flowers
Sometimes, simplicity is enough. Get her favorite flower and whether it be a lavish bouquet or a sweet bundle, the proposal will still be beautiful.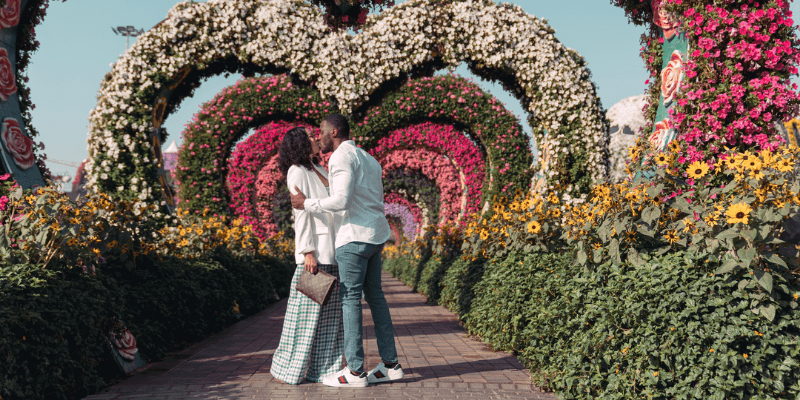 Photo: Petra, Localgrapher in Dubai
12. Fill a Room with Memories
It can be the bedroom, living room, wherever in the house you want. Decorate it with pictures from throughout your relationship and any other keepsakes you have (such as old ticket stubs or little quirky items).
13. Puzzle Pieces
You can customize your own jigsaw puzzle to display one of your favorite pictures of together, and when you put the pieces together, you can have the proposal aligned as well.
14. A Surprise Video
There's this video trend where the person filming blindfolds the other person, having them hold up posters. One at a time, the posters depict a story. For example, blindfold your partner and have them hold posters. The first poster can say "I'm going to get engaged," and each poster following explains more.
15. In Front of Family and Friends
Gather your closest loved ones and have them watch the big moment. Chances are if your significant other is close to their family and friends, then they're going to want them to be there celebrating together.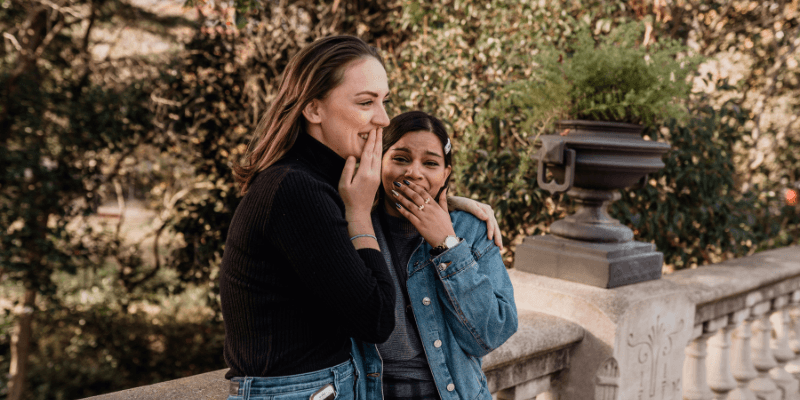 Photo: Ana, Localgrapher in Barcelona
16. Heart-Shaped Pizza for Foodies
It may seem cheesy (pun-intended), but this is perfect for your pizza-loving partner. The ring can be placed on the pizza, or the pizza box could have the proposal written in it.
17. Let it Snow
This one of the most unique marriage proposal ideas because you can only make it happen in winter. The cold winter months can mean lots of snow. Enjoy a day of playing in the snow and either write it out through the snow or place the engagement ring on the hand of your snowman.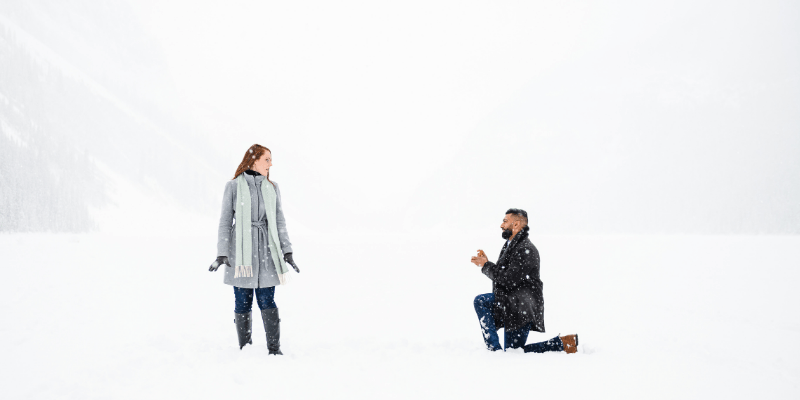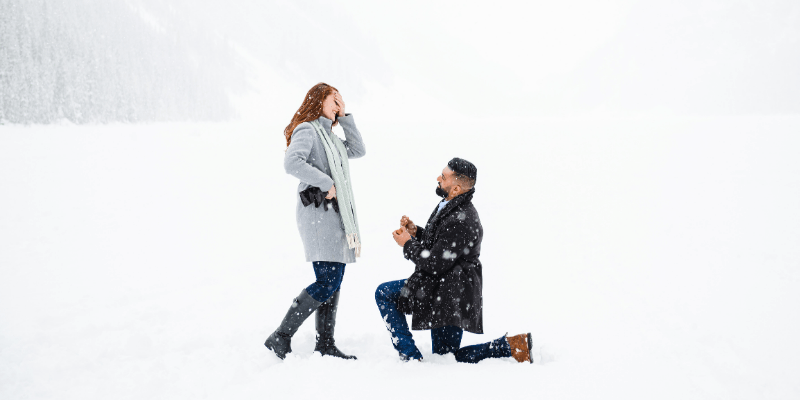 Photo: Adi, Localgrapher in Lake Louise
18. Show up at Work
You can easily make their workday better by showing up and surprising them. Just make sure it's either on their lunch break or they're not in the middle of a busy workday. (We suggest getting the right permission).
19. Hidden Escape
Find a hidden spot somewhere, a secluded area for you two to get engaged. You can always have a proposal photographer discreetly hiding near your secluded area.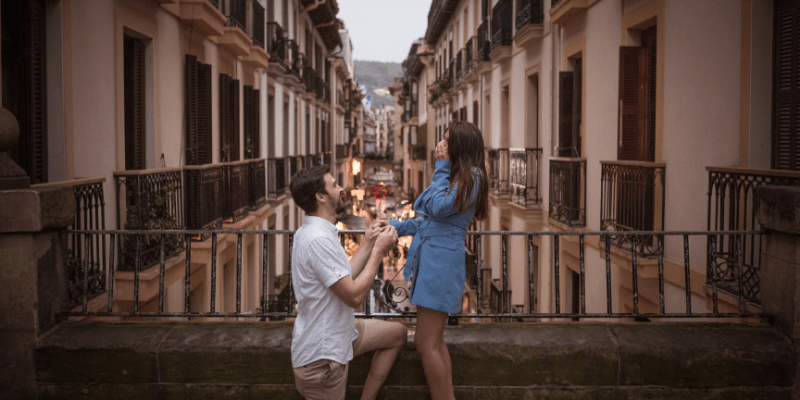 Photo: Cesar, Localgrapher in San Sebastian
20. Ring Pop Candy
Jokingly "propose" to your significant other with a ring pop candy by getting down on one knee with it (she will definitely believe it's a real proposal at first). Then, when she thinks you're done, pull out the real ring and actually propose.
21. Pumpkin Carving
If you plan on getting engaged during the fall, pumpkins are easy to use. Have a pumpkin carving contest with your partner and spell out the proposal in your pumpkin. The odds are your pumpkin will win.
22. In Front of the Castle
Whether it is a Disney Parks castle or a real, ancient one, have your partner feel like royalty when you get down on one knee. They'll be sure to think of this as their "happily ever after."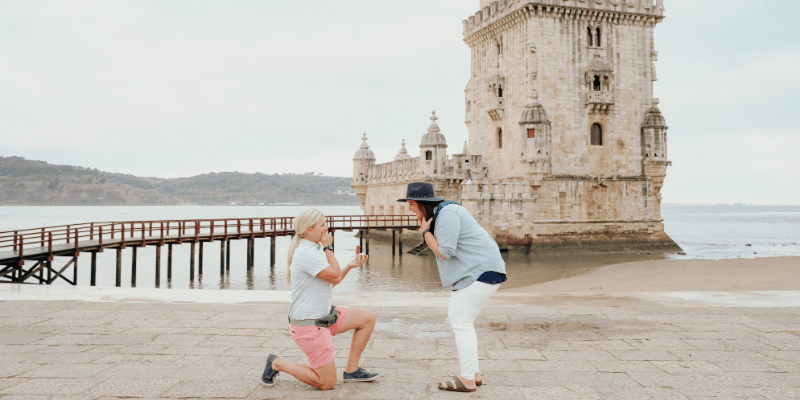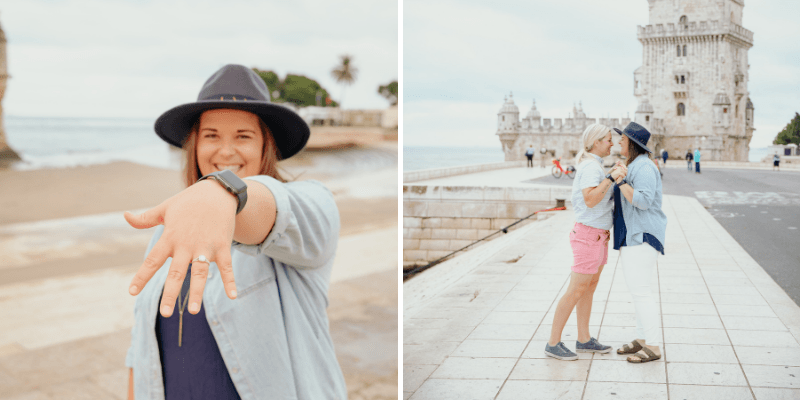 Photo: Daniela, Localgrapher in Lisbon
23. In a Gazebo
Gazebos tend to have beautiful views surrounding them. Not to mention, a smaller gazebo is the perfect intimate spot to have some alone time.
24. A Pet and a Ring
If your partner always wanted a pet, now would be a perfect time. Surprise them with a new pet, then on the animal's ribbon or collar, attach a note with the proposal, or the engagement ring. Double surprise!
25. Easter Egg Hunt
If you'd like to make your wedding proposal during Easter, create an Easter Egg Hunt for them (their inner kid will love it). The last egg, or the biggest egg, can hold the engagement ring.
26. In the Rain
A classic, yet iconic moment in any romantic movie is the kissing in the rain scene. How about a proposal in the rain, followed by a kiss? Your marriage proposal will feel as if it's a movie of its own.
27. Copy Your Favorite Movie or Show
Does your significant other have a favorite movie that includes the most beautiful proposal? How about a show, such as when Jim proposes to Pam in The Office, or Chandler and Monica's proposal on Friends?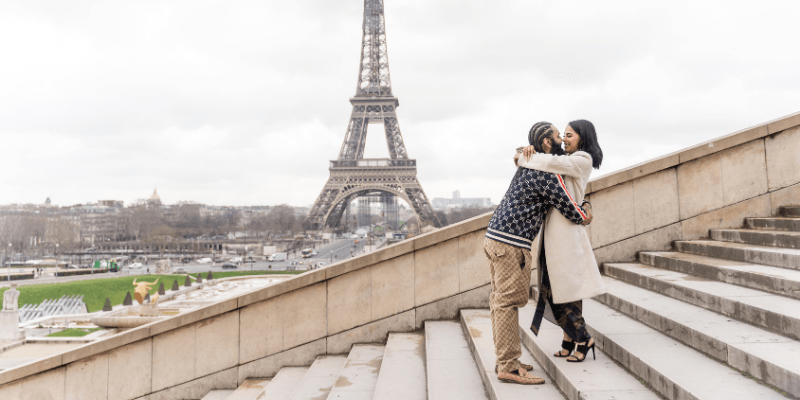 Photo: Eny, Localgrapher in Paris
28. Fireworks
If you want a proposal that's explosive, try getting down on one knee during a fireworks show. Bright colors in the night sky will only emphasize the beauty of the moment.
29. Sparklers
If fireworks are too big and loud, you should try using sparklers. This is a more personal set up and you can actually spell out the words, "marry me" as you hold the sparklers. Just make sure to have a proposal photographer to capture the moment.
30. Be Poetic
Speaking your proposal can be nerve-wracking, you don't want to trip on your words and ruin the moment. A beautifully-written poem can help execute what you want to say perfectly.
31. Stargaze
Nature's sky can be all you need as décor for the big moment. Find a dark enough place where you'll be able to see a sky full of stars (no street lights or other lights surrounding you). Lay together on a blanket and pop the question when it feels right.
32. Sunset on the Beach
What's a more romantic marriage proposal than doing it during a sunset? The sun goes down; orange, red and yellow fill the sky, all while on the ocean's horizon. Your fiancé-to-be will swoon!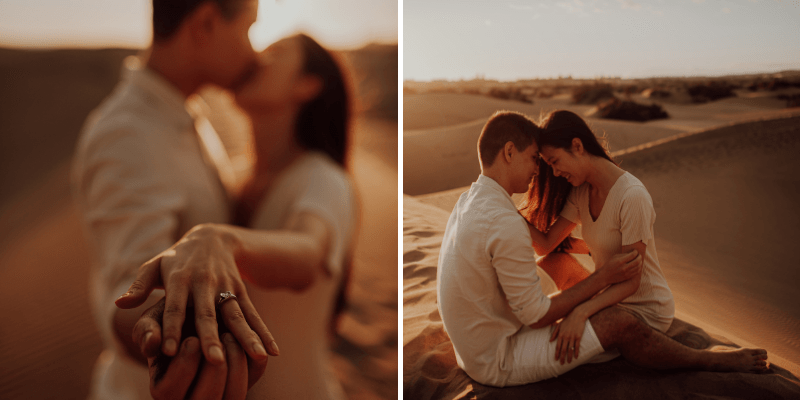 Photo: Michael, Localgrapher in Maspalomas
33. Fortune Cookie
Whether you're out to a nice Chinese dinner or decided to order takeout, customize a fortune cookie to read, "will you marry me?" or "you will be getting engaged soon." When they read the fortune, you'll have the ring out the next moment.
34. Sky Writing
If you want to go big, try hiring a skywriter to fly a plane and write "will you marry me" in smoke across the sky. That'll be sure to get your partner's attention!
35. A Morning Cup of Coffee
A simple gesture can do the trick. Purchase a mug that will have the proposal at the bottom of the mug, so when your partner finishes their drink, they'll read the message at the bottom.
36. Photo Booth
This playful proposal idea captures the candid aspect. Start with a couple of regular silly pictures, then take out the ring just in time for the next picture and get your partner's reaction. This'll make for a short and sweet story on your photo reel.
37. On a Ride
A lot of amusement parks have rides that take your picture in the biggest moment. While your partner is screaming at the top of their lungs, you will bring out the ring or a sign that says the proposal. This way, when they look at the photo after the ride, they get a big surprise.
38. Hike with a Surprise
Another great way to get fresh air and spend some quality alone time together is to go on a hike or trail. When you get to your desired peak or trail point, pop the question, and you got yourself a beautiful backdrop.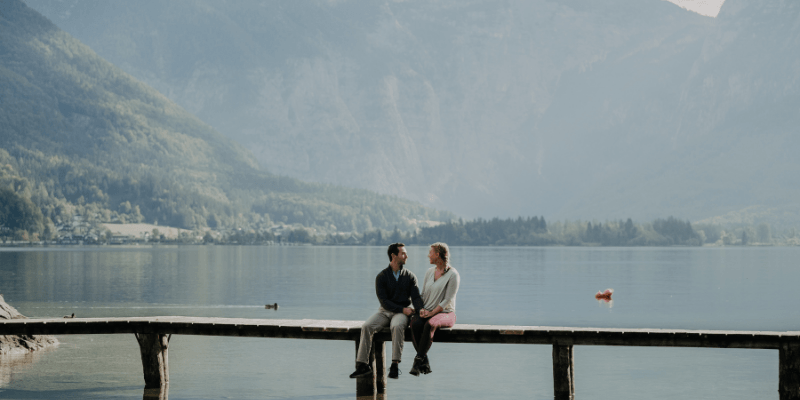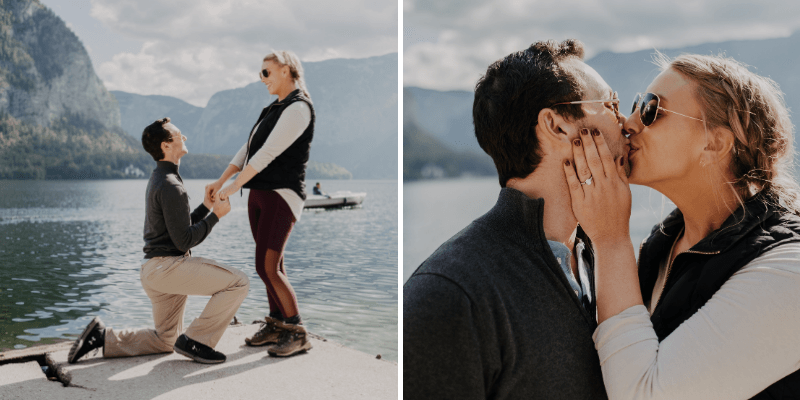 Photo: Kevin, Localgrapher in Hallstatt
39. Create Your Own Movie
Incorporate your love story into a movie trailer proposal. It can be a mix of photos and videos throughout your relationship incorporated with fun effects and music.
40. On a Ski Lift
Take your proposal to new heights by being on a ski lift overlooking the mountains. The proposal can be writing in the snow below you, or you can ask the ski lift operator to pause the lift while you ask.
41. Custom Wine Label
Break out a bottle of wine during a nice at-home dinner and have them read the label with the proposal written on it. You can also add in a picture of you both on the label. Then when the answer is "yes," you can pop it open!
42. Surprise Pick-Me-Up
If your partner is at work, you can surprise them mid-work day with their favorite cup of coffee. You can place the ring on the straw inside the lid, or write the proposal on the cup.
43. Flash Mob
If your partner loves a good show tune, this is a fun way to get family and friends involved. It can be in the middle of your street, a park, or any space you feel you can dance (or dance terribly).
44. Written in Frosting
Get your partner's favorite dessert and write the proposal either on top of it or on the plate in frosting, gel, or even whipped cream.
45. Live Stream
If you can't get all of your friends and families together this year, have them watch the special moment through a video chat. This way it'll feel as if everyone you care about is celebrating with you.
46. Dance to Your Favorite Song
If you have a "couples song," or a song that defines your relationship, slow dance to it together. It can just be in your kitchen, or somewhere you find special. At the end of the song and dance, drop to your knee.
47. At a Concert
With some uncertainty of if concert venues will reopen this year, there's still the opportunity to propose at one. Some musical artists have streamed live shows so you can enjoy the concert in your own living room.
48. Outdoor Movie
These are great because you can socially distance in your cars and watch a movie outdoors on the big screen. Whether it be during the movie under the stars, or you were able to get the proposal on the big screen, this will be a romantic and unique wedding proposal.
49. Write it in a Planetarium
Not your average stargazing. This marriage proposal idea includes your own private viewing and shifting the stars in the planetarium show to write "will you marry me?" in the stars of the show.
50. Outdoor Carnival
A carnival is a fun scene to take your partner. Win them a stuffed animal, eat lots of junk food, and ride the rides. Try proposing at the top of the Ferris Wheel, or stick the ring on their new stuffed animal.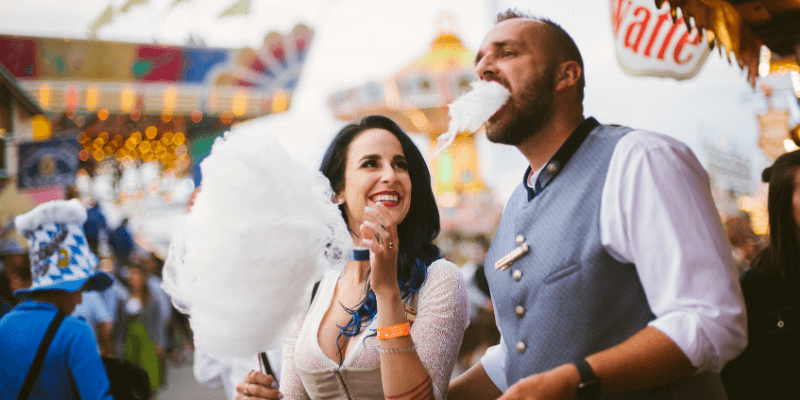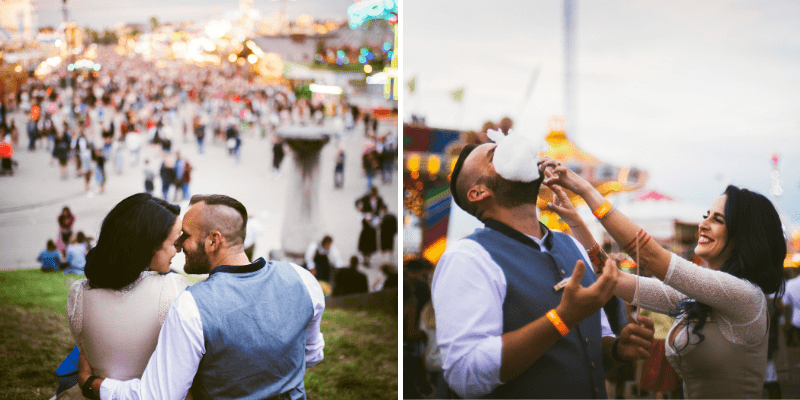 Photo: Sophia, Localgrapher
You can make these marriage proposal ideas your own with little tweaks and spins to fit them perfectly for your story. The fact of the matter is, every love story is different, and some marriage proposals don't' always have engagement rings! So, no matter what you do, we hope this guide helps you plan your happily ever after with your loved one.
Request your marriage proposal photo shoot now
START HERE
Buy memories, not things…
Limited time only!
SEE OUR GIFT CARDS
Great customer service and experience
Photoshoot in very short term
The most destinations on the market
Very positive customer feedback
1162
Photographers & Videographers
1034
Destinations world-wide
100% Money Back Guarantee
We believe in our service and quality of our photos so much that we decided to offer a 100% money back satisfaction guarantee for your photo shoot. If you don't like your online gallery once we deliver it, you can contact us within 7 days and claim your money back. Find more details in our Terms.