Seattle might be Washington State's second largest city, but there's more to it than just an impressive skyline. There's also plenty of natural scenery to take in, from forestland, to lakes, to open stretches of green land.
The city's beautiful blend of the natural world and city life make it a truly romantic setting. The city's parks are a popular spot for couple's walks, and it's the perfect place for a couple photo shoot.
The Perfect Date
Ashish wanted a day to remember with his fiancé whilst she was in town, so he decided to take her on a stroll through some of Seattle's most beautiful scenery.
The two dressed impeccably, like a true lady and gentleman, and the beautiful greens, yellows and oranges of the park trees created the perfect setting for their walk.
Before they set out on their date though, Ashish contacted Joe, one of our local photographers in Seattle. He knew this would be a walk to remember, and he wanted the two of them to capture the day's memories forever.
Discovering Seattle's Backgrounds
Ashish wanted to plan the day perfectly, and one of the most important decisions of the day was
the location. He wanted to find a location with natural beauty, and a romantic feel, but he wasn't
quite sure where to go.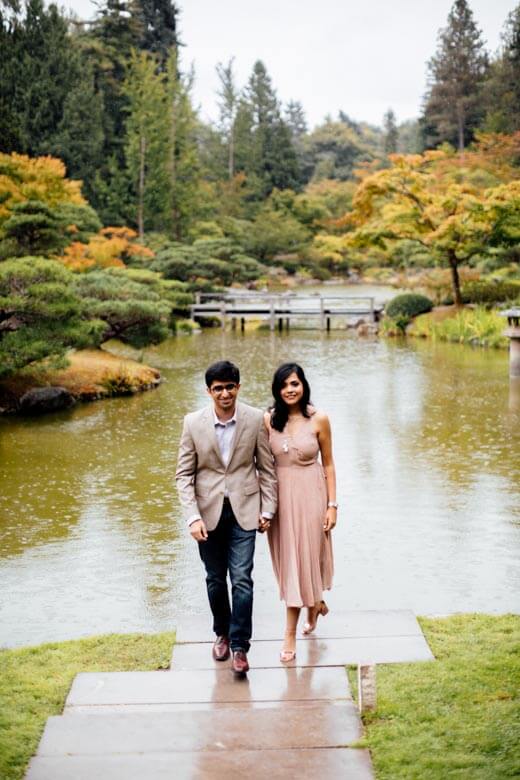 Thanks to Joe's local knowledge and photography skills, the soon-to-be-married couple came away from their day together with some incredible photos and memories that will last a lifetime.
Cheesy Poses
As well as naturally loving shots, and classic couple poses, Joe had the couple work a few fun shots into their photo shoot.
Request your romantic photo shoot in Seattle now
REQUEST NOW
They posed and laughed with a giant cardboard diamond ring, a 'she said yes' sign and 'Mr and Mrs' signs – their picture perfect smiles a symbol for all the happiness they've got to come.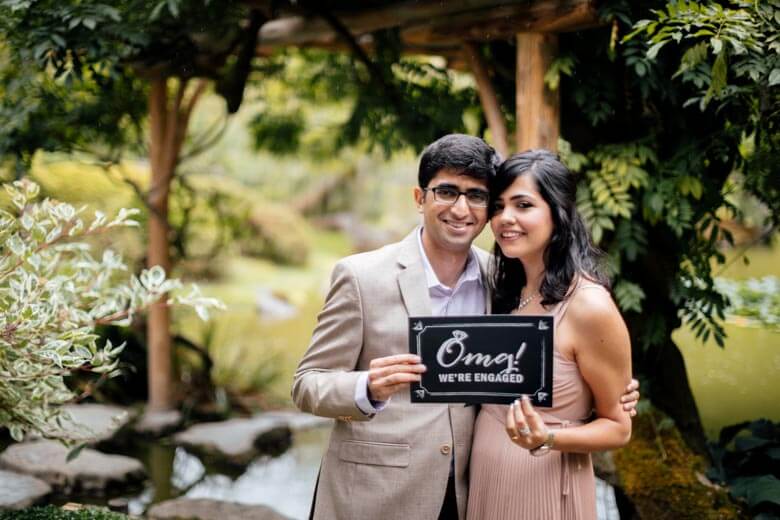 They took pictures with Ashish down on one knee, a romantic enough pose, but they even took it one step further. For this shot, the couple stood on stepping stones over the water. The idyllic setting and the beautifully dressed couple created a scene that was like something from a fairytale.
Family Love in Seattle
The couple were of course completely wrapped up in each other, but they had some room in their photo shoot for a few more.
Joe managed to work in a family shot, as well as the couple's romantic photos. The family gathered around the future husband and wife, and it was smiles all round.
The family photo radiated happiness and support for the couple, and was the perfect snapshot of the future family. Both Ashish and his local photographer, Joe, recognised the importance of family, and Ashish decided to make the most of his time with Joe, and got a shot of the family all together.