Engagement photos are quickly gaining in popularity, but wouldn't it be nice to have someone capture the exact instant of your proposal, creating beautiful images to treasure forever? When Michael wanted to propose to his girlfriend, he wanted to make it particularly special. He chose to do it in Split, Croatia and hired one of our professional photographers to capture this beautiful proposal photo shoot.
Proposal Photo Shoot in Magical Split, Croatia
Split is Croatia's second largest city, and is quickly becoming a go-to tourist destination. Here you will find a balance between old-world tradition and new world modernity. Diocletian's Palace, a UNESCO World Heritage Site, is one of the best Roman monuments in the world, not to mention the stunning coastal views, turquoise Adriatic sea, and many fantastic restaurants.
It was this noteworthy coastline that provided the backdrop for this lovely proposal photo shoot. The setting sun, white sand, and blue water were the perfect stage on which to set Michael's proposal. With the help of professional proposal photographer Luka, Michael was able to pull off his surprise without a hitch.
Luka captured each and every special moment as it happened. Michael's girlfriend was facing the camera, oblivious that her soon-to-be-fiancé had gone down on one knee behind her. When she turned around, Luka captured her obvious surprise and joy and she was asked that all-important question. And, naturally, Luka also caught the exact moment that she said "yes!"
Traditional engagement photo shoots do not usually catch a couple's first reaction since the actual moment has long since passed. However, professional proposal photographers can take excellent pictures of the precise moment when a couple becomes engaged, making the memory even more special.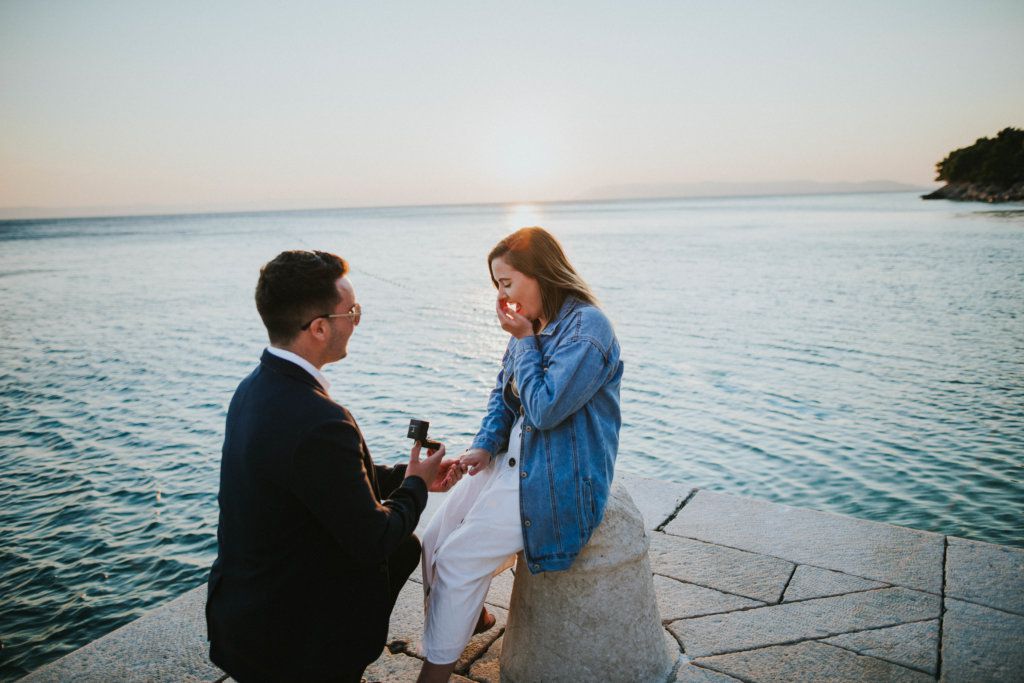 The Happily Engaged Couple
After the initial proposal was over, the couple enjoyed their beach location to its full advantage as Luka took several more photographs of Michael and his new fiancé sharing their obvious affection for each other. The location was just perfect for a romantic evening – the gently lapping waves, the sun setting just so behind them.
Luka used all of this to capture some truly special moments between the lovely couple. He was able to take images from several vantage points – both close up and at a distance – ensuring that Michael and his new fiancé will have the very best pictures to remind them of their special time together in Croatia.
And because Luka is such a professional photographer, Michael and his fiancé were comfortable sharing their affection in front of him. It was easy to forget that the photographer was even there, as they were living in the moment. None of the couple's poses feel forced or unnatural. All of these images were captured without being intrusive.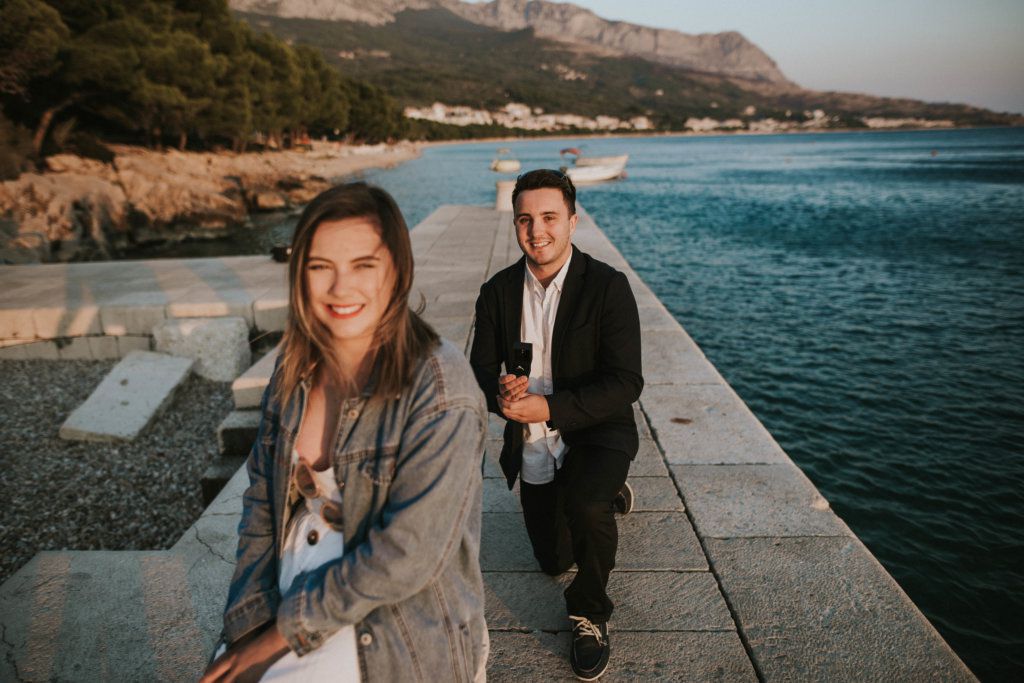 Proposal Photo Shoot = Memories You'll Cherish Forever
Michael and his fiancé can reminisce about their special time in Split as they enjoy their professional photos every day. They can also share these images with friends and the rest of their family, and perhaps even use them for their upcoming wedding announcements or even décor.
Our professional photographers like Luka can suggest incredible and interesting locations for a variety of photo shoots even if you are away from home. They are often local experts and know the best and most unique spots for your professional images. They strive to give clients the definitive photo shoot experience, and memories to treasure forever.