1. 7. 2018
Tokyo: The Ultimate Secret Proposal Destination
The time has come for you to get married, and you are busy devising a way to propose secretly to your partner so they can be surprised and happy at the same time. You are probably also nervous about their answers. The best way to do this is to set the scene right. A simple dinner and drinks may be too simple.
We have an idea for you. Take them on a magical vacation trip to Tokyo in Japan and we promise you shall be coming home with a fiance and a very happy one for that. According to the CN Traveler Show, Tokyo is the greatest city on earth. And you know on this show, they go everywhere. So don't take their conclusion lightly. In 2013, TripAdvisor named Tokyo the most satisfying city to visit. So you can see we know what we are talking about.
Proposing in this city will give you major points with your spouse, and you will probably be the talk in family gatherings for many years to come. No one can beat you on this. So go ahead, book that trip to this secret proposal destination and see how the gods will align good fortune for you.
We love to come along on your incredible trip with our professional proposal photographers in Tokyo. No need to tell stories that no one will believe. On your secret proposal vacation to Tokyo, capture each and every magical moment with photographic evidence. We shall be with you from start to finish.
Now how do you get down on one knee? Let us tell you.
The Most Adorable Secret Proposal Destinations in Tokyo
Proposal #1
At the Meoto Iwa, Ise
You won't believe this, but this popular location is also known as the "husband and wife rocks," or the "wedded rocks" this is already a very good sign. They are simply two rocks, located at the Sea of Futami. There is a rope that binds the two rocks together. The larger rock is the husband and the smaller one is the wife. This rope is re-bound each year to signify a much stronger bond between the two.
Now, at sunset, this place is magical and magnificent as well. Get a guide to take you over the rope and smack in the middle of it, get down on one knee. If this secret proposal destination doesn't get you the YES! We really don't know what will.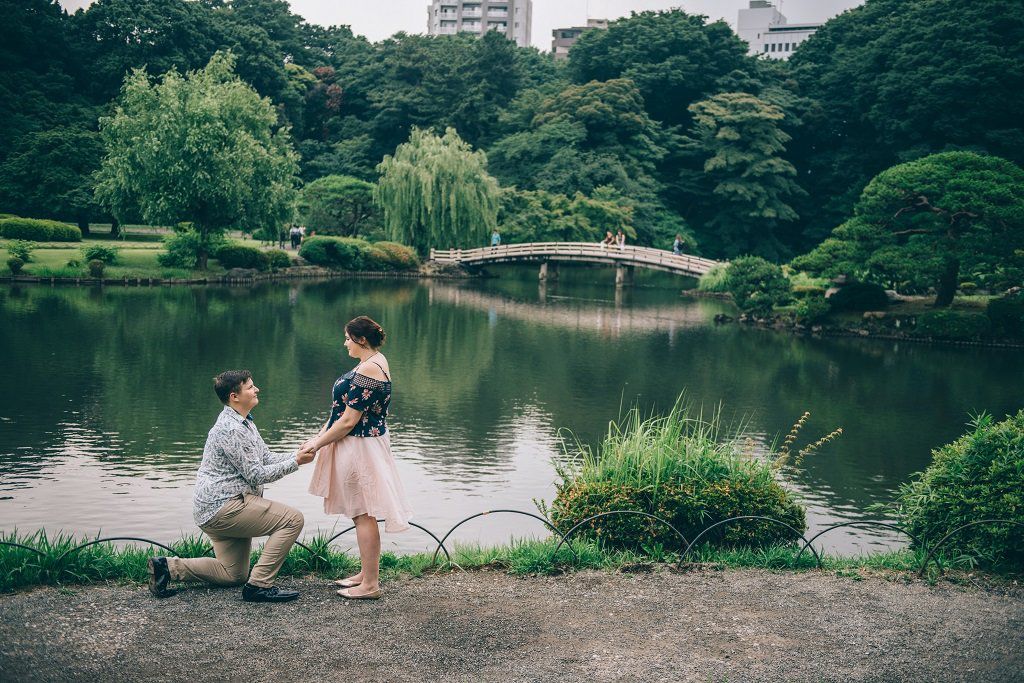 Proposal #2
At the Kinosaki Onsen
This beautiful location is between a mountain and the sea. The Kinosaki Onsen is one of the most quintessential hot spring Japanese town. It is a place like no other on earth. Most people visit this town for top-quality cuisine, traditional architecture and of course the hot springs.
It is particularly beautiful during the cherry blossom season, where all the blossom branches are illuminated with light. In the evenings around 6 pm, the street suddenly comes alive. If you get there while it's snowing, the magic is on a whole new level. Our proposal photographers are able to capture a really special moment that is picture-perfect. Get down on one knee right there on the magical street. You shall definitely get the YES!
After proposing, you can rent a beautiful and private hot spring bath just for the two of you. They will provide you with some sparkling wine to celebrate your new status as an engaged couple, and you get to relax and just marvel at your love for each other.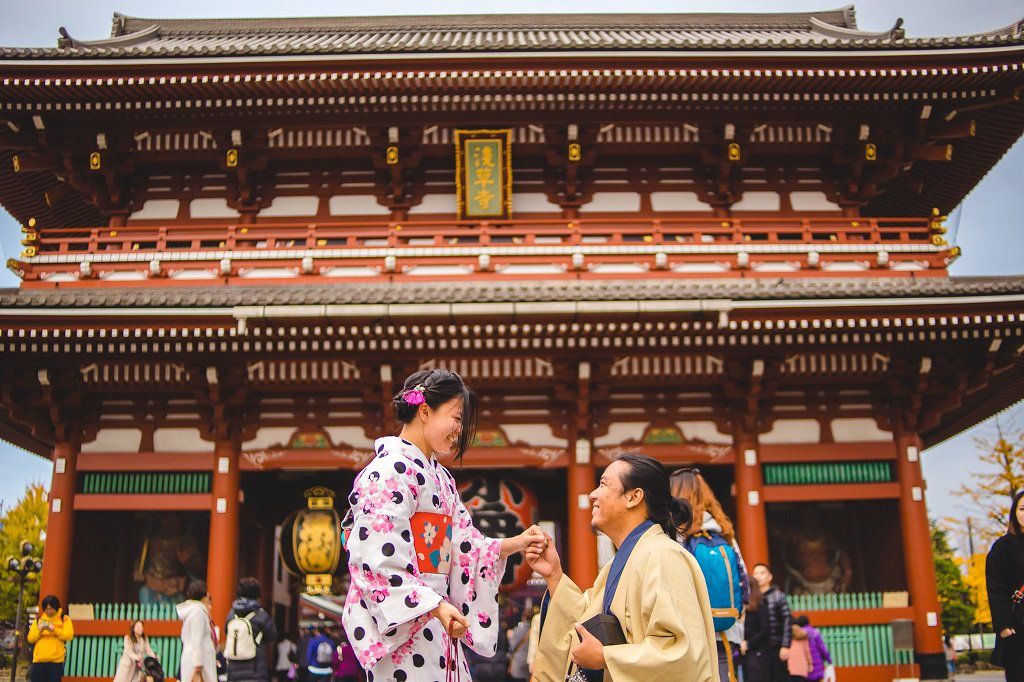 Proposal #3
At the Tokyo Skytree
If you are looking for the wow factor in your proposal, look no further. This is the place to do it. The Tokyo Skytree in Sumida is 234m in height and it is one of the tallest towers in the world. Amazing secret proposal destination! You also get to experience the view of the beautiful metropolis. Get on one knee at the Skytree and propose to your beloved. It will be the most beautiful proposal ever.
It is very popular, so you are assured of long queues, but if you pre-book, you can skip queuing, and just get right to business. Don't worry about the crowds, they are used to this by now, and they will be your greatest cheerleaders.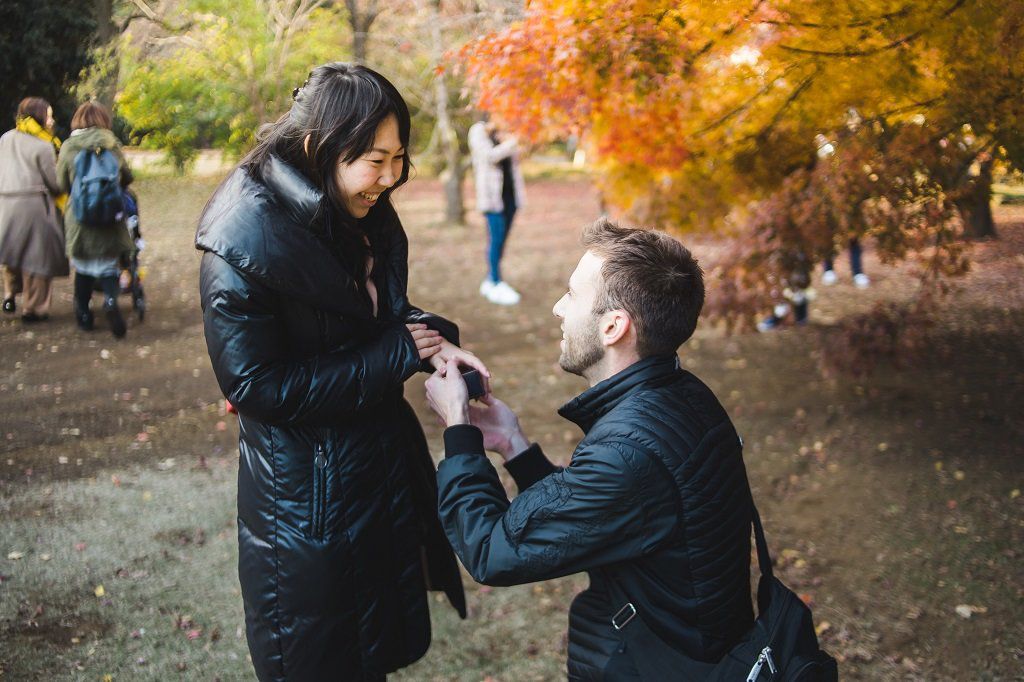 Proposal #4
At the Meguro River Overlooking the Cherry Blossoms
Most people dreaming of proposing will want to have some flowers for the occasion. At the backdrop of the Meguro River is a garden full of pink fluffy cherry blossoms. That already sounds romantic enough. This location is not as flashy as the others, but it's intimate, less crowdy and 100% romantic. If you get on one knee here, your partner will have no other answer to buy a big fat YES!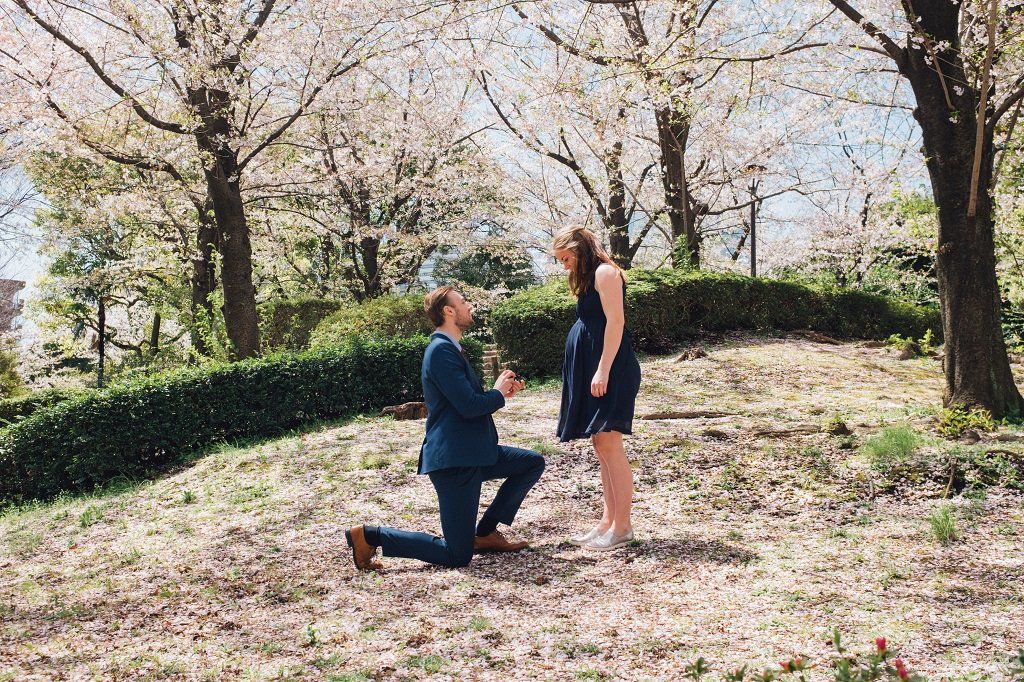 Every special moment can be captured by one of our vacation photographers and supplying our clients with high-quality and professional pictures no matter the occasion and setting. Don't forget to book your favorite!
Buy memories, not things…
Limited time only!
SEE OUR GIFT CARDS
Great customer service and experience
Photoshoot in very short term
The most destinations on the market
Very positive customer feedback
1129
Photographers & Videographers
1006
Destinations world-wide
100% Money Back Guarantee
We believe in our service and quality of our photos so much that we decided to offer a 100% money back satisfaction guarantee for your photo shoot. If you don't like your online gallery once we deliver it, you can contact us within 7 days and claim your money back. Find more details in our Terms.