11. 12. 2018
Solo Travel Shoot in Grand Mosque in Abu Dhabi
Traveling alone can be so liberating since you only have yourself to argue with when it comes to where to eat, what to see, and where to go. For some, solo travel can mean a forest hike or a café in Paris. For others, Abu Dhabi is the place to go.
Landmark and Place of Worship
Abu Dhabi is the capital of the United Arab Emirates (UAE), and its Sheikh Zayed Grand Mosque is the largest in the country and the third-largest in the world. It's a relatively new structure, having been built between 1996 and 2007. With its bright white stone and gold-topped columns, it is easy to see why this place of worship is one of the world's grandest.
People come from around the world to see it; more than 3.4 million visitors passed through its doors in 2017 alone. It can house as many as 40,000 worshippers at once, and currently holds no less than three Guinness World Records for the larges dome of its kind in the world, largest hand-woven carpet, and largest chandelier.
It was in this remarkable structure that Elysse wanted to have her visit documented professionally. So she hired Marija, our professional photographer in Abu Dhabi, to help her out. Being a place of worship, however, there are definite rules with regard to how one should dress and behave while at the site. All of this was taken into consideration by both Elysse and Marija, and the resulting images are stunning.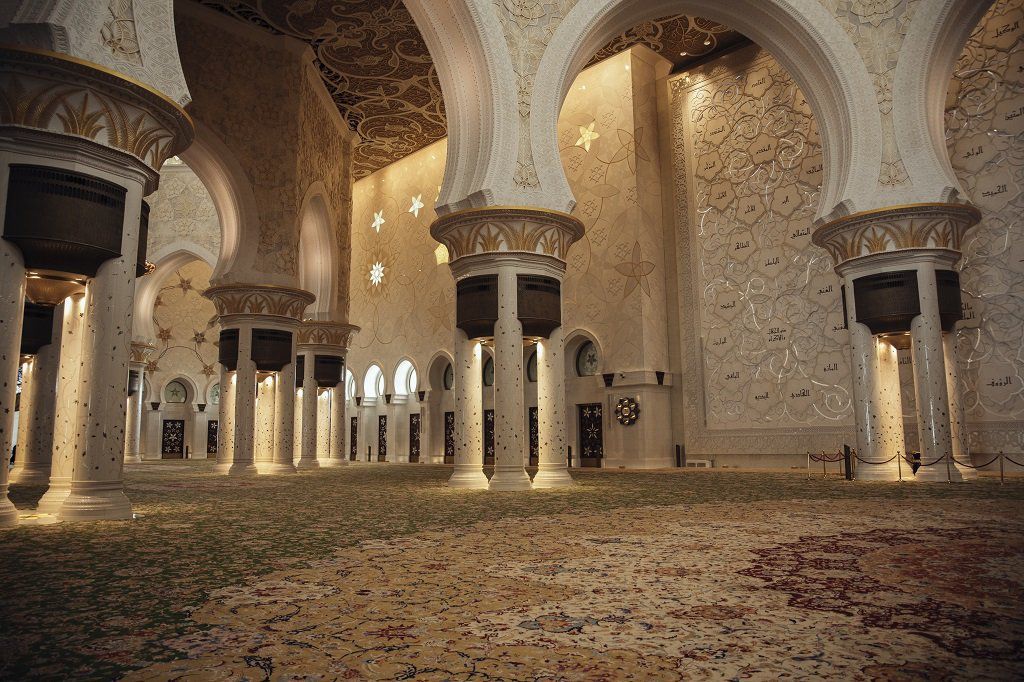 Black and White in Colour
Wearing a black Abaya and headscarf – mandatory for women while visiting the mosque – Elysse was photographed with a number of backgrounds on the site. Her black Abaya is the perfect contrast to the bright white stone and glittering details of the mosque. Marija took several images of solo traveler Elysse from both near and far vantage points, capturing the beauty and serenity of the mosque, and Elysse perfectly.
While some of the images are simply posed – Elysse in front of the pool of water, or with a long line of pillars behind her – others are more candid and catch Elysse in a state of contemplation. This is especially fitting considering where she was. None of the images seem too intrusive or "loud." The quietness and tranquility of the mosque add to the images. What is truly remarkable, given the number of people who visit the site each year, is that Elysse is alone in all but one of the images, as if she had the entire place to herself.
Marija also used bright lighting to her advantage. With the high desert sun and the white mosque, it would have been easy for the images to be full of shadows. But Marija makes Elysse glow in each photograph, with no stark or obvious shadows. What is more, she included several images without Elysse at all, showcasing the incredible detail of the site. The mosque is its own character in this photographic story.
Photos for One, Please
Unlike when we usually travel, having a professional vacation photographer like Marija take your images means that you can enjoy having high-quality photographs of your trip, without the same touristy images as everyone else; they will be well focussed, interesting and special – just like your trip.
Buy memories, not things…
Limited time only!
SEE OUR GIFT CARDS
Great customer service and experience
Photoshoot in very short term
The most destinations on the market
Very positive customer feedback
1162
Photographers & Videographers
1034
Destinations world-wide
100% Money Back Guarantee
We believe in our service and quality of our photos so much that we decided to offer a 100% money back satisfaction guarantee for your photo shoot. If you don't like your online gallery once we deliver it, you can contact us within 7 days and claim your money back. Find more details in our Terms.