A vacation photographer captures photos of newlyweds during their honeymoon photo shoot in Warsaw, Poland. The warm, intimate images will bring special memories to life for the couple for many years to come while making everyone want to be young and in love.
Why Should You Hire a Professional Honeymoon Photographer
Lanvin and Jason are living proof of fairy tales and happily ever afters. Not many people can say that they married the love of their life followed by a magical honeymoon in Warsaw. Even fewer can say that they have images as priceless as the photographs the couple had taken while on their romantic holiday. Fortunately, Lanvin and Jason will be able to always look back and cherish their first trip as a married couple as they go through these photos.
Unlike many people who only hire professional photographers for their engagement and wedding photos, Lanvin and Jason decided to hire another photographer to document their time exploring in Poland. The couple hired Michal, a local vacation photographer, to not only take professional, high-quality photos of their honeymoon but to also provide them with a local's perspective of Old Town Warsaw.
Rather than trying to take selfies or asking strangers to take their photos, Lanvin and Jason really saw the benefit of hiring our vacation photographer Michal. Instead of focusing on getting the perfect shot on a cell phone only to have it end up blurry, they decided to leave it to a professional while they focused on enjoying each other and their holiday.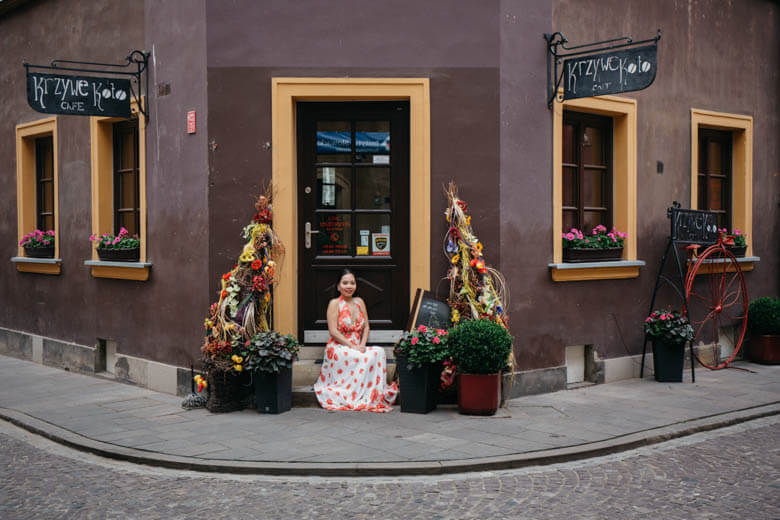 Photos: Michal, Localgrapher in Warsaw
Romantic Honeymoon Photo Shoot in Full Bloom
There's just something so romantic about flowers and the color red, which is why the two are so popular around Valentine's Day. Many of the couple's photographs show the same theme as the couple stands in front of beautiful, red floral arrangements while the gorgeous bride is wearing an elegant red and white floral dress and the handsome groom is wearing a maroon polo to match. Michal made great use of the scenery to match the theme by posing the couple in front of buildings of red and pink hues, a rich mahogany-colored door, and brick buildings and walls.
When the couple wasn't standing in front of warm, red backdrop, Michal had them surrounded by greenery. The deep green hues created a dreamy backdrop that brought all of the attention to the sweet, young couple and the love that has blossomed between them as if they were a symbolizing a flower blossoming among the greenery.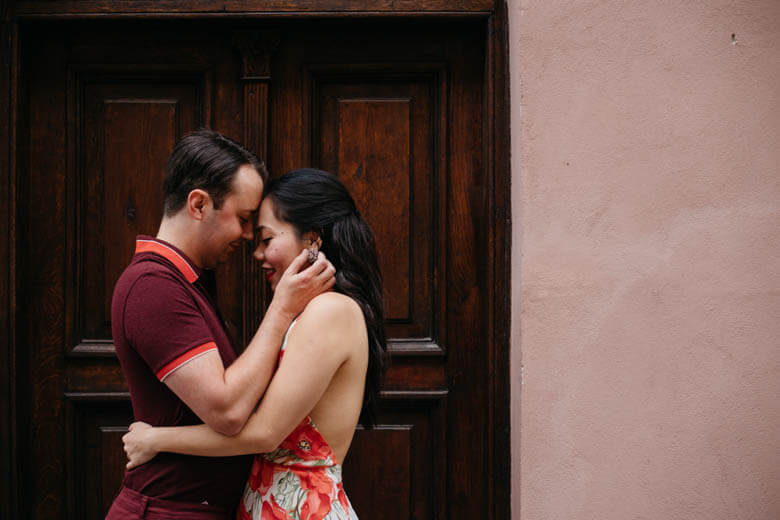 Photos: Michal, Localgrapher in Warsaw
A Picture's Worth a Thousand Words
There is certainly something so admirable about a photographer's ability to capture genuine moments and raw feelings in a single photo. Michal was able to capture true love in its purest form to give Lanvin and Jason a portfolio that they will be able to look back on after many years of marriage.
The sweet poses allow the focus of the photos to switch between Lanvin, Jason, and them, together as a couple. The loving gazes between the couple and the occasional look of adoration and admiration in each of the photos speak volumes as to the kind of love that exists between the happy newlyweds, who are enjoying their honeymoon photo shoot as a married couple.
Because Lanvin and Jason made the decision to hire one of our local vacation photographers, they will be able to return home with a portfolio of stunning photos to show all of their friends and family their honeymoon in Warsaw.
Photos: Michal, Localgrapher in Warsaw
Hopefully, the couple will be able to cherish the memories behind these photographs for many years as they continue to enjoy a long and happy marriage.