6. 2. 2020
20 Funny Valentine's Day Photography Ideas from Around the World
Valentine's Day is one occasion when people in love tend to strengthen their relationship or relive the bond between them.  It is the chosen date when telling someone special how much he/she means to you does not seem awkward. That is what makes celebrating it utmost importance to not only rejoice every second of it but also move your loved one's heart. And what can be better than traveling together and taking plenty of beautiful photos of you and your special one? Sounds fun?
That is the reason we have brought this pool of ideas a few days before Valentine's. You have plenty of time to plan and execute your Valentine's Day photo surprise for your special one. But remember that perfect backdrops and accessories are not the only things you need to make your Valentine's Day special. You need some out-of-the-box ideas to turn it into an everlasting reminiscence.
What about giving a shot at some fun yet romantic Valentine's Day pictures of you and your lover?  
Know that the key to taking a one-of-its-kind Valentine's Day photos lies in natural and candid photography. And hiring a professional photographer to help you capture the memories perfectly is the best decision. We, at Localgrapher, know how to photograph the joy and ecstasy of being in a beautiful relationship. 
Try These Funny yet Romantic Photo Ideas for Your Valentine's Day
As Valentine's Day is just around the corner, prepare yourself to get on the roller coaster of love and excitement with these unique and romantic photoshoot ideas.
Idea #1
Spend a Day Together and Capture Your Leisure Time
Joint leisure is the key idea here. Spending a day together and capture your leisure activities might seem an outdated idea, but it contains a unique charm that reduces the distance between two people. Using this idea to celebrate your Valentine's will allow you to plan a number of things. 
For instance, you can plan a day-date in Rosewood Resort in Mexico. Situated in the heart of the Baja Peninsula, the scenic resort overlooks the Cortez Sea and Pacifica Ocean. The wild-rich setting becomes magical when you gaze up at bespoke firework display or sip champagne hand in hand under the starry sky. Dance, laugh or stroll with your partner to make every moment count while our photographer rewrites your love story through photos.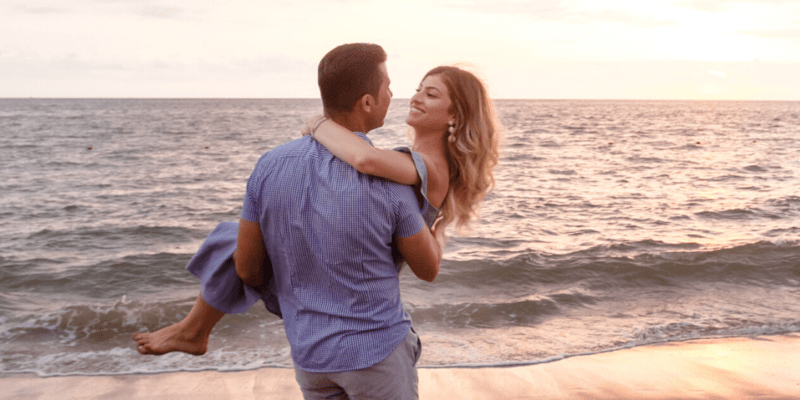 Photo: Alejandro, Localgrapher in Puerto Vallarta
Idea #2
Take a 'Be Mine' Photograph
What about letting the world know that you are a "taken Woman" on this Valentine's Day?
The idea makes more sense when you are vacationing in the "City of Romance" like Paris or Venice. The French cities make the most romantic getaways to celebrate your love bond. The cities of affection lend themselves effortlessly to spend time and try tons of unique Valentine's Day photo photo ideas and "be mine" just the one example. 
Choose a spot, most preferably Eiffel Tower, stand in front of it, and hold your loved ones' hand while showing your ring finger. To make it quirky and funny, don't forget to cover your smiling face with the other hand.  Let your photographer lock in this moment by focusing on both your engagement ring and the magnificent Eiffel Tower in the background.
Photo: Daniel, Localgrapher in Paris
Idea #3
Have Fun with Spectacular Golden Hour
Cinematic sunsets and Valentine's celebration make a timeless combination. Watching the sun rising or going down from the horizon is one of the favorite activities of couples. Whether your Valentine destination is a coastal city like Miami or heaven of islands Bali, capturing sprawling skies and soft lights during the golden hour make the best romantic photos. 
But don't think you cannot try out funny poses at these romantic destinations. Carry your special one on the shoulders and spread your hands in the air while our photographer clicks you from the back, capturing the warm tones of sunlight.
Photo: Ferry, Localgrapher in Bali
Idea #4
Let's Be Kids Again
Don't worry you don't have to play with dolls or magic wind here.  All we want you to relive the excitement and thrill of your childhood with your one and only. 
Try out something VERY different from your routine date this Valentine's day and go to a theme park or picnic points; especially if you are in New York or San Francisco. The cities are full of thrilling parks with amazing bubbly vibes. 
Take rides that are for "five-year-olds". Yes, you read it correctly. Taking a kid's ride as a couple in the theme park is one of the best ways to relive your childhood, feel relaxed, and capture a photo that will surely bring an instant smile on your face no matter how sad you are.
Photo: Chantel, Localgrapher in New York City
Idea #5
We are Wild, Young, and Free
To make the most of this funny pose, all you need is to tap your playful side and have fun as you have just entered your teens. Make your loved one laugh. You can even climb onto his back to do that. Our professional photographers will take care of the rest since they have impeccable expertise in romantic photo sessions. Don't hold back your wide grins while enjoying the moment.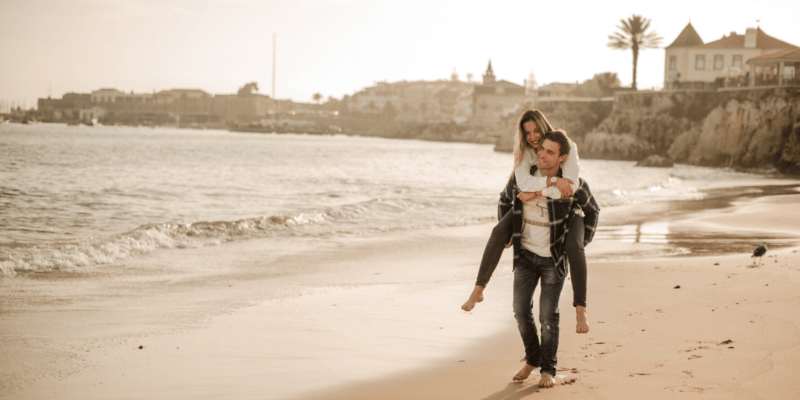 Photo: Mariana, Localgrapher in Cascais
Idea #6
Catch Me If You Can
Though you both have caught each other (in love of course), this pose is just to show the quirky side of your relationship.
Plus, the pose requires perfect coordination between you and your special one.  One of the partners jumps in the air and other poses as he/she is catching him/her. The pose makes a fantastic funny pose without any fancy costumes and prop. All you need is to choose an interesting place such as Belgium. With its cobbled streets and medieval buildings, you get the best backdrop for your Valentine's Day photo shoot.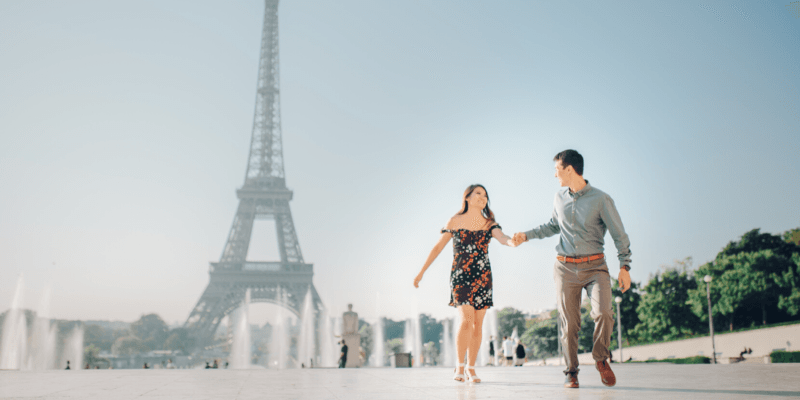 Photo: Alain, Localgrapher in Paris
Idea #7
Let's Run Away From the World
Who doesn't want to run away from the world with the most special person of his/her life?
Well if this seems impractical to you, our photographers can help you turn it in a reality at least in pictures. You can dress alike or decide a themed costume for this interesting and fun pose for your Valentine's Day shoot.  
Hold hands and pose as you are running with your partner by escaping the realities of this world. The less you make it look staged, the more Insta-worthy picture it will become. 
The Valentine's Day pose can become even more impactful if you choose a city with stunning landscapes like Lagos or Abuja in Nigeria. Feel like Romeo Juliet and let your personal photographer capture the breathtaking photos in a romantic setting.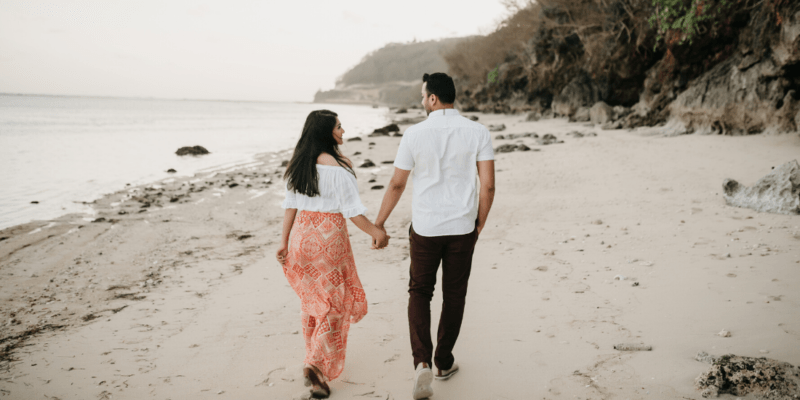 Photo: Mariyasa, Localgrapher in Ubud
Idea #8
Lost in the Whimsical Wonder
Whether you are visiting Dubai – the heaven of sand or spending time in the African, this is a must-to-take photo. Sandy landscapes offer a lot of room to try out some out-of-the-box photography poses. Play with sand, or make a heart shape and stand in the center.  You can click plenty of funny pictures in the whimsical wonderland.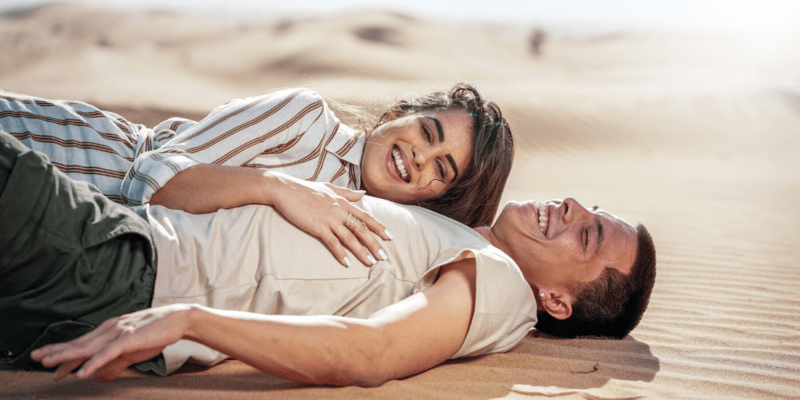 Photo: Agnieszka, Localgrapher in Dubai
Idea #9
Me, You and Our Wilderness
This Valentines pose allows you to explore the adventurous side of your significant one. Plan your Valentine's Day shoot in the locations full of wilderness and natural landscapes such as Amsterdam or Barcelona. The oh-so-famous cities are rich in gorgeous, untapped locations that can make this picture insta-worthy.  
Find an old wooden house surrounded by a lush green meadow. Stand beneath the window and ask your partner to go inside and lean down from the window. Look at each other as you are talking while your photographer captures this interesting and funny pose.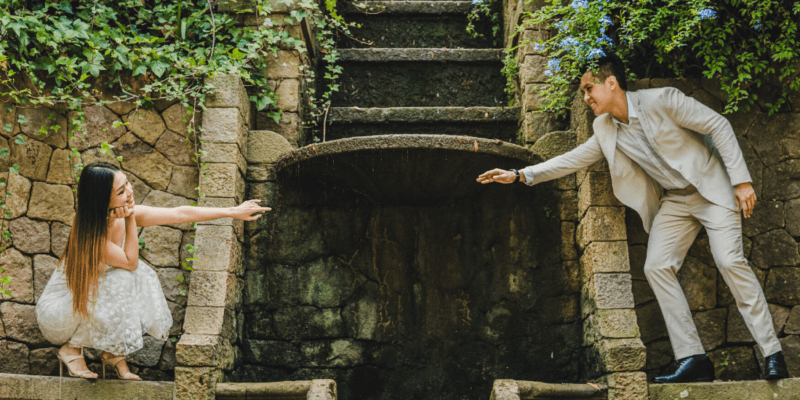 Photo: Mireia, Localgrapher in Barcelona
Idea #10
Our Unbreakable Bond of Spaghetti
Regardless of the place you've chosen to spend your Valentine's Day this year, this idea makes an adorable couple poses. If you two love eating, order a plate of spaghetti and share a strand by holding it from your mouths from both sides.
Remember that the less hesitant you are in front of the camera, the more impactful and original your pictures will be. The image will not only make your followers swoon, but also inspire them to follow your love story.
Idea #11
Hearts and Hearts all Around Us
Looking for a typical Valentine's photo shoot? If yes, then this droll photography idea is your go-to option. It incorporates timeless love symbols and classic hearts. 
However, this idea needs little preparation in advance such as lots of red balloons, flowers, and most importantly a red couch. If your destination is Greece this Valentine, place them somewhere in front of the breathtaking white cliffs of Santorini. The combination of white and red will make a heavenly background, taking your Valentine's Day photo shoot to the next level.  
Sit on the couch with a bunch of red balloons and make a kissing pose (in a funny way) while your Localgrapher seizes the perfect chemistry of you and your significant one.
Photo: Dimosthenis, Localgrapher in Santorini
Idea #12
You Have Got to 'Follow Me' Always
These Valentine's Day photos are trending on Instagram. If you are holidaying in London this Valentine, the interesting and vintage architecture of the old city creates a wonderful background to execute this funny pose. The photographer captures you from the back as you look ahead and your partner holds your hand to follow you.
Idea #13
Bookworms
No matter who your valentine is going to be this year, this day holds great importance to confess or express your love. And books make unique props. Cover your face with the books that have interesting and funny illustrations and titles that convey your love and mood.
There is no doubt that our professional photographers are experts to lock in the best moments of your love story. They specialize in capturing everything from intimate portraits to funny candid poses even if you are taking photos with the books.
Idea #14
It is a Love-Hate Relationship
Why only show one side of your relationship? Let's get real this Valentine and take some new clicks you have never taken before. 
The best part of this funny Valentine's Day pose is that you can take it anywhere. All you need is to show a few of your acting skills. 
Pretend that you are pissed off at each other by looking at opposite directions. Hold a bouquet of red roses in your hand to convey the idea that no matter how difficult things get in your relationship, your feelings are meant to stay forever.
Photo: George, Localgrapher in Santorini 
Idea #15
We Can Fly Together
If you want to experience something magical and dreamy with your partner, take him/her to spectacular Japanese city Kyoto. The place brims with tradition and history and has a plethora of places to make your Valentine extremely special. 
Bamboo Forest, for instance, is a wonderful natural space to try "We can Fly Together" pose. Take a bunch of red balloons with you, kiss behind them and jump up slightly while your photographer captures the perfect moment. Our Localgraphers excel in editing your pictures to make them look natural and flawless.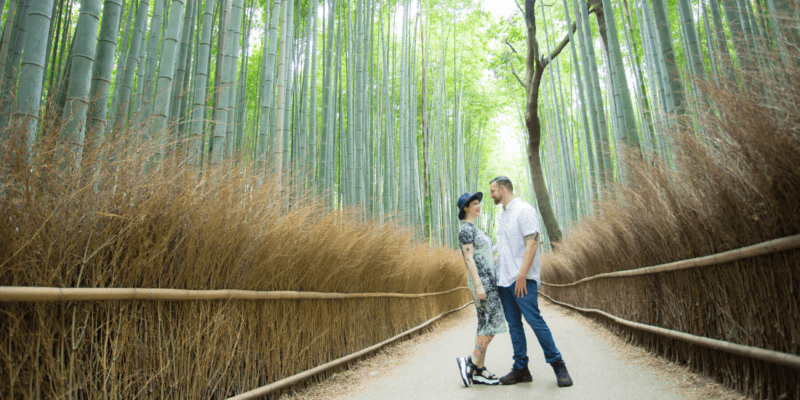 Photo: Yoshi, Localgrapher in Kyoto
Idea #16
You are My Fantasy Hero
If you are visiting Europe, Berlin is one of the not-to-miss-out cities. Because of its dreamy atmosphere, romantic pathways and iconic parks, it makes an ideal place to fulfill your fantasy and capture this cute and funny Valentine Day pose. Become a zombie apocalypse or any movie character to shoot some extraordinary Valentine Day poses.
Photo: Cristina, Localgrapher in Berlin
Idea #17
My Cupid Will Not Spare You
This pose is funny enough to burst you into laughter every time you will see it. Dress up as cupid (use only white tops and shots) and target your partner with a spear (decorate it with red fur). This Valentine's Day photo idea perfectly depicts the romantic theme in the cutest way. Choose the virgin beaches and islands of Alicante to shoot this witty pose.
Idea #18
Our Love on Wheels
How about cycling together in the cute red heart-shaped costumes on the beautiful streets of Prague? The old town is full of romantic vibes when it comes to living your love story to the fullest. Enjoy your ride while your couple photographer locks in the fleeting moments.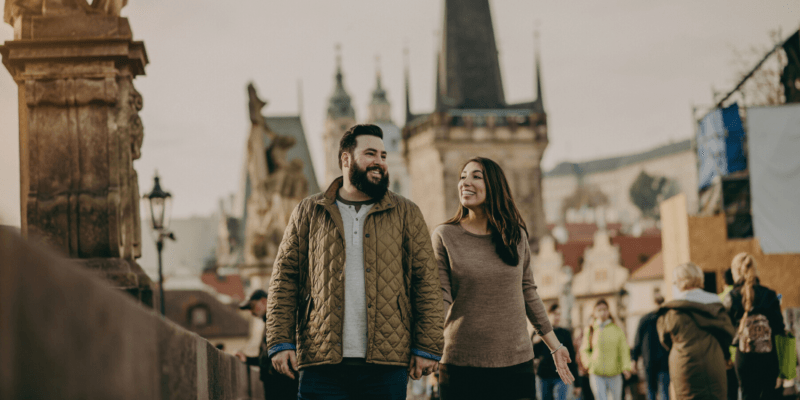 Photo: Braulio, Localgrapher in Prague
Idea #19
A Pillow Fight on the Street
Although you do not need dates to express LOVE to your loved one, Valentine's Day can be your perfect excuse to create unforgettable memories. And to do that, there are tons of places around the world you can travel to unleash your passion.
Diversify your celebration of love with this creative, playful, and funny idea this Valentine's Day; especially if you are heading to a vibrant city like Sydney.
The biggest city of Australia minds nothing when it is about expressing your love to someone. Since it always welcomes lovers, you are allowed to add action to your special Valentine's photography.  You can play around and have a pillow fight on the streets of Sydney to set a new trend on Instagram.
Idea #20
Paint the Town with Your Best Buddy
No matter if you are single or not in a love relationship. Do not make it a reason to not have fun on Valentine's Day. The day marks the celebration of love whether it is for your boyfriend or best friend. That means you can plan your Valentine's Day with your best buddy and take loads of interesting photos to impress others. 
Visit Buenos Aires, popular as "Paris of South America" to enjoy and strengthen the love bond between you. Sing and dance around the rainbow-bright houses while eating chocolates and throwing red color balloons. Our Localgrapher will capture all your fulfilled adventures.
Photo: Mariana, Localgrapher in Buenos Aires
In a nutshell, it is important to remember that romance and love can take plenty of forms and every couple likes to express it in a different and unique way. The couples have their own way to represent their love story. Therefore, you can experiment with tons of different styles and ideas, until you find the one that suits your chemistry and portrays your bond in the best way.
Our skilled photographers, in this regard, can help you demonstrate your love. They can put together some amazing tips to ensure that your Cupid's arrow makes the right target. 
Thus, these emotionally evoking Valentine's day photo shoot ideas are great to try out something unique and exceptional. They are not typical and have their own way to portray your love. Our expert photography is what makes them a masterpiece that you want to cherish forever. So don't hold back your funny side and let our photographers make your Valentine's Day extremely special with their creative and out of the world photography skills.
Buy memories, not things…
Limited time only!
SEE OUR GIFT CARDS
Great customer service and experience
Photoshoot in very short term
The most destinations on the market
Very positive customer feedback
1106
Photographers & Videographers
989
Destinations world-wide
100% Money Back Guarantee
We believe in our service and quality of our photos so much that we decided to offer a 100% money back satisfaction guarantee for your photo shoot. If you don't like your online gallery once we deliver it, you can contact us within 7 days and claim your money back. Find more details in our Terms.