23. 1. 2019
Iconic and Elegant Solo Travel Photo Shoot in Strasbourg
Traveling solo can be really fun and very freeing. You don't have to compromise about where to go, what to see, or where to eat. You can do whatever you want, whenever you want! One problem, however, is that it can be very hard to take great photographs of your solo trip without resorting to selfies all the time.
Solo Traveler in Strasbourg
Perada took a trip recently to the gorgeous French city of Strasbourg. Situated in the Alsace region of France, and the seat of the European Parliament, Strasbourg's roots date back to at least the Roman Empire, when it was a Roman camp called Argentoratum, first mentioned in 12 BC, although it was likely settled as early at 1300 BC. But it is best known for its colorful medieval half-timbered buildings, gorgeous canals in the area known as Petite France, and the Grande Île, which is the first city center to receive UNESCO World Heritage status. Together with its sparkling EU Quarter and university culture, Strasbourg has something for everyone, whether exploring alone or with someone else.
It was against this backdrop of colorful houses and Alsatian architecture that Perada wanted to have some of her French holiday captured professionally. Instead of taking more selfies, she hired a professional photographer named Nadezda to take photos of her time in Strasbourg.
Dressed in a lovely pale blue ensemble with the perfect classic trench coat and Chanel scarf, Perada wanted to have Nadezda use as much of Strasbourg's iconic scenery as possible. And, although it was clearly chilly, the soft winter sunlight provided the perfect lighting for the occasion.
Nadezda artfully used the variety of colors of the old town, with its half-timbered structures, cobbled streets, and canal in the foreground, to shoot fantastic and memorable pictures that Perada will be able to treasure for a lifetime. She even took a few close-ups of Perada, including in front of a brightly painted door and adjacent wall. It's as if Perada's outfit was completely planned for this shoot, as the colors are so well matched.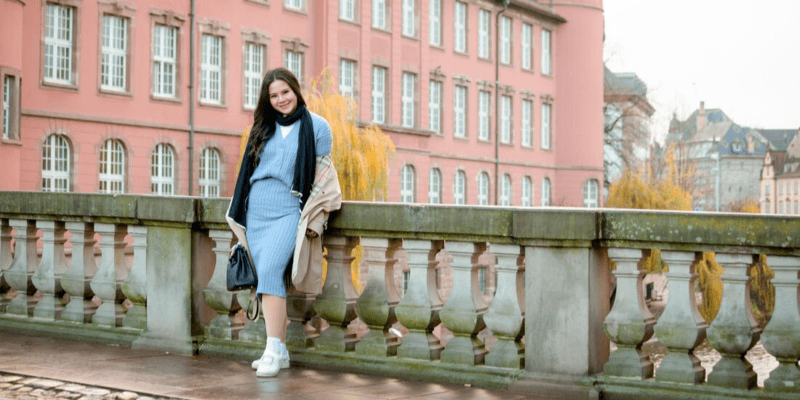 Solo Photo Shoot Never to be Forgotten
Perada, in requesting a professional photographer, knew that she wanted images of her trip that would illustrate her personality, and Nadezda did a wonderful job of capturing Perada perfectly. There is a seamless match between the historic French setting of Strasbourg and Perada's individuality, which really sets these images apart from your more typical holiday snaps. The photographs are definitely Instagram worthy!
By hiring a professional vacation photographer like Nadezda means that you, just like Perada, are able to have high-quality professional photographs of your trip without having to try to take them yourself, which can be really awkward. And three's nothing worse than asking a stranger to take your photo, and then getting back an uninteresting, blurry image. What is more, you won't have the same touristy images as everyone else. Instead, they will be well focussed, interesting and special – just like your trip.
In addition, professional photographers such as Nadezda can suggest the best, most interesting locations for a variety of photoshoots. They are usually local experts and know the most unique spots for your professional images. They endeavor to give clients memories to treasure through the best photo shoot experience.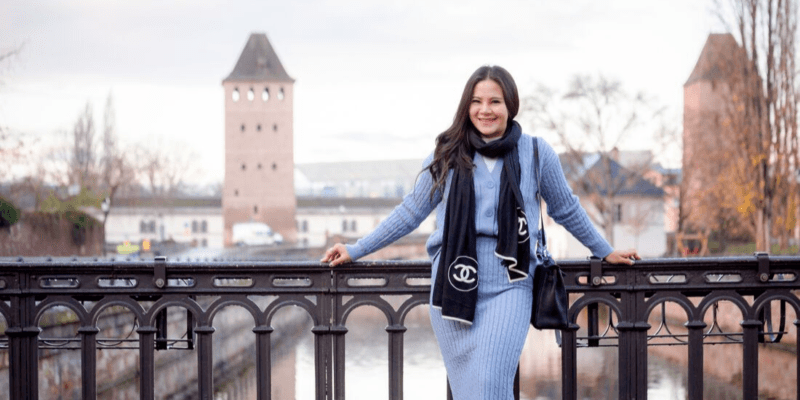 Buy memories, not things…
Limited time only!
SEE OUR GIFT CARDS
Great customer service and experience
Photoshoot in very short term
The most destinations on the market
Very positive customer feedback
1167
Photographers & Videographers
1035
Destinations world-wide
100% Money Back Guarantee
We believe in our service and quality of our photos so much that we decided to offer a 100% money back satisfaction guarantee for your photo shoot. If you don't like your online gallery once we deliver it, you can contact us within 7 days and claim your money back. Find more details in our Terms.