Just like everything else that comes with a newborn baby, their first Christmas ever has to count for something big! This is a moment that you are bound to cherish in your heart always and forever. Preparing for their photoshoot session can seem quite hectic, but it does not have to be. As a matter of fact, a newborn Christmas photo shoot is quite easy to hack and it is such a rewarding experience. We have compiled a list of some interesting photoshoot ideas that you can try out to make the photoshoot even more interesting and worth the effort.
Idea #1
Make Baby Your Sweetest Christmas Gift Ever
Christmas time is almost synonymous to 'present's time'. While there are a lot of gifts we receive from friends, family and even Santa himself, your newborn is definitely the sweetest gift of them all. Take advantage of the fact that it is their first Christmas and capture moments of your little one inside a gift box just to flaunt how excited you are. To spice things up just a little, add some decorations around the box and add that Santa hat on your baby.
Idea #2
A Cute Tutu for Your Little Princess
Tutus are props on their own. Dress your little girl up in a bright red tutu dress and ensure that there is a conspicuous and contrasting background to her just to ensure that she really stands out. add some glitter ornaments or even some lights for a more elaborate fun and creative outcome. If you happen to be on a budget, this newborn Christmas photo shoot idea is definitely one that you can easily hack without having to spend way above your projected budget.
Idea #3
How about a Photo Session Just by the Fireplace?
Set up a nice Christmas-themed setting just by the fireplace. Ensure that the mantel is fully decorated with some sentimental family kind of props, Christmas light, gift cards, and any other thing that speaks the Christmas language. Carefully place the baby on a white nice and soft pillow with some bright red colors around him or her. Ensure that they are indeed the center of attraction and capture those fantastic moments. Ensure to do this when the fire is out to ensure that there are zero accidents.
Idea #4
A Double Shot of Fun with Your Twins
Christmas is one of the festive seasons that comes with its own package of love, joy as well as fun. Imagine adding a set of newborn twins to all the good Christmas vibes. This has to be one of your most cherished moments especially because it is their first Christmas ever. Grab a basket, bucket or even empty gift box and layer your item of choice with a soft white blanket. Dress the little cuties up in matching Christmas outfits and watch as they instinctively cuddle up together. Take advantage of these sweet moments and capture some nice pictures for memories' sake. Some years later, you will show this to them and they will be reminded of the genuine love and unbreakable bond that they both share.
Idea #5
A Bright Red Wagon for the Brilliant Boy
A red wagon always a classic go-to prop that everybody loves. Make Christmas a time to enjoy and fully indulge in some outdoor activities. Dress up warmly and head out to your favorite park. Identify a perfect spot where you can catch the sun's beams peaking through nice and easy in between the trees. Watch as your little boy gets the time of his life as he enjoys the ride from the hid wagon. While at it, be ready with your fingers on the shutter to document each and every single moment of baby's bliss. This right is a newborn Christmas photo shoot idea that is bound to give you the best photos ever.
Idea #6
How about a Christmas Wreath?
If you're looking to take things a notch higher when it comes to creative newborn Christmas photo shoot ideas, a wreath has got to be your go-to prop of choice. You can either choose to pick up one at a craft's store or make one yourself using some fresh greenery and flowers alike. Decorate it with some nice pine corns or even red flowers. Place a warm and soft blanket and nest your little angel right in the middle of the wreath. You could even string up some Christmas lights just to ensure that the scene is 'lit-up'! Get into full photography mode and capture each and every moment as your newborn is enjoying himself or herself chilling in the wreath.
Idea #7
Consider Using Knitted Outfits as a Change from the Norm
We can all agree that anything that is knit sends off some heart-felt warm and lovely vibes. Dress up your baby as a cute animal. For instance, a penguin. Even if they are asleep, you can bet that the photos will be the cutest ever.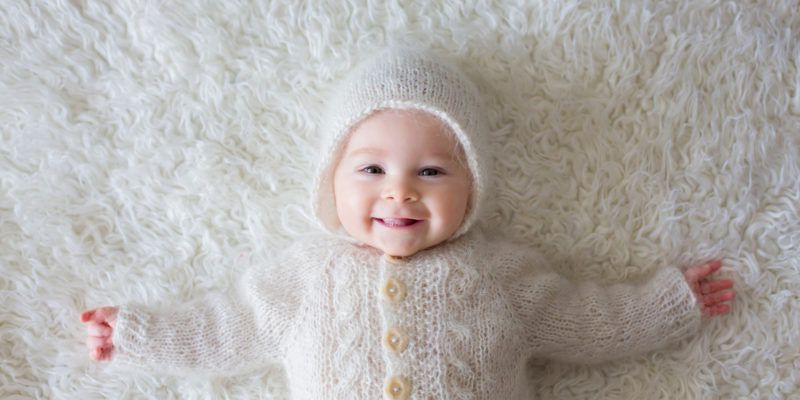 Idea #8
Snowtime for the Baby
With or without snow, Christmas photos have to include some beautiful moments of snowing. Dress up your cute little angel warmly and get them ready for their best newborn Christmas photo shoot experiences ever. Taking them outside in the snow is needless. Get creative and come up with a way to convert your house into a snowy scenery. Hang up some paper snowflakes or create an illusion of falling snow just to add on to the photo's visual effect. You can hire one of our professional photographers to add all the final touches and create that snowy outcome you want so badly in your photos.
Idea #9
Lights, more Lights, Camera, Action!
Christmas gets even more magical when we involve Christmas lights. Dress up your baby in the best Christmas-themed outfit and crown the entire look with some baby-friendly Christmas lights. As they watch the lights trying to figure out what exactly is going on, get ready to capture these cute moments. Just ensure not get him or her too close to the lights especially the hot ones.
Idea #10
The Little Model
Using an all-white background and just but a hint of some dark color to add on to the highlight, be ready to capture some of the cutest and most adorable pictures of your little one striking some poses like a real professional. Take advantage of each and every moment they stare straight into the camera and zoom in for a closer snap! The end results are picture-perfect photos of your baby looking as though they intentionally posed for the pictures.
Idea #11
Some Early Morning Christmas Chuckles
Early in the morning when the baby has just woken up and they are full of vibrance, take full advantage and convert the moment into a newborn Christmas photoshoot session. Place them in close proximity to the Christmas tree and other Christmas-related decorations and allow them to get into their full playful element. Allow them to get naughty just a little as they create a hot mess. You can bet that this will get them all cheerful and the giggles that come along right about now are worth documenting for a lifetime of memories. This creates a perfectly natural as well as candid photoshoot session.
Idea #12
Baby and their Favorite Toy Side by Side
All babies love toys. That much we can agree on. Dress up and play Santa by delivering your baby's most cherished toy as their Christmas gift. Ensure that you have a professional photographer behind the camera to capture the most precious moment of the entire experience; baby's hands all out ready to receive the gift with open arms. The expression on their faces all eager for the present is simply priceless and worth documenting. Of all other newborn Christmas photo shoot ideas, this one right here is so easy to achieve and rewarding given all the adorable pics you will get afterwards.
Idea #12
Strike a Pose with Mum or Dad
There is no other picture that shows love and an endless bond than a baby posing with either of the parents. As you get playful with your little one, let your Localgrapher capture each and every moment. You do not even need to appear staged as you force the baby to pose for the camera. You only need to focus on the tender moments that both of you share and let the photographer work their magic. Spice things up some more by wearing matching outfits and adding some nice Christmas props and get ready for the most adorable of photo sessions ever!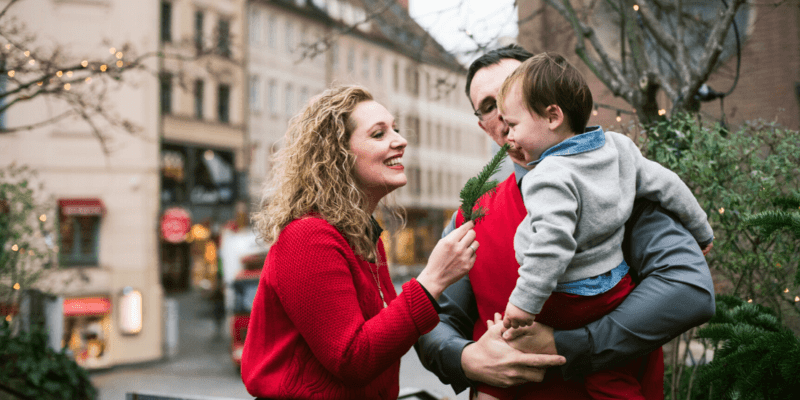 There are a million possible ways to make a newborn Christmas photo shoot session fun and memorable for both you and baby. As a matter of fact, it is not a hard mission to achieve; the baby is already the cutest thing ever and the main subject of the session! You only need to make a brilliant selection and collection of Christmas-themed settings, dress up your little bundle of joy in some nice holiday wear and watch as the creative newborn Christmas photo shoot ideas above confidently work their magic.