11. 12. 2019
Rustic Christmas Decoration Ideas for Your Perfect Family Photo Shoot
Whether you live in a small cozy cabin or modern urban house, decorating it in rustic Christmas style creates an inviting and warm holiday retreat. Keeping your Christmas decoration minimal is one way to give your house a relaxing and welcoming vibe after cold and chilly winter days.  Adding a rustic feel to your décor doesn't involve heavy embellishments such as pine cones, burlap, or other ornaments. Surprisingly, using some creative DIY ideas you can do eye-catching rustic Christmas holiday décor. 
Christmas is one of the most wonderful and colorful occasions of the year, especially when it comes to decorating houses for a family photoshoot. Christmas family photoshoot, without a doubt, is the best way to celebrate your holidays. By taking lovely photos, you can turn your holidays into cherished mementos. However, to click some frame-worthy photos that not only captures the beautiful Christmas decoration but also unwavering and unconditional love bond of your family, you need expert photography skills.
Localgrapher, in this respect, can masterfully seize all your precious moments. The expert and competent photographers do not only help you plan rustic Christmas photo shoot but also captures classic family pictures.  Whether you want to make some amusing and interesting Christmas scenes or looking for some organic picture-perfect ideas, Localgrapher can help make the best memories this festive season.
Since jingle bells have already started ringing, it is high time you all must start decorating houses.  Want to keep it simple yet impactful this year? No worries! Look at these excellent ideas of rustic Christmas decorations for your perfect family photoshoot. 
Rustic Christmas Photo Shoot Ideas for Your Family Christmas Reunion
Many people prefer rustic decoration designs and decorations to emphasis on natural and rugged beauty. It is because it is earthy and embraces a unique nature-inspired texture that makes it a perfect combination of sophisticated and simple colors. 
Rustic Christmas decorations have unpretentious warmth. The given ideas focus are easy to create and use simple material that can make your ordinary house into a charming, rustic space your family will love to take pictures and live in.
Idea #1
Have Some Fun with Citrus Ornaments
As mentioned earlier, the best part of choosing rustic accents is that it can easily be incorporated into the design scheme of your house.  You can infuse it into the natural accent of your home. These may include anything from filling a simple glass vase with holiday greens and seasonal pine cones, nuts, and brightly-colored ornaments.
Citrus ornaments are undeniably some of the best Christmas decoration ornaments. They are handmade ornaments and look way better than store-bought Christmas accessories.  Not only this, citrus ornaments are visually interesting as compared to heavily embellished Christmas decors. 
You can create these citrus ornaments by using nylon string. The dried citrus makes the stunning decorations when paired with twinkling lights.  Simply hang them on the wall or use them to decorate the Christmas tree. Place a lot of gifts around it to turn it into the perfect rustic Christmas photo shoot.
Idea #2
We, Christmas, and Vintage Candy Tin
What can be a better excuse to enjoy an entire tin of Christmas treat and use it in your family photo shoot? 
The idea is a smart way of creating a perfect rustic Christmas photo shoot décor by using candy tin.  You can make awe-inspiring Christmas tree using candies as ornaments and its tin as a tree base.  Whether you keep it in your backyard or living room, the vintage candy tin adds a unique festive feel to your family photoshoot.
As this décor involves lots of candies, this can be a perfect way to get your tiny-toads into action while your Localgrapher takes dozens of candid poses. You can also participate with them in the activity and let your photographer capture all those beautiful moments.
Idea #3
Christmas Family Sitting
There is no need to confine your Christmas celebration to your home only if you have a beautiful front or backyard. By using some rustic ideas, you can transform it into a well-decorated Christmas family sitting for Christmas photoshoot. All you need a small swing bench, a few pillows, a string of fairy lights, and some small wooden planters. You can paint the planters in red and white colors to incorporate a celebratory feel.
This Christmas decoration idea is perfect for small family photoshoots. The outdoor setting makes an adorable space to capture spectacular family reunion memories.
Idea #4
Decorate with Glittery Gold and Snow
Merging the combination of snowy white and gold makes a classic combination.  If you are using some glittery gold Christmas balls as accessories, pairing them with white garlands will help you create a rustic décor. Using the two shades will make your Christmas picture idea real.
That is to say, white and gold is a winning combination when it is about rustic Christmas photo shoot. The classic colors can help you make an ideal ambiance of this festive season. The glittery Christmas garlands and white balls maintain a subtle balance and keep your décor simple and attractive for capturing stunning outdoor Christmas photos with your family.
You can discuss all this creative idea with Localgrapher to make it more visually appealing. He/she can help you design the best backdrop with glittery gold and snow.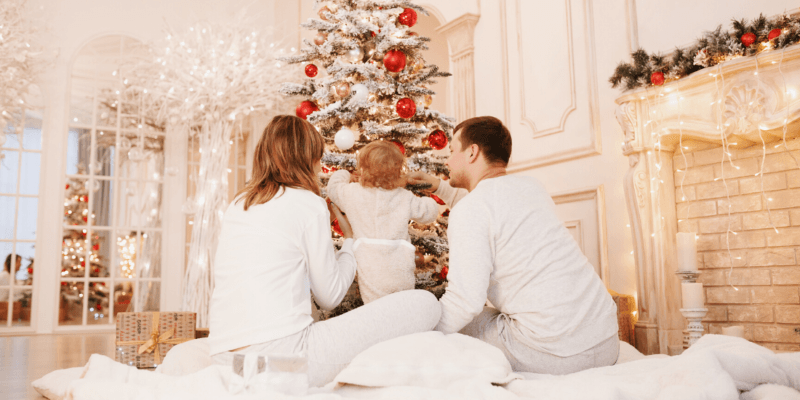 Idea #5
Be Creative with Christmas Essentials
Santa Caps, boots, scarves, and mitten are, without a doubt, essential attributes that make Christmas photoshoot what it looks like. This rustic Christmas photo shoot idea is all about demonstrating how quirky, organic, and creative one can get with all Christmas essentials. 
For example, you can take plenty of wonderful Christmas family photos by just wearing Santa Caps and white tops. To make the click even more creative, you can sit in the seniority order of the family. Hold each other's neck and say Cheese!  
The rustic Christmas photo shoot idea will make the adorable family portrait.
Idea #6
Norwego-Danish Christmas Style
Looking for keeping your Christmas decor unpretentious and simple this year? What about trying Norwego-Danish style this year to keep your Christmas décor minimal yet attractive?  
Norwego-Danish Christmas style refers to the all-white theme. You can coordinate everything from the backdrop to outfits in the white color. If you want to bring some variation, make theme color diluted with light and subtle shads such as red beige and sky blue.  
Your outfits should be of the same style as cozy sweaters and overcoats and may have pictures of deer ornaments and snowflakes. Norwego-Danish style creates a serene and dreamy ambiance that sets it apart from other rustic Christmas decors. All this simple Christmas décor needs people snuggling each other and enjoying the festive event to make a memorable Christmas Family photoshoot.
Idea #7
Make the Most of Christmas Lights
Whether your family comprises two people or ten, celebrating Christmas together with full passion and zeal is the best way to strengthen your relationship and love bond.  There is nothing better than having a festive approach to arrange a perfect family photoshoot.
Christmas lights are one of the traditional props that add a glow of togetherness and love to your photos. Interestingly, you use them in a plethora of ways to make a simple family photoshoot fun and awe-inspiring. 
For instance, hang the string on a Christmas tree, play with it, and wear it in necks, to revitalize your photos. If you have hired a Localgrapher, he/she knows exactly how to add a magical glow to your family photos using colorful Christmas lights to make them more captivating.
Idea #8
We made it!
No Christmas is complete without a Christmas tree. So why not decorate it together and take some exceptional Christmas family photos. This "we have made it" pose narrates your family's effort in decorating and embellishing a Christmas tree together. Involve as many people as you can, especially children. 
Make use of all the rustic and simple things to decorate your Christmas trees, such as fir branches, acorns, pinecones, plaid bows, wood slices, or even candies. You can even use wood candleholders, star ornaments, and ribbons. All these rustic Christmas décor ideas will make your family photo truly unforgettable.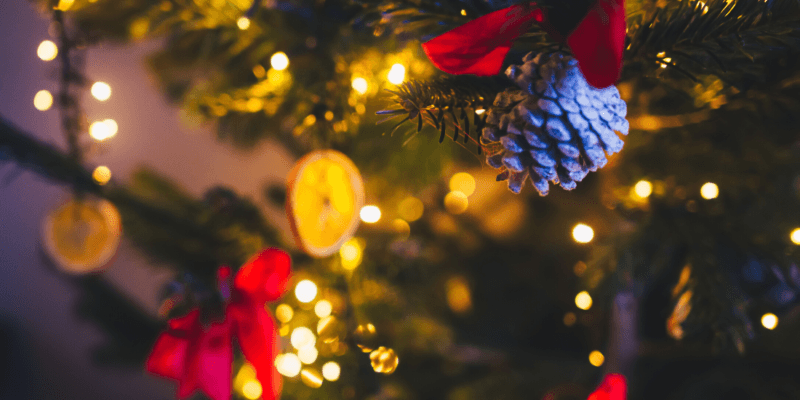 Idea #9
Celebrate with Santa
Whether you want to keep it rustic or fancy, Santa is a must-to-have part of your Christmas decoration. Many people consider Santa Christmas photoshoot a childish idea, it is not true.  Although the sacred character is children's ideal, it is equally valuable for adults. Decorating the house with Santa caps and accessories will allow you to relive your childhood. You can enjoy the beautiful festival to its fullest. 
Make memories with Santa by buying Santa-suits and adding it to your house's decoration. Let your Localgrapher click some cute and adorable family photos with your children.
Idea #10
Kisses Everywhere
Who said you should not kiss your better half in front of your kids? Well, if you are the one who loves expressing love anywhere, anytime to your partner, there is no reason you should not try it on your Christmas family photoshoot.  If you do not know how to go about it, we can help you with this idea. 
This quirky and cute photoshoot idea incorporates every emotion from love, quirkiness, to cuteness and passion. Perfect for small families, it can depict your true love and affection for your loved one. All you need is to choose a rustic setting such as a vineyard or a beautiful garden.  Wear beautiful Christmas-themed outfits (try red check shirts and denim) and kiss your partner in the middle of the track. Don't forget to make your kids (sitting ahead of you) imitate the same action while your Localgrapher seizes the moment forever.
Idea #11
Make it Unpretentious with Coffee Mugs, Blankets, and Snow
The photoshoot idea is best for people who are not a fan of fancy celebrations. Simple yet interesting, the idea has nothing intriguing or complicated, and that is what makes it doable for everyone. A colorful candy-printed coverlet, a rustic wooden backdrop, and coffee mugs are all you need to create a dreamy ambiance for your Christmas photoshoot. 
There is an amazing homely feel in this idea that transforms the whole scene into an ideal cozy moment to capture some worth-capturing Chrisman family photos.
Idea #12
Add Some Outdoor Clicks to Your Family Portrait
Celebrating Christmas in a simple way does not mean you can't celebrate it outdoor. For a beautiful Christmas family photoshoot idea, you can choose an outdoor location, especially a place with snowfall. With naturally falling snowflakes, you don't need any additional decorations. The snowflakes will create a magical and whimsical ambiance to click stunning photos. 
Put on your winter outfit and winter coat and play in the snow with the family. Catch snowflakes, build a snowman or have a ride on sleigh during your Localgrapher lock all these playful moments for your Christmas family portrait.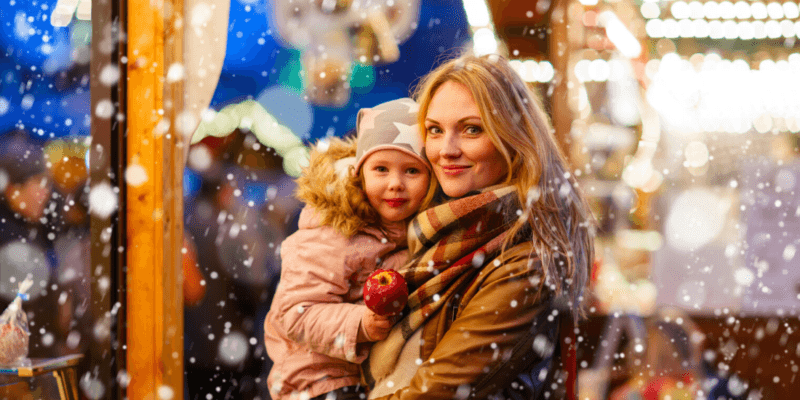 Idea #13
Get Clicked with Christmas Wall Art
You might not have tried this idea before, but it makes an amazing rustic Christmas decoration idea that your family can try together. It is creative and extremely artistic and will make your Christmas decorations stand out. 
You need a wooden plate or wood back to make this wall art. Choose a word that metaphorically interprets merriness of Christmas, such as "JOY." Paint the beginning and ending letters and use a flowered bow on the place of the letter "O."  
The creative wall art can be placed anywhere in the house, including bedside, mantle, and ledge.  Use it as a signboard to capture beautiful Christmas family photoshoot.
Idea #14
Use Your Front Porch for Rustic Christmas Photoshoot
Did you know that the front porch of your house can be turned into an awe-inspiring place for rustic Christmas photoshoot?
You can creatively use your deck-out front porch to do rustic decorations specific to the festive season.  Whether you use an antique sled, skinny pine cones or wood logs, space has a lot of room of festive decorations. Besides this, it is one way to give your visitors a sneak peek of what is inside. 
Once set, the backdrop is ideal to click some insta-worthy family shots on Christmas. Sit on the deck following family seniority order or use stairs of your front-porch to take memorable family pictures.
Idea #15
Capture Some Fun Poses in Hot Cocoa Station
Begin your Christmas photoshoot with this unique idea of "brewing or cooking together" this year. Nothing can make a family look cuter together than baking delectable beverages for the holiday season together.  
Create a cocoa bar using a red, black, and white color scheme to add a Christmas vibe. Complete it with ceramic dispenser, mason jars, and chalkboard signs. Wear matching aprons to take the sweetest rustic Christmas photo shoot with your family.  
The photoshoot idea does not require your forced smile as all you need is to feel the compassion and warmth of relationships. Let a professional photographer take some worthy pictures of your family, sharing happiness. It is all about enjoying the process so that each fun moment will add to your beautiful memories.
Idea #16
Have Some Christmas Vibes in Your Bedroom
Your bedroom can be a space that perfectly reflects the merriness of Christmas season. If you are artistic and like colors, you must not overlook your bedroom décor on this beautiful festive season. Try a country-inspired bedroom decoration to complement the overall Christmas décor of your house. 
Plaid bedrooms, in this regard, with red and white theme and deer ornaments make one of the best rustic Christmas photo shoot ideas. Play some indoor family games on your bed or drink hot chocolate using one glass and multiple straws to snapshot the cutest Christmas family photos. Don't forget to wear your Christmas PJs.
Idea #17
Let's Read Together
It is a holiday season, and you should not miss out anything that can help you strengthen your family bond. How about reading together and getting clicked? 
Of course, you need to do some preparation to make this idea work. You can go to countryside or can click this picture in your backyard. Make sure to pick a spot surrounded by some pine trees. Hang some Christmas ornaments on the tree; spread a coverlet on the ground and read with your kids.  It can be their favorite Santa story or Christmas fairytale and let your personal photographer take charge. Focusing on the minute details of the picture, your Localgrapher will capture a perfect Christmas family porttrait.
Idea #18
Pose with Your Apple Garland
It might be the season of holly berries, but apples are still in demand. Turn a small corner of your house into an apple Garland by scattering faux McIntosh apples to give your garland an unexpected festive accent.  Place some deer ornaments on the top and decorate it with colorful fairy lights. Pretend eating an apple from your garland or simply pose in front of it for a simple family photo.
In a nutshell, this collection of rustic Christmas decorations ideas makes the perfect festive atmosphere in your house. You can use these unique rustic ideas as inspiration for your Christmas decorating scheme. Your Localgrapher has the right set of skills to make your simple DIY décor outstandingly beautiful. With these rustic ideas, you can capture tons of stunning Christmas family photos. 
All you need is to relax and let your Localgrapher take some memorable shots of burning candles, twinkly Christmas décor, and, most importantly, your family.
Buy memories, not things…
Limited time only!
SEE OUR GIFT CARDS
Great customer service and experience
Photoshoot in very short term
The most destinations on the market
Very positive customer feedback
1167
Photographers & Videographers
1035
Destinations world-wide
100% Money Back Guarantee
We believe in our service and quality of our photos so much that we decided to offer a 100% money back satisfaction guarantee for your photo shoot. If you don't like your online gallery once we deliver it, you can contact us within 7 days and claim your money back. Find more details in our Terms.