6. 12. 2019
20+ Must-Have Props for Your Beautiful Christmas Photo Shoot
With the holidays quickly approaching, families are planning to have Christmas photoshoots, whether it's for cards or Christmas day celebrations. Regardless, you'll want your photos to show off all the cheer and spirit of the holidays. The best way to go about this is to include beautiful props for Christmas photo shoot, as well as get your pictures taken by a professional Localgrapher. 
Are you confused as to which props will help you get the best pictures for your Christmas album and cards? We'll list them down for you. You can use a single type of prop or an entire selection to add some diversity to your family photoshoot. 
What are the Must-have Props for Christmas Photo Shoot? 
Leave behind all the extras, because we think that the best props are Christmas-y items that are easy to find. So, start by heading over to your nearest supermarket and grabbing whichever props appeal to you the most. After that, all you'll need is a professional to take visually aesthetic photos of you with your family. 
Prop #1
Christmas Gift Boxes
Let's start with some of the basics: if you're having a Christmas photoshoot, it's never complete without a couple of Christmas gift boxes. You can buy pre-wrapped gift boxes from the store or wrap gift-sized boxes with cheery wrapping paper and ribbons and use them as props for your Christmas photo shoot. 
You and your family can pose with gift boxes while sitting in your decorated living room, or even get life-sized gift boxes for your kids to sit in for their Christmas pictures. But make sure you opt for professional photography services – taking selfies and pictures with your phone won't bear the calendar-like aesthetic you're looking for.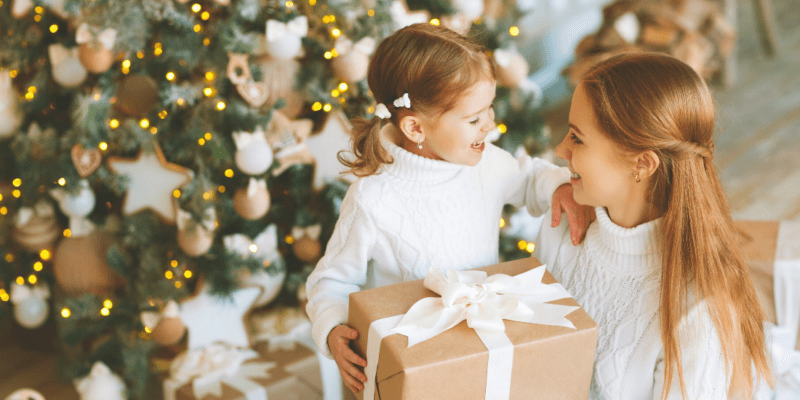 Prop #2
Tree Ornaments
Next up, you can use a bunch of Christmas tree ornaments to make an average picnic in the park seem like a trip to a winter wonderland. Go to a local park and decorate a tree with plenty of ornaments. Since there won't be any leaves, the ornaments will stand out, giving the tree a magical, fairy-tale effect. Then, lay down a Christmas blanket and get pictures taken in front of the tree. Since there'll be lots of snow, you'll need special equipment and editing services for captivating photos.
Prop #3
Rudolph's Reindeer Nose
Another cute and one of the simplest props for Christmas photo shoot includes a bright red nose like the one Rudolph the reindeer has. In fact, you don't even need to wear an entire costume, simply putting on the bright red nose along with Christmas pajamas will be enough for a strikingly adorable picture. But if you want to pair it with other props, read on below!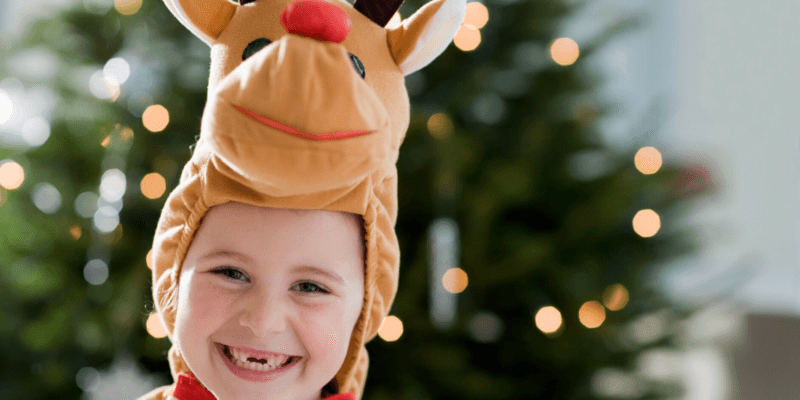 Prop #4
Reindeer Antlers
If you're aiming for a complete Rudolph the Reindeer look, why not pair the bright red nose with a pair of cute antlers. You can add even more props to the picture when you pose with reindeer antlers, like a sleigh with Christmas presents. In fact, why not get your pet dog to join in on the fun by adding a pair of antlers on him.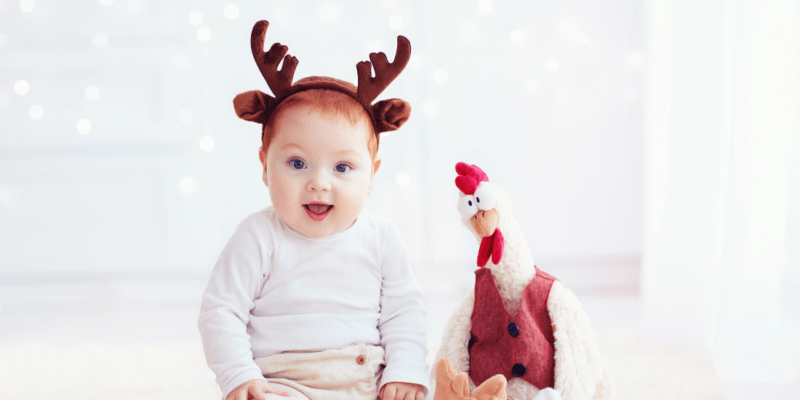 Prop #5
Elf Costume
Since Christmas falls less than two months after Halloween, it's likely that your kids still haven't gotten over the costume fever. To give them one last surprise, buy them elf costumes for your Christmas photoshoot. Have them pose with a workbench, so they look like Santa's little helpers, wrapping and building toys for all the kids who've been good this year.
Prop #6
A Sleigh
Sleighs are fun to ride downhill on a snowy day, but they also make great props for a Christmas photoshoot. Have your pet dog pose in front of it, dressed up as a reindeer. And add a couple of Christmas gifts to the sleigh, so it looks like Santa's about to go give some presents. Remember, if you're planning to have your pets in the photograph, you'll want a professional photographer to take the pictures. This is, so you get the perfect shot without making your dog uncomfortable by having them pose for long periods.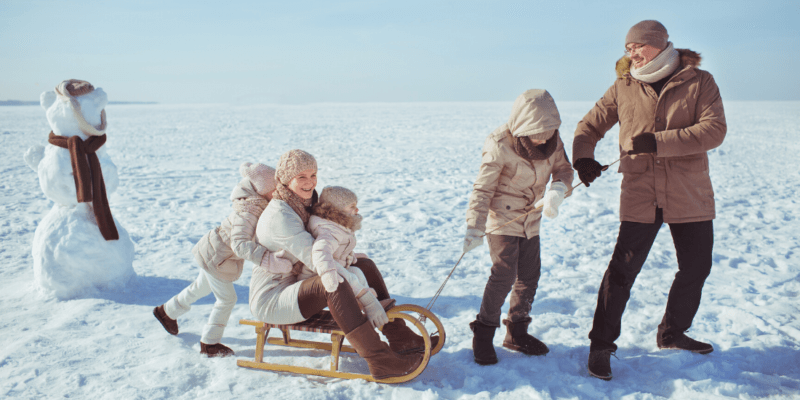 Prop #7
Mistletoe
Looking to capture some romantic shots for the Christmas album? Why not add a mistletoe? Take pictures with your partner, posing under the mistletoe as a show of affection. All you need to do is dress up warm and hold the mistletoe above your heads for a cute picture. You can take a picture wherever you feel most comfortable, although these will look best outdoors in the snow (where Christmas cheer is all around).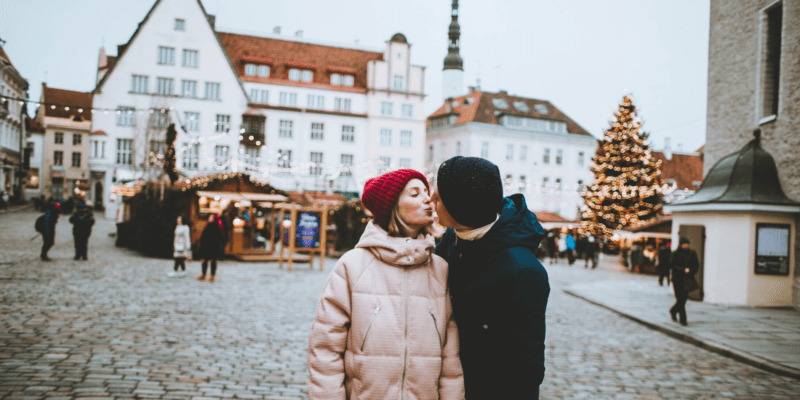 Prop #8
Milk and Cookies
Everyone knows that the best way to lure Santa Claus down your chimney is to leave out some milk and cookies. So why not use the classic treat in your Christmas photoshoot, whilst dressing up your pet or kid in a Santa Claus outfit. Or, if you're up for it, dress up as Santa Claus and have your kids peeping out from behind the Christmas tree with a newfound excitement overseeing Santa. This would make for a hilarious picture, but a professional Localgrapher with the skills and equipment can best capture such pictures.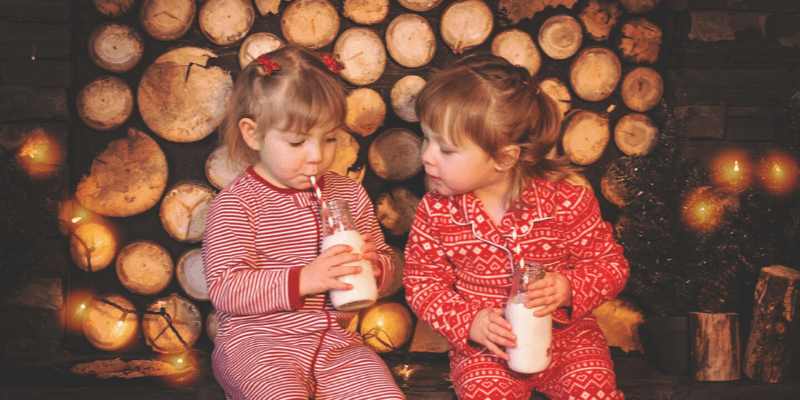 Prop #9
Candy Canes
Ah, candy canes; the symbolic Christmas candy. Aside from being delicious and pleasant to the eye, it also makes for a great Christmas photoshoot prop. Take pictures with your family, posing with a bouquet of candy canes in everyone's hands. Or, take a picture with two candy canes turned inward to make a heart. It'll definitely make a picture worthy enough to be on the cover of your Christmas album.
Prop #10
Sparklers
With the season growing more festive each day, why not pose for photos with the ultimate prop for festival celebrations? No, we don't mean fireworks; think a little smaller. We're talking about sparklers. With shiny, white sparkles erupting from the tip, sparklers look almost magical in pictures. In fact, pictures with sparklers are almost always best taken in the dark. But for great pictures, you'll need a professional Localgrapher to take care of editing and effects that enhance the effects of the sparklers.
Prop #11
Christmas-themed Throw Blanket
For some families, the joy of Christmas lies in being able to sit at home and relax with their loved ones. Sometimes, being able to snuggle in a blanket and watch Christmas films while drinking hot cocoa is enough. If that's how you want your Christmas photoshoot to look, then boy do we have the ideal Christmas photoshoot prop for you! Get comfortable, wrap yourself up in a Christmas-themed throw blanket, and take pictures on your living room couch, showing off the real side of what Christmas holidays look like for most families.
Prop #12
Children's Christmas Books
Traditional photoshoots would often include pictures of children holding up a large picture book and reading from it. You can get back that vintage aesthetic by using classic children's Christmas books as props for Christmas photo shoot. Just dress up your children and have them pose behind a large, opened storybook. It'll look magical, almost as if the book contains a world of its own. In fact, if you hire a Localgrapher with the right editing and post-production skills, you can make it look like the inside of the book is glowing.
Prop #13
Christmas Wreath
If you want a wholesome Christmas photograph that features your family home, what better way than to have a family Christmas photoshoot at home? For that, however, it's best to decorate your home with plenty of Christmas decorations, including beautiful wreaths. These can be made with a number of different materials, usually evergreens and holly, along with plenty of holly berries and pine cones. Add a wreath on your front door and take a picture in front of it for a warm Christmas family photo.
Prop #14
Stockings
Stocks nailed above the fireplace are symbolic of Christmas, and they radiate the excitement of seeing them stuffed with presents. But for a Christmas photoshoot, stockings worked great as a prop – they look authentic, original, and fun. All you need to do is get a couple of Christmas stockings and nail them over the fireplace. Then, light a cozy fire and pose along with your family, with each half standing on one side of the fireplace.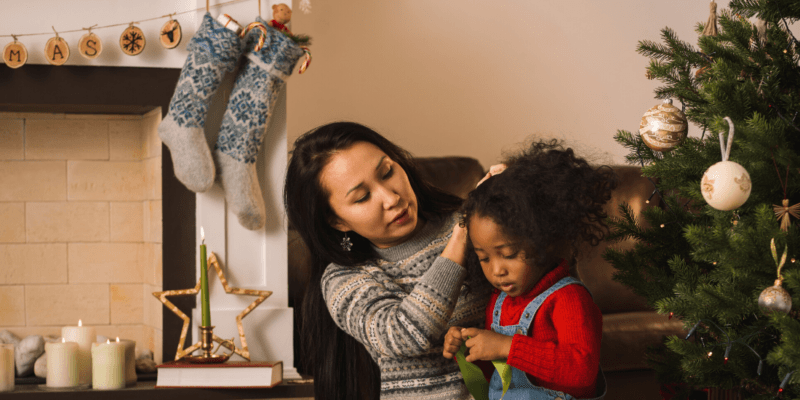 Prop #15
Santa Hat
A simple red Santa hat is a basic prop for a Christmas photo shoot, but when added along with a bunch of others, it created a humorous, almost odd aura. For instance, you can have your toddler riding the sleigh in a Santa hat, the sleigh full of presents for good kids. Or, you can even wear the hat in pictures you take with your friends as part of the Christmas photoshoot. A Santa hat is fairly casual but still gives off a cheery vibe without the need for fancy and expensive props. Of course, you can always benefit from hiring a professional Localgrapher.
Prop #16
A Christmas Tree
Let's admit it: are you even celebrating Christmas if you don't have a tree of some sort. It doesn't matter if you bring home a real tree or opt for a plastic one that stays in your shed, a well-decorated Christmas tree with shiny decorations and ornaments is the original prop. 
You can take a hundred different types of pictures using a Christmas tree as a prop. Have your children look at their presents under a Christmas tree, or capture them enjoying themselves at the moment, decorating their tree with all the best decorations.
Prop #17
Fairy Lights
Fairy lights are the best way to decorate a Christmas home from the outside. You can wind them around the trees, fence, and even the mailbox. By decorating your home's exterior with captivating fairy lights, you make it the ideal location for a Christmas photoshoot. But since fairy lights are often small and too minute, you don't get as much detail in your photographs. That is unless you take the help and services of a competent Localgrapher who knows the tricks of the trade.
Prop #18
Ugly Christmas Sweaters
Have you ever looked at a Christmas photoshoot and thought about how real it looked? Chances are that the prop they used was nothing more unique than an ugly Christmas sweater. Sure, they aren't the most attractive winter apparel, but Christmas sweaters possess their own kind of charisma. A hilarious idea for a picture with such a prop includes a group photo with your friends, where all of you are wearing different variations of an ugly sweater.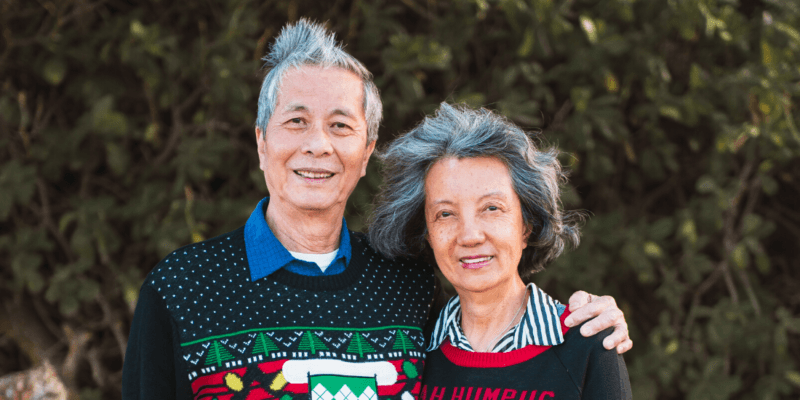 Prop #19
Out in the Snow
We can give you plenty of ideas for props you can use in your Christmas photoshoot, but nothing comes close to the beautiful fresh snow, either falling or freshly fallen. Make sure that you and your family don't miss out on the chance to take wonderful pictures while surrounded by crystal-white snow. To add to the ambiance, get plenty of candid shots of you and your family, making snowballs, snowmen, and snow angels with your friends.
Special tip: Check out our latest Winter Photoshoot Ideas for more outdoor snowy inspiration.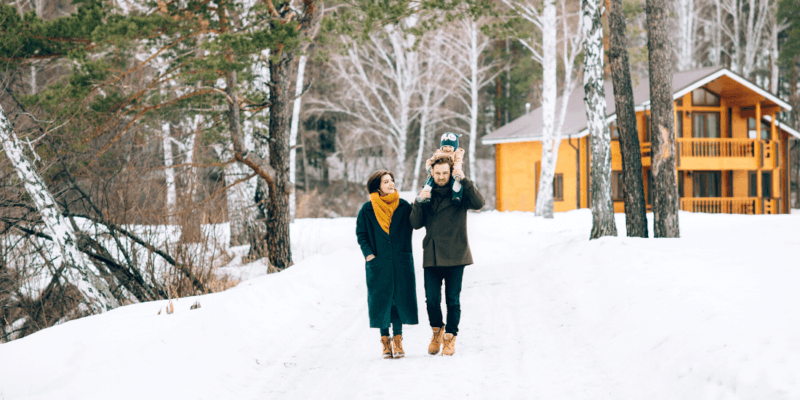 Prop #20
Nutcrackers and Snow Globes
If you want to include a mesmerizing portrait in your Christmas album, one way is to pose with symbolic Christmas items, like snow globes and nutcrackers. These look fascinating when lined up on the mantle above the fireplace. Simply putting them in as fun decorations all over the house is also an exciting idea. But photographing smaller objects like snow globes and nutcrackers requires cameras to capture more detail with advanced equipment and techniques; hiring a Localgrapher for your Christmas photoshoot gives you just that.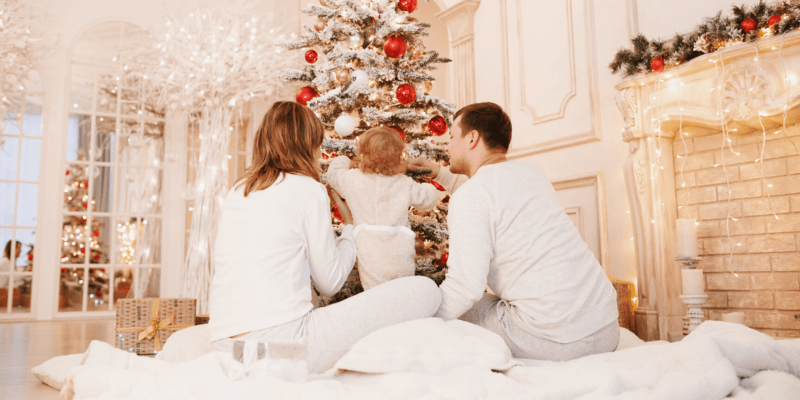 These are some of the best props you can use for your Christmas photo shoot. By the end, you'll have made plenty of memories, all while a professional photographer was behind the lens. Regardless of whether you want to put the pictures on your Christmas card or simply compile album to look at later, we've got you covered. With skilled photographers all over the world, Localgraphers boast unmatched expertise that delivers the best results to clients. Don't just settle for selfies, capture your Christmas memories with the best in the game.
Buy memories, not things…
Limited time only!
SEE OUR GIFT CARDS
Great customer service and experience
Photoshoot in very short term
The most destinations on the market
Very positive customer feedback
1114
Photographers & Videographers
990
Destinations world-wide
100% Money Back Guarantee
We believe in our service and quality of our photos so much that we decided to offer a 100% money back satisfaction guarantee for your photo shoot. If you don't like your online gallery once we deliver it, you can contact us within 7 days and claim your money back. Find more details in our Terms.