9. 12. 2018
Pre-Wedding Style Photos in Mauritius
Weddings can be so stressful and crazy – the bride and groom often have so much to do, it's easy to forget to be in the moment and enjoy the time together. In order to spend some quiet, pre-wedding time together, Kay and her fiancé traveled to Mauritius, and decided to have some pre-wedding-style photos done, to capture some natural moments before their "big day."
Romantic Pre-Wedding Photoshoot in the Paradise
The island of Mauritius, in the Indian Ocean, is known for its spectacular beaches, lagoons, and reefs. It has a mountainous interior, including Black River Gorges National Park, where visitors can hike, taking in the rainforests and waterfalls. Mark Twain once wrote of the island, "Mauritius was made first and then heaven, heaven being copied after Mauritius." It's easy to see why. The ocean water takes on a sapphire blue hue, in contrast to its perfect white sand beaches. The island is known for its high levels of luxury and comfort, where impeccable service is the norm, and visitors are treated like royalty.
Kay and her fiancé were staying at the Shangri La's Le Touessrok resort and spa on the island, and it is here that they wanted to have their pre-wedding photos done. A smart choice, as the resort's grounds are perfect for a photoshoot and offer all kinds of locations.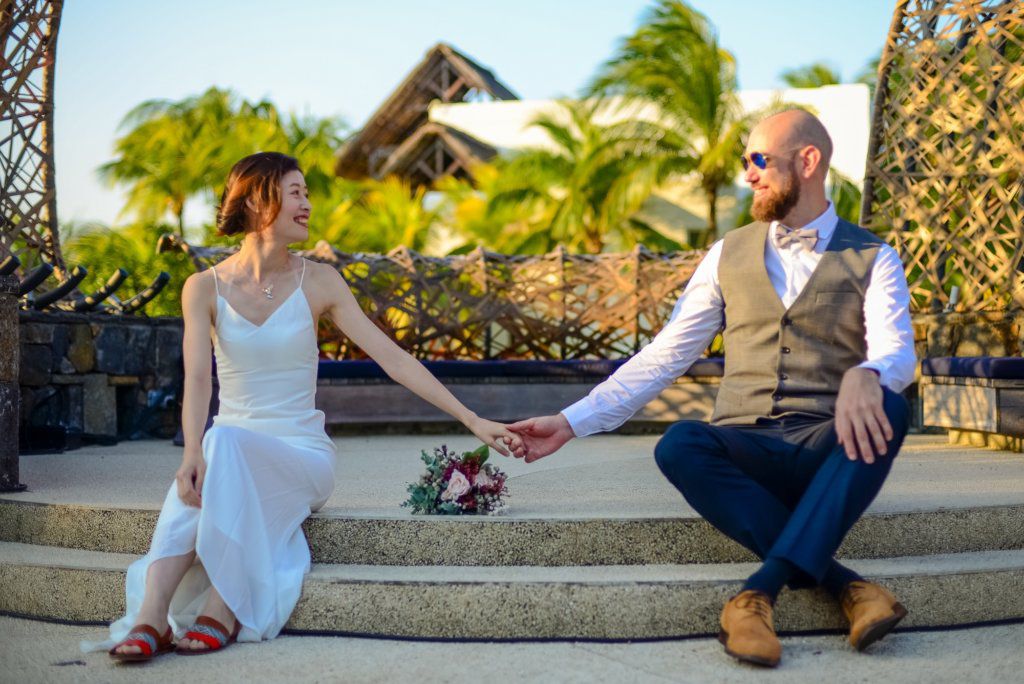 Just Before Wedding
Before the stress and chaos of the wedding day, Kay and her fiancé were able to thoroughly enjoy their time together in Mauritius. But they still wanted to have some pre-wedding photos done. These are quite different from engagement photos, which really capture a couple's newly engaged status as they consider their future together, and are often done in a casual manner. Pre-wedding photos, however, are usually done in wedding attire (or close to it), to capture the outfits and style of a wedding, but in a more playful and less formal way than photos done on an actual day.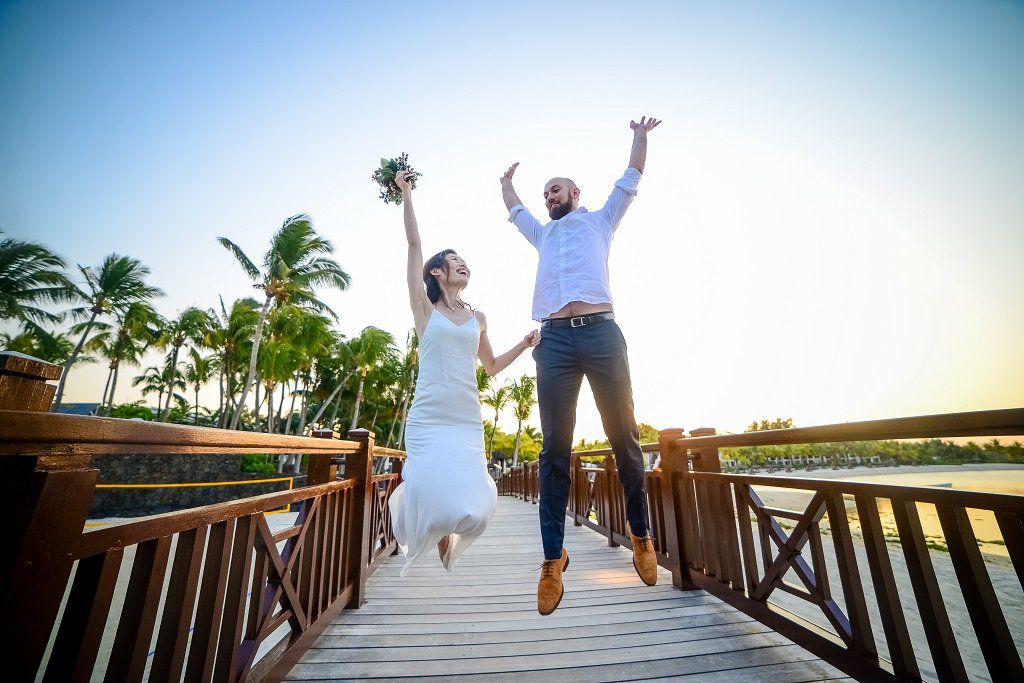 Kay decided to enlist the help of a professional photographer, Diksh, who was able to take a variety of images, using the Le Touessrok resort as the background. Wearing a gorgeous and simple white shift dress, Kay and her fiancé, in a vest and bowtie, posed, walked and played in the resort's dazzling setting, while Diksh captured it all.
Diksh took lots of photographs from different angles and in many poses, but none of the photos are invasive or intrusive, nor are they too posed or stiff. The couple is seen sitting in a pavilion on the grounds, complete with a woven arch, as well as enjoying a break from the heat in a restaurant. Diksh also took images of them walking hand in hand along a boardwalk, and, of course, along the white sand beach as the sun was setting. As Kay had requested, Diksh caught the sun at just the right moment, framing the happy couple as they walked away on the beach.
The Start of a New Life Together
Kay and her fiancé can treasure their time in Mauritius with these beautiful photographs, and relax a bit more on their wedding day, knowing that they already had these photos done. They can even use these images for décor on their wedding day and will treasure them for years.
Every special moment can be captured by one of our professional photographers and supplying our clients with high-quality and professional pictures no matter the occasion and setting.
Is an ugly zit…
RUINING your perfect pics?
Get rid of it for $15 USD!
SEE PHOTOSHOP PACKAGES
Great customer service and experience
Photoshoot in very short term
The most destinations on the market
Very positive customer feedback
1224
Photographers & Videographers
1075
Destinations world-wide
100% Money Back Guarantee
We believe in our service and quality of our photos so much that we decided to offer a 100% money back satisfaction guarantee for your photo shoot. If you don't like your online gallery once we deliver it, you can contact us within 7 days and claim your money back. Find more details in our Terms.